Abstract
In this short review, malignant mesenchymal neoplasms of the dermis and subcutis mimicking benign lesions and their differential diagnoses are discussed. These include plaque-like dermatofibrosarcoma protuberans, superficial low-grade fibromyxoid sarcoma, low-grade superficial malignant peripheral nerve sheath tumour, epithelioid sarcoma, pseudomyogenic haemangioendothelioma, Kaposi sarcoma mimicking cavernous haemangioma and benign lymphangioendothelioma, and rare forms of angiosarcoma mimicking a benign vascular lesion.
This is a preview of subscription content, log in to check access.
Access options
Buy single article
Instant access to the full article PDF.
US$ 39.95
Price includes VAT for USA
Subscribe to journal
Immediate online access to all issues from 2019. Subscription will auto renew annually.
US$ 199
This is the net price. Taxes to be calculated in checkout.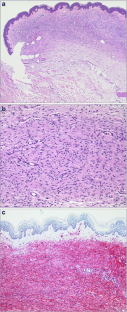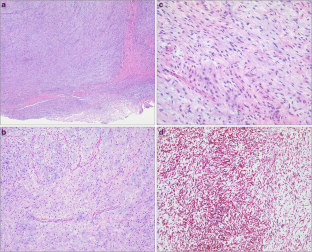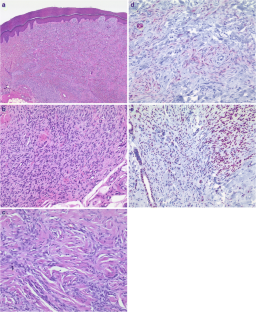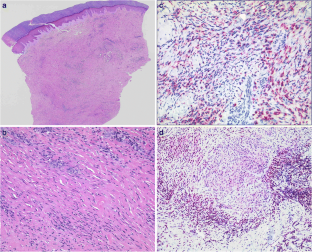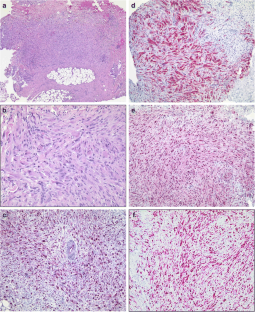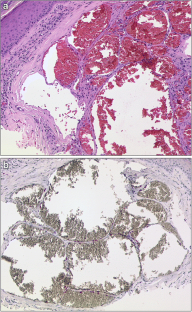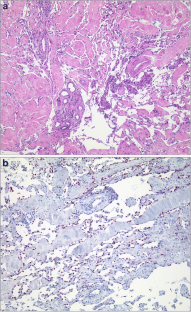 References
1.

Davis DA, Sanchez RL (1998) Atrophic and plaque-like dermatofibrosarcoma protuberans. Am J Dermatopathol 20(5):498–501

2.

Mentzel T, Kutzner H (2009) Dermatomyofibroma: clinicopathologic and immunohistochemical analysis of 56 cases and reappraisal of a rare and distinct cutaneous neoplasm. Am J Dermatopathol 31(1):44–49

3.

Kutzner H, Mentzel T, Palmedo G, Hantschke M, Rütten A, Paredes BE, Schärer L, Guillen CS, Requena L (2010) Plaque-like CD34-positive dermal fibroma ("medallion-like dermal dendrocyte hamartoma"): clinicopathologic, immunohistochemical, and molecular analysis of 5 cases emphasizing its distinction from superficial, plaque-like dermatofibrosarcoma protuberans. Am J Surg Pathol 34(2):190–201

4.

Evans HL (1987) Low-grade fibromyxoid sarcoma. A report of two metastasizing neoplasms having a deceptively benign appearance. Am J Clin Pathol 88(5):615–519

5.

Evans HL (2011) Low-grade fibromyxoid sarcoma: a clinicopathologic study of 33 cases with long-term follow-up. Am J Surg Pathol 35(10):1450–1462

6.

Billings SD, Giblen G, Fanburg-Smith JC (2005) Superficial low-grade fibromyxoid sarcoma (Evans tumor): a clinicopathologic analysis of 19 cases with a unique observation in the pediatric population. Am J Surg Pathol 29(2):204–210

7.

Lane KL, Shannon RH, Weiss SW (1997) Hyalinizing spindle cell tumor with giant rosettes: a distinctive tumor closely resembling low-grade fibromyxoid sarcoma. Am J Surg Pathol 21(12):1481–1488

8.

Guillou L, Benhattar J, Gengler C, Gallagher G, Ranchère-Vince D, Collin F, Terrier P, Terrier-Lacombe MJ, Leroux A, Marquès B, Aubain Somerhausen Nde S, Keslair F, Pedeutour F, Coindre JM (2007) Translocation-positive low-grade fibromyxoid sarcoma: clinicopathologic and molecular analysis of a series expanding the morphologic spectrum and suggesting potential relationship to sclerosing epithelioid fibrosarcoma: a study from the French sarcoma group. Am J Surg Pathol 31(9):1387–1402

9.

Marino-Enriquez A, Fletcher CDM (2012) Angiofibroma of soft tissue: clinicopathologic characterization of a distinctive benign fibrovascular neoplasm in a series of 37 cases. Am J Surg Pathol 36(4):500–508

10.

Schaefer IM, Fletcher CDM, Hornick JL (2016) Loss of H3K25 trimethylation distinguishes malignant peripheral nerve sheath tumors from histologic mimics. Mod Pathol 29(19):4–13

11.

Agaram NP, Zhang L, Sung YS, Chen CL, Chung CT, Antonescu CR, Fletcher CDM (2016) Recurrent NTRK1 gene fusions define a novel subset of locally aggressive lipofibromatosis-like neural tumors. Am J Surg Pathol 40(10):1407–1416

12.

Laskowski J (1971) Aponeurotic sarcoma. Pol Med J 10(1):12–17

13.

Chase DR, Enzinger FM (1985) Epithelioid sarcoma. Diagnosis, prognostic indicators, and treatment. Am J Surg Pathol 9(4):241–263

14.

Hornick JL, Dal Cin P, Fletcher CDM (2009) Loss of INI1 expression is characteristic of both conventional and proximal-type epithelioid sacoma. Am J Surg Pathol 33(4):542–550

15.

Miettinen M, Wang Z, Sarlomo-Rikala M, Abdullaev Z, Pack SD, Fetsch JF (2013) ERG expression in epithelioid sarcoma: a diagnostic pitfall. Am J Surg Pathol 37(10):1580–1585

16.

Guillou L, Wadden C, Coindre JM, Krausz T, Fletcher CDM (1997) "Proximal-type" epithelioid sarcoma, a distinctive aggressive neoplasm shoing rhabdoid features. Clinicopathologic, immunohistochemical, and ultrastructural study of a series. Am J Surg Pathol 21(2):130–146

17.

Hornick JL, Fletcher CDM (2011) Pseudomyogenic hemangioendothelioma: a distinctive, often multicentric tumor with indolent behavior. Am J Surg Pathol 35(2):190–201

18.

Inyang A, Mertens F, Puls F, Sumathi V, Inwards C, Folpe A, Lee CH, Zhang Y, Symmans P, Rubin B, Nielsen GP, Nguyen VH, Rosenberg AE (2016) Primary pseudomyogenic hemangioendothelioma of bone. Am J Surg Pathol 40(5):587–598

19.

Walther C, Tayebwa J, Lilljebörn H, Magnusson L, Nilsson J, von Steyern FV, Ora I, Domanski HA, Fioretos T, Nord KH, Fletcher CDM, Mertens F (2014) A novel SERPINE1-FOSB fusion gene results in transciptional up-regulation of FOSB in pseudomyogenic haemangioendothelioma. J Pathol 232(5):534–540

20.

Hung YP, Fletcher CDM, Hornick JL (2017) FOSB is a useful diagnostic marker for pseudomyogenic hemangioendothelioma. Am J Surg Pathol 41(5):596–606

21.

Yang SH, LeBoit PE (2014) Angiomatous Kaposi sarcoma: a variant that mimics hemangiomas. Am J Dermatopathol 36(3):229–237

22.

Cosu S, Satta R, Cottoni F, Massarelli G (1997) Lymphangioma-like variant of Kaposi's sarcoma: clinicopathologic study of seven cases with review oft he literature. Am J Dermatopathol 19(1):16–22

23.

Kiss K, Andreasen S, Moller Talman MJ, Daugard S, Mentzel T (2017) The incidence of radiotherapy-induced angiosarcoma of the skin after treatment for breast cancer in Denmark: a population-based study. Mod Pathol 132A:517

24.

Tommaso D, Rosai J (2005) The capillary lobule: a deceptively benign features of post-radiation angiosarcoma of the skin: report of three cases. Am J Dermapthol 27(4):301–305

25.

Mentzel T, Schildhaus HU, Palmedo G, Büttner R, Kutzner H (2012) Postradiation cutaneous angiosarcoma after treatment of breast carcinoma is characterized by myc amplification in contrast to atypical vascular lesions after radiotherapy and control cases: clinicopathological, immunohistochemical, and molecular analysis of 66 cases. Mod Pathol 25(1):75–85
Ethics declarations
The authors declare that the study has been done according to ethical standards.
Conflict of interest
The authors declare that they have no conflicts of interest.
Funding
The study did not receive any funding.
Additional information
The authors of this article have made the high-res image files herein available for download; please visit the article page on SpringerLink.com
Electronic supplementary material
About this article
Cite this article
Mentzel, T., Brenn, T. Malignant mesenchymal neoplasms of the dermis and subcutis mimicking benign lesions: a case-based review. Virchows Arch 471, 565–574 (2017). https://doi.org/10.1007/s00428-017-2187-y
Received:

Revised:

Accepted:

Published:

Issue Date:
Keywords
Dermis

Mesenchymal neoplasms

Sarcomas