Abstract
Basal cell carcinoma (BCC) is the most common cutaneous malignancy and is characterized by a high cure rate after local excision. Metastatic BCC (mBCC) is an exceedingly rare event, associated with poor prognosis. We report clinicopathological and immunohistochemical features of 15 mBCC metastatic to the thorax and bone. The patients were 14 males and one female with a mean age at diagnosis of cutaneous BCC of 53 years and at metastasis of 64 years. Primary BCC were primarily located in the head and neck or torso and microscopically included five nodular, three basosquamous, three mixed, and one each of superficial, infiltrative, micronodular, and morpheaform types. Eleven cases metastasized to the lung, three to the bone, and one to the heart. Immunohistochemically, 70% of mBCC were positive for bcl-2, 81% for BerEP4, and 0% for EMA. Treatment consisted of surgery and/or chemotherapy or radiation. Eight patients died at a median interval from metastasis to death of 20 months, and seven were alive at a median interval of 30 months. BCC metastatic to the thoracic organs or bone is rare, mainly affecting older white males. BCC when metastatic commonly affects the lung or bone but rarely the heart. Our results suggest a slightly better prognosis than previously reported, possibly due to improved multimodal treatment strategies. Metastasis from BCC should be considered in a patient with metastatic disease of unknown primary and a history of BCC. Immunohistochemistry may be helpful to reach a final diagnosis.
This is a preview of subscription content, log in to check access.
Access options
Buy single article
Instant access to the full article PDF.
US$ 39.95
Price includes VAT for USA
Subscribe to journal
Immediate online access to all issues from 2019. Subscription will auto renew annually.
US$ 199
This is the net price. Taxes to be calculated in checkout.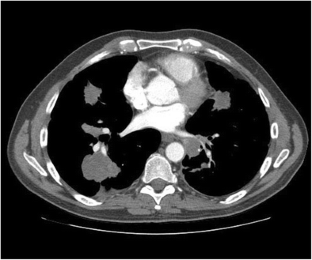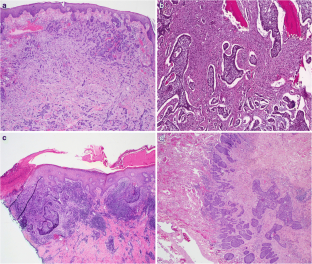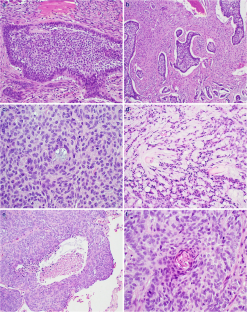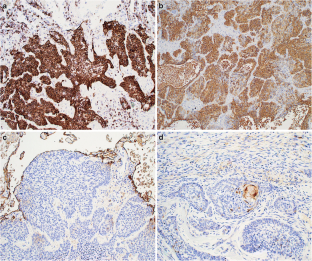 References
1.

Barksdale SK, O'Connor N, Barnhill R (1997) Prognostic factors for cutaneous squamous cell and basal cell carcinoma. Determinants of risk of recurrence, metastasis, and development of subsequent skin cancers. Surg Oncol Clin N Am 6:625–638

2.

Mohan SV, Chang AL (2014) Advanced basal cell carcinoma: epidemiology and therapeutic innovations. Curr Dermatol Rep 3:40–45

3.

Miller DL, Weinstock MA (1994) Nonmelanoma skin cancer in the United States: incidence. J Am Acad Dermatol 30:774–778

4.

von Domarus H, Stevens PJ (1984) Metastatic basal cell carcinoma. Report of five cases and review of 170 cases in the literature. J Am Acad Dermatol 10:1043–1060

5.

Wysong A, Aasi SZ, Tang JY (2013) Update on metastatic basal cell carcinoma: a summary of published cases from 1981 through 2011. JAMA Dermatol 149:615–616

6.

Walling HW, Fosko SW, Geraminejad PA et al (2004) Aggressive basal cell carcinoma: presentation, pathogenesis, and management. Cancer Metastasis Rev 23:389–402

7.

Randle HW (1996) Basal cell carcinoma. Identification and treatment of the high-risk patient. Dermatol Surg 22:255–261

8.

Jackson R (1973) Early clinical descriptions of skin cancer. Can Med Assoc J 109:906–908

9.

Moser S, Borm J, Mihic-Probst D et al (2014) Metastatic basal cell carcinoma: report of a case and review of the literature. Oral Surg Oral Med Oral Pathol Oral Radiol 117:e79–e82

10.

Farmer ER, Helwig EB (1980) Metastatic basal cell carcinoma: a clinicopathologic study of seventeen cases. Cancer 46:748–757

11.

Ganti AK, Kessinger A (2011) Systemic therapy for disseminated basal cell carcinoma: an uncommon manifestation of a common cancer. Cancer Treat Rev 37:440–443

12.

Chren MM, Linos E, Torres JS et al (2013) Tumor recurrence 5 years after treatment of cutaneous basal cell carcinoma and squamous cell carcinoma. J Invest Dermatol 133:1188–1196

13.

Ansai S, Takayama R, Kimura T et al (2012) Ber-EP4 is a useful marker for follicular germinative cell differentiation of cutaneous epithelial neoplasms. J Dermatol 39:688–692

14.

Webb DV, Mentrikoski MJ, Verduin L et al (2015) Basal cell carcinoma vs basaloid squamous cell carcinoma of the skin: an immunohistochemical reappraisal. Ann Diagn Pathol 19:70–75

15.

Tellechea O, Reis JP, Domingues JC et al (1993) Monoclonal antibody Ber EP4 distinguishes basal-cell carcinoma from squamous-cell carcinoma of the skin. Am J Dermatopathol 15:452–455

16.

Ramezani M, Mohamadzaheri E, Khazaei S et al (2016) Comparison of EMA,CEA, CD10 and Bcl-2 biomarkers by immunohistochemistry in squamous cell carcinoma and basal cell carcinoma of the skin. Asian Pac J Cancer Prev 17:1379–1383

17.

Danial C, Lingala B, Balise R et al (2013) Markedly improved overall survival in 10 consecutive patients with metastatic basal cell carcinoma. Br J Dermatol 169:673–676

18.

Sekulic A, Migden MR, Oro AE et al (2012) Efficacy and safety of vismodegib in advanced basal-cell carcinoma. N Engl J Med 366:2171–2179

19.

Sekulic A, Migden MR, Lewis K et al (2015) ERIVANCE BCC investigators. Pivotal ERIVANCE basal cell carcinoma (BCC) study: 12-month update of efficacy and safety of vismodegib in advanced BCC. J Am Acad Dermatol 72:1021–6.e8

20.

Migden MR, Guminski A, Gutzmer R et al (2015) Treatment with two different doses of sonidegib in patients with locally advanced or metastatic basal cell carcinoma (BOLT): a multicentre, randomised, double-blind phase 2 trial. Lancet Oncol 16:716–728

21.

Bircan S, Candir O, Kapucoglu N et al (2006) The expression of p63 in basal cell carcinomas and association with histological differentiation. J Cutan Pathol 33:293–298

22.

Andruszkow JH, Oll M, Förster S et al (2016) p40 in conjunction with CK20 and e-cadherin distinguishes primary adnexal neoplasms of the skin. Appl Immunohistochem Mol Morphol 24:414–421

23.

Krokowski M, Hoch J, Feller AC et al (2009) Basal cell carcinoma with neuroendocrine differentiation arising in a scar: a case report. Dermatol Online J 15:4

24.

Jundt G, Remberger K, Roessner A et al (1995) Adamantinoma of long bones. A histopathological and immunohistochemical study of 23 cases. Pathol Res Pract 191:112–120

25.

Maki M, Saitoh K, Kaneko Y et al (2000) Expression of cytokeratin 1, 5, 14, 19 and transforming growth factors-beta1, beta2, beta3 in osteofibrous dysplasia and adamantinoma: a possible association of transforming growth factor-beta with basal cell phenotype promotion. Pathol Int 50:801–807

26.

Hamid O, Goldenberg G (2013) Identifying patients at risk for recurrent or advanced BCC. J Drugs Dermatol 12:1246–1252

27.

Rubin AI, Chen EH, Ratner D (2005) Basal cell carcinoma. N Engl J Med 353:2262–2269

28.

Dandurand M, Petit T, Martel P et al (2006) Management of basal cell carcinoma in adults. Clinical practice guidelines. Eur J Dermatol 16:394–401

29.

Wu A, Sun MT, Huilgol SC et al (2014) Histological subtypes of periocular basal cell carcinoma. Clin Exp Ophthalmol 42:603–607

30.

Puig S, Berrocal A (2015) Management of high-risk and advanced basal cell carcinoma. Clin Transl Oncol 17:497–503

31.

Sun MT, Wu A, Huilgol SC et al (2015) Accuracy of biopsy in subtyping periocular basal cell carcinoma. Ophthal Plast Reconstr Surg 31:449–451
Ethics declarations
The study was approved by the Institutional Review Board.
Funding
None.
Conflict of interest
The authors declare that they have no conflict of interest.
About this article
Cite this article
Weissferdt, A., Kalhor, N. & Moran, C.A. Cutaneous basal cell carcinoma with distant metastasis to thorax and bone. Virchows Arch 470, 687–694 (2017). https://doi.org/10.1007/s00428-017-2121-3
Received:

Revised:

Accepted:

Published:

Issue Date:
Keywords
Basal cell carcinoma

Skin

Lung

Bone

Distant metastasis