Abstract
Worldwide, various autopsy studies have shown a decrease in the diagnostic error rate over the last years. The cause of this positive development is mainly due to the improvement of modern medicine. However, intensive care unit patients are thought to have a higher risk for diagnostic errors, which is documented in several studies in the adult population. In contrast, there is only limited information about diagnostic errors in pediatrics, particularly in pediatric and neonatal intensive care units. The aims of this study were to analyze the spectrum of childhood death, determine the prevalence and distribution of autopsy-confirmed diagnostic errors, and describe patient characteristics that might have influenced the discordance between antemortem and postmortem findings. We analyzed 143 autopsy reports from 2004 to 2013 and correlated these with clinical reports. The overall autopsy rate during this interval was 20.3%. The leading causes of death were congenital malformations (28%), diseases closely associated with perinatal disorders (25%), disorders of the cardiovascular system (18%), and infections (15%). Additional findings were obtained in 23% of the autopsies. Major diagnostic errors were found in 6%, the lowest reported value in a developed country as yet. Most cases (75%) showed complete concordance between clinical diagnoses and postmortem findings, in line with improvements in diagnostic and therapeutic processes over the last decades. In conclusion, autopsy of neonates, infants, and children represents an important tool for monitoring the quality of pediatric and neonatal medical care.
This is a preview of subscription content, log in to check access.
Access options
Buy single article
Instant access to the full article PDF.
US$ 39.95
Price includes VAT for USA
Subscribe to journal
Immediate online access to all issues from 2019. Subscription will auto renew annually.
US$ 199
This is the net price. Taxes to be calculated in checkout.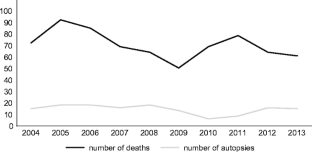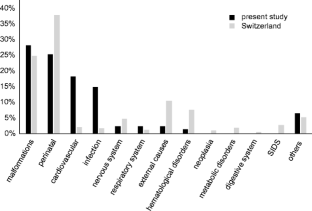 References
1.

Adappa R, Paranjothy S, Roberts Z et al (2007) Perinatal and infant autopsy. Arch Dis Child Fetal Neonatal Ed 92:F49–F50

2.

Anonymous 2014 Death and its main causes in Switzerland In: Swiss Federal Statistical Office, Neuchâtel

3.

Barr P, Hunt R (1999) An evaluation of the autopsy following death in a level IV neonatal intensive care unit. J Paediatr Child Health 35:185–189

4.

Battle RM, Pathak D, Humble CG et al (1987) Factors influencing discrepancies between premortem and postmortem diagnoses. JAMA 258:339–344

5.

Bellwald M (1982) Autopsies with unsatisfactory results. Schweiz Med Wochenschr 112:75–82

6.

Bode PK, Cathomas G, Vogt P et al (2014) Clinical autopsy. Praxis (Bern 1994) 103:65–69 quiz 70-61

7.

Breeze AC, Statham H, Hackett GA et al (2012) Perinatal postmortems: what is important to parents and how do they decide? Birth 39:57–64

8.

Brodlie M, Laing IA, Keeling JW et al (2002) Ten years of neonatal autopsies in tertiary referral centre: retrospective study. BMJ 324:761–763

9.

Chariot P, Witt K, Pautot V et al (2000) Declining autopsy rate in a French hospital: physician's attitudes to the autopsy and use of autopsy material in research publications. Arch Pathol Lab Med 124:739–745

10.

Cifra CL, Jones KL, Ascenzi JA et al (2015) Diagnostic errors in a PICU: insights from the morbidity and mortality conference. Pediatr Crit Care Med 16:468–476

11.

Cohen MC, Paley MN, Griffiths PD et al (2008) Less invasive autopsy: benefits and limitations of the use of magnetic resonance imaging in the perinatal postmortem. Pediatr Dev Pathol 11:1–9

12.

Combes A, Mokhtari M, Couvelard A et al (2004) Clinical and autopsy diagnoses in the intensive care unit: a prospective study. Arch Intern Med 164:389–392

13.

Craft H, Brazy JE (1986) Autopsy. High yield in neonatal population. Am J Dis Child 140:1260–1262

14.

Custer JW, Winters BD, Goode V et al (2015) Diagnostic errors in the pediatric and neonatal ICU: a systematic review. Pediatr Crit Care Med 16:29–36

15.

Dewar S, Boddington P (2004) Returning to the Alder Hey report and its reporting: addressing confusions and improving inquiries. J Med Ethics 30:463–469

16.

Fackler JC, Wetzel RC (2002) Critical care for rare diseases. Pediatr Crit Care Med 3:89–90

17.

Frey B, Doell C, Klauwer D et al. (2015) The morbidity and mortality conference in pediatric intensive care as a means for improving patient safety. Pediatr Crit Care Med

18.

Frohlich S, Ryan O, Murphy N et al (2014) Are autopsy findings still relevant to the management of critically ill patients in the modern era? Crit Care Med 42:336–343

19.

Goldman L, Sayson R, Robbins S et al (1983) The value of the autopsy in three medical eras. N Engl J Med 308:1000–1005

20.

Goldstein B, Metlay L, Cox C et al (1996) Association of pre mortem diagnosis and autopsy findings in pediatric intensive care unit versus emergency department versus ward patients. Crit Care Med 24:683–686

21.

Graber ML, Franklin N, Gordon R (2005) Diagnostic error in internal medicine. Arch Intern Med 165:1493–1499

22.

Karim JN, Roberts NW, Salomon LJ et al. (2016) Systematic review of first trimester ultrasound screening in detecting fetal structural anomalies and factors affecting screening performance. Ultrasound Obstet Gynecol

23.

Khong T, Malcomsen R (2015) Keeling's fetal and neonatal pathology. Springer

24.

Kumar P, Angst DB, Taxy J et al (2000) Neonatal autopsies: a 10-year experience. Arch Pediatr Adolesc Med 154:38–42

25.

Landers S, Macpherson T (1995) Prevalence of the neonatal autopsy: a report of the study group for complications of perinatal care. Pediatr Pathol Lab Med 15:539–545

26.

Langston C, Dishop MK (2009) Diffuse lung disease in infancy: a proposed classification applied to 259 diagnostic biopsies. Pediatr Dev Pathol 12:421–437

27.

Laux D, Malan V, Bajolle F et al (2013) FOX gene cluster defects in alveolar capillary dysplasia associated with congenital heart disease. Cardiol Young 23:697–704

28.

Loughrey MB, Mccluggage WG, Toner PG (2000) The declining autopsy rate and clinicians' attitudes. Ulster Med J 69:83–89

29.

Lundberg GD (1983) Medical students, truth, and autopsies. JAMA 250:1199–1200

30.

Manegold-Brauer G, Kang Bellin A, Hahn S et al (2014) A new era in prenatal care: non-invasive prenatal testing in Switzerland. Swiss Med Wkly 144:w13915

31.

Maniscalco WM, Clarke TA (1982) Factors influencing neonatal autopsy rate. Am J Dis Child 136:781–784

32.

Mchaffie HE, Fowlie PW, Hume R et al (2001) Consent to autopsy for neonates. Arch Dis Child Fetal Neonatal Ed 85:F4–F7

33.

Mudher A-A (2014) Perinatal autopsy, techniques and classifications. In: Cohen MC, Scheimberg I (eds) The pediatric and perinatal autopsy manual. Cambridge University Press

34.

Newman-Toker DE, Pronovost PJ (2009) Diagnostic errors—the next frontier for patient safety. JAMA 301:1060–1062

35.

Ruegger CM, Bartsch C, Martinez RM et al (2014) Minimally invasive, imaging guided virtual autopsy compared to conventional autopsy in foetal, newborn and infant cases: study protocol for the paediatric virtual autopsy trial. BMC Pediatr 14:15

36.

Schwanda-Burger S, Moch H, Muntwyler J et al (2012) Diagnostic errors in the new millennium: a follow-up autopsy study. Mod Pathol 25:777–783

37.

Shojania KG, Burton EC (2008) The vanishing nonforensic autopsy. N Engl J Med 358:873–875

38.

Singh H, Thomas EJ, Wilson L et al (2010) Errors of diagnosis in pediatric practice: a multisite survey. Pediatrics 126:70–79

39.

Sonderegger-Iseli K, Burger S, Muntwyler J et al (2000) Diagnostic errors in three medical eras: a necropsy study. Lancet 355:2027–2031

40.

Stambouly JJ, Kahn E, Boxer RA (1993) Correlation between clinical diagnoses and autopsy findings in critically ill children. Pediatrics 92:248–251

41.

Stankiewicz P, Sen P, Bhatt SS et al (2009) Genomic and genic deletions of the FOX gene cluster on 16q24.1 and inactivating mutations of FOXF1 cause alveolar capillary dysplasia and other malformations. Am J Hum Genet 84:780–791

42.

Swinton CH, Weiner J, Okah FA (2013) The neonatal autopsy: can it be revived? Am J Perinatol 30:739–744

43.

Ten Berge J, De Gast-Bakker DA, Plotz FB (2006) Circumstances surrounding dying in the paediatric intensive care unit. BMC Pediatr 6:22

44.

Thammasitboon S, Thammasitboon S, Singhal G (2013) Diagnosing diagnostic error. Curr Probl Pediatr Adolesc Health Care 43:227–231

45.

Thayyil S, Sebire NJ, Chitty LS et al (2013) Post-mortem MRI versus conventional autopsy in fetuses and children: a prospective validation study. Lancet 382:223–233

46.

Thurnheer R, Hoess C, Doenecke C et al (2009) Diagnostic performance in a primary referral hospital assessed by autopsy: evolution over a ten-year period. Eur J Intern Med 20:784–787

47.

Vergani P (2012) Prenatal diagnosis of pulmonary hypoplasia. Curr Opin Obstet Gynecol 24:89–94

48.

Von Dessauer B, Velozo L, Benavente C et al (2011) Postmortem studies in the contemporary pediatric intensive care unit. Pediatr Crit Care Med 12:617–621

49.

Whitby EH, Offiah AC, Cohen MC (2015) Initial experiences of a minimally invasive autopsy service. A report of the techniques and observations in the first 11 cases. Pediatr Dev Pathol 18:24–29

50.

Winters B, Custer J, Galvagno SM Jr et al (2012) Diagnostic errors in the intensive care unit: a systematic review of autopsy studies. BMJ Qual Saf 21:894–902
Ethics declarations
Parent informed consent for autopsy was sought for all deceased children. Full compliance with ethical standards of the hospitals concerned.
Funding
None.
Conflict of interest
The authors declare that they have no conflict of interest.
About this article
Cite this article
Widmann, R., Caduff, R., Giudici, L. et al. Value of postmortem studies in deceased neonatal and pediatric intensive care unit patients. Virchows Arch 470, 217–223 (2017). https://doi.org/10.1007/s00428-016-2056-0
Received:

Revised:

Accepted:

Published:

Issue Date:
Keywords
Autopsy

PICU

NICU

Cause of death

Diagnostic error