Abstract
Malacostracan crustaceans have evolved a conserved stereotyped cell division pattern in the post-naupliar germ band. This cleavage pattern is unique in arthropods investigated so far, and allows a combined analysis of gene expression and cell lineage during segmentation and organ development at the level of individual cells. To investigate the cell lineage in the germ band of the isopod Porcellio scaber, we used a 4D-microscopy system, which enables us to analyse every cell event in the living embryo. The study was combined with the analysis of the expression of the gene engrailed (en) at different stages of germ band formation. Our findings confirm the results of earlier investigations of the cell division pattern in the posterior part of the isopod germ band. Furthermore, we can show that in the anterior region, in contrast to the posterior part, cleavage directions are variable and cell sorting takes place—similar to other arthropod germ bands. Additionally, the gene expression pattern of en in this region is not as regular as in the post-naupliar germ band, and only later becomes regulated into its characteristic stripe pattern. The comparison of the cell lineage of P. scaber with that of other malacostracan crustaceans shows an enhancement in the velocity of cell divisions relative to the arrangement of these cells in rows in the isopod germ band. The striking similarity of the formation of the genealogical units in the anterior part suggests a sister group relationship between the peracarid taxa Tanaidacea and Isopoda.
This is a preview of subscription content, log in to check access.
Access options
Buy single article
Instant unlimited access to the full article PDF.
US$ 39.95
Price includes VAT for USA
Subscribe to journal
Immediate online access to all issues from 2019. Subscription will auto renew annually.
US$ 99
This is the net price. Taxes to be calculated in checkout.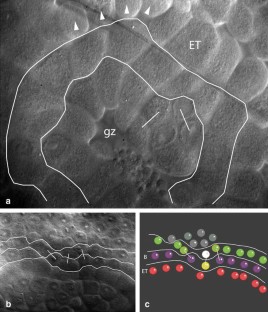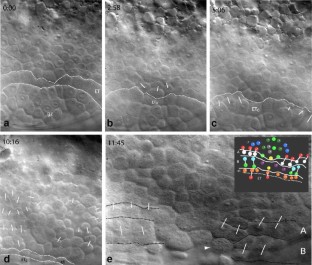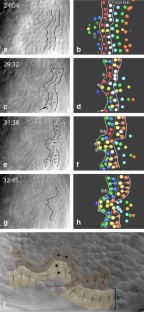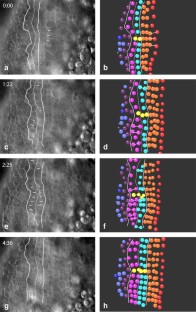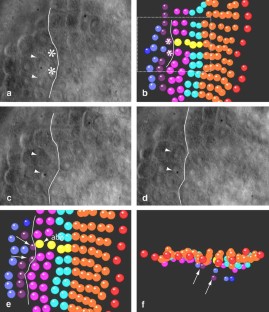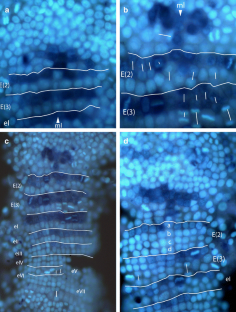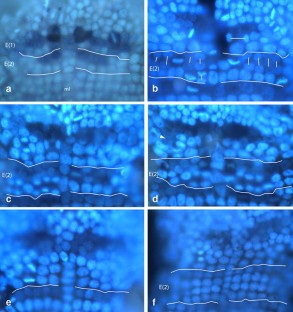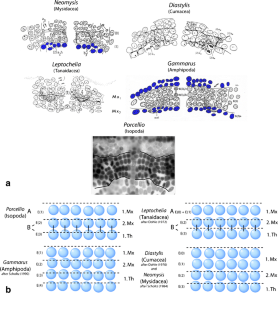 References
Anderson DT (1973) Embryology and phylogeny in annelids and arthropods. Pergamon, Oxford

Averof M, Akam M (1993) HOM/Hox genes of Artemia: implications for the origin of insect and crustacean body plans. Curr Biol 3:73–78

Bolker JA, Raff RA (1996) Developmental genetics and traditional homology. BioEssays 18:489–494

Broadus J, Doe CQ (1995) Evolution of neuroblast identity: seven-up and prospero expression reveal homologous and divergent neuroblast fates in Drosophila and Schistocerca. Development 121:3989–3996

Browne WE, Price AL, Gerberding M, Patel NH (2005) Stages of embryonic development in the amphipod crustacean, Parhyale hawaiensis. Genesis 42:124–149

Damen WG, Weller M, Tautz D (2000) Expression patterns of hairy, even-skipped, and runt in the spider Cupiennius salei imply that these genes were segmentation genes in a basal arthropod. Proc Natl Acad Sci USA 97:4515–4519

Dearden PK, Akam M (2001) Early embryo patterning in the grasshopper, Schistocerca gregaria: wingless, decapentaplegic and caudal expression. Development 128:3435–3444

Dickinson WJ (1995) Molecules and morphology: where's the homology? Trends Genet 11:119–121

Dohle W (1970) Die Bildung und Differenzierung des postnauplialen Keimstreifs von Diastylis rathkei (Crustacea, Cumacea) I. Die Bildung der Teloblasten und ihrer Derivate. Z Morphol Tiere 67:307–392

Dohle W (1972) Über die Bildung und Differenzierung des postnauplialen Keimstreifs von Leptochelia spec. (Crustacea, Tanaidacea). Zool Jb Anat 89:503–566

Dohle W (1976) Die Bildung und Differenzierung des postnauplialen Keimstreifs von Diastylis rathkei (Crustacea, Cumacea). II. Die Differenzierung und Musterbildung des Ektoderms. Zoomorphologie 84:235–277

Dohle W (1989) Zur Frage der Homologie ontogenetischer Muster. Zool Beitr N F 32:355–389

Dohle W, Scholtz G (1988) Clonal analysis of the crustacean segment: the discordance between genealogical and segmental borders. Development 104 (Suppl):147–160

Dohle W, Gerberding M, Hejnol A, Scholtz G (2004) Cell lineage, segment differentiation and gene expression in crustaceans. In: G. Scholtz. (eds) Evolutionary developmental biology of Crustacea A. A. Balkema Lisse pp 95–133

Gerberding M, Browne WE, Patel NH (2002) Cell lineage analysis of the amphipod crustacean Parhyale hawaiensis reveals an early restriction of cell fates. Development 129:5789–5801

Hahnenkamp L (1974) Die Bildung und Differenzierung des Keimstreifens der Asseln (Isopoda) und anderer höherer Krebse. Eine vergleichend-embryologische Studie. Zulassungs-arbeit für die erste (wissenschaftliche) Staatsprüfung Berlin

Hejnol A, Scholtz G (2004) Clonal analysis of Distal-less and engrailed expression patterns during early morphogenesis of uniramous and biramous crustacean limbs. Dev Genes Evol 214:473–485

Hejnol A, Schnabel R (2005) The eutardigrade Thulinia stephaniae has an indeterminate development and the potential to regulate early blastomere ablations. Development 132:1349–1361

Hejnol A, Schnabel R (2006) What a couple of dimensions can do for you: comparative developmental studies using 4D-microscopy-examples from tardigrade development. Integ Comp Biol 46:151–161

Lawrence PA (1992) The making of a fly. Blackwell Scientific Publications, Oxford

Maderspacher F, Bucher G, Klingler M (1998) Pair-rule and gap gene mutants in the flour beetle Tribolium castaneum. Dev Genes Evol 208:558–568

Nielsen C, Martinez P (2003) Patterns of gene expression: homology or homocracy? Dev Genes Evol 213:149–154

Patel NH (1994) The evolution of arthropod segmentation: insights from comparisons of gene expression patterns. Development (Suppl):201–207

Patel NH, Kornberg TB, Goodman CS (1989a) Expression of engrailed during segmentation in grasshopper and crayfish. Development 107:201–212

Patel NH, Martin-Blanco E, Coleman KG, Poole SJ, Ellis MC, Kornberg TB, Goodman CS (1989b) Expression of engrailed proteins in arthropods, annelids, and chordates. Cell 58:955–968

Pavlopoulos A, Averof M (2005) Establishing genetic transformation for comparative developmental studies in the crustacean Parhyale hawaiensis. Proc Natl Acad Sci USA

Richter S, Scholtz G (2001) Phylogenetic analysis of the Malacostraca (Crustacea). J Zool Syst Evol Res 39:113–136

Sanetra M, Begemann G, Becker MB, Meyer A (2005) Conservation and co-option in developmental programmes: the importance of homology relationships. Front Zool 2:15

Schnabel R, Hutter H, Moerman D, Schnabel H (1997) Assessing normal embryogenesis in Caenorhabditis elegans using a 4D microscope: variability of development and regional specification. Dev Biol 184:234–265

Scholtz G (1984) Untersuchungen zur Bildung und Differenzierung des postnauplialen Keimstreifs von Neomysis integer LEACH (Crustacea, Malacostraca, Peracarida). Zool Jb Anat 112:295–349

Scholtz G (1990) The formation, differentiation and segmentation of the post-naupliar germ band of the amphipod Gammarus pulex L. (Crustacea, Malacostraca, Peracarida). Proc R Soc Lond B 239:163–211

Scholtz G (1992) Cell lineage studies in the crayfish Cherax destructor (Crustacea, Decapoda): germ band formation, segmentation, and early neurogenesis. Roux's Arch Dev Biol 202:36–48

Scholtz G (1997) Cleavage, germ band formation and head segmentation: the ground pattern of the Euarthropoda. In: Fortey RA, Thomas RH (eds) Arthropod relationships. Chapman & Hall, London, pp 317–332

Scholtz G (2005) Homology and ontogeny: pattern and process in comparative developmental biology. Theory Biosci 124:121–143

Scholtz G, Dohle W (1996) Cell lineage and cell fate in crustacean embryos—a comparative approach. Int J Dev Biol 40:211–220

Scholtz G, Wolff C (2002) Cleavage, gastrulation, and germ disc formation of the amphipod Orchestia cavimana (Crustacea, Malacostraca, Peracarida). Contrib Zool 71:9–28

Scholtz G, Patel NH, Dohle W (1994) Serially homologous engrailed stripes are generated via different cell lineages in the germ band of amphipod crustaceans (Malacostraca, Peracarida). Int J Dev Biol 38:471–478

Scholtz G, Dohle W, Sandeman RE, Richter S (1993) Expression of engrailed can be lost and regained in cells of one clone in crustacean embryos. Int J Dev Biol 37:299–304

Schram F (1984) Relationships within eumalacostracan Crustacea. Trans S Diego Soc Nat Hist 20:301–312

Schram F (1986) Crustacea. Oxford University Press, New York, Oxford

Schram FR, Koenemann S (2001) Developmental genetics and arthropod evolution: part 1, on legs. Evol Dev 3:343–354

Siewing R (1951) Besteht eine engere Verwandtschaft zwischen Isopoden und Amphipoden? Zool Anz 147:166–180

Vehling D (1994) Die Entwicklung des postnaulialen Keimstreifs von Porcellio scaber. Eine zellgenealogische Studie. Diplomarbeit, Freie Universität Berlin

Vincent JP, O'Farrell PH (1992) The state of engrailed expression is not clonally transmitted during early Drosophila development. Cell 68:923–931

Wolff C (2004) Zur Beinentwicklung des amphipoden Krebses Orchestia cavimana (Peracarida, Malacostraca)—eine zellgenealogische Studie, Humboldt Universität Berlin
Acknowledgements
We thank Nipam Patel and Harald Saumweber for the monoclonal Antibody 4D9 and Craig Magie for improving the manuscript. This work was supported by the DFG (Scho 442/5-2,3).
Electronic supplementary material
Below is the link to the electronic supplentary material.
Time lapse of the gastrulation in Porcellio scaber. 30 h in 60 s. View on the cells of the germ disc. The cells divide in two division waves and start to sink into the gastrulation center on the left. The future anterior orientated to the top/left. (MOV 22 MB)
Time lapse of the division of the cells in row A and B in Porcellio scaber. 32 h in 60 s. The SIMI°BioCell reconstruction in the left upper corner. Every sphere represents the cells described as in the publication. Anterior is to the left. (MOV 26 MB)
Time lapse of the division of the cells in the genealogical unit E(2) and E(3) in Porcellio scaber. 20 h in 42 s. The SIMI°BioCell reconstruction in the right corner. The ectoteloblasts give off their derivates to anterior (left). (MOV 11 MB)
Time lapse of the differential divisions in the right half of a thoracal segment in Porcellio scaber. 33 h in 80 s. During the movie, a reconstruction of the differential cleavages with SIMI°BioCell shows up in the lower left corner. The movie ends during limb bud formation. Anterior is to the top. (MOV 22 MB)
Time lapse of the gastrulation in Porcellio scaber. 30 h in 60 s. View on the cells of the germ disc. The cells divide in two division waves and start to sink into the gastrulation center on the left. The future anterior orientated to the top/left. (MOV 22 MB)
Time lapse of the division of the cells in row A and B in Porcellio scaber. 32 h in 60 s. The SIMI°BioCell reconstruction in the left upper corner. Every sphere represents the cells described as in the publication. Anterior is to the left. (MOV 26 MB)
Time lapse of the division of the cells in the genealogical unit E(2) and E(3) in Porcellio scaber. 20 h in 42 s. The SIMI°BioCell reconstruction in the right corner. The ectoteloblasts give off their derivates to anterior (left). (MOV 11 MB)
Time lapse of the differential divisions in the right half of a thoracal segment in Porcellio scaber. 33 h in 80 s. During the movie, a reconstruction of the differential cleavages with SIMI°BioCell shows up in the lower left corner. The movie ends during limb bud formation. Anterior is to the top. (MOV 22 MB)
About this article
Cite this article
Hejnol, A., Schnabel, R. & Scholtz, G. A 4D-microscopic analysis of the germ band in the isopod crustacean Porcellio scaber (Malacostraca, Peracarida)—developmental and phylogenetic implications. Dev Genes Evol 216, 755–767 (2006). https://doi.org/10.1007/s00427-006-0105-4
Received:

Accepted:

Published:

Issue Date:
Keywords
Cell lineage

Cell clones

engrailed

Differentiation

Segmentation