Abstract
This study explored the possibility that individual differences in working memory capacity (WMC) could predict those individuals who would experience attentional disruptions and performance decrements under pressure. Two WMC groups performed a Stroop handgun task under counterbalanced conditions of threat whilst wearing eye-tracking equipment that measured visual search activity and quiet eye (QE) aiming duration. Performance was measured in terms of shooting accuracy. Low-WMC individuals experienced impaired visual search time to locate the target and reduced QE durations when shooting at incongruent target words. Furthermore, the low-WMC group experienced significant reductions in shooting accuracy when anxious. Conversely, high-WMC individuals experienced no significant differences in attentional control or performance across congruency or threat conditions. Results support the suggestion that WMC is not only a good predictor of an individual's ability to control their attention but can also predict those likely to fail under pressure.
This is a preview of subscription content, log in to check access.
Access options
Buy single article
Instant unlimited access to the full article PDF.
US$ 39.95
Price includes VAT for USA
Subscribe to journal
Immediate online access to all issues from 2019. Subscription will auto renew annually.
US$ 199
This is the net price. Taxes to be calculated in checkout.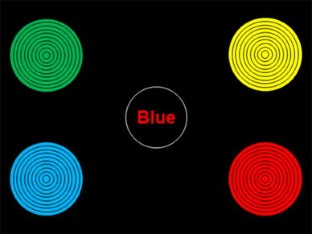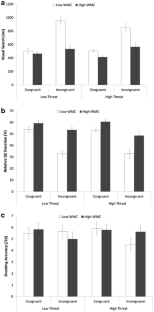 Notes
1.

Three participants from each initially screened group were omitted from the study, prior to completing the handgun task, as their OSPAN scores indicated that they were neither of high or Low WMC (M = 47.10, SD = 4.43). Also, two participants had CFQ scores that indicated high/low WMC but had contradictory OSPAN scores.
References
Ansari, T. L., & Derakshan, N. (2010). Anxiety impairs inhibitory control but not volitional action control. Cognition and Emotion, 24(2), 241–254.

Barrett, L. F., Tugade, M. M., & Engle, R. W. (2004). Individual differences in working memory capacity and dual-process theories of the mind. Psychological Bulletin, 130(4), 553–573.

Beilock, S. L., & Carr, T. H. (2005). When high-powered people fail working memory and "choking under pressure" in math. Psychological Science, 16(2), 101–105.

Broadbent, D. E., Cooper, P. F., FitzGerald, P., & Parkes, K. R. (1982). The cognitive failures questionnaire (CFQ) and its correlates. British Journal of Clinical Psychology, 21(1), 1–16.

Causer, J., Holmes, P. S., Smith, N. C., & Williams, A. M. (2011). Anxiety, movement kinematics, and visual attention in elite-level performers. Emotion, 11(3), 595–602.

Corbetta, M., & Shulman, G. L. (2002). Control of goal-directed and stimulus-driven attention in the brain. Nature Reviews Neuroscience, 3(3), 201–215.

De Jong, R., Berendsen, E., & Cools, R. (1999). Goal neglect and inhibitory limitations: dissociable causes of interference effects in conflict situations. Acta Psychologica, 101(2), 379–394.

Durgin, F. H. (2000). The reverse Stroop effect. Psychonomic Bulletin & Review, 7(1), 121–125.

Engle, R. W. (2002). Working memory capacity as executive attention. Current Directions in Psychological Science, 11(1), 19–23.

Engle, R. W., & Kane, M. J. (2004). Executive attention, working memory capacity, and a two-factor theory of cognitive control. Psychology of Learning and Motivation, 44, 145–200.

Eysenck, M. W., Derakshan, N., Santos, R., & Calvo, M. G. (2007). Anxiety and cognitive performance: attentional control theory. Emotion, 7(2), 336–353.

Furley, P. A., & Memmert, D. (2012). Working Memory Capacity as controlled attention in tactical decision making. Journal of Sport and Exercise Psychology, 34(3), 322–344.

Hambrick, D. Z., & Oswald, F. L. (2005). Does domain knowledge moderate involvement of working memory capacity in higher-level cognition? A test of three models. Journal of Memory and Language, 52(3), 377–397.

Hochman, S. H. (1967). The effect of stress on Stroop color word performance. Psychonomic Science, 9, 475–476.

Hodgson, T. L., Parris, B. A., Gregory, N. J., & Jarvis, T. (2009). The saccadic Stroop effect: evidence for involuntary programming of eye movements by linguistic cues. Vision Research, 49(5), 569–574.

Janelle, C. M., Hillman, C. H., Apparies, R., Murray, N. P., Meilli, L., Fallon, E. A., et al. (2000). Expertise differences in cortical activation and gaze behaviour during rifle shooting. Journal of Sport and Exercise Psychology, 22, 167–182.

Kane, M. J., Bleckley, M. K., Conway, A. R., & Engle, R. W. (2001). A controlled-attention view of working-memory capacity. Journal of Experimental Psychology: General, 130(2), 169.

Kane, M. J., Brown, L. E., Little, J. C., Silvia, P. J., Myin-Germeys, I., & Kwapil, T. R. (2007). For whom the mind wanders, and when: an experience-sampling study of working memory and executive control in daily life. Psychological Science, 18, 614–621. doi:10.1111/j.1467-9280.2007.01948.x.

Kane, M. J., & Engle, R. W. (2003). Working-memory capacity and the control of attention: the contributions of goal neglect, response competition, and task set to Stroop interference. Journal of Experimental Psychology: General, 132(1), 47–70.

Krane, V. (1994). The Mental Readiness Form as a measure of competitive state anxiety. The Sport Psychologist, 8(2), 189–202.

Laborde, S., Furley, P., & Schempp, C. (2015). The relationship between working memory, reinvestment, and heart rate variability. Physiology & Behavior, 139, 430–436.

MacLeod, C. M. (1991). Half a century of research on the Stroop effect: an integrative review. Psychological Bulletin, 109(2), 163.

Masters, R. S. (1992). Knowledge, knerves and know-how: the role of explicit versus implicit knowledge in the breakdown of a complex motor skill under pressure. British Journal of Psychology, 83(3), 343–358.

Miyake, A., Friedman, N. P., Emerson, M. J., Witzki, A. H., Howerter, A., & Wager, T. D. (2000). The unity and diversity of executive functions and their contributions to complex "frontal lobe" tasks: a latent variable analysis. Cognitive Psychology, 41(1), 49–100.

Nieuwenhuys, A., & Oudejans, R. R. (2010). Effects of anxiety on handgun shooting behavior of police officers: a pilot study. Anxiety, Stress, & Coping, 23(2), 225–233.

Nieuwenhuys, A., Savelsbergh, G. J., & Oudejans, R. R. (2012). Shoot or don't shoot? Why police officers are more inclined to shoot when they are anxious. Emotion, 12(4), 827–833.

Taverniers, J., Smeets, T., Van Ruysseveldt, J., Syroit, J., & von Grumbkow, J. (2011). The risk of being shot at: stress, cortisol secretion, and their impact on memory and perceived learning during reality-based practice for armed officers. International Journal of Stress Management, 18(2), 113–132.

Unsworth, N., Heitz, R. P., Schrock, J. C., & Engle, R. W. (2005). An automated version of the operation span task. Behavior Research Methods, 37(3), 498–505.

Vickers, J.N. (2007). Perception, cognition, and decision training: the quiet eye in action. Human Kinetics.

Vine, S. J., Moore, L. J., & Wilson, M. R. (2014). Quiet eye training: the acquisition, refinement and resilient performance of targeting skills. European Journal of Sport Science, 14, S235–S242.

Wilson, M. R., Vine, S. J., & Wood, G. (2009a). The influence of anxiety on visual attentional control in basketball free throw shooting. Journal of Sport & Exercise Psychology, 31(2), 152–168.

Wilson, M. R., Wood, G., & Vine, S. J. (2009b). Anxiety, attentional control, and performance impairment in penalty kicks. Journal of Sport & Exercise Psychology, 31(6), 761–775.

Wood, G., & Wilson, M. R. (2010). A moving goalkeeper distracts penalty takers and impairs shooting accuracy. Journal of Sports Sciences, 28(9), 937–946.
Electronic supplementary material
Below is the link to the electronic supplementary material.
Supplementary material 1 (WMV 2262 kb)
About this article
Cite this article
Wood, G., Vine, S.J. & Wilson, M.R. Working memory capacity, controlled attention and aiming performance under pressure. Psychological Research 80, 510–517 (2016). https://doi.org/10.1007/s00426-015-0673-x
Received:

Accepted:

Published:

Issue Date:
Keywords
Visual Search

Target Word

Attentional Control

Work Memory Capacity

Work Memory Capacity Group