Plant ecdysteroids: plant sterols with intriguing distributions, biological effects and relations to plant hormones
Abstract
Main conclusion
The present review summarises current knowledge of phytoecdysteroids' biosynthesis, distribution within plants, biological importance and relations to plant hormones.
Plant ecdysteroids (phytoecdysteroids) are natural polyhydroxylated compounds that have a four-ringed skeleton, usually composed of either 27 carbon atoms or 28–29 carbon atoms (biosynthetically derived from cholesterol or other plant sterols, respectively). Their physiological roles in plants have not yet been confirmed and their occurrence is not universal. Nevertheless, they are present at high concentrations in various plant species, including commonly consumed vegetables, and have a broad spectrum of pharmacological and medicinal properties in mammals, including hepatoprotective and hypoglycaemic effects, and anabolic effects on skeletal muscle, without androgenic side-effects. Furthermore, phytoecdysteroids can enhance stress resistance by promoting vitality and enhancing physical performance; thus, they are considered adaptogens. This review summarises current knowledge of phytoecdysteroids' biosynthesis, distribution within plants, biological importance and relations to plant hormones.
Keywords
Phytoecdysteroids 
Ecdysteroids 
20-Hydroxyecdysone 
Plant hormones 
Signalling molecules 
Abbreviations
2,4-D

2,4-Dichlorophenoxy acetic acid

20E

20-Hydroxyecdysone

ABA

Abscisic acid

BRs

Brassinosteroids

CKs

Cytokinins

ECs

Ecdysteroids

GAs

Gibberellins

IAA

Indole-3-acetic acid

JA

Jasmonic acid

JAs

Jasmonates

MeJA

Methyl jasmonate

PEs

Phytoecdysteroids

SLs

Strigolactones
Introduction
Ecdysteroids (ECs) are steroidal hormones that have been originally found in the animal kingdom (Butenandt and Karlson
1954
) to control moulting (ecdysis) and other metamorphotic processes in insects (Dinan
2001
). Structurally, they are polyhydroxylated compounds that have a four-ringed skeleton, usually composed of either 27 carbon atoms or 28–29 carbon atoms (biosynthetically derived from cholesterol or other plant sterols, respectively). Since their discovery about 300 compounds of ecdysteroid character have also been detected in over 100 terrestrial plant families (annual and perennial), 20-hydroxyecdysone (20E, Fig. 
1
) being the most widely distributed (Lafont et al.
2002
). This group of naturally occurring plant ecdysteroids was designated phytoecdysteroids (PEs) to differentiate them from those isolated from animal sources. However, this is not a strict division since some ECs are present in both animals and plants (e.g., ecdysone, 20E and ajugasterone C—Fig. 
1
). In addition to higher plants (both angiosperms and gymnosperms), PEs have also been discovered in ferns, fungi and algae (Dinan et al.
2009
). There is evidence that most plant species have the genetic capacity to produce PEs, although they have only been detected in a small proportion (5–6 %) of 250,000 species tested (Imai et al.
1969
). The inability to detect these compounds in some species could be due to suppression of gene transcription (Dinan
2009
; Lafont et al.
2002
), insufficient purification during sample preparation and/or instrumental limitations. Latter mentioned argument is supported by the results obtained by Dinan et al. (
2001
) who found in Arabidopsis, considered as PEs-negative plant, certain amount of PEs when using radioimmunoassay (RIA) as sensitive analytical detection method. Thus, the picture about PEs presence in plant species may change as technical challenges are solved and applied in the course of time. Recent studies also indicate that the occurrence of PEs may be related to phylogenetic position (Dinan
1998
; Savchenko et al.
1998
; Zibareva
2000
). For instance, in the genus
Chenopodium
, PEs are present in most members of the subgenus
Chenopodium
, but no PEs have been detected in the subgenus
Ambrosia
(Dinan
1998
). This review addresses PEs' distribution in plants, their biosynthesis, biological importance and relation to known plant signalling molecules.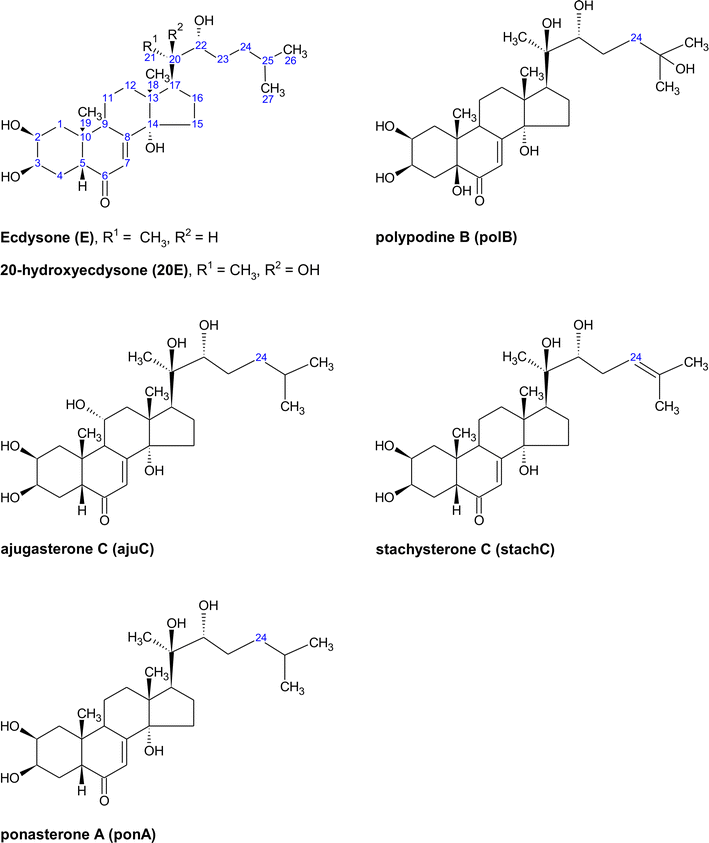 Distribution of phytoecdysteroids within plants
Phytoecdysteroids are frequently detectable in newly emerged tissues (young leaves) and reproductive organs (flowers, anthers, seeds) of annual plants, but less frequently in stems and roots (Dinan et al. 2001). This may imply that the highest concentrations of PEs are found in tissues that are important for plants' survival or organs needed for the next generation of plants (Dinan et al. 2009). This is in accordance with the hypothesis that PEs may serve as protectors against predators (discussed in more detail below in the section "Biological importance of phytoecdysteroids"). Results consistent with this hypothesis have been obtained for Chenopodium album, where levels of PEs are reportedly highest in the anthers (protecting developing pollen), seeds and young leaves (Dinan 1992). In addition, cotyledons and the first two true leaves of spinach (another annual plant with rich PEs content) can reportedly synthesise PEs more rapidly and abundantly than later leaves (Grebenok and Adler 1993).
Comparing distribution of PEs in annual and perennial plants, it is believed that annual plants transfer PEs present in seeds to the developing shoots at the beginning of their growth (Grebenok et al. 1991), while many perennials (e.g. the Siberian herb Maral root Leuzea carthamoides) cycle PEs between their underground (perennial) and aerial part (deciduous) during the season, i.e. in spring the highest concentration of PEs can be found in the newly developing shoot while in autumn, the PEs are transferred from the shoot to the root where their level rises (Kholodova et al. 1979).
Biosynthesis of phytoecdysteroids
Insects and arthropods cannot synthesise sterols as they lack the ability to cyclise squalene (Fig. 
2
) to form them and thus must acquire those they need (for building cell membranes and as EC precursors) from dietary sources (Nes and McKean
1977
). For ECs formation, C27 sterols are required, so several biosynthetic pathways must have evolved in insects and arthropods that allow them to metabolise C28 and C29 plant sterols. In contrast, plants possess a complete sterol biosynthetic pathway, thus many are capable of biosynthesising PEs (although our knowledge of PEs' biosynthesis and localisation of the biosynthetic enzymes in plant cells is far from complete). In addition, lathosterol (Fig. 
2
) has been identified as a C27 phytosterol precursor for PEs in the model plant species spinach (Adler and Grebenok
1995
), while in many other plants and in the model insect
Drosophila
, ECs are synthesised from the C27 sterol cholesterol (Fig. 
2
; Niwa and Niwa
2014
). Originally, the plant sterol (triterpenoid) biosynthetic pathway has been described as a cytosolic pathway starting from mevalonic acid (MVA; Fig. 
2
) as a precursor (Goldstein and Brown
1990
). However, it was recently proved that the isoprenoid building blocks (isopentenyl diphosphate and dimethylallyl diphosphate; IPP and DMAPP, respectively; Fig. 
2
) required for terpene synthesis can be formed not only by the MVA pathway in cytosol but also by the 2C-methyl-erythritol-4-phosphate (MEP; Fig. 
2
) pathway operating in plastids (Lichtenthaler
1999
; Rohmer
1999
). For example, for many years it was thought that isoprene units needed for formation of geranylgeranyl diphosphate, a precursor of the diterpenoid plant hormones gibberellins (GAs), are formed via the MVA pathway (MacMillan
1998
). However, recent research with isotope-labelled precursors has shown that the MEP pathway in the plastid provides most of the isoprene units used to form GAs in Arabidopsis seedlings, and the contribution from the cytosolic MVA pathway is minor (Kasahara et al.
2002
). Moreover, IPP serves as the basic building unit for the biosynthesis of all terpenoids, including C
30
triterpenoid sterols (Piironen et al.
2000
). The IPP used in their synthesis has been shown to derive exclusively from the MVA pathway. However, in germinating corn seedlings MVA may not be an intermediate in the synthesis of phytosterols and other pathways can reportedly direct carbon fluxes into IPP (Guo et al.
1995
). Thus, this observation raises doubts about the pivotal role of MVA in the plant sterol pathway. However, the only studies to date on biosynthesis of PEs have been based on labelling experiments with
14
C-mevalonic acid (Grebenok and Adler
1993
; Bakrim et al.
2008
). Thus, knowledge of PE biosynthesis is limited to parts mediated via the cytosolic sterol synthesis pathway.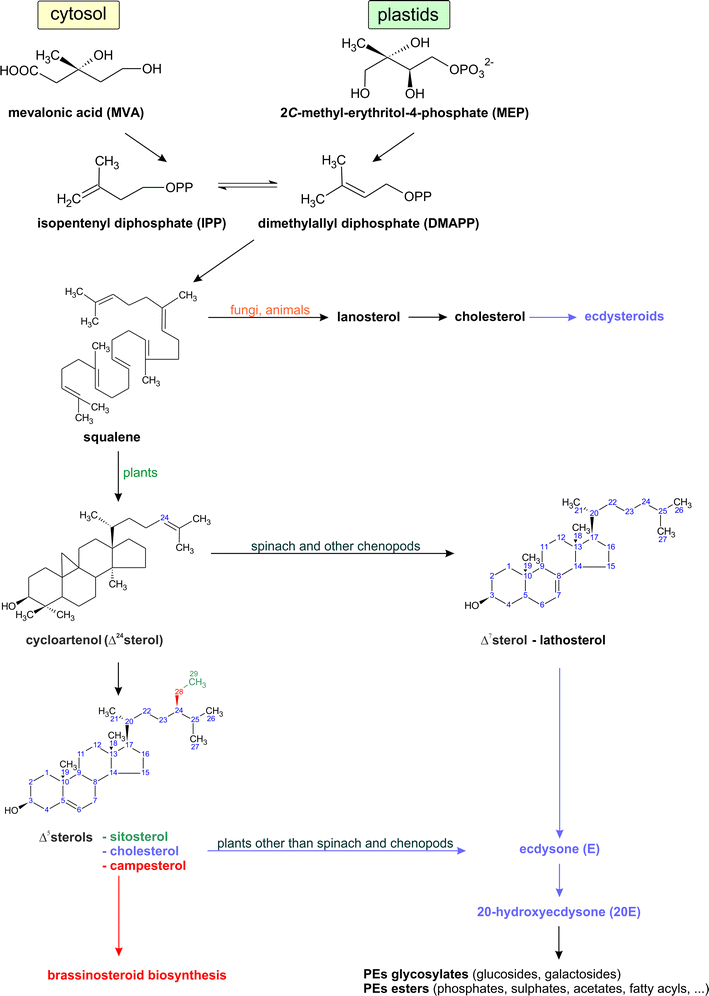 In spite of many biosynthetic studies aiming to reveal biochemical background of ECs formation and published during last three decades, our understanding of the biosynthetic pathway(s) for these compounds still remains limited. This is especially true for PEs biosynthesis since these studies have been focused more to the ECs biosynthesis in invertebrates while only small attention has been paid to PEs synthesis in plants. To our knowledge, the sites of PEs production have not been found yet and it is not even known if their biosynthesis takes place only in specialised cells or in all cells of particular tissue/organism. Only biosynthetic enzyme purified so far is ecdysone 20-monooxygenase catalysing the oxidation of E to 20E (Fig. 2; Grebenok et al. 1996; Canals et al. 2005). This compound is Δ7 sterol possessing a reduced side chain at C-24 (Fig. 1). From this point of view, its precursor for its biosynthesis should be also C-24 reduced Δ7 sterol. This hypothesis has been confirmed using spinach as a model plant where lathosterol has been found as Δ7 sterol reduced at C-24 as already mentioned above (Grebenok and Adler 1993). Δ7 sterols are also found in related chenopods (Salt and Adler 1985) and in some other plant families (Nes 1977). Nevertheless, many other plants have been reported to possess C-24 alkylated PEs (Horn and Bergamasco 1985) being presumably formed from C-24 alkylated sterols. These plants produce 24-alkyl Δ5 sterols as well as cholesterol that is not alkylated at C-24 (Fig. 2). It is not, however, known whether cholesterol or lathosterol is the preferred substrate for PEs biosynthesis. Both these sterols have been reported to be present for instance in Chenopodium album and Chenopodium quinoa (Xu et al. 1990).
Biological importance of phytoecdysteroids
Unlike the very well-known hormonal activity of ECs in animals, there are numerous indications that plant ecdysteroids do not possess hormonal activity in planta. Notably, they have at most slight activity in various plant hormone activity assays (for instance, auxin, cytokinin, brassinosteroid and gibberellin bioassays) (Hendrix and Jones 1972; Dreier and Towers 1988; Macháčková et al. 1995). These results are consistent with apparently not universal PEs' presence in terrestrial plant species tested to date. However, this only accounts for less than 2 % of the global flora (Dinan 2001) and, as mentioned above, methods routinely used for their detection may be insufficiently sensitive. Furthermore, PE levels in PE-positive plants are often much higher than the trace levels of phytohormones, e.g., 1–2 % dry weight in Leuzea carthamoides (Koudela et al. 1995), and no PE receptor has been reported to date. The only known ecdysteroid-binding proteins are members of the nuclear receptor superfamily with a characteristic domain structure in arthropods (Laudet 1997). For all these reasons, PEs are usually regarded as plant secondary metabolites, and not plant hormones. Despite their non-hormonal properties in plants, PEs seem to participate in the regulation of some physiological processes in photosynthesizing organisms. For example, they appear to influence the size and growth of cells of the alga Chlorella vulgaris (Bajguz and Dinan 2004) and growth of the cyanobacterium Nostoc (Maršálek et al. 1992). The main hypothesis regarding the function of PEs in plants is that they provide protection against non-adapted insects (invertebrates) and/or soil nematodes (Bergamasco and Horn 1983; Kubo and Hanke 1986). Thus, increasing plants' endogenous PEs levels, or modulating their PEs profiles, by breeding or genetic modification, could provide potent strategies for protecting some crop plants. PEs acting either alone or in concert with other signalling molecules may deter consumption of plants (antifeedants), or lead to endocrine disruption and/or death of phytophagous invertebrates. This hypothesis is supported by results of several experiments involving either PEs exogenous applications or transgenic/mutant plants with elevated endogenous PEs levels. For instance, Udalova et al. (2004) found that spraying tomato plants with a solution of αα-ecdysone reduced infestation by the root-knot nematode Meloidogyne incognita. Similarly, Soriano et al. (2004) found that exposing cereal cyst nematodes to exogenously applied 20E at concentrations higher than 10−6 M greatly reduced their capacity to invade wheat roots. Furthermore, Schmelz et al. (1999) observed that spinach plants inoculated with two types of cereal cyst nematodes and one type of root-knot nematode were less damaged when levels of endogenous PEs in the plants were elevated by treatment with methyl jasmonate (MeJA). Generally speaking, the production of endocrine disruptors is a common defence mechanism of many plants against plant-eating insects (Bergamasco and Horn 1983). The principle of PEs action as disruptors consists in affecting the growth, development or reproduction of insects. Apparently, PEs do not show any toxicity to mammals (Dinan 2001). The susceptibility of insects to dietary PEs varies depending upon the insect species and the structure of PE (Kubo and Klocke 1983; Horn and Bergamasco 1985; Harborne 1988). For instance, 20E can cause 50 % feeding inhibition for spring wheat aphid (Schizaphis graminum; it can cause yellowing and premature death of wheat leaves) at 650 ppm in the diet, but has no effect on feeding of corn earworm (Heliothis zea; it is polyphagous major agricultural pest resistant to many pesticides and causing corn and other crop plants damage) even at higher concentration (3000 ppm) in the diet (Kubo and Klocke 1983). Further, the experiments with pink bollworm Pectinophora gossypiella revealed that 20E is capable to inhibit 95 % ecdysis of this organism at 50 ppm while 20E analogue called ponasterone A (ponA; missing hydroxyl group at position C-25—Fig. 1) is already effective at concentration of 2 ppm (Kubo and Klocke 1983).
Some PEs produced by plants also appear to act as allelochemicals, i.e., chemicals that are released by plants into the soil and stimulate or impair the growth and/or development of neighbouring organisms (plants, insects, fungi or other microbes). For example, PEs including 20E and its acetonides isolated from leaves of Chenopodium album reportedly influence seed germination and seedling growth of both monocotyledonous (onion) and dicotyledonous (lettuce and tomato) plants (DellaGreca et al. 2005; Bakrim et al. 2007). Furthermore, experiments with PE extracts containing 20E from the monocotyledon Asparagus dumosus (used in traditional Asian medicine, mainly as a diuretic and antiseptic agent) indicate that 20E appears to have antibacterial and antifungal properties (Ahmad et al. 1996). In addition, seeds of quinoa (Chenopodium quinoa Willd., Amaranthaceae), a functional food and nutraceutical, have very high contents of PEs (mainly 20E), 4–12 times more than spinach (Kumpun et al. 2011), and compounds secreted by intact quinoa seeds into water during initial stages of germination reportedly have anti-diabetic properties, as they can significantly lower fasting blood glucose in obese, hyperglycemic mice (Graf et al. 2014). Other therapeutic properties in mammals—including anabolic, performance-enhancing, anti-osteoporotic and wound healing effects—have also been described by various authors (e.g., Slama and Lafont 1995; Kapur et al. 2010; Seidlova-Wuttke et al. 2010; Syrov and Khushbaktova 1996; Lafont and Dinan 2003).
Last, but not least, there are indications that PEs participate in regulation of photosynthesis in plants. Holá et al. (2013) found that exogenous application of 20E to leaves of Tetragonia tetragonioides (New Zealand spinach) enhances their net photosynthetic rate (P N), but not their photosynthetic electron transport rate or content of photosynthetic pigments. The increase in P N was statistically significant during the 4–6 h after treatment, but not later. Moreover, the first phase of the Calvin cycle (light-independent reactions of photosynthesis)—fixation of CO2 into organic matter—is also positively affected by exogenous application of some PEs (Macek et al. 2008; Holá et al. 2012). During the first Calvin cycle reaction, the enzyme RuBisCO (ribulose-1,5-bisphosphate carboxylase/oxygenase) catalyses carboxylation of ribulose-1,5-bisphosphate, RuBP, by CO2, and exogenously applied 20E can increase the RuBP yield (most strongly with equimolar concentrations of 20E and RuBisCO under in vitro conditions).
Relations of phytoecdysteroids and plant hormones
Nine groups of plant hormones have been identified and studied to date: auxins, cytokinins, gibberellins, abscisic acid, jasmonates, ethylene, brassinosteroids and (the most recently found) strigolactones—signalling molecules expanding the family of isoprenoid plant hormones (Tarkowská et al. 2014). Plants' intricate signalling networks are further complicated by links and interactions with synthesis and metabolic pathways of secondary metabolites. To date, no review concerning the relations of phytoecdysteroids and plant hormones has been published, but there are some indications that these substances might interact to some extent and thus influence some physiological processes and developmental events in plants. Thus, some information regarding these interactions is summarised here.
Conclusion
PEs clearly have intriguing distributions, but their roles in plants are still obscure despite many recent findings. Their likeliest functions still seem to be in defences against insect herbivores, which have potentially profound implications for (and applications in) agriculture. Furthermore, they clearly have potent pharmacological and medicinal properties that warrant much more attention (particularly as plants comprise a major part of human diets). For example, the numerous indications that they are very effective, non-androgenic, adaptogens and elicitors of anabolic effects on skeletal muscle suggest possible uses as natural drugs to boost people's stress resistance, post-damage muscle regeneration and sports performance. In addition, PE contents of many more plants should be screened, using sensitive modern analytical instruments to allow detection of PEs present at low concentrations to broaden knowledge of their distributions, profiles and roles in both perennial and annual plants. Last, but not least, further analysis of the origin(s) of isoprenoid units used in PEs' biosynthesis is required.
Author contribution statement
DT designed the outline of the article, composed the manuscript and figures. MS provided scientific feedback and critical comments and revised content. Both authors read and approved the manuscript.
Notes
Acknowledgments
Financial support from the Ministry of Education, Youth and Sport of the Czech Republic through the National Program of Sustainability (Grant No. LO 1204) is gratefully acknowledged. The authors would like to also express thanks to Sees-editing Ltd., Prof. Claus Wasternack and Dr. Juraj Harmatha for their critical reading and editing of the manuscript.
Copyright information
© Springer-Verlag Berlin Heidelberg 2016