The phytotoxin coronatine is a multifunctional component of the virulence armament of Pseudomonas syringae
Abstract
Plant pathogens deploy an array of virulence factors to suppress host defense and promote pathogenicity. Numerous strains of Pseudomonas syringae produce the phytotoxin coronatine (COR). A major aspect of COR function is its ability to mimic a bioactive jasmonic acid (JA) conjugate and thus target the JA-receptor COR-insensitive 1 (COI1). Biological activities of COR include stimulation of JA-signaling and consequent suppression of SA-dependent defense through antagonistic crosstalk, antagonism of stomatal closure to allow bacterial entry into the interior of plant leaves, contribution to chlorotic symptoms in infected plants, and suppression of plant cell wall defense through perturbation of secondary metabolism. Here, we review the virulence function of COR, including updates on these established activities as well as more recent findings revealing COI1-independent activity of COR and shedding light on cooperative or redundant defense suppression between COR and type III effector proteins.
Keywords
Phytotoxin 
Coronatine 
Plant hormones 
Hormone crosstalk 
Plant defense 
Type III effectors 
Introduction
Phytotoxins are microbe-produced secondary metabolites that interfere with and sometimes kill plant cells. They are either directly active or are produced as prototoxins that become activated by plant enzymes (Duke and Dayan 2011; Pruess et al. 1973; Uchytil and Durbin 1980). Pseudomonas syringae pathovars produce a repertoire of virulence effectors that are active inside plant cells, including numerous phytotoxins (Hogenhout et al. 2009). One class of effects mediated by phytotoxins is disruption of amino acid metabolism. For example, phaseolotoxin blocks the production of arginine by inhibiting ornithine transcarboxylase (Ferguson and Johnston 1980). Tabtoxin gets converted in planta to a glutamate analog that inhibits glutamine synthetase thus causing a buildup of ammonia and glutamine deficiency (Turner 1981; Uchytil and Durbin 1980). Other effects of phytotoxins are quite diverse and include perturbation of metabolism of lipids, sugars, and cell walls, synthesis of proteins and nucleic acids, membrane integrity and mitosis (Duke and Dayan 2011; Ferguson and Johnston 1980; Goudet et al. 1999; Pruess et al. 1973; Hoffman 1995; King and Calhoun 2009; Strobel et al. 1996; Thuleau et al. 1988; Walton 2006; Daub et al. 2005; Tanaka 1996). Another effect of phytotoxins is perturbation of hormone signaling. Phytohormones play key roles in a variety of physiologic and cellular processes, including numerous processes related to plant defense that have been extensively reviewed elsewhere (Bari and Jones 2009; Howe and Jander 2008; Katagiri and Tsuda 2010; Pieterse et al. 2009). While some phytotoxins likely perturb hormone signaling indirectly, COR directly engages JA-signal transduction proteins to co-opt hormone signaling.
COR is a polyketide phytotoxin produced by pathovars of
P. syringae
, including
alisalensis, atropurpurea, glycinea, maculicola, morsprunorum, porri
, and tomato (Bender et al.
1999
; Gross and Loper
2009
; Mitchell
1982
; Mitchell et al.
1983
; Preston
2000
; Ullrich et al.
1993
; Wiebe and Campbell
1993
; Zhao et al.
2000
; Cintas
2002
) (for these and other bacterial strains discussed, refer to Table 
1
). Additionally, COR-analogs are produced by
Xanthomonas campestris
pv.
phormiicolai
(Tamura et al.
1992
; Mitchell
1991
). Consistent with infection of a diverse set of host plants by these pathovars and species, COR is a non-host specific toxin that causes diffuse chlorosis in a wide variety of plant species (Rohde et al.
1998
; Brooks et al.
2004
).
Table 1
Strains discussed in this review
Strain name

COR production

References

P. syringae pv. tomato

Yes

Bender et al. (1999), Cintas et al. (2002), Gross and Loper (2009), Mitchell (1982), Mitchell et al. (1983), Ullrich et al. (1993), Wiebe and Campbell (1993), Zhao et al. (2000)

P. syringae pv. alisalensis

Yes

P. syringae pv. atropurpurea

Yes

P. syringae pv. glycinea

Yes

P. syringae pv. maculicola

Yes

P. syringae pv. morsprunorum

Yes

P. syringae pv. porri

Yes

Xanthomonas campestris pv. phormiicolai

COR-analogs

P. syringae pv. tomato (Pto) DC3000

Yes

Pto DC3000 mutant strains

 Pto cor-

No

Brooks et al. (2004)

 Pto∆CEL

Yes

Alfano et al. (2000)

 Pto∆CEL cor-

No

Geng et al. (2012)

 Pto cor- hrpS

No

Thilmony et al. (2006)
COR biosynthesis and structure
COR is composed of two moieties, the polyketide coronafacic acid (CFA) and coronamic acid (CMA) (Bender et al.
1999
; Ichihara et al.
1977
; Mitchell
1985
; Parry et al.
1993
). CMA is derived from L-alloisoleucine, a diastereomer of
l
-isoleucine activated by the nonribosomal peptide synthetase adenylation domain of CmaA (Rohde et al.
1998
; Buell et al.
2003
; Worley et al.
2013
). CFA is synthesized from a cyclopentenone compound with subsequent modification carried out by genes of the
cfa
operon (Gross and Loper
2009
). Coronafacate ligase, one of nine open reading frames within
cfa
operon, joins CFA and CMA with an amide linkage to form COR (Bender et al.
1993
; Liyanage et al.
1995
) (Fig. 
1
).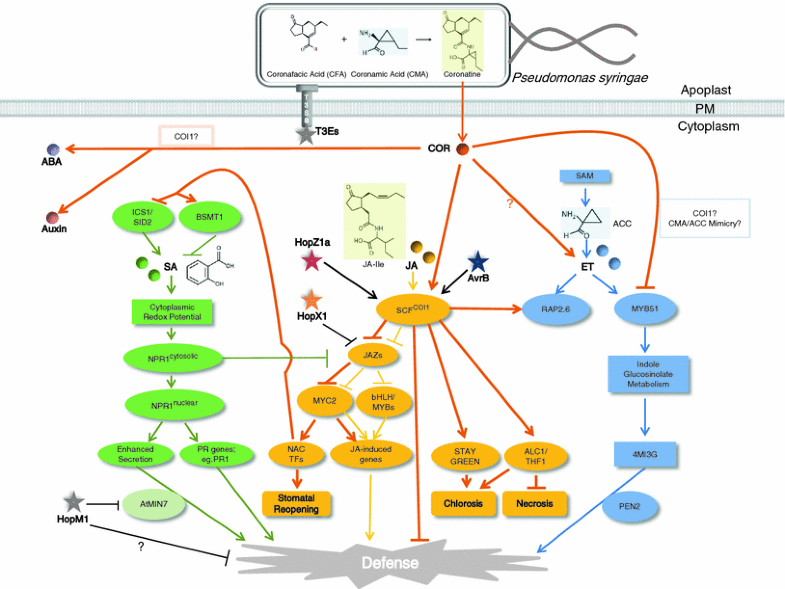 CFA and CMA are synthesized independently and the operons encoding the COR biosynthetic genes differ between P. syringae pv. tomato (Pto) strain DC3000 and P. syringae pv. glycinea (Pgl) strain 4180 (Worley et al. 2013; Sreedharan et al. 2006). The COR biosynthesis operons are encoded on a 90-kb plasmid in Pgl 4180 (Bender et al. 1993). On the other hand, the COR biosynthetic genes of Pto DC3000 exist within two distinct chromosomal clusters; the CFA operon is separated by ~26 kb of intervening DNA from the CMA biosynthesis genes and the adjacent genes regulating COR expression (Brooks et al. 2004). Biosynthesis of COR, as well as CFA and CMA, is thermo-regulated in Pgl 4180 and several other pathovars of P. syringae (Rohde et al. 1998). Consistent with the symptom development in infected plants, COR production is negligible at 30 °C and reaches maximal level at 18 °C (Bender 1999; Rohde et al. 1998). On the other hand, COR production is not thermo-regulated in Pto DC3000 and the production is much less in vitro (Braun et al. 2008; Weingart et al. 2004). This is due to the difference of a histidine protein kinase CorS between two strains (Braun et al. 2008; Smirnova et al. 2008; Weingart et al. 2004; Ullrich et al. 1995), although the specific mechanism is not yet clear.
COR both structurally and functionally mimics the most active isoleucine conjugate of JA (+)-7-iso-JA-Ile (JA-Ile) (Wasternack and Xie 2010; Fonseca et al. 2009b) (Fig. 1). The functional resemblance between COR and JA-Ile has been widely noted (Chini et al. 2007; Thines et al. 2007; Sheard et al. 2010; Glazebrook 2005; Gimenez-Ibanez and Solano 2013; Haider et al. 2000; Weiler et al. 1994) and is now demonstrated experimentally by solved crystal structures of each molecule in association with a COI1 (COR-insensitive 1) receptor complex (Sheard et al. 2010).
In addition to the proven ability of COR to mimic JA-Ile, similarity between the CMA moiety of COR and 1-aminocyclopropane-1-carboxylic acid (ACC) has been noted (Brooks et al. 2004) (Fig. 1). ACC, the rate-limiting precursor of ethylene (ET) biosynthesis in higher plants, and CMA each contain a cyclopropane ring. Although the individual moieties of COR (CMA and CFA) show very limited activity in plant tissues (Uppalapati et al. 2005), intact COR perturbs ET homeostasis or known outputs of ET-signaling (Kenyon and Turner 1992; Ferguson and Mitchell 1985; Geng et al. 2012; Millet et al. 2010) leading to the hypothesis that COR, through its CMA moiety, perturbs ET biosynthesis or signaling. However, since a direct effect of COR on ET-signaling, for example via mimicry of ACC by the CMA moiety, has not been demonstrated, the possibility that COR modulates ET-signaling indirectly cannot be ruled out.
Suppression of plant defense and promotion of disease symptoms by COR
COR and type III effectors cooperate to promote bacterial virulence
Bacterial pathogens deploy a variety of virulence factors, including toxins and type III effectors (T3Es), that work in a 'multifunctional, cooperative, and redundant' manner (Dean and Kenny 2009). As a result, bacteria often maintain their overall disease-causing ability even when one of their virulence strategies fails due to mutation or incompatibility on a given host. Consistent with this idea, several recent studies have indicated that the multifunctional COR toxin has functions that overlap with various T3Es in a cooperative or (semi-)redundant manner.
Transcription remodeling by COR and type III effectors
An examination of Arabidopsis gene expression following infiltration with wild-type Pto DC3000, Ptocor-, or Ptocor- hrpS (a COR- and type III secretion system (TTSS)-deficient double mutant of Pto DC3000) revealed overlapping yet still distinct roles of COR and T3Es in reprogramming of the host transcriptome (Thilmony et al. 2006). Both COR and T3Es contribute to the regulation of genes responsive to auxin, ABA, and cytokinin, suggesting that Pto DC3000 utilizes multiple virulence factors to ensure the successful perturbation of the host hormone network. One unique effect of COR, the significant induction of JA- responsive genes, is in accordance with JA-mimicry by COR and earlier work in tomato showing COR from Pto DC3000 induces JA-related gene expression and contributes to virulence (Zhao et al. 2003). Another unique effect of COR likely related to JA-mimicry by COR, is the prominent modulation on genes involved in secondary metabolism consistent with induced expression of Arabidopsis genes involved in secondary metabolism by JAs (Sasaki-Sekimoto et al. 2005; Taki et al. 2005). Interestingly, some of the secondary metabolism-related genes are antagonistically regulated by COR and type III effectors, presumably due to the distinct functions of these virulence factors. Contrary to COR, the prominent function of T3Es was differential regulation of SA-related genes and suppression of basal defense-related genes. Suppression of a few basal defense-related genes by COR was also observed. This study defined effects of COR by comparing wild-type Pto DC3000 to the Ptocor- mutant, both of which deliver the full complement of T3Es. Thus, some effects of COR were likely masked by T3Es and more functional overlap is expected between COR and T3Es than revealed by this study alone. Examples of functional overlap between COR and specific T3Es are described in the following sections.
Perturbation of hormone signaling by COR and T3Es
A variety of T3Es have been demonstrated to perturb hormone signaling pathways also targeted by COR. The T3Es AvrPto and AvrPtoB from Pto DC3000 induce ET production and signaling contributing to cell death in susceptible tomato plants (Cohn and Martin 2005). The ability of these T3Es to stimulate ET production correlates with their ability to induce the expression of two tomato ACC oxidase genes. Thus, in tomato, the virulence activity AvrPto and AvrPtoB might functionally overlap with that of COR. While functional redundancy between COR, AvrPto and AvrPtoB is speculative, the following paragraphs describe examples of overlapping function of COR with three different T3Es that target the JA-signaling pathway. Interestingly, relative to direct targeting of COI1 by COR, these T3Es perturb JA-signaling upstream of or at the COI1-signaling node.
The first example is AvrB, a T3E that targets upstream of COI1 (Fig. 1). He et al. 2004 showed that Pto DC3000, dependent on both COR and T3Es, induces the expression of an Arabidopsis ERF (ethylene responsive factor) gene, RAP2.6. Both a TTSS mutant and a cor- mutant of DC3000 failed to induce RAP2.6. Interestingly, AvrB complemented the ability of the cor- mutant strain to induce RAP2.6, indicating overlapping activities for the T3E and toxin. Further support for this overlap came from the observation that the ability of AvrB to induce RAP2.6 was dependent on COI1 (He et al. 2004). Later work indicated the ability of AvrB to activate JA-signaling is mediated by targeting of MAP kinase 4 (Cui et al. 2010). Thus, AvrB appears to induce JA-response genes by activating JA-signaling upstream of COI1.
The other two effectors activate JA-signaling by targeting JAZ proteins (Fig. 1). HopZ1a from P. syringae pv. syringae strain A2 acetylates JAZ proteins causing them to become destabilized dependent on COI1 (Jiang et al. 2013). HopX1 from P. syringae pv. tabaci (Pta) strain 11528 destabilizes JAZ proteins without a requirement for COI1, likely via its cysteine protease activity that directly cleaves the central Zim domain of the JAZ proteins (Gimenez-Ibanez et al. 2014). Like COR, both HopX1 and HopZ1a can induce expression of JA-response genes, suppress SA-signaling, and restore virulence to cor- mutant Pto DC3000 (Jiang et al. 2013; Gimenez-Ibanez et al. 2014). HopX1 shares additional activities with COR, including reopening of stomata, causing plant cells to lose chlorophyll, and induction of chlorosis in susceptible plants (Gimenez-Ibanez et al. 2014). Since Pta 11528 does not produce COR, HopX1 may serve as an alternative evolutionary strategy to compensate for the lack of COR. It is interesting to consider whether HopZ1a and HopX1 will target all or a specific subset of JAZ proteins in host plants. When tested against a nearly complete set of Arabidopsis JAZ proteins, HopX1 targeted all and HopZ1a targeted a subset. One model is that JAZ-selectivity reflects fine-tuning of the virulence activity of a T3E. Another possibility is that resistant JAZ proteins, such as those derived from alternate splice variants or sequence divergent homologs, are present in co-evolved hosts to help overcome the effects of T3Es. In either case, HopX1, which comes from a tabaci pathovar of P. syringae, might be expected to target only a subset of JAZ proteins from tobacco plants.
Suppression of cell wall defense by COR and T3Es
HopM1 is a T3E encoded by a gene located in the conserved effector locus (CEL) of Pto DC3000. HopM1 overcomes SA-dependent host immunity by destabilizing AtMIN7 to disrupt G-protein-mediated endomembrane trafficking as well as perturbing another Arabidopsis target(s) to disrupt an SA-independent pathway supporting Arabidopsis defense (Nomura et al. 2006; Gangadharan et al. 2013; Nomura et al. 2011) (Fig. 1). CEL, which is physically adjacent to the locus containing genes that encode the structural proteins of the type III secretion system apparatus, contains effectors important for the virulence of a variety of bacterial pathogens (Alfano et al. 2000; Badel et al. 2006; DebRoy et al. 2004; Ham et al. 2006; Kvitko et al. 2009). A recent study revealed a functional overlap between COR and HopM1 in suppressing cell wall-associated defense (Geng et al. 2012).
The ability of COR to suppress cell wall-associated defense escaped detection until recently (Geng et al. 2012; Millet et al. 2010) because the effect of COR is masked by T3Es of the CEL. Further obscuring this activity of COR, PtoΔCEL (CEL deletion of Pto DC3000) elicits SA-signaling that overcomes the suppressive effect of COR. The new activity of COR was detected by examining defense responses against a PtoΔCEL cor- (CEL deletion and COR-deficient double mutant strain) in SA-signaling deficient mutant plants (sid2 and npr1). The PtoΔCEL cor- double mutant elicited more callose and grew less than the PtoΔCEL single mutant in SA-signaling mutant plants. Furthermore, those higher levels of callose elicited by PtoΔCEL cor- were suppressed by either exogenous application of COR or expression of hopM1 in the double mutant strain. Thus, COR and HopM1 carry out overlapping roles in suppressing cell wall-associated defense.
Although COR and T3Es of the CEL locus share the ability to suppress cell wall-associated defense, their mode of action differs. In SA-signaling competent plants, HopM1 suppressed the high levels of callose deposition induced by PtoΔCEL cor- while COR could not. Thus, COR and HopM1 distinctly suppress signaling within the plant defense network by functioning in mechanistically distinct manners. The ability of COR to suppress callose deposition and promote bacterial growth in SA-signaling deficient mutants indicates that COR targets an SA-independent sector. Consistent with this idea, Geng et al. 2012 showed that COR perturbs IGs metabolism. Unlike COR that can only do so in SA-signaling deficient mutant plants, HopM1 suppresses callose deposition induced by PtoΔCEL cor- and restores bacterial growth in both wild-type and SA-signaling deficient mutant plants. Thus, HopM1 suppresses both SA-dependent and SA-independent sectors, perhaps through downstream effects on defense-associated vesicle trafficking. The mode of action by which COR and HopM1 each target distinct sectors of a converged portion of the plant defense network remains to be elucidated.
Conclusions and future questions
Plants consistently face environmental stresses, including biotic stresses, due to their sessile lifestyle. The key roles of hormone signaling and secondary metabolic pathways in the ability of plants to deal with these stresses make targeting of them an effective strategy deployed by plant bacterial pathogens to suppress host defense. Here, we reviewed the demonstrated ability of the phytotoxin COR to hijack JA-signaling and thus suppress SA-signaling. We also speculated about targeting of ET-signaling by COR and considered how one, or perhaps both, of these activities contributes to the various virulence activities of COR. The finding that COR promotes virulence independent of targeting COI1 opens a path to study this novel activity of COR separate from the confounding effects of COI1 activation. The perturbation of ET-dependent IGs metabolism provides an attractive system for this effort. In addition to producing hormones and/or hormone mimics, such as COR, bacteria also produce T3Es. COR cooperates with other T3Es to promote bacterial virulence and dampen the induced defense responses. The collaborative targeting of plant hosts by pathogen-produced virulence factors, for example by COR and T3Es that target plant hormone signaling pathways, is an area that, with further exploration, will reveal a better view of the elegant network comprising the plant immune system and how it is collaboratively defeated by pathogen-derived virulence factors.
Notes
Acknowledgments
We would like to thank our reviewers for critical suggestions and comments. We apologize to those authors whose works we could not cite because of space limitations. This work was supported by the National Science Foundation (MCB-0718882), the USDA (NIFA 2008-35319-04506), and the Ohio Agricultural Research and Development Center of The Ohio State University to DM, the Korean RDA Next-Generation BioGreen Program (SSAC, grant # PJ009088) to MGK and DM, and NRF-2012R1A1A1011351, Republic of Korea to MGK.
Copyright information
© The Author(s) 2014
Open AccessThis article is distributed under the terms of the Creative Commons Attribution License which permits any use, distribution, and reproduction in any medium, provided the original author(s) and the source are credited.