Abstract
Purpose
Laparoscopic and thoracoscopic/laparoscopic hepatectomy is a safe procedure that has potential advantages over open surgery. However, deeply positioned liver tumors require expert laparoscopic and thoracoscopic/laparoscopic hepatectomy techniques. Using simulated preoperative three-dimensional virtual endoscopy (P3DVE) guidance, we demonstrate herein that a thoracoscopic approach (TA), thoracoscopic–laparoscopic approach (TLA), and laparoscopic approach (LA) are all feasible and safe routes for performing pure laparoscopic and thoracoscopic/laparoscopic resection of liver tumors located in the 4a, 7, and 8 liver subdiaphragmatic areas.
Methods
Thirty-eight patients underwent laparoscopic and thoracoscopic/laparoscopic partial liver resection (TA 13 cases, TLA two cases, and LA 23 cases) of the subdiaphragmatic area at Showa University Hospital. All surgical approaches were preoperatively determined based on preoperative 3D virtual endoscopic simulation (P3DVES) visualization and findings using the image processing software SYNAPSE VINCENT®.
Results
Laparoscopic and thoracoscopic/laparoscopic liver resection was successfully performed for all cases under P3DVE instruction. The mean operative times using TA, TLA, and LA approaches were 193, 185, and 190 min, respectively. Mean blood loss during TA, TLA, and LA was 179, 138, and 73 g, respectively. No patients required conversion to open surgery, and there were no deaths, although there were three cases of Clavien–Dindo grade I in TA along with three cases of grade I and one case of grade II in LA.
Conclusions
TA, TLA, and LA routes performed under P3DVE instruction are feasible and safe to perform for pure laparoscopic and thoracoscopic/laparoscopic liver resection in selected patients with lesions located in the hepatic subdiaphragmatic area.
This is a preview of subscription content, log in to check access.
Access options
Buy single article
Instant unlimited access to the full article PDF.
US$ 39.95
Price includes VAT for USA
Subscribe to journal
Immediate online access to all issues from 2019. Subscription will auto renew annually.
US$ 99
This is the net price. Taxes to be calculated in checkout.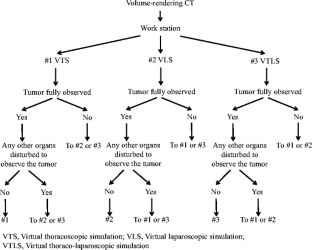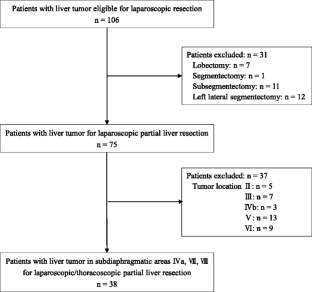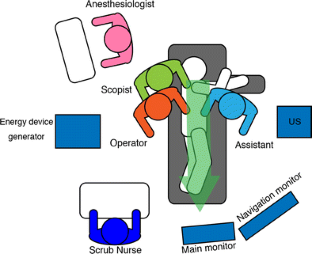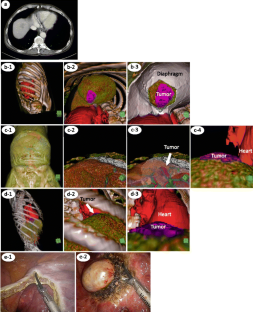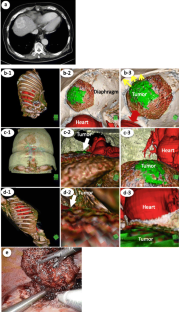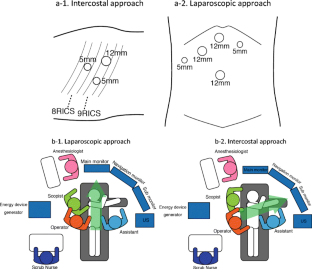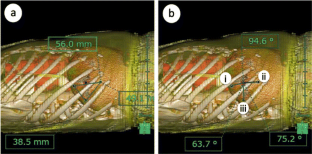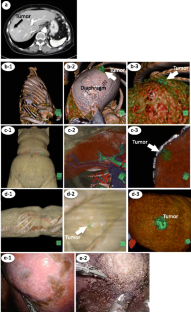 References
1.

Azagra JS, Goergen M, Gilbart E, Jacobs D (1996) Laparoscopic anatomical (hepatic) left lateral segmentectomy-technical aspects. Surg Endosc 10:758–761

2.

Kaneko H, Takagi S, Shiba T (1996) Laparoscopic partial hepatectomy and left lateral segmentectomy: technique and results of a clinical series. Surgery 120:468–475

3.

Huscher CG, Lirici MM, Chiodini S (1998) Laparoscopic liver resections. Semin Laparosc Surg 5:204–210

4.

Buell JF, Cherqui D, Geller DA, O'Rourke N, Iannitti D, Dagher I, Koffron AJ, Thomas M, Gayet B, Han HS, Wakabayashi G, Belli G, Kaneko H, Ker CG, Scatton O, Laurent A, Abdalla EK, Chaudhury P, Dutson E, Gamblin C, D'Angelica M, Nagorney D, Testa G, Labow D, Manas D, Poon RT, Nelson H, Martin R, Clary B, Pinson WC, Martinie J, Vauthey JN, Goldstein R, Roayaie S, Barlet D, Espat J, Abecassis M, Rees M, Fong Y, McMasters KM, Broelsch C, Busuttil R, Belghiti J, Strasberg S, Chari RS, World Consensus Conference on Laparoscopic Surgery (2009) The international position on laparoscopic liver surgery: the Louisville statement, 2008. Ann Surg 250:825–830

5.

Gigot JF, Glineur D, Santiago Azagra J, Goergen M, Ceuterick M, Morino M, Etienne J, Marescaux J, Mutter D, van Krunckelsven L, Descottes B, Valleix D, Lachachi F, Bertrand C, Mansvelt B, Hubens G, Saey JP, Schockmel R, Hepatobiliary and Pancreatic Section of the Royal Belgian Society of Surgery and the Belgian Group for Endoscopic Surgery (2002) Laparoscopic liver resection for malignant liver tumors: preliminary results of a multicenter European study. Ann Surg 236:90–97

6.

Otsuka Y, Tsuchiya M, Maeda T, Katagiri T, Isii J, Tamura A, Yamazaki K, Kubota Y, Suzuki T, Suzuki T, Kagami S, Kaneko H (2009) Laparoscopic hepatectomy for liver tumors: proposals for standardization. J Hepato-Biliary-Pancreat Surg 16:720–725

7.

Kazaryan AM, Røsok BI, Marangos IP, Rosseland AR, Edwin B (2011) Comparative evaluation of laparoscopic liver resection for posterosuperior and anterolateral segments. Surg Endosc 25:3881–3889

8.

Cho JY, Han HS, Yoon YS, Shin SH (2008) Feasibility of laparoscopic liver resection for tumors located in the posterosuperior segments of the liver, with a special reference to overcoming current limitations on tumor location. Surgery 144:32–38

9.

Yoon YS, Han HS, Cho JY, Ahn KS (2010) Total laparoscopic liver resection for hepatocellular carcinoma located in all segments of the liver. Surg Endosc 24:1630–1637

10.

Cho JY, Han HS, Yoon YS, Shin SH (2008) Experiences of laparoscopic liver resection including lesions in the posterosuperior segments of the liver. Surg Endosc 22:2344–2349

11.

Ikeda T, Toshima T, Harimoto N, Yamashita Y, Ikegami T, Yoshizumi T, Soejima Y, Shirabe K, Maehara Y (2014) Laparoscopic liver resection in the semiprone position for tumors in the anterosuperior and posterior segments, using a novel dual-handling technique and bipolar irrigation system. Surg Endosc 28:2484–2492

12.

Ishizawa T, Gumbs AA, Kokudo N, Gayet B (2012) Laparoscopic segmentectomy of the liver: from segment I to VIII. Ann Surg 256:959–964

13.

Okuda Y, Honda G, Kurata M, Kobayashi S, Sakamoto K, Takahashi K (2015) A safe and valid procedure for pure laparoscopic partial hepatectomy of the most posterosuperior area: the top of segment 7. J Am Coll Surg 220:e17–e21

14.

Murakami M, Aoki T, Kato T (2011) Video-assisted thoracoscopic surgery: hepatectomy for liver neoplasm. World J Surg 35:1050–1054

15.

Mise Y, Tani K, Aoki T, Sakamoto Y, Hasegawa K, Sugawara Y, Kokudo N (2013) Virtual liver resection: computer-assisted operation planning using a three-dimensional liver representation. J Hepatobiliary Pancreat Sci 20:157–164

16.

Ohshima S (2014) Volume analyzer SYNAPSE VINCENT for liver analysis. J Hepatobiliary Pancreat Sci 21:235–238

17.

Lamadé W, Glombitza G, Fischer L, Chiu P, Cárdenas CE Sr, Thorn M, Meinzer HP, Grenacher L, Bauer H, Lehnert T, Herfarth C (2000) The impact of 3-dimensional reconstructions on operation planning in liver surgery. Arch Surg 135:1256–1261

18.

Marescaux J, Clément JM, Tassetti V, Koehl C, Cotin S, Russier Y, Mutter D, Delingette H, Ayache N (1998) Virtual reality applied to hepatic surgery simulation: the next revolution. Ann Surg 228:627–634

19.

Saito S, Yamanaka J, Miura K, Nakao N, Nagao T, Sugimoto T, Hirano T, Kuroda N, Iimuro Y, Fujimoto J (2005) A novel 3D hepatectomy simulation based on liver circulation: application to liver resection and transplantation. Hepatology 41:1297–1304

20.

Satou S, Sugawara Y, Matsui Y, Kaneko J, Kishi Y, Imamura H, Kokudo N, Makuuchi M (2006) Preoperative estimation of right lateral sector graft by three-dimensional computed tomography. Transplant Proc 38:1400–1403

21.

Yamanaka J, Saito S, Fujimoto J (2007) Impact of preoperative planning using virtual segmental volumetry on liver resection for hepatocellular carcinoma. World J Surg 31:1249–1255

22.

Lang H, Radtke A, Hindennach M, Schroeder T, Frühauf NR, Malagó M, Bourquain H, Peitgen HO, Oldhafer KJ, Broelsch CE (2005) Impact of virtual tumor resection and computer-assisted risk analysis on operation planning and intraoperative strategy in major hepatic resection. Arch Surg 140:629–638

23.

Makuuchi M, Kosuge T, Takayama T, Yamazaki S, Kakazu T, Miyagawa S, Kawasaki S (1993) Surgery for small liver cancers. Semin Surg Oncol 9:298–304

24.

Okamura Y, Takeda S, Fujii T, Sugimoto H, Nomoto S, Nakao A (2011) Impact of the thoracoabdominal approach on peri- and postoperative outcomes of hepatectomy for hepatocellular carcinoma. World J Surg 35:1042–1049

25.

Xia F, Poon RT, Fan ST, Wong J (2003) Thoracoabdominal approach for right-sided hepatic resection for hepatocellular carcinoma. J Am Coll Surg 196:418–427

26.

Smyrniotis V, Arkadopoulos N, Theodosopoulos T, Theodoraki K, Dafnios N, Kannas D, Dimakakos P (2007) Transdiaphragmatic approach facilitates resection of large (>12 cm) liver tumors. J Hepato-Biliary-Pancreat Surg 14:383–386

27.

Lamadé W, Vetter M, Hassenpflug P, Thorn M, Meinzer HP, Herfarth C (2002) Navigation and image-guided HBP surgery: a review and preview. J Hepato-Biliary-Pancreat Surg 9:592–599

28.

Golse N, Ducerf C, Rode A, Gouillat C, Baulieux J, Mabrut JY (2012) Transthoracic approach for liver tumors. J Visc Surg 149:e11–e22
Authors' contributions
Study conception and design: Takeshi Aoki and Masahiko Murakami
Acquisition of data: Akira Fujimori, Tomotake Koizumi, Yuta Enami, Tomokazu Kusano, Kazuhiro Matsuda, and Kosuke Yamada
Analysis and interpretation of data: Koji Nogaki, Yusuke Wada, Tomoki Hakozaki, Satoru Goto, Makoto Watanabe, and Koji Otsuka
Drafting of manuscript: Takeshi Aoki
Critical revision of manuscript: Masahiko Murakami
Ethics declarations
Conflicts of interest
None.
Electronic supplementary material
Below is the link to the electronic supplementary material.
About this article
Cite this article
Aoki, T., Murakami, M., Fujimori, A. et al. Routes for virtually guided endoscopic liver resection of subdiaphragmatic liver tumors. Langenbecks Arch Surg 401, 263–273 (2016). https://doi.org/10.1007/s00423-016-1385-4
Received:

Accepted:

Published:

Issue Date:
Keywords
Laparoscopic hepatectomy

3D virtual endoscopic simulation

Subdiaphragmatic liver tumor

Video-assisted thoracoscopic surgery-hepatectomy

Thoracoscopic–laparoscopic hepatectomy