Abstract
Purpose
This paper aims to describe an extracorporeal tourniquet (ET) method for laparoscopic Pringle maneuver (PM).
Patients and technique
From January 2007 to June 2011, we have performed 44 laparoscopic hepatic resections: one hand-assisted and 43 totally laparoscopic procedures. In 39 of these patients, an ET was prepared. In 20 cases (lesions posteriorly located), the patient was placed in the left lateral position, and in 19 cases (lesions anteriorly located), in the supine position. The ET is prepared according to the following steps: from the right flank and through the foramen of Winslow, a grasper is passed behind the hepatoduodenal ligament to place a 75-cm cotton tape around it. The tape is externalized through a 5-mm incision and then passed through a 22CH Tiemann catheter whose ends are cut. The internal end of the catheter is left close to the pedicle, while the other part, with the ends of the tape, is kept outside. The PM is performed from outside the abdomen.
Results
In every patient, the ET was uneventfully prepared. No unsuccessful attempts were made. Intermittent clamping was applied. Median (interquartile range) occlusion time was 47.5 min (26.7–64.2). No lesions of any structures related to the placement and use of the tourniquet were observed.
Conclusions
This ET for laparoscopic liver resection is easy to prepare and its use simple, fast, and safe.
This is a preview of subscription content, log in to check access.
Access options
Buy single article
Instant unlimited access to the full article PDF.
US$ 39.95
Price includes VAT for USA
Subscribe to journal
Immediate online access to all issues from 2019. Subscription will auto renew annually.
US$ 99
This is the net price. Taxes to be calculated in checkout.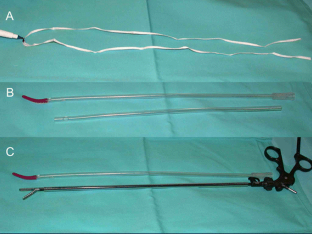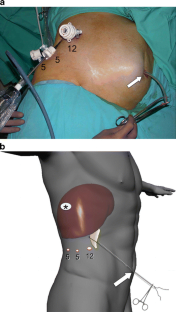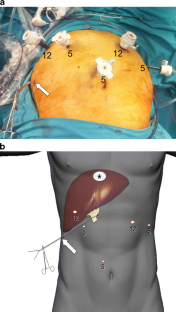 References
1.

Pringle JH (1908) V. Notes on the arrest of hepatic hemorrhage due to trauma. Ann Surg 48(4):541–549

2.

Gotoh M, Monden M, Sakon M, Kanai T, Umeshita K, Nagano H, Mori T (1994) Hilar lobar vascular occlusion for hepatic resection. J Am Coll Surg 178(1):6–10

3.

Chouillard EK, Gumbs AA, Cherqui D (2010) Vascular clamping in liver surgery: physiology, indications and techniques. Ann Surg Innov Res 4:2

4.

Dixon E, Vollmer CM Jr, Bathe OF, Sutherland F (2005) Vascular occlusion to decrease blood loss during hepatic resection. Am J Surg 90(1):75–86

5.

Katkhouda N, Hurwitz M, Gugenheim J, Mavor E, Mason RJ, Waldrep DJ et al (1999) Laparoscopic management of benign solid and cystic lesions of the liver. Ann Surg 229(4):460–466

6.

Cherqui D, Husson E, Hammoud R, Malassagne B, Stephan F, Bensaid S, Rotman N, Fagniez PL (2000) Laparoscopic liver resections: a feasibility study in 30 patients. Ann Surg 232(6):753–762

7.

Abu Hilal M, Underwood T, Taylor MG, Hamdan K, Elberm H, Pearce NW (2010) Bleeding and hemostasis in laparoscopic liver surgery. Surg Endosc 24(3):572–577

8.

Cugat E, Perez-Romero N, Rotellar F, Suarez MA, Gastaca M, Artigas V et al (2010) Laparoscopic liver surgery: 8 years of multicenter Spanish register. J Hepatobiliary Pancreat Sci 17(3):262–268

9.

Santambrogio R, Aldrighetti L, Barabino M, Pulitano C, Costa M, Montorsi M et al (2009) Laparoscopic liver resections for hepatocellular carcinoma. Is it a feasible option for patients with liver cirrhosis? Langenbecks Arch Surg 394(2):255–264

10.

Cho A, Yamamoto H, Nagata M, Takiguchi N, Shimada H, Kainuma O, Souda H, Gunji H, Miyazaki A, Ikeda A (2010) Safe and feasible inflow occlusion in laparoscopic liver resection. Surg Endosc 24(1):246

11.

Belli G, Fantini C, D'Agostino A, Cioffi L, Limongelli P, Russo G et al (2008) Laparoscopic segment VI liver resection using a left lateral decubitus position: a personal modified technique. J Gastrointest Surg 12(12):2221–2226

12.

Saif R, Jacob M, Robinson S, Sen G, Manas D, White S (2011) Laparoscopic Pringle's manoeuvre for liver resection–how I do it. Minim Invasive Ther Allied Technol. doi:10.3109/13645706.2011.557078

13.

Maehara S, Adachi E, Shimada M, Taketomi A, Shirabe K, Tanaka S, Maeda T, Ikeda K, Higashi H, Maehara Y (2007) Clinical usefulness of biliary scope for Pringle's maneuver in laparoscopic hepatectomy. J Am Coll Surg 205(6):816–818

14.

Casciola L, Patriti A, Ceccarelli G, Bartoli A, Ceribelli C, Spaziani A (2011) Robot-assisted parenchymal-sparing liver surgery including lesions located in the posterosuperior segments. Surg Endosc. doi:10.1007/s00464-011-1796-9
Conflicts of interest
None.
Electronic supplementary material
Below is the link to the electronic supplementary material.
This video shows how to prepare this extracorporeal tourniquet and its use both in a normal and a cirrhotic liver. (MPEG 65,426 kb)
About this article
Cite this article
Rotellar, F., Pardo, F., Bueno, A. et al. Extracorporeal tourniquet method for intermittent hepatic pedicle clamping during laparoscopic liver surgery: an easy, cheap, and effective technique. Langenbecks Arch Surg 397, 481–485 (2012). https://doi.org/10.1007/s00423-011-0887-3
Received:

Accepted:

Published:

Issue Date:
Keywords
Pringle maneuver

Hepatic pedicle occlusion

Laparoscopy

Laparoscopic hepatectomy

Liver resection