Abstract
Objective
To analyze gastric leakage following sleeve gastrectomy depending on its point of detection and localization in order to evaluate therapeutic strategies.
Method
From Dec 2006 until June 2010, data of all patients undergoing bariatric surgery were entered into a prospectively documented database. Evaluation contained patient′s gender, age, body mass index (BMI), type of surgery, clinical symptoms, diagnostics, onset and localization of leakage, type of therapy, length of stay (LOS), and clinical outcome.
Results
Forty-five of 196 bariatric patients underwent sleeve gastrectomy, 22 male and 23 female with mean age 43 ± 9.7 years and mean BMI 54.9 ± 10 kg/m2. Four patients developed a gastric leak (8.9%)—three proximal leaks and one distal leak. Leakage was detected by upper gastrointestinal (UGI) radiography in two cases, by gastroscopy in one case, and by abdominal computed tomographic (CT) scan in another case. In two cases, CT scan was not feasible because of patient′s conditions. Three patients underwent relaparoscopy with re-suture of staple line, abdominal lavage, and placement of an intraabdominal drain. Both patients with proximal leaks required stent graft application as leakage reoccurred within 5 days after relaparoscopy. LOS varied between 30 and 120 days. None of the patients died.
Conclusion
The location of leakage, and the presence or absence of an intraabdominal drain are determining factors for its treatment. UGI radiography with contrast media and gastroscopy are comparable and superior to standard CT scan. Stent graft application is a promising therapy in case of proximal leakage; re-suture or resection of the staple line are possible solutions in case of a distal leak.
This is a preview of subscription content, log in to check access.
Access options
Buy single article
Instant access to the full article PDF.
US$ 39.95
Price includes VAT for USA
Subscribe to journal
Immediate online access to all issues from 2019. Subscription will auto renew annually.
US$ 99
This is the net price. Taxes to be calculated in checkout.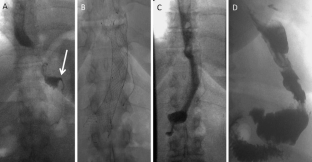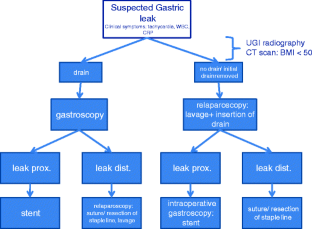 References
1.

Gagner M, Rogula T (2003) Laparoscopic reoperative sleeve gastrectomy for poor weight loss after biliopancreatic diversion with duodenal switch. Obes Surg 13(4):649–654

2.

Lee WJ, Ser KH, Chong K, Lee YC, Chen SC, Tsou JJ, Chen JC, Chen CM (2010) Laparoscopic sleeve gastrectomy for diabetes treatment in nonmorbidly obese patients: efficacy and change of insulin secretion. Surgery 147:664–669

3.

Peterli R, Wölnerhanssen B, Peters T, Devaux N, Kern B, Christoffel-Courtin C, Drewe J, von Flüe M, Beglinger C (2009) Improvement in glucose metabolism after bariatric surgery: comparison of laparoscopic Roux-en-Y gastric bypass and laparoscopic sleeve gastrectomy: a prospective randomized trial. Ann Surg 250(2):234–241

4.

Arias E, Martínez PR, Ka Ming Li V, Szomstein S, Rosenthal RJ (2009) Mid-term follow-up after sleeve gastrectomy as a final approach for morbid obesity. Obes Surg 19:544–548

5.

Moy J, Pomp A, Dakin G, Parikh M, Gagner M (2008) Laparoscopic sleeve gastrectomy for morbid obesity. Am J Surg 196:56–59

6.

Himpens J, Dobbeleir J, Peeters G (2010) Long-term results of laparoscopic sleeve gastrectomy for obesity. Ann Surg 252(2):319–324

7.

Regan JP, Inabnet WB, Gagner M, Pomp A (2003) Early experience with two-stage laparoscopic Roux-en-Y gastric bypass as an alternative in the super-super obese patient. Obes Surg 13(6):861–864

8.

Cottam D, Qureshi FG, Mattar SG, Sharma S, Holover S, Bonanomi G, Ramanathan R, Schauer P (2006) Laparoscopic sleeve gastrectomy as an initial weight-loss procedure for high-risk patients with morbid obesity. Surg Endosc 20:859–863

9.

Tagaya N, Kasama K, Kikkawa R, Kanahira E, Umezawa A, Oshiro T, Negishi Y, Kurokawa Y, Nakazato T, Kubota K (2009) Experience with laparoscopic sleeve gastrectomy for morbid versus super morbid obesity. Obes Surg 19:1371–1376

10.

Baltasar A, Serra C, Pérez N, Bou R, Bengochea M (2006) Re-sleeve gastrectomy. Obes Surg 16:1535–1538

11.

Frezza EE, Reddy S, Gee LL, Wachtel MS (2009) Complications after sleeve gastrectomy for morbid obesity. Obes Surg 19:684–687

12.

Csendes A, Díaz JC, Burdiles P, Braghetto I, Maluenda F, Nava O, Korn O (1990) Classification and treatment of anastomotic leakage after extended total gastrectomy in gastric carcinoma. Hepatogastroenterology 37(2):174–177

13.

Csendes A, Burdiles P, Burgos AM, Maluenda F, Diaz JC (2005) Conservative management of anastomotic leaks after 557 open gastric bypasses. Obes Surg 15:1252–1256

14.

Tucker ON, Szomstein S, Rosenthal RJ (2008) Indications for sleeve gastrectomy as a primary procedure for weight loss in the morbidly obese. J Gastrointest Surg 12:662–667

15.

Skrekas G, Lapatsanis D, Stafyla V, Papalambros A (2008) One year after laparoscopic "tight" sleeve gastrectomy: technique and outcome. Obes Surg 18:810–813

16.

Csendes A, Braghetto I, León P et al (2010) Management of leaks after laparoscopic sleeve gastrectomy in patients with obesity. J Gastrointest Surg 14:1343–1348

17.

Márquez MF, Ayza MF, Lozano RB et al (2010) Gastric leak after laparoscopic sleeve gastrectomy. Obes Surg 20:1306–1311

18.

Lalor PF, Tucker ON, Szomstein S, Rosenthal RJ (2008) Complications after laparoscopic sleeve gastrectomy. Surg Obes Relat Dis 4:33–38

19.

Carucci LR, Turner MA, Conklin RC, DeMaria EJ, Kellum JM, Sugerman HJ (2006) Roux-en-Y gastric bypass surgery for morbid obesity: evaluation of postoperative extraluminal leaks with upper gastrointestinal series. Radiology 238:119–127

20.

Clinical Issues Commitee of American Society for Metabolic and Bariatric Surgery (2007) Sleeve gastrectomy as a bariatric procedure. Surg Obes Relat Dis 3:573–576

21.

Burgos AM, Braghetto I, Csendes A, Maluenda F, Korn O, Yarmuch J, Gutierrez L (2009) Gastric leak after laparoscopic-sleeve gastrectomy for obesity. Obes Surg 19:1672–1677

22.

Casella G, Soricelli E, Rizzello M, Trentino P, Fiocca F, Fantini A, Salvatori FM, Basso N (2009) Nonsurgical treatment of staple line leaks after laparoscopic sleeve gastrectomy. Obes Surg 19:821–826

23.

Tan JT, Kariyawasam S, Wijeratne T et al (2010) Diagnosis and management of gastric leaks after laparoscopic sleeve gastrectomy for morbid obesity. Obes Surg 20:403–409

24.

Stroh C, Birk D, Flade-Kuthe R et al (2009) Results of sleeve gastrectomy—data from a nationwide survey on bariatric surgery in Germany. Obes Surg 19:632–640

25.

Ser KH, Lee WJ, Lee YC et al (2010) Experience in laparoscopic sleeve gastrectomy for morbidly obese Taiwanese: staple line reinforcement is important for preventing leakage. Surg Endosc 24:2253–2259

26.

Lacy A, Obarzabal A, Pando E, Adelsdorfer C, Delitala A, Corcelles R, Delgado S, Vidal J (2010) Revisional surgery after sleeve gastrectomy. Surg Laparosc Endosc Percutan Tech 20:351–356

27.

Chen B, Kiriakopoulos A, Tsakayannis D, Wachtel MS, Linos D, Frezza EE (2009) Reinforcement does not necessarily reduce the rate of staple line leaks after sleeve gastrectomy. a review of the literature and clinical experiences. Obes Surg 19:166–172

28.

Kasalicky M, Michalsky D, Housova J, Haluzik M, Housa D, Haluzikova D, Fried M (2008) Laparoscopic sleeve gastrectomy without an over-sewing of the staple line. Obes Surg 18:1257–1262

29.

Gonzalez R, Sarr MG, Smith CD, Baghai M, Kendrick M, Szomstein S, Rosenthal R, Murr MM (2007) Diagnosis and contemporary management of anastomotic leaks after gastric bypass for obesity. J Am Coll Surg 204:47–55

30.

Jinxing Y, Turner MA, Cho SR, Fulcher AS, DeMaria EJ, Kellum JM, Sugarman HJ (2004) Normal anatomy and complications after gastric bypass surgery: helical CT findings. Radiology 231:753–760

31.

Triantafyllidis G, Lazoura O, Sioka E et al (2010) Anatomy and complications following laparoscopic sleeve gastrectomy: radiological evaluation and imaging pitfalls. Obes Surg 21:473–478
About this article
Cite this article
Jurowich, C., Thalheimer, A., Seyfried, F. et al. Gastric leakage after sleeve gastrectomy—clinical presentation and therapeutic options. Langenbecks Arch Surg 396, 981 (2011). https://doi.org/10.1007/s00423-011-0800-0
Received:

Accepted:

Published:
Keywords
Sleeve gastrectomy

Leakage