Standard perioperative management in gastrointestinal surgery
Open Access
Review Article
Abstract
Introduction
The outcome of patients who are scheduled for gastrointestinal surgery is influenced by various factors, the most important being the age and comorbidities of the patient, the complexity of the surgical procedure and the management of postoperative recovery. To improve patient outcome, close cooperation between surgeons and anaesthesiologists (joint risk assessment) is critical. This cooperation has become increasingly important because more and more patients are being referred to surgery at an advanced age and with multiple comorbidities and because surgical procedures and multimodal treatment modalities are becoming more and more complex.
Objective
The aim of this review is to provide clinicians with practical recommendations for day-to-day decision-making from a joint surgical and anaesthesiological point of view. The discussion centres on gastrointestinal surgery specifically.
Keywords
Perioperative management 
Risk assessment 
Gastrointestinal surgery 
Practical recommendations 
Introduction
The outcome of patients who undergo gastrointestinal surgery varies greatly. Factors such as the patient's age and comorbidities, the complexity of the surgical procedure and the management of postoperative recovery influence the outcome [
1
,
2
]. Modern perioperative management has been improved in numerous ways over the last decade and nowadays is regarded as a highly multidisciplinary task (Fig. 
1
). Because an ageing population is leading to more and more patients with multiple comorbidities being referred to surgery and because surgical procedures and multimodal treatment modalities are becoming increasingly complex, close cooperation between surgeons and anaesthesiologists (i.e. joint risk assessment) is critical for improving outcome after major gastrointestinal surgery. Internists are also frequently involved to optimise the patient's physical condition or medication.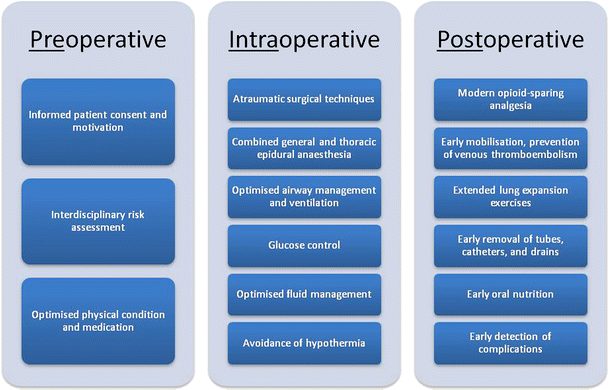 It is beyond the scope of this review to comprehensively summarise the body of literature on perioperative management. Rather, we aim to provide clinicians with practical recommendations from a joint surgical and anaesthesiological point of view, with a specific emphasis on nonemergency gastrointestinal surgery. Because adequately powered randomised clinical trials are often lacking, some of these recommendations and suggestions are more empirical than evidence based. In addition, these recommendations partially represent the day-to-day practice at our University Medical Center.
Intraoperative management
Prophylactic antibiotics
Preoperative prophylaxis
The goal of preoperative antimicrobial prophylaxis is to reduce the intraoperative bacterial load to a degree that can be controlled by the patient's innate immune system. The importance of adequate antimicrobial prophylaxis in preventing surgical site infection (SSI) is illustrated by its inclusion in World Health Organisation's surgical safety checklist and by the results of two trials of the use of such a list [56, 57]. Even so, there are many questions to be answered and improvements to be realised before the optimal effect of this intervention can be achieved.
For example, although the time to reach the plasma peak concentration is known for most antibiotic agents, very little is known about the time to achieve an adequate concentration on the skin or in other organs. In addition, the changes in haemodynamics caused by induction of anaesthesia and by the effects of any underlying disease might influence this timing. Intravenously applied beta-lactam antibiotics, which are commonly used as SSI prophylaxis, normally reach peak plasma concentration soon after their application, but their distribution to tissues depends on organ perfusion, plasma binding rate, molecular size and other factors. Studies by Stone and Classen have suggested that application should occur between 2 and 1 h before the skin incision [58, 59], and the World Health Organisation checklist advocates a 1-h interval (the commonly used 30-min interval has never been rigorously investigated). Other studies have demonstrated that extension beyond 24 h actually leads to the emergence of resistant bacteria and higher rates of SSI [60].
Other issues in optimising the use of preoperative prophylactic antibiotics include the choice of drug in relation to the site and type of surgery, adequate dosing, early identification of potential additional patient risk factors and local characteristics of bacterial resistance. The surgical site will determine whether both Gram-negative and Gram-positive bacteria should be covered. The frequently used cephalosporins, for example, lose their Gram-positive potency from generation to generation, whereas their Gram-negative potency increases (although this is not true for fifth-generation cephalosporins such as ceftobiprole, which recover their effectiveness against Gram-positive germs). Cefazolin is suitable if preventing infection of the skin and deeper soft tissue (i.e. fascial and muscular layers) is the main goal. Third-generation cephalosporins are appropriate for inhibiting infection of the abdominal cavity organs or space. Third-generation ceftriaxon has a high permeability into tissues and a high plasma protein binding rate, which lead to a long plasma half-life of up to 8 h. In contrast, second-generation cefotiam has a plasma half-life of 30 min and, therefore, is not adequate as a single-dose perioperative prophylaxis if the time to wound closure will exceed 1 h. In cases where the surgical intervention exceeds the plasma half-life of the chosen antibiotic drug, a second dose after 3 h may be considered [61].
The risk of developing SSI in developed countries is very low, around 1% to 3% for clean surgery, but there is no question that this rate can be significantly reduced [62]. The drugs used should be defined in advance for each intervention, including alternatives should the patient have any contraindication against the first-choice antibiotics. Although it can be applied in the operating room, the drug is ideally applied beforehand. Application should be started immediately after intravenous access has been established (between 2 and 0.5 h before skin incision, as most antibiotics should reach a relevant tissue level in that time frame). If the institution carries a holding area, application might take place there; the "time out" of the surgical checklist should ensure the antibiotic was given within the appropriate time frame.
Any application of antimicrobial drugs after closure of the surgical wound should not be considered perioperative prophylaxis, as this categorisation thwarts the rationale behind the approach. Application after wound closure actually increases the risk of SSI fivefold and promotes the development of resistant bacterial strains [59, 63]. Even correctly performed "single-shot" perioperative antibiotic prophylaxis can induce severe Clostridium difficile infections and diarrhoea with highly virulent strains [64, 65]. Besides their negative and sometimes life-threatening consequences, SSIs significantly increase the length of the hospital stay and the associated costs. Because studies providing a high level of evidence for the how and when of perioperative antimicrobial prophylaxis are lacking, much research is still needed on the optimal and adequate use of well-established measures, including perioperative antimicrobial therapy, to reduce the incidence of SSI. Until then, the practical approach should be oriented along the theoretical rationale behind this intervention.
MRSA
There is an ongoing discussion about whether antibiotic prophylaxis should cover resistant bacterial strains, such as methicillin-resistant Staphylococcus aureus (MRSA), if the patient had been colonised before the surgery [66]. The data do not support the general use of perioperative prophylaxis with agents active against MRSA if the patient is colonised by resistant bacteria. Two small studies of hospitals with a high prevalence of MRSA demonstrated conflicting results for a cohort of cardiac surgery and neurosurgery patients [67, 68]. The study in cardiac surgery patients did not demonstrate a difference in the rate of surgical wound infections when comparing vancomycin with cefazolin, whereas the same approach significantly reduced shunt infections and mortality when neurosurgical patients were studied. However, for patients at high risk of SSI, who should be identified in advance of surgery, the extension of antibiotic prophylaxis to agents against MRSA and other resistant bacterial strains might be considered.
At our University Medical Center, vancomycin is not the drug of choice for such cases because it has a high molecular weight and penetrates poorly into tissues. Clindamycin, rifampicin or fosfomycin might be used as long as the MRSA strain is sensitive to these agents; linezolid and daptomycin are additional options.
Joint decision-making
The determination of the most effective use of preoperative and perioperative antimicrobial therapy for a patient requires efforts by a multidisciplinary team, including pivotally the anaesthesiologist and the surgeon but also the microbiologist and the nursing staff. These efforts will often require the use of a standard protocol, quality management and change. The change includes altered behaviour by surgeons and the other team members involved in the patient's care pathway through the surgical procedure and recovery [69, 70]. Quality improvement measures from industry have been successfully applied to hospital settings to achieve adequate, if not optimal, prophylactic antibiotic use [71].
Measures for avoiding postoperative complications
Major abdominal surgery per se represents a challenge for the human immune system and other systems needed for a body to adequately react to surgical stress and to maintain or restore homeostasis. In general, the degree to which the stress response of the human body will be controlled during surgery determines the body's susceptibility to minor or major postoperative complications. Measures performed to induce and maintain surgical anaesthesia can also challenge these systems. From a large range of potential interventions for ameliorating postoperative complications, this review focuses on five of the most important [41].
Intensive and intermediate postoperative care
The concept of fast-track surgery has also challenged the traditional use of ICU resources for patients who undergo major gastrointestinal surgery and are at low or moderate risk of a poor outcome. There is no rationale for transferring an extubated, stable, normothermic patient from the operating room to an ICU, and evidence is growing that transfer to a normal surgical ward might be preferred. However, this decision requires close interdisciplinary cooperation and well-defined protocols regarding how the postoperative care of the patient will be carried out. This cooperation increases the workload for the general ward and requires highly motivated well-trained nursing staff to be effective [118, 119].
The establishment of intermediate care wards that can deliver a higher level of care (staff and monitoring equipment) might further reduce the need for intensive care beds for high-risk patients who have undergone elective abdominal surgery. For patients who undergo major vascular surgery and thoracic surgery, the adequacy of an intermediate care unit has been demonstrated [120, 121]. Nursing, monitoring and treatment options may vary, but whatever the infrastructure of the intermediate care unit might be, it generally provides basic haemodynamic monitoring, the ability to provide one or two intravenous drugs continuously and the ability to perform non-invasive ventilation.
Patients undergoing major abdominal surgery who are at high risk of a poor outcome—particularly elderly patients and patients with underlying chronic respiratory diseases—should be scheduled for intensive care treatment [122, 123, 124]. In addition, should extended monitoring, invasive mechanical ventilation, continuous application of several intravenous drugs or any kind of extracorporeal procedure be required, the patient must be transferred to a high-dependency ICU. For these patients, even preoperative admission to an ICU and the optimisation of their preoperative status might facilitate their journey through major abdominal surgery and improve the outcome.
In summary, most patients who undergo elective major abdominal surgery do not necessarily require intensive care resources, whereas high-risk patients might even profit from preoperative care in an ICU. Ideally, a step-up–step-down ICU can be realized that would allow the level of care to be adapted to the needs of the patient without physically changing the location of the patient [125].
Postoperative management
The care strategy for patients after surgery has shifted tremendously over time and has been influenced primarily by modern fast-track programmes (please see the accompanying article on "fast track perioperative management: physiologic principles"). Currently, there are six major elements to the postoperative recovery period (Fig. 1). All of these principles are interrelated and affect the use and effectiveness of each other. Importantly, their effectiveness also depends greatly on the availability and sufficiency of qualified nurses and physiotherapists. This dependency often represents a key bottleneck in postsurgical treatment, particularly in times of increasing economic demands. And again, close cooperation between the surgeon and anaesthesiologist is critical to the implementation of these elements.
Conclusion
Standard perioperative management in elective gastrointestinal surgery has advanced significantly in the last decade. As a truly multidisciplinary approach, it involves close interaction between the disciplines of surgery, anaesthesiology and intensive care medicine throughout the preoperative, intraoperative and postoperative phases. Major improvements have been based on evidence (see Fig. 1), and their implementation into routine clinical practice has enabled increasingly complex surgical procedures for an ageing patient population with significant comorbidities. For these reasons, major gastrointestinal surgery can now be safely performed with acceptable morbidity and mortality rates.
Notes
Conflicts of interest
None for MG and BMG; MQ is a member of the international advisory board of COVIDIEN.
Open Access
This article is distributed under the terms of the Creative Commons Attribution Noncommercial License which permits any noncommercial use, distribution, and reproduction in any medium, provided the original author(s) and source are credited.
Copyright information
© The Author(s) 2011
Open AccessThis is an open access article distributed under the terms of the Creative Commons Attribution Noncommercial License (https://creativecommons.org/licenses/by-nc/2.0), which permits any noncommercial use, distribution, and reproduction in any medium, provided the original author(s) and source are credited.