Abstract
Background and aims
Over 500 minimal-access parathyroidectomies (MIPs) have been performed in our unit, and, from these, a technique for thyroid resection has evolved. We present a report on the evolution of minimal-access thyroid surgery (MATS) and compare the results with those from a cohort of patients operated on prior to the use of MATS.
Methods
We reviewed the evolution towards the MATS technique. The results of the MATS procedures were compared with those from an equal number of consecutive patients undergoing conventional lobectomy prior to the use of MATS.
Results
Fifty patients (mean age 45.6 years) underwent MATS between March 2002 and May 2004. The mean nodule diameter was 18.5 mm. In the MATS group there was one recurrent laryngeal nerve (RLN) injury, two temporary RLN neuropraxias, which recovered, and one haematoma. The control group (mean age 47.9 years) had a mean nodule size of 22 mm. In the controls there was one temporary RLN neuropraxia, which recovered, and two haematomas—P>0.05 (Fisher's exact test) for all the complications.
Conclusions
MATS has evolved from an experimental approach into a safe and feasible surgical procedure based on the same operative approach as used for MIP. It provides an alternative to open thyroid surgery in appropriately selected cases.
This is a preview of subscription content, log in to check access.
Access options
Buy single article
Instant access to the full article PDF.
US$ 39.95
Price includes VAT for USA
Subscribe to journal
Immediate online access to all issues from 2019. Subscription will auto renew annually.
US$ 99
This is the net price. Taxes to be calculated in checkout.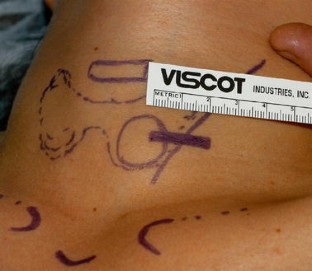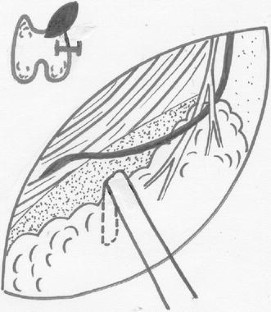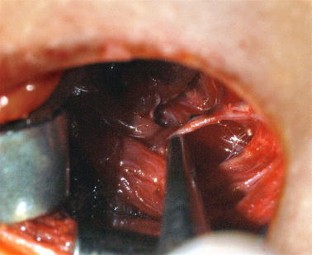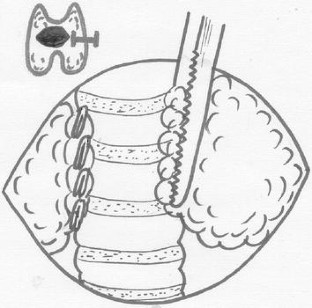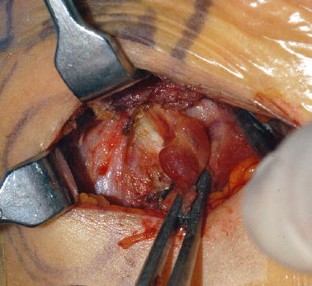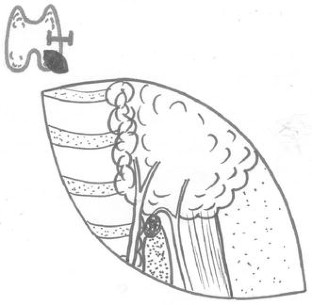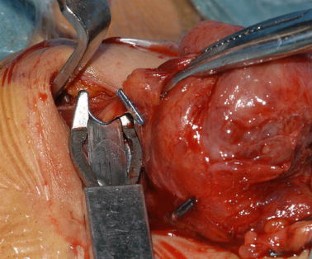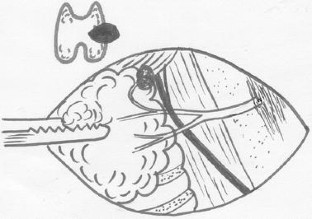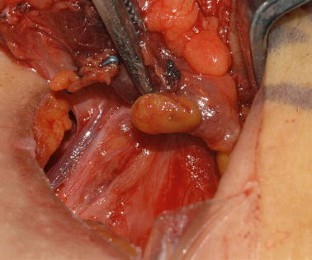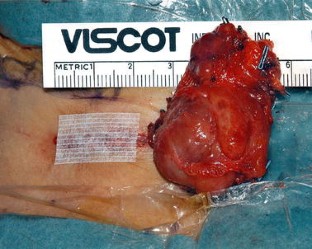 References
1.

Duh QY (2003) Presidential address: minimal access endocrine surgery—standard of treatment or hype? Surgery 134:849–857

2.

Agarwal G, Barraclough BH, Reeve TS, Delbridge LW (2002) Minimally invasive parathyroidectomy using the 'focused' lateral approach. II. Surgical technique. ANZ J Surg 72:147–151

3.

Bliss RD, Gauger PG, Delbridge LW (2000) Surgeon's approach to the thyroid gland: surgical anatomy and the importance of technique. World J Surg 24:891–897

4.

Palazzo FF, Delbridge LW (2004) Minimal-access/minimally invasive parathyroidectomy for primary hyperparathyroidism. Surg Clin North Am 84:717–734

5.

Gagner M (1996) Endoscopic subtotal parathyroidectomy in patients with primary hyperparathyroidism. Br J Surg 83:875

6.

Gauger PG, Reeve TS, Delbridge LW (1999) Endoscopically assisted, minimally invasive parathyroidectomy. Br J Surg 86:1563–1566

7.

Delbridge LW (2003) Minimally invasive parathyroidectomy: the Australian experience. Asian J Surg 26:76–81

8.

Sackett WR, Barraclough BH, Sidhu S, Reeve TS, Delbridge LW (2002) Minimal access thyroid surgery: is it feasible, is it appropriate? ANZ J Surg 72:777–780

9.

Vander JB, Gaston EA, Dawber TR (1968) The significance of nontoxic thyroid nodules. Final report of a 15 year study of the incidence of thyroid malignancy. Ann Intern Med 69:537–540

10.

Brunaud L, Zarnegar R, Wada N, Ituarte P, Clark OH, Duh QY (2003) Incision length for standard thyroidectomy and parathyroidectomy. When is it minimally invasive? Arch Surg 138:1140–1143

11.

Huscher CS, Chiodini S, Napolitano C, Recher A (1997) Endoscopic right thyroid lobectomy. Surg Endosc 11:877

12.

Miccoli P, Berti P, Raffaelli M, Conte M, Materazzi G, Galleri D (2001) Minimally invasive video-assisted thyroidectomy. Am J Surg 181:567–570

13.

Ikeda Y, Takami H, Niimi M, Kan S, Sasaki Y, Takayama J (2001) Endoscopic thyroidectomy by the axillary approach. Surg Endosc 15:1362–1364

14.

Ohgami M, Ishii S, Arisawa Y, Ohmori T, Noga K, Furukawa T, Kitijama M (2000) Scarless endoscopic thyroidectomy: breast approach for better cosmesis. Surg Laparosc Endosc Percutan Tech 10:1–4

15.

Sidhu S, Campbell P (2000) Thyroid pathology associated with primary hyperparathyroidism. Aust N Z J Surg 70:285–287

16.

Miccoli P, Bellantone R, Mourad M, Walz M, Rafaelli M, Berti P (2002) Minimally invasive video-assisted thyroidectomy: multiinstitutional experience. World J Surg 26:972–975

17.

Inabnet WB, Jacob BP, Gagner M (2003) Minimally invasive endoscopic thyroidectomy by a cervical approach. Surg Endosc 17:1808–1811
About this article
Cite this article
Palazzo, F.F., Sywak, M.S., Sidhu, S.B. et al. Safety and feasibility of thyroid lobectomy via a lateral 2.5-cm incision with a cohort comparison of the first 50 cases: evolution of a surgical approach. Langenbecks Arch Surg 390, 230–235 (2005). https://doi.org/10.1007/s00423-005-0549-4
Received:

Accepted:

Published:

Issue Date:
Keywords
Minimal access

Thyroidectomy

Lateral approach

Thyroid nodule