Abstract
Purpose
Modern lifestyles require people to spend prolonged periods of sitting, and public health messages recommend replacing sitting with as much standing as is feasible. The metabolic/energy cost (MEC) of sitting and standing is poorly understood, and MEC associated with a transition from sitting to standing has not been reported. Thus, we carefully quantified the MEC for sitting, standing and sit/stand transitions, adjusting for age and fat-free mass (FFM) in a sample of adults with no known disease.
Methods
Participants (N = 50; 25 women), 20–64 years, randomly performed three conditions for 10 min each (sitting, standing, 1 sit/stand transition min−1 and then sitting back down). MEC was measured by indirect calorimetry and FFM by dual-energy X-ray absorptiometry.
Results
V̇O2 (ml kg−1 min−1) for sitting (2.93 ± 0.61; 2.87 ± 0.37 in men and women respectively), standing (3.16 ± 0.63; 3.03 ± 0.40), and steady-state cost of repeated sit/stand transitions (1 min−1) (3.86 ± 0.75; 3.79 ± 0.57) were significantly different regardless of sex and weight (p < 0.001). EE (kcal min−1) also differed from sitting (1.14 ± 0.18; 0.88 ± 0.11), to standing (1.23 ± 0.19; 0.92 ± 0.13), and sit/stand transitions (1 min−1) (1.49 ± 0.25; 1.16 ± 0.16). Heart-rate increased from sitting to standing (~13 bpm; p < 0.001). Neither sex nor FFM influenced the results (p ≥ 0.05).
Conclusions
This study found in a sample of adults with no known disease that continuous standing raised MEC 0.07 kcal min−1 above normal sitting. The transition from sitting to standing (and return to sitting) had a metabolic cost of 0.32 kcal min−1 above sitting. Therefore, public health messages recommending to interrupt sitting frequently should be informed of the modest energetic costs regardless of sex and body composition.
Access options
Buy single article
Instant access to the full article PDF.
USD 39.95
Price includes VAT (USA)
Tax calculation will be finalised during checkout.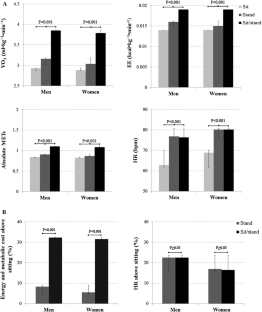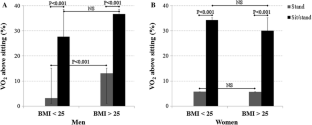 Abbreviations
ANOVA:

Analysis of variance

ANCOVA:

Analysis of covariance

BMI:

Body mass index

DXA:

Dual-energy X-ray absorptiometry

EE:

Energy expenditure

FM:

Fat mass

FFM:

Fat-free mass

HR:

Heart rate

IC:

Indirect calorimetry

MEC:

Metabolic and energy cost

REE:

Resting energy expenditure

RER:

Respiratory exchange ratio
References
Bailey DP, Locke CD (2015) Breaking up prolonged sitting with light-intensity walking improves postprandial glycemia, but breaking up sitting with standing does not. J Sci Med Sport/Sports Med Australia 18(3):294–298. doi:10.1016/j.jsams.2014.03.008

Baptista F, Santos DA, Silva AM, Mota J, Santos R, Vale S, Ferreira JP, Raimundo AM, Moreira H, Sardinha LB (2012) Prevalence of the Portuguese population attaining sufficient physical activity. Med Sci Sports Exerc 44(3):466–473. doi:10.1249/MSS.0b013e318230e441

Buckley JP, Mellor DD, Morris M, Joseph F (2014) Standing-based office work shows encouraging signs of attenuating post-prandial glycaemic excursion. Occup Environ Med 71(2):109–111. doi:10.1136/oemed-2013-101823

Buckley JP, Hedge A, Yates T, Copeland RJ, Loosemore M, Hamer M (2015) The sedentary office: an expert statement on the growing case for change towards better health and productivity. doi:10.1136/bjsports-2015-094618

Byrne NM, Hills AP, Hunter GR, Weinsier RL, Schutz Y (2005) Metabolic equivalent: one size does not fit all. J Appl Physiol 99(3):1112–1119. doi:10.1152/japplphysiol.00023.2004

Chau JY, Daley M, Dunn S, Srinivasan A, Do A, Bauman AE, van der Ploeg HP (2014) The effectiveness of sit-stand workstations for changing office workers' sitting time: results from the Stand@Work randomized controlled trial pilot. Int J Behav Nutr Phys Act. doi:10.1186/s12966-014-0127-7

Church TS, Thomas DM, Tudor-Locke C, Katzmarzyk PT, Earnest CP, Rodarte RQ, Martin CK, Blair SN, Bouchard C (2011) Trends over 5 decades in U.S. occupation-related physical activity and their associations with obesity. PLoS One 6(5):e19657. doi:10.1371/journal.pone.0019657

Compher C, Frankenfield D, Keim N, Roth-Yousey L (2006) Best practice methods to apply to measurement of resting metabolic rate in adults: a systematic review. J Am Diet Assoc 106(6):881–903. doi:10.1016/j.jada.2006.02.009

Craft LL, Zderic TW, Gapstur SM, Vaniterson EH, Thomas DM, Siddique J, Hamilton MT (2012) Evidence that women meeting physical activity guidelines do not sit less: an observational inclinometry study. Int J Behav Nutr Phys Act 9:122. doi:10.1186/1479-5868-9-122

Dempsey PC, Owen N, Biddle SJ, Dunstan DW (2014) Managing sedentary behavior to reduce the risk of diabetes and cardiovascular disease. Curr Diab Rep 14(9):522. doi:10.1007/s11892-014-0522-0

Elmer SJ, Martin JC (2014) A cycling workstation to facilitate physical activity in office settings. Appl Ergonom 45(4):1240–1246. doi:10.1016/j.apergo.2014.03.001

Evenson KR, Buchner DM, Morland KB (2012) Objective measurement of physical activity and sedentary behavior among US adults aged 60 years or older. Prev Chronic Dis 9:E26

Gallagher D, Belmonte D, Deurenberg P, Wang Z, Krasnow N, Pi-Sunyer FX, Heymsfield SB (1998) Organ-tissue mass measurement allows modeling of REE and metabolically active tissue mass. Am J Physiol 275(2 Pt 1):E249–E258

Hamilton MT, Hamilton DG, Zderic TW (2007) Role of low energy expenditure and sitting in obesity, metabolic syndrome, type 2 diabetes, and cardiovascular disease. Diabetes 56(11):2655–2667. doi:10.2337/db07-0882

Hamilton MT, Hamilton DG, Zderic TW (2014) Sedentary behavior as a mediator of type 2 diabetes. Med Sport Sci 60:11–26. doi:10.1159/000357332

Healy GN, Clark BK, Winkler EA, Gardiner PA, Brown WJ, Matthews CE (2011a) Measurement of adults' sedentary time in population-based studies. Am J Prev Med 41(2):216–227. doi:10.1016/j.amepre.2011.05.005

Healy GN, Matthews CE, Dunstan DW, Winkler EA, Owen N (2011b) Sedentary time and cardio-metabolic biomarkers in US adults: NHANES 2003-06. Eur Heart J 32(5):590–597. doi:10.1093/eurheartj/ehq451

Helajarvi H, Rosenstrom T, Pahkala K, Kahonen M, Lehtimaki T, Heinonen OJ, Oikonen M, Tammelin T, Viikari JS, Raitakari OT (2014) Exploring causality between TV viewing and weight change in young and middle-aged adults. The Cardiovascular Risk in Young Finns study. PLoS One 9(7):e101860. doi:10.1371/journal.pone.0101860

Henson J, Yates T, Biddle SJ, Edwardson CL, Khunti K, Wilmot EG, Gray LJ, Gorely T, Nimmo MA, Davies MJ (2013) Associations of objectively measured sedentary behaviour and physical activity with markers of cardiometabolic health. Diabetologia 56(5):1012–1020. doi:10.1007/s00125-013-2845-9

Hu FB, Li TY, Colditz GA, Willett WC, Manson JE (2003) Television watching and other sedentary behaviors in relation to risk of obesity and type 2 diabetes mellitus in women. JAMA 289(14):1785–1791. doi:10.1001/jama.289.14.1785

Illner K, Brinkmann G, Heller M, Bosy-Westphal A, Muller MJ (2000) Metabolically active components of fat free mass and resting energy expenditure in nonobese adults. Am J Physiol Endocrinol Metab 278(2):E308–E315

Knight E, Intzandt B (2015) Information Seeking in Social Media: A Review of YouTube for Sedentary Behavior Content. 4(1):e3. doi:10.2196/ijmr.3835

Knox E, Biddle S, Esliger DW, Piggin J, Sherar L (2014) Accounting for sitting and moving: an analysis of sedentary behaviour in mass media campaigns. J Phys Act Health. doi:10.1123/jpah.2014-0360

Levine JA, Lanningham-Foster LM, McCrady SK, Krizan AC, Olson LR, Kane PH, Jensen MD, Clark MM (2005) Interindividual variation in posture allocation: possible role in human obesity. Science 307(5709):584–586. doi:10.1126/science.1106561

Maher C, Olds T, Mire E, Katzmarzyk PT (2014) Reconsidering the sedentary behaviour paradigm. PLoS One 9(1):e86403. doi:10.1371/journal.pone.0086403

Matthews CE, George SM, Moore SC, Bowles HR, Blair A, Park Y, Troiano RP, Hollenbeck A, Schatzkin A (2012) Amount of time spent in sedentary behaviors and cause-specific mortality in US adults. Am J Clin Nutr 95(2):437–445. doi:10.3945/ajcn.111.019620

McArdle WD (1981) Exercise physiology: energy, nutrition, and human performance/William D. McArdle, Frank I. Katch, Victor L. Katch. vol http://nla.gov.au/nla.cat-vn2924772. Accessed 1 Sept 2015. Lea & Febiger, Philadelphia

Miles-Chan JL, Sarafian D, Montani JP, Schutz Y, Dulloo A (2013) Heterogeneity in the energy cost of posture maintenance during standing relative to sitting: phenotyping according to magnitude and time-course. PLoS One 8(5):e65827. doi:10.1371/journal.pone.0065827

Muller MJ, Bosy-Westphal A, Kutzner D, Heller M (2002) Metabolically active components of fat-free mass and resting energy expenditure in humans: recent lessons from imaging technologies. Obes Rev 3(2):113–122

Newton RL Jr, Han H, Zderic T, Hamilton MT (2013) The energy expenditure of sedentary behavior: a whole room calorimeter study. PLoS One 8(5):e63171. doi:10.1371/journal.pone.0063171

Peddie MC, Bone JL, Rehrer NJ, Skeaff CM, Gray AR, Perry TL (2013) Breaking prolonged sitting reduces postprandial glycemia in healthy, normal-weight adults: a randomized crossover trial. Am J Clin Nutr 98(2):358–366. doi:10.3945/ajcn.112.051763

Reiff C, Marlatt K, Dengel DR (2012) Difference in caloric expenditure in sitting versus standing desks. J Phys Act Health 9(7):1009–1011

Smith L, Hamer M, Ucci M, Marmot A, Gardner B, Sawyer A, Wardle J, Fisher A (2015) Weekday and weekend patterns of objectively measured sitting, standing, and stepping in a sample of office-based workers: the active buildings study. BMC Public Health. doi:10.1186/s12889-014-1338-1

Sparti A, DeLany de la JP, Bretonne JA, Sander GE, Bray GA (1997) Relationship between resting metabolic rate and the composition of the fat-free mass. Metab Clin Exp 46(10):1225–1230

Speck RM, Schmitz KH (2011) Energy expenditure comparison: a pilot study of standing instead of sitting at work for obesity prevention. Prev Med 52(3–4):283–284. doi:10.1016/j.ypmed.2011.02.002

Stephens BR, Granados K, Zderic TW, Hamilton MT, Braun B (2011) Effects of 1 day of inactivity on insulin action in healthy men and women: interaction with energy intake. Metab Clin Exp 60(7):941–949. doi:10.1016/j.metabol.2010.08.014

Thorp AA, Kingwell BA, Sethi P, Hammond L, Owen N, Dunstan DW (2014) Alternating bouts of sitting and standing attenuate postprandial glucose responses. Med Sci Sports Exerc 46(11):2053–2061. doi:10.1249/mss.0000000000000337

Torbeyns T, Bailey S, Bos I, Meeusen R (2014) Active workstations to fight sedentary behaviour. Sports medicine 44(9):1261–1273. doi:10.1007/s40279-014-0202-x

Tudor-Locke C, Schuna JM Jr, Frensham LJ, Proenca M (2014) Changing the way we work: elevating energy expenditure with workstation alternatives. Int J Obes 38(6):755–765. doi:10.1038/ijo.2013.223

van Uffelen JG, Wong J, Chau JY, van der Ploeg HP, Riphagen I, Gilson ND, Burton NW, Healy GN, Thorp AA, Clark BK, Gardiner PA, Dunstan DW, Bauman A, Owen N, Brown WJ (2010) Occupational sitting and health risks: a systematic review. Am J Prev Med 39(4):379–388. doi:10.1016/j.amepre.2010.05.024

Weir JB (1949) New methods for calculating metabolic rate with special reference to protein metabolism. J Physiol 109(1–2):1–9

Wilmot EG, Edwardson CL, Achana FA, Davies MJ, Gorely T, Gray LJ, Khunti K, Yates T, Biddle SJ (2012) Sedentary time in adults and the association with diabetes, cardiovascular disease and death: systematic review and meta-analysis. Diabetologia 55(11):2895–2905. doi:10.1007/s00125-012-2677-z

World Medical Association (2008) Declaration of Helsinki - ethical principles for medical research involving human subjects. WMJ 54(4):122–125
Acknowledgments
We would like to express our gratitude to the participants for their time and effort. There was no financial support in relation to the current project. PBJ is supported by the Portuguese Foundation for Science and Technology (SFRH/BD/81403/2011).
Ethics declarations
Conflict of interest
The authors declare that there are no conflicts of interest.
Ethical approval
The study was approved by the Faculty Ethics Council (approval number: 14/2013) and conducted in accordance with the ethical standards of the institutional and/or national research committee and with the 1964 Helsinki Declaration and its later amendments or comparable ethical standards (World Medical Association 2008).
Informed consent
Written informed consent was obtained from each participant prior to entry into the trial.
Additional information
Communicated by Anni Vanhatalo.
About this article
Cite this article
Júdice, P.B., Hamilton, M.T., Sardinha, L.B. et al. What is the metabolic and energy cost of sitting, standing and sit/stand transitions?. Eur J Appl Physiol 116, 263–273 (2016). https://doi.org/10.1007/s00421-015-3279-5
Received:

Accepted:

Published:

Issue Date:
Keywords
Sedentary behavior

Expenditure

Body composition

Breaks

Heart rate