Abstract
Obesity and type 2 diabetes (T2D) are associated with abnormal cardiovascular autonomic function and increased risk for cardiac complications, especially after exercise. Since improvements at rest are not always observed after training, we investigated changes in resting and post-exercise autonomic function in obese women with and without T2D after16-week of walking training. Heart rate (HR) variability (HRV) and baroreflex sensitivity (BRS) were measured at rest and 20 min after a 20 min bout of treadmill exercise at 65% VO2 peak in obese women with (n = 8) and without T2D (n = 12) before and after training. HRV was analyzed by frequency-domain [high- (HF) power and low-frequency (LF)] and BRS by the sequence method. Exercise training induced similar significant changes in VO2 peak, resting systolic blood pressure (SBP) and post-exercise autonomic function in both groups. Training increased VO2 peak (6%; P < 0.01) and decreased resting SBP (8%; P < 0.001). Increased post-exercise HR recovery (5%; P < 0.001), HF power (14%; P < 0.05), LF power (14%; P < 0.05) and BRS (86%; P < 0.001) were also observed. Resting autonomic function and post-exercise SBP were not altered after training. In conclusion, endurance training reduced blood pressure without changes in HRV and BRS at rest, but training increased HRV and BRS during the recovery of acute endurance exercise indicating an improved post-exercise autonomic modulation of HR, which was similar in obese women with and without T2D.
This is a preview of subscription content, log in to check access.
Access options
Buy single article
Instant access to the full article PDF.
US$ 39.95
Price includes VAT for USA
Subscribe to journal
Immediate online access to all issues from 2019. Subscription will auto renew annually.
US$ 199
This is the net price. Taxes to be calculated in checkout.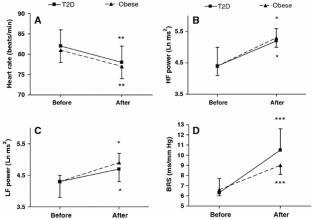 References
Albert CM, Mittleman MA, Chae CU, Lee IM, Hennekens CH, Manson JE (2000) Triggering of sudden death from cardiac causes by vigorous exertion. N Engl J Med 343:1355–1361

Alvarez GE, Davy BM, Ballard TP, Beske SD, Davy KP (2005) Weight loss increases cardiovagal baroreflex function in obese young and older men. Am J Physiol Endocrinol Metab 289:E665–669

Amano M, Kanda T, Ue H, Moritani T (2001) Exercise training and autonomic nervous system activity in obese individuals. Med Sci Sports Exerc 33:1287–1291

Boutcher SH, Stein P (1995) Association between heart rate variability and training response in sedentary middle-aged men. Eur J Appl Physiol Occup Physiol 70:75–80

Bowman AJ, Clayton RH, Murray A, Reed JW, Subhan MM, Ford GA (1997) Effects of aerobic exercise training and yoga on the baroreflex in healthy elderly persons. Eur J Clin Invest 27:443–449

Burger AJ, Weinrauch LA, D'Elia JA, Aronson D (1999) Effect of glycemic control on heart rate variability in type I diabetic patients with cardiac autonomic neuropathy. Am J Cardiol 84:687–691

Cevese A, Gulli G, Polati E, Gottin L, Grasso R (2001) Baroreflex and oscillation of heart period at 0.1 Hz studied by alpha-blockade and cross-spectral analysis in healthy humans. J Physiol 531:235–244

Cooke WH, Reynolds BV, Yandl MG, Carter JR, Tahvanainen KU, Kuusela TA (2002) Effects of exercise training on cardiovagal and sympathetic responses to Valsalva's maneuver. Med Sci Sports Exerc 34:928–935

Davy KP, Willis WL, Seals DR (1997) Influence of exercise training on heart rate variability in post-menopausal women with elevated arterial blood pressure. Clin Physiol 17:31–40

Gerritsen J, Dekker JM, TenVoorde BJ, Kostense PJ, Heine RJ, Bouter LM, Heethaar RM, Stehouwer CD (2001) Impaired autonomic function is associated with increased mortality, especially in subjects with diabetes, hypertension, or a history of cardiovascular disease: the Hoorn study. Diabetes Care 24:1793–1798

Gulli G, Cevese A, Cappelletto P, Gasparini G, Schena F (2003) Moderate aerobic training improves autonomic cardiovascular control in older women. Clin Auton Res 13:196–202

Hautala AJ, Makikallio TH, Kiviniemi A, Laukkanen RT, Nissila S, Huikuri HV, Tulppo MP (2004) Heart rate dynamics after controlled training followed by a home-based exercise program. Eur J Appl Physiol 92:289–297

Howorka K, Pumprla J, Haber P, Koller-Strametz J, Mondrzyk J, Schabmann A (1997) Effects of physical training on heart rate variability in diabetic patients with various degrees of cardiovascular autonomic neuropathy. Cardiovasc Res 34:206–214

Huggett RJ, Scott EM, Gilbey SG, Bannister J, Mackintosh AF, Mary DA (2005) Disparity of autonomic control in type 2 diabetes mellitus. Diabetologia 48:172–179

Jurca R, Church TS, Morss GM, Jordan AN, Earnest CP (2004) Eight weeks of moderate-intensity exercise training increases heart rate variability in sedentary postmenopausal women. Am Heart J 147:e21

Kanaley JA, Giannopoulou I, Tillapaugh-Fay G, Nappi JS, Ploutz-Snyder LL (2003) Racial differences in subcutaneous and visceral fat distribution in postmenopausal black and white women. Metabolism 52:186–191

La Rovere MT, Bersano C, Gnemmi M, Specchia G, Schwartz PJ (2002) Exercise-induced increase in baroreflex sensitivity predicts improved prognosis after myocardial infarction. Circulation 106:945–949

Lee CM, Wood RH, Welsch MA (2003) Influence of short-term endurance exercise training on heart rate variability. Med Sci Sports Exerc 35:961–969

Legramante JM, Galante A, Massaro M, Attanasio A, Raimondi G, Pigozzi F, Iellamo F (2002) Hemodynamic and autonomic correlates of postexercise hypotension in patients with mild hypertension. Am J Physiol Regul Integr Comp Physiol 282:R1037–R1043

Levy WC, Cerqueira MD, Harp GD, Johannessen KA, Abrass IB, Schwartz RS, Stratton JR (1998) Effect of endurance exercise training on heart rate variability at rest in healthy young and older men. Am J Cardiol 82:1236–1241

Loimaala A, Huikuri H, Oja P, Pasanen M, Vuori I (2000) Controlled 5-mo aerobic training improves heart rate but not heart rate variability or baroreflex sensitivity. J Appl Physiol 89:1825–1829

Loimaala A, Huikuri HV, Koobi T, Rinne M, Nenonen A, Vuori I (2003) Exercise training improves baroreflex sensitivity in type 2 diabetes. Diabetes 52:1837–1842

Malliani A, Pagani M, Lombardi F, Cerutti S (1991) Cardiovascular neural regulation explored in the frequency domain. Circulation 84:482–492

Mari A, Pacini G, Murphy E, Ludvik B, Nolan JJ (2001) A model-based method for assessing insulin sensitivity from the oral glucose tolerance test. Diabetes Care 24:539–548

Maser RE, Lenhard MJ (2005) Cardiovascular autonomic neuropathy due to diabetes mellitus: clinical manifestations, consequences, and treatment. J Clin Endocrinol Metab 90:5896–5903

Melanson EL, Freedson PS (2001) The effect of endurance training on resting heart rate variability in sedentary adult males. Eur J Appl Physiol 85:442–449

Monahan KD, Dinenno FA, Tanaka H, Clevenger CM, DeSouza CA, Seals DR (2000) Regular aerobic exercise modulates age-associated declines in cardiovagal baroreflex sensitivity in healthy men. J Physiol 529 Pt 1:263–271

Okazaki K, Iwasaki K, Prasad A, Palmer MD, Martini ER, Fu Q, Arbab-Zadeh A, Zhang R, Levine BD (2005) Dose-response relationship of endurance training for autonomic circulatory control in healthy seniors. J Appl Physiol 99:1041–1049

Pagani M, Lombardi F, Guzzetti S, Rimoldi O, Furlan R, Pizzinelli P, Sandrone G, Malfatto G, Dell'Orto S, Piccaluga E et al (1986) Power spectral analysis of heart rate and arterial pressure variabilities as a marker of sympatho-vagal interaction in man and conscious dog. Circ Res 59:178–193

Pagani M, Somers V, Furlan R, Dell'Orto S, Conway J, Baselli G, Cerutti S, Sleight P, Malliani A (1988) Changes in autonomic regulation induced by physical training in mild hypertension. Hypertension 12:600–610

Perini R, Fisher N, Veicsteinas A, Pendergast DR (2002) Aerobic training and cardiovascular responses at rest and during exercise in older men and women. Med Sci Sports Exerc 34:700–708

Pescatello LS, Kulikowich JM (2001) The aftereffects of dynamic exercise on ambulatory blood pressure. Med Sci Sports Exerc 33:1855–1861

Piepoli M, Coats AJ, Adamopoulos S, Bernardi L, Feng YH, Conway J, Sleight P (1993) Persistent peripheral vasodilation and sympathetic activity in hypotension after maximal exercise. J Appl Physiol 75:1807–1814

Pober DM, Braun B, Freedson PS (2004) Effects of a single bout of exercise on resting heart rate variability. Med Sci Sports Exerc 36:1140–1148

Raczak G, Pinna GD, La Rovere MT, Maestri R, Danilowicz-Szymanowicz L, Ratkowski W, Figura-Chmielewska M, Szwoch M, Ambroch-Dorniak K (2005) Cardiovagal response to acute mild exercise in young healthy subjects. Circ J 69:976–980

Rissanen P, Franssila-Kallunki A, Rissanen A (2001) Cardiac parasympathetic activity is increased by weight loss in healthy obese women. Obes Res 9:637–643

Saeki Y, Atogami F, Takahashi K, Yoshizawa T (1997) Reflex control of autonomic function induced by posture change during the menstrual cycle. J Auton Nerv Syst 66:69–74

Schroeder EB, Chambless LE, Liao D, Prineas RJ, Evans GW, Rosamond WD, Heiss G (2005) Diabetes, glucose, insulin, and heart rate variability: the atherosclerosis risk in communities (ARIC) study. Diabetes Care 28:668–674

Task Force of the European Society of Cardiology the North American Society of Pacing and Electrophysiology (1996) Heart rate variability: standards of measurement, physiological interpretation and clinical use. Circulation 93:1043–1065

Terziotti P, Schena F, Gulli G, Cevese A (2001) Post-exercise recovery of autonomic cardiovascular control: a study by spectrum and cross-spectrum analysis in humans. Eur J Appl Physiol 84:187–194

Ueno LM, Moritani T (2003) Effects of long-term exercise training on cardiac autonomic nervous activities and baroreflex sensitivity. Eur J Appl Physiol 89:109–114

Uusitalo AL, Laitinen T, Vaisanen SB, Lansimies E, Rauramaa R (2004) Physical training and heart rate and blood pressure variability: a 5-year randomized trial. Am J Physiol Heart Circ Physiol 286:H1821–H1826

Vescovi JD, Zimmerman SL, Miller WC, Hildebrandt L, Hammer RL, Fernhall B (2001) Evaluation of the BOD POD for estimating percentage body fat in a heterogeneous group of adult humans. Eur J Appl Physiol 85:326–332

Yamamoto K, Miyachi M, Saitoh T, Yoshioka A, Onodera S (2001) Effects of endurance training on resting and post-exercise cardiac autonomic control. Med Sci Sports Exerc 33:1496–1502
Acknowledgments
This study was founded in part by the New York Sate Diabetes Bridge Grant and by NIH DK063179.
About this article
Cite this article
Figueroa, A., Baynard, T., Fernhall, B. et al. Endurance training improves post-exercise cardiac autonomic modulation in obese women with and without type 2 diabetes. Eur J Appl Physiol 100, 437–444 (2007). https://doi.org/10.1007/s00421-007-0446-3
Accepted:

Published:

Issue Date:
Keywords
Exercise recovery

Walk training

Autonomic nervous system

Obesity

Type 2 diabetes

Baroreflex sensitivity