Abstract
Purpose
Firefighting has been reported to lead to burnout and posttraumatic stress disorder (PTSD). However, burnout and PTSD symptoms may vary depending on personal characteristics, such as having a sense of calling. This study examined the role of calling in the association between burnout and PTSD symptoms. We hypothesized that burnout would be associated with more severe PTSD symptoms and calling would buffer the relationship between burnout and PTSD symptoms.
Methods
The Korean version of the Maslach Burnout Inventory-General Survey, Sense of Calling Subscale of the Professionalism Scale, and the Impact of Event Scale-Revised-Korean version were used to measure burnout, calling, and PTSD symptoms. Data from 109 of 127 firefighters from Gyeonggi-do, South Korea were analyzed using hierarchical linear regression.
Results
Burnout was a significant predictor of PTSD symptoms. Furthermore, the interaction term between burnout and calling accounted for a significant variance in PTSD symptoms. Higher burnout was associated with severe PTSD symptoms, but this relationship differed by the level of calling. The increase in PTSD symptoms due to increased burnout in the high calling group was relatively higher than in the low and average calling groups.
Conclusions
Calling, though perceived as a positive variable, can be hazardous to exhausted people. A sense of calling as part of one's job identity should not be encouraged until personal circumstances and characteristics, such burnout symptoms, are evaluated. Identifying context and variables associated with PTSD for interventions with firefighters and persons in other dangerous occupations should aid in their recovery from trauma exposure.
This is a preview of subscription content, log in to check access.
Access options
Buy single article
Instant unlimited access to the full article PDF.
US$ 39.95
Price includes VAT for USA
Subscribe to journal
Immediate online access to all issues from 2019. Subscription will auto renew annually.
US$ 199
This is the net price. Taxes to be calculated in checkout.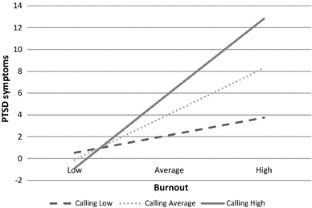 References
Ahn B, Park S (2014) The effect of ego-resilience and perception of social support on job satisfaction and burnout. Korean J Ind Organ Psychol 27(3):497–517

Alexander C (1999) Police psychological burnout and trauma. In: Volanti JM, Paton D (eds) Police trauma: psychological aftermath of civilian combat. Charles C. Thomas, Springfield, pp 54–64

American Psychiatric Association (2013) Diagnostic and statistical manual of mental disorders, 5th edn. American Psychiatric Pub, Washington, DC. doi:10.1176/appi.books.9780890425596

Baron RM, Kenny DA (1986) The moderator–mediator variable distinction in social psychological research: conceptual, strategic, and statistical considerations. J Pers Soc Psychol 51(6):1173. doi:10.1037/0022-3514.51.6.1173

Beckham JC, Moore SD, Feldman ME, Hertzberg MA, Kirby AC, Fairbank JA (1998) Health status, somatization, and severity of posttraumatic stress disorder in Vietnam combat veterans with posttraumatic stress disorder. Am J Psychiatry 155(11):1565–1569. doi:10.1176/ajp.155.11.1565

Brennan M (2002) Reducing occupational mental stress for firefighter/paramedics. Disseration, Estern Michigan University

Bunderson JS, Thompson JA (2009) The call of the wild: zookeepers, callings, and the double-edges sword of deeply meaningful work. Adm Sci Q 54:32–57. doi:10.2189/asqu.2009.54.1.32

Canfield J (2005) Secondary traumatization, burnout, and vicarious traumatization: a review of the literature as it relates to therapist who treat trauma. Smith Coll Stud Soc Work 75(2):81–101. doi:10.1300/J497v75n02_06

Chen Y, Chen M, Chou HF, Sun F, Chen P, Tsai K, Chao S (2007) The relationship between quality of life and posttraumatic stress disorder or major depression for firefighters in Kaohsiung, Taiwan. Qual Life Res 16(8):1289–1297. doi:10.1007/s11136-007-9248-7

Cieslak R, Shoji K, Douglas A, Melville E, Luszczynska A, Benight CC (2014) A meta-analysis of the relationship between job burnout and secondary traumatic stress among workers with indirect exposure to trauma. Psychol Serv 11(1):75. doi:10.1037/a0033798

Cohen JE (1988) Statistical power analysis for the behavioral sciences. Lawrence Erlbaum, Hillsdale

Crabbe JM, Bowley DM, Boffard KD, Alexander DA, Klein S (2004) Are health professionals getting caught in the crossfire? The personal implications of caring for trauma victims. Emerg Med J: EMJ 21(5):568–572. doi:10.1136/emj.2003.008540

Dik BJ, Duffy RD (2009) Calling and vocation at work: definitions and prospects for research and practice. Couns Psychol 37(3):424–450. doi:10.1177/0011000008316430

Duffy RD, Dik BJ, Steger MF (2011) Calling and work-related outcomes: career commitment as a mediator. J Vocat Behav 78(2):210–218. doi:10.1016/j.jvb.2010.09.013

Elangovan AR, Pinder CC, McLean M (2010) Callings and organizational behavior. J Vocat Behav 76(3):428–440. doi:10.1016/j.jvb.2009.10.009

Eun HJ, Lee SM, Kim TH (2001) The epidemiological study of posttraumatic stress disorder in an urban area. J Korean Neuropsychiatr Assoc 40(4):581–591

Eun HJ, Kwon TW, Lee SM, Kim TH, Choi MR, Cho SJ (2005) A study on reliability and validity of the Korean version of impact of event scale-revised. J Korean Neuropsychiatr Assoc 44(3):303–310

Figley CR (1995) Compassion fatigue: Toward a new understanding of the costs of caring. In: Stamm BH (ed) Secondary traumatic stress: Self-care issues for clinicians, researchers, and education. The Sidran, Baltimore, pp 112–145

Friedman R (2002) The importance of helping the helper. Best Pract Next Pract 3(1):16–21

Hackman JR, Oldham GR (1976) Motivation through the design of work: test of a theory. Organ Behav Hum Perform 16(2):250–279. doi:10.1016/0030-5073(76),90016-7

Hagmaier T, Volmer J, Spurk D (2013) Called and burnout: Integrating career research with occupational health psychology. In: Doolittle B (ed) Psychology of burnout: New research. Nova Science, New York, pp 19–32

Halbesleben RBJ (2003) Burnout and engagement: correlates and measurement. Dissertation, University of Oklahoma

Hall RH (1968) Professionalization and bureaucratization. Am Sociol Rev 33(1):92–104. doi:10.2307/2092242

Han BR, Kim JK (2014) The relation of traumatic events and posttraumatic stress disorder (PTSD) symptoms, depression of police officers: focusing on the moderating effect of job stress. Korean J Clin Psychol 33(3):531–548

Hirschi A (2012) Calling and work engagement: moderated mediation model of work meaningfulness, occupational identity, and occupational self-efficacy. J Couns Psychol 59:479–485. doi:10.1037/a0028949

Isaksen J (2000) Constructing meaning despite the drudgery of repetitive work. J Humanist Psychol 40(3):84–107. doi:10.1177/0022167800403008

Kehl D, Knuth D, Hulse L, Schmidt S (2014) Posttraumatic reactions among firefighters after critical incidents: cross-national data. J Aggress Maltreat Trauma 23(8):842–853

Kim YJ (2001) Effects of professional identity, coping & social support on posttraumatic growth. Dissertation, University of Korea

Lea EK (2011) A study on the perception of youth work as a vocation and attendant levels of job satisfaction. Stud Korean Youth 22(1):115–140

Lee HY, Song GM (2010) Factors influencing female public social workers' burnout. GRI Rev 12(2):171–200

Maslach C, Jackson SE, Leiter MP (1997) Maslach Burnout Inventory. In: Zalaquett CP, Wood RJ (eds) Evaluating stress: a book of resources. Scarecrow Press, Lanhan, pp 191–218

Maslach C, Schaufeli BW, Leiter PM (2001) Job burnout. Annu Rev Psychol 52:397–422. doi:10.1146/annurev.psych.52.1.397

McFarlane CA, Bookless C (2001) The effect of PTSD on interpersonal relationships: issues for emergency service workers. Sex Relatsh Ther 16(3):261–267. doi:10.1080/14681990124457

Min J, Joo H, Ahn H (2016) Understanding voluntary disaster workers with their burnout pattern and the group differences in secondary traumatic stress and world assumptions. Korean J Cult Soc Issues 22(3):363–385. doi:10.20406/kjcs.2016.08.22.3.363

Mitani S, Fujita M, Nakata K, Shirakawa T (2006) Impact of post-traumatic stress disorder and job-related stress on burnout: a study of fireservice workers. J Emerg Med 31(1):7–11. doi:10.1016/j.jemermed.2005.08.008

Oh JH, Lim NY (2006) Analysis of factors influencing secondary traumatic stress, burnout and physical symptoms in firefighters. J Korean Acad Fundam Nurs 13(1):96–106

Perron EB, Hiltz SB (2006) Burnout and secondary trauma among forensic interviewers of abused children. Child Adolesc Soc Work J 23(2):216–234. doi:10.1007/s10560-005-0044-3

Regehr C, Hemsworth D, Leslie B, Howe P, Chau S (2004) Predictors of post-traumatic distress in child welfare workers: a linear structural equation model. Child Youth Serv Rev 26(4):331–346. doi:10.1016/j.childyouth.2004.02.003

Shaufeli WB, Leiter MP, Maslach C, Jackson SE (1996) MBI-general survey. In: Maslach C, Jackson SE, Leiter MP (eds) Maslach burnout inventory manual, 3rd edn. Consulting Psychologist Press, Palo Alto, pp 19–26

Shin KH (2003) The Maslach Burnout Inventory-General Survey(MBI-GS): an application in South Korea. Korean J Ind Organ Psychol 16(3):1–17

Shin YS (2015) A study on post traumatic stress disorder, job stress, depression of the fire fighters. J Korean Soc Hazard Mitig 15(2):233–239. doi:10.9798/KOSHAM.2015.15.2.233

Shin DY, Sa KJ (2009) A study on the status and countermeasures of Posttraumatic stress disorder among firefighters in Daegu. Korean Soc Occup Environ 11:576–577

Shin DY, Jeon MJ, Sa KJ (2012) Posttraumatic stress disorder and related factors in male firefighters in a metropolitan city. Korean J Occup Environ Med 24(4):397–409

Shin HY, Hwang ST, Shin YT (2015) The relationship between traumatic events and PTSD symptoms of Urban firefighters—Focusing on the moderating effects of Type D personality and coping style. Crisisonomy 11(6):97–120

Stamm BH (2002) Measuring compassion satisfaction as well as fatigue: developmental history of the compassion satisfaction and fatigue test. Brunner-Routledge, New York

Stewart HS (1996) Alcohol abuse in individuals exposed to trauma: a critical review. Psychol Bull 120(1):83–112. doi:10.1037/0033-2909.120.1.83

Treadgold R (1999) Transcendent vocations: their relationship to stress, depression, and clarity of self-concept. J Humanis Psychol 39(1):81–105. doi:10.1177/0022167899391010

Tremblay MA, Messervey D (2011) The job demands-resources model: further evidence for the buffering effect of personal resources: original research. SA J Ind Psychol 37(2):1–10. doi:10.4102/sajip.v37i2.876

Wagner D, Heinrichs M, Ehlert U (1998) Prevalence of symptoms of posttraumatic stress disorder in German professional firefighters. Am J Psychiatry 155(12):1727–1732. doi:10.1176/ajp.155.12.1727

Weiss DS, Marmar CR (1997) The impact of event scale-revised. In: Wilson JP, Keane TM (eds) Assessing psychological trauma and PTSD: a practitioner's handbook. Guilford, New York, pp 300–411. doi:10.1007/978-0-387-70990-1_10

Wrzesniewski A, McCauley C, Rozin P, Schwartz B (1997) Jobs, careers, and callings: people's relations to their work. J Res Pers 31(1):21–33. doi:10.1006/jrpe.1997.2162

Yoo ET, Cho SJ (2013) The impact of emotional exhaustion and physical symptoms in about rescue workers incident schock. J KOSHAM 13(3):69–75. doi:10.9798/KOSHAM.2013.13.3.069

Youn EJ (2009) An experiential analysis of burnout in counselors. Korea J Couns 10(4):1855–1871
Ethics declarations
Funding
This study was supported by a Grant of the Korean Mental Health Technology R&D Project, Ministry of Health & Welfare, Republic of Korea (HM15C1058).
Conflict of interest
The authors declare that they have no conflict of interest.
About this article
Cite this article
Jo, I., Lee, S., Sung, G. et al. Relationship between burnout and PTSD symptoms in firefighters: the moderating effects of a sense of calling to firefighting. Int Arch Occup Environ Health 91, 117–123 (2018) doi:10.1007/s00420-017-1263-6
Received:

Accepted:

Published:

Issue Date:
Keywords
Firefighters

Burnout

Calling

Posttraumatic symptoms