Abstract
The human uterine epithelium is characterised by remarkable plasticity with cyclic changes in differentiation that are controlled by ovarian steroid hormones to optimise conditions for embryo implantation. To understand whether and how cell–cell adhesion is affected, the localisation of junction proteins was studied throughout the menstrual cycle. Expression patterns were examined by immunofluorescence in 36 human endometrial specimens of different cycle stages. Antibodies against the desmosomal proteins desmoplakin 1/2 (Dp 1/2) and desmoglein 2 (Dsg 2), the adherens junction proteins E-cadherin and β-catenin and also the common junctional linker protein plakoglobin showed a strong subapical staining during the proliferative phase until the early luteal phase (day 20). In the mid- to late luteal phase, however, these junctional proteins redistributed over the entire lateral plasma membranes. In contrast, tight junction proteins (ZO-1, claudin 4) remained at their characteristic subapical position throughout the menstrual cycle. mRNA levels of Dp 1/2, E-cadherin and ZO-1 obtained by real time RT-PCR were not significantly changed during the menstrual cycle. The observed redistribution of desmosomes and adherens junctions coincides with the onset of the so called implantation window of human endometrium. We propose that this change is controlled by ovarian steroids and prepares the endometrium for successful trophoblast invasion.
This is a preview of subscription content, log in to check access.
Access options
Buy single article
Instant unlimited access to the full article PDF.
US$ 39.95
Price includes VAT for USA
Subscribe to journal
Immediate online access to all issues from 2019. Subscription will auto renew annually.
US$ 199
This is the net price. Taxes to be calculated in checkout.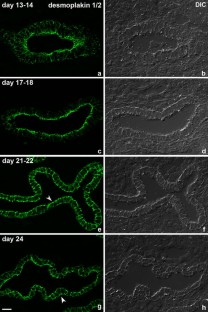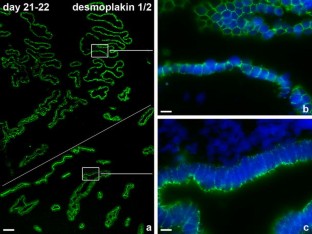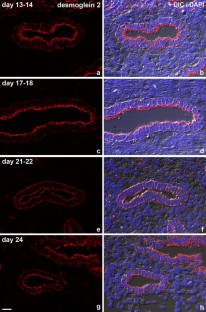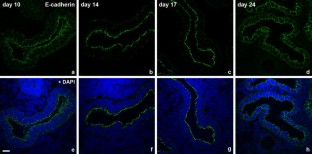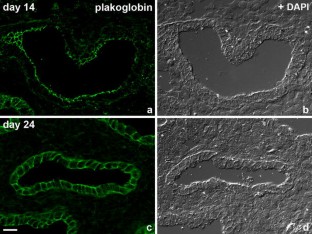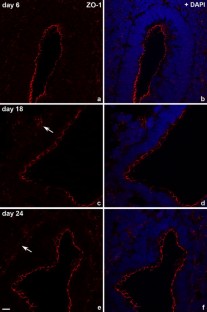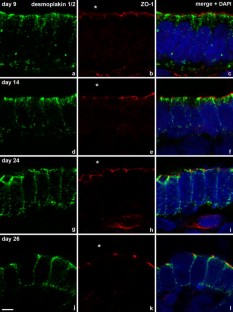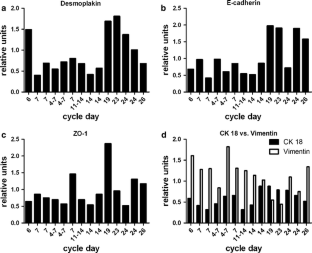 References
Aplin JD, Charlton AK, Ayad S (1988) An immunohistochemical study of human endometrial extracellular matrix during the menstrual cycle and first trimester of pregnancy. Cell Tissue Res 253(1):231–240

Bentin-Ley U, Horn T, Sjogren A, Sorensen S, Falck Larsen J, Hamberger L (2000) Ultrastructure of human blastocyst-endometrial interactions in vitro. J Reprod Fertil 120(2):337–350

Bergh PA, Navot D (1992) The impact of embryonic development and endometrial maturity on the timing of implantation. Fertil Steril 58(3):537–542

Bilalis DA, Klentzeris LD, Fleming S (1996) Immunohistochemical localization of extracellular matrix proteins in luteal phase endometrium of fertile and infertile patients. Hum Reprod 11(12):2713–2718

Classen-Linke I, Denker HW (1990) Preparation of rabbit uterine epithelium for trophoblast attachment: histochemical changes in the apical and lateral membrane compartment. In: Denker HW, Aplin JD (eds) Trophoblast Research, vol 4. Plenum Medical Book Comp, New York and London, pp 307–322

Cowin P, Kapprell HP, Franke WW, Tamkun J, Hynes RO (1986) Plakoglobin: a protein common to different kinds of intercellular adhering junctions. Cell 46(7):1063–1073

Denker HW (1993) Implantation: a cell biological paradox. J Exp Zool 266(6):541–558

Denker HW (1994) Endometrial receptivity: cell biological aspects of an unusual epithelium. A review Ann Anat 176(1):53–60

Farquhar MG, Palade GE (1963) Junctional complexes in various epithelia. J Cell Biol 17:375–412

Flamini MI, Sanchez AM, Genazzani AR, Simoncini T (2011) Estrogen regulates endometrial cell cytoskeletal remodeling and motility via focal adhesion kinase. Fertil Steril 95(2):722–726

Fujimoto J, Ichigo S, Hori M, Tamaya T (1996) Alteration of E-cadherin, alpha- and beta-catenin mRNA expression in human uterine endometrium during the menstrual cycle. Gynecol Endocrinol 10(3):187–191

Fujimoto J, Sakaguchi H, Hirose R, Tamaya T (1998) Significance of sex steroids in roles of cadherin subfamily and its related proteins in the uterine endometrium and placenta. Horm Res 50(Suppl 2):30–36

Garrod D, Chidgey M (2008) Desmosome structure, composition and function. Biochim Biophys Acta 1778(3):572–587

Holthofer B, Windoffer R, Troyanovsky S, Leube RE (2007) Structure and function of desmosomes. Int Rev Cytol 264:65–163

Illingworth IM, Kiszka I, Bagley S, Ireland GW, Garrod DR, Kimber SJ (2000) Desmosomes are reduced in the mouse uterine luminal epithelium during the preimplantation period of pregnancy: a mechanism for facilitation of implantation. Biol Reprod 63(6):1764–1773

Imai K, Maeda M, Fujiwara H, Kariya M, Takakura K, Kanzaki H, Mori T (1992) Dipeptidyl peptidase IV as a differentiation marker of the human endometrial glandular cells. Hum Reprod 7(9):1189–1194

Kabir-Salmani M, Murphy CR, Hosseini A, Valojerdi MR (2008) Ultrastructural modifications of human endometrium during the window of implantation. Int J Fertil Steril 2(2):44–59

Kametani Y, Takeichi M (2007) Basal-to-apical cadherin flow at cell junctions. Nat Cell Biol 9(1):92–98

Martel D, Malet C, Gautray JP, Psychoyos A (1981) Surface changes of the luminal uterine epithelium during human menstrual cycle: a scanning electron microscopic study. In: de Brux J, Mortel R, Gautrey JP (eds) The Endometrium: Hormonal Impacts. Plenum Press, New York, pp 15–29

Matsuzaki S, Darcha C, Maleysson E, Canis M, Mage G (2010) Impaired down-regulation of E-cadherin and beta-catenin protein expression in endometrial epithelial cells in the mid-secretory endometrium of infertile patients with endometriosis. J Clin Endocrinol Metab 95(7):3437–3445

Morris K, Ihnatovych I, Ionetz E, Reed J, Braundmeier A, Strakova Z (2011) Cofilin and slingshot localization in the epithelium of uterine endometrium changes during the menstrual cycle and in endometriosis. Reprod Sci 18(10):1014–1024

Moser G, Gauster M, Orendi K, Glasner A, Theuerkauf R, Huppertz B (2010) Endoglandular trophoblast, an alternative route of trophoblast invasion? Analysis with novel confrontation co-culture models. Hum Reprod 25(5):1127–1136

Murphy CR, Swift JG, Need JA, Mukherjee TM, Rogers AW (1982) A freeze-fracture electron microscopic study of tight junctions of epithelial cells in the human uterus. Anat Embryol (Berl) 163(4):367–370

Murphy CR, Rogers PA, Hosie MJ, Leeton J, Beaton L (1992) Tight junctions of human uterine epithelial cells change during the menstrual cycle: a morphometric study. Acta Anat (Basel) 144(1):36–38

Nei H, Saito T, Tobioka H, Itoh E, Mori M, Kudo R (1996) Expression of component desmosomal proteins in uterine endometrial carcinoma and their relation to cellular differentiation. Cancer 78(3):461–470

Nikas G, Drakakis P, Loutradis D, Mara-Skoufari C, Koumantakis E, Michalas S, Psychoyos A (1995) Uterine pinopodes as markers of the 'nidation window' in cycling women receiving exogenous oestradiol and progesterone. Hum Reprod 10(5):1208–1213

Noyes RW, Hertig AT, Rock J (1950) Dating the endometrial biopsy. Fertil Steril 1(1):3–25

Preston AM, Lindsay LA, Murphy CR (2004) Progesterone treatment and the progress of early pregnancy reduce desmoglein 1&2 staining along the lateral plasma membrane in rat uterine epithelial cells. Acta Histochem 106(5):345–35110

Preston AM, Lindsay LA, Murphy CR (2006) Desmosomes in uterine epithelial cells decrease at the time of implantation: an ultrastructural and morphometric study. J Morphol 267(1):103–108

Roberts BJ, Pashaj A, Johnson KR, Wahl JK 3rd (2011) Desmosome dynamics in migrating epithelial cells requires the actin cytoskeleton. Exp Cell Res 317(20):2814–2822

Sarani SA, Ghaffari-Novin M, Warren MA, Dockery P, Cooke ID (1999) Morphological evidence for the 'implantation window' in human luminal endometrium. Hum Reprod 14(12):3101–3106

Satterfield MC, Dunlap KA, Hayashi K, Burghardt RC, Spencer TE, Bazer FW (2007) Tight and adherens junctions in the ovine uterus: differential regulation by pregnancy and progesterone. Endocrinology 148(8):3922–3931

Satterfield MC, Song G, Hayashi K, Bazer FW, Spencer TE (2008) Progesterone regulation of the endometrial WNT system in the ovine uterus. Reprod Fertil Dev 20(8):935–946

Schlafke S, Enders AC (1975) Cellular basis of interaction between trophoblast and uterus at implantation. Biol Reprod 12(1):41–65

Schlegel N, Meir M, Heupel WM, Holthofer B, Leube RE, Waschke J (2010) Desmoglein 2-mediated adhesion is required for intestinal epithelial barrier integrity. Am J Physiol Gastrointest Liver Physiol 298(5):G774–G783

Schroeder A, Mueller O, Stocker S, Salowsky R, Leiber M, Gassmann M, Lightfoot S, Menzel W, Granzow M, Ragg T (2006) The RIN: an RNA integrity number for assigning integrity values to RNA measurements. BMC Mol Biol 7:3

Suzuki M, Kuramoto H, Izumi S, Shirane H, Watanabe K (1981) Cyclic changes of alkaline-phosphatase in the human endometrium - histochemical and biochemical analysis. Acta Histochem Cytochem 14(5):524–533

Tabibzadeh S, Babaknia A, Kong QF, Zupi E, Marconi D, Romanini C, Satyaswaroop PG (1995) Menstruation is associated with disordered expression of desmoplakin I/II and cadherin/catenins and conversion of F- to G-actin in endometrial epithelium. Hum Reprod 10(4):776–784

Tanaka T, Wang C, Umesaki N (2009) Remodeling of the human endometrial epithelium is regulated by laminin and type IV collagen. Int J Mol Med 23(2):173–180

Thie M, Fuchs P, Denker HW (1996) Epithelial cell polarity and embryo implantation in mammals. Int J Dev Biol 40(1):389–393

Winterhager E, Kuhnel W (1982) Alterations in intercellular junctions of the uterine epithelium during the preimplantation phase in the rabbit. Cell Tissue Res 224(3):517–526
Acknowledgments
Thanks are due to Dr. C. Krusche for useful comments and help with primer design and PCR protocol and to Diana Seelis-Schmidt, Claudia Schmitz and Vanessa Creutz for excellent technical assistance.
Electronic supplementary material
Below is the link to the electronic supplementary material.
Supplementary material 1 (MPG 6180 kb). Online Resource 1: 3-D reconstruction of a 9 µm thick cryosection through endometrial glands from the functionalis layer of the endometrium. Staining against Dp 1/2 is concentrated in the subapical region of lateral plasma membranes at day 9 (left). At day 23 the desmosomes are evenly distributed along the whole lateral plasma membrane as visualised by the punctuate staining against Dp 1/2(right). Staining at the apical or the basal membranes was not observed. Reconstructions of 27 consecutive focal plains scanned by confocal LSM. (MPG 6180 kb)
About this article
Cite this article
Buck, V.U., Windoffer, R., Leube, R.E. et al. Redistribution of adhering junctions in human endometrial epithelial cells during the implantation window of the menstrual cycle. Histochem Cell Biol 137, 777–790 (2012) doi:10.1007/s00418-012-0929-0
Accepted:

Published:

Issue Date:
Keywords
Desmosome

Adherens junction

Tight junction

Human endometrium

Menstrual cycle

Implantation