Abstract
The RING-finger protein Ro52/TRIM21 is known as an autoantigen and is recognized by anti-Ro/SSA antibodies, which are commonly found in patients with Sjögren's syndrome and systemic lupus erythematosus. Recently, Ro52 has been shown to localize to distinct structures called cytoplasmic bodies and function as an E3 ubiquitin ligase. However, the Ro52 cytoplasmic bodies have not been well characterized. In this study, we investigated the Ro52 cytoplasmic bodies using fluorescence microscopy. This analysis revealed that the Ro52 cytoplasmic bodies are diffusely located in the cytoplasm and exist independently of TRIM5α cytoplasmic bodies. Our results further showed that the Ro52 cytoplasmic bodies are not stained with MitoTracker dye and are not colocalized with the proteasome subunit Rpt5, the caveolae component caveolin-1, the endosome markers (EEA1, Rab5, and Rab7), and the lysosome marker LAMP2. These results indicate that the Ro52 cytoplasmic bodies are not mitochondria, proteasome-enriched structures, caveolae, endosomes, or lysosomes. Importantly, the Ro52 cytoplasmic bodies are highly motile and are located along the microtubule network. These results suggest that the Ro52 cytoplasmic bodies are unidentified structures that are transported along the microtubule network.
This is a preview of subscription content, log in to check access.
Access options
Buy single article
Instant unlimited access to the full article PDF.
US$ 39.95
Price includes VAT for USA
Subscribe to journal
Immediate online access to all issues from 2019. Subscription will auto renew annually.
US$ 199
This is the net price. Taxes to be calculated in checkout.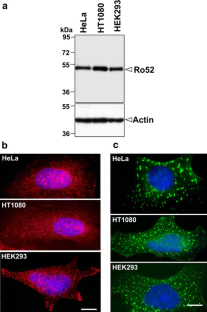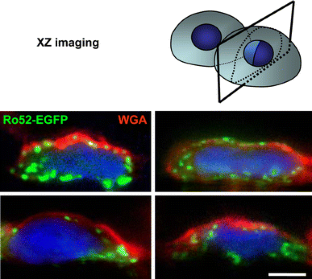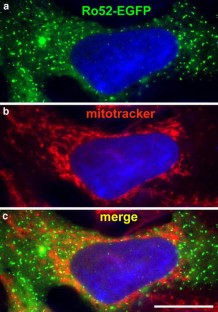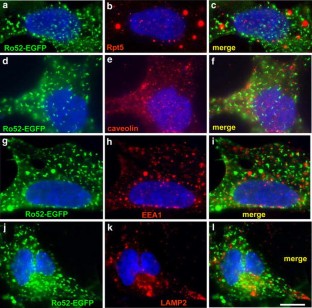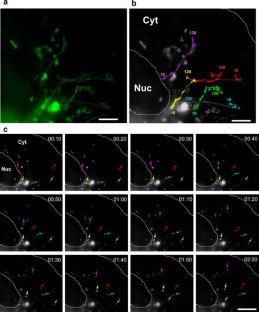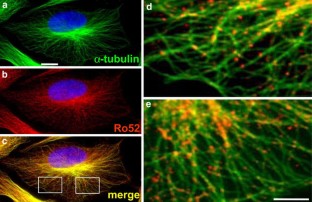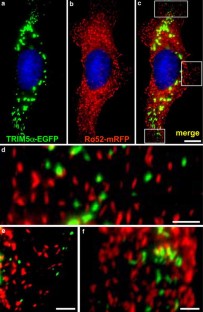 Abbreviations
HTLV-1:

Human T-cell leukemia virus type 1

TRIM:

Tripartite motif

HEK:

Human embryonic kidney

HRP:

Horseradish peroxidase

EGFP:

Enhanced green fluorescent protein

PCR:

Polymerase chain reaction

DAPI:

4′,6-Diamidine-2′-phenylindole dihydrochloride

WGA:

Wheat germ agglutinin
References
Berkova Z, Crawford SE, Trugnan G, Yoshimori T, Morris AP, Estes MK (2006) Rotavirus NSP4 induces a novel vesicular compartment regulated by calcium and associated with viroplasms. J Virol 80:6061–6071

Campbell EM, Dodding MP, Yap MW, Wu X, Gallois-Montbrun S, Malim MH, Stoye JP, Hope TJ (2007) TRIM5α cytoplasmic bodies are highly dynamic structures. Mol Biol Cell 18:2102–2111

Di Donato F, Chan EK, Askanase AD, Miranda-Carus M, Buyon JP (2001) Interaction between 52 kDa SSA/Ro and deubiquitinating enzyme UnpEL: a clue to function. Int J Biochem Cell Biol 33:924–934

Espinosa A, Dardalhon V, Brauner S, Ambrosi A, Higgs R, Quintana FJ, Sjostrand M, Eloranta ML, Ni Gabhann J, Winqvist O, Sundelin B, Jefferies CA, Rozell B, Kuchroo VK, Wahren-Herlenius M (2009) Loss of the lupus autoantigen Ro52/Trim21 induces tissue inflammation and systemic autoimmunity by disregulating the IL-23-Th17 pathway. J Exp Med 206:1661–1671

Ishov AM, Sotnikov AG, Negorev D, Vladimirova OV, Neff N, Kamitani T, Yeh ETH, Strauss JF, Maul GG (1999) PML is critical for ND10 formation and recruits the PML-interacting protein Daxx to this nuclear structure when modified by SUMO-1. J Cell Biol 147:221–234

Johnston JA, Ward CL, Kopito RR (1998) Aggresomes: a cellular response to misfolded proteins. J Cell Biol 143:1883–1898

Kamitani T, Kito K, Nguyen HP, Wada H, Fukuda-Kamitani T, Yeh ETH (1998) Identification of three major sentrinization sites in PML. J Biol Chem 273:26675–26682

Kong HJ, Anderson DE, Lee CH, Jang MK, Tamura T, Tailor P, Cho HK, Cheong J, Xiong H, Morse HC 3rd, Ozato K (2007) Cutting edge: autoantigen Ro52 is an interferon inducible E3 ligase that ubiquitinates IRF-8 and enhances cytokine expression in macrophages. J Immunol 179:26–30

Kopito RR (2000) Aggresomes, inclusion bodies and protein aggregation. Trends Cell Biol 10:524–530

Mische CC, Javanbakht H, Song B, Diaz-Griffero F, Stremlau M, Strack B, Si Z, Sodroski J (2005) Retroviral restriction factor TRIM5α is a trimer. J Virol 79:14446–14450

Parton RG, Simons K (2007) The multiple faces of caveolae. Nat Rev Mol Cell Biol 8:185–194

Reymond A, Meroni G, Fantozzi A, Merla G, Cairo S, Luzi L, Riganelli D, Zanaria E, Messali S, Cainarca S, Guffanti A, Minucci S, Pelicci PG, Ballabio A (2001) The tripartite motif family identifies cell compartments. EMBO J 20:2140–2151

Rhodes DA, Trowsdale J (2007) TRIM21 is a trimeric protein that binds IgG Fc via the B30.2 domain. Mol Immunol 44:2406–2414

Rhodes DA, Ihrke G, Reinicke AT, Malcherek G, Towey M, Isenberg DA, Trowsdale J (2002) The 52 000 MW Ro/SS-A autoantigen in Sjogren's syndrome/systemic lupus erythematosus (Ro52) is an interferon-gamma inducible tripartite motif protein associated with membrane proximal structures. Immunology 106:246–256

Rink J, Ghigo E, Kalaidzidis Y, Zerial M (2005) Rab conversion as a mechanism of progression from early to late endosomes. Cell 122:735–749

Shelden EA, Borrelli MJ, Pollock FM, Bonham R (2002) Heat shock protein 27 associates with basolateral cell boundaries in heat-shocked and ATP-depleted epithelial cells. J Am Soc Nephrol 13:332–341

Sibilia J (1998) Ro(SS-A) and anti-Ro(SS-A): an update. Rev Rhum [Engl Ed] 65:45–57

Tanji K, Tanaka T, Mori F, Kito K, Takahashi H, Wakabayashi K, Kamitani T (2006) NUB1 suppresses the formation of Lewy body-like inclusions by proteasomal degradation of synphilin-1. Am J Pathol 169:553–565

Torok M, Etkin LD (2001) Two B or not two B? Overview of the rapidly expanding B-box family of proteins. Differentiation 67:63–71

Wada K, Kamitani T (2006a) Autoantigen Ro52 is an E3 ubiquitin ligase. Biochem Biophys Res Commun 339:415–421

Wada K, Kamitani T (2006b) UnpEL/Usp4 is ubiquitinated by Ro52 and deubiquitinated by itself. Biochem Biophys Res Commun 342:253–258

Wada K, Tanji K, Kamitani T (2006a) Function and subcellular location of Ro52β. Biochem Biophys Res Commun 340:872–878

Wada K, Tanji K, Kamitani T (2006b) Oncogenic protein UnpEL/Usp4 deubiquitinates Ro52 by its isopeptidase activity. Biochem Biophys Res Commun 339:731–736

Wada K, Niida M, Tanaka M, Kamitani T (2009) Ro52-mediated monoubiquitination of IKKβ downregulates NF-κB signaling. J Biochem 146:821–832

Yamauchi K, Wada K, Tanji K, Tanaka M, Kamitani T (2008) Ubiquitination of E3 ubiquitin ligase TRIM5α and its potential role. FEBS J 275:1540–1555

Yoshimi R, Chang TH, Wang H, Atsumi T, Morse HC 3rd, Ozato K (2009) Gene disruption study reveals a nonredundant role for TRIM21/Ro52 in NF-κB-dependent cytokine expression in fibroblasts. J Immunol 182:7527–7538
Acknowledgments
We thank Dr. Roger Tsien for providing mRFP cDNA. This work was supported in part by National Institutes of Health Grant R01AG024497 (to T.K.).
Electronic supplementary material
Below is the link to the electronic supplementary material.
Supplemental Movie 1. High motility of Ro52 cytoplasmic bodies. To observe live images of Ro52 cytoplasmic bodies, live cell fluorescence microscopy was performed. HT1080 cells expressing Ro52-EGFP were taken as images in a 60-frame sequence captured at 2-second intervals using live cell fluorescence microscopy with a 100× objective lens. These images were used to generate Supplemental Movie 1 (MOV 1168 kb)
Supplemental Movie 2. Ro52 cytoplasmic bodies showing long tracks. To clearly visualize the tracks, we identified the cytoplasmic bodies showing long tracks in the original 60 frames (2 s-intervals). The individual cytoplasmic bodies were then labeled with 5 different colors (purple, yellow, red, green, and blue) to generate Supplemental Movie 2 (MOV 1138 kb)
About this article
Cite this article
Tanaka, M., Tanji, K., Niida, M. et al. Dynamic movements of Ro52 cytoplasmic bodies along microtubules. Histochem Cell Biol 133, 273–284 (2010) doi:10.1007/s00418-009-0669-y
Accepted:

Published:

Issue Date:
Keywords
Ro52

TRIM21

Ubiquitin ligase

Cytoplasmic bodies

Microtubule