Abstract
The mechanisms underlying hepatitis C virus (HCV) morphogenesis remain elusive, but lipid droplets have recently been shown to be important organelles for virus production. We investigated the interaction between HCV-like particles and lipid droplets by three-dimensional reconstructions of serial ultrathin electron microscopy sections of cells producing the HCV core protein. The budding of HCV-like particles was mostly initiated at membranes close to the lipid droplets rather than at membranes directly apposed to the lipid droplets. This may have important implications for our understanding of the complex relationship between HCV and lipids and may make easier to dissect out the HCV life cycle.
This is a preview of subscription content, log in to check access.
Access options
Buy single article
Instant unlimited access to the full article PDF.
US$ 39.95
Price includes VAT for USA
Subscribe to journal
Immediate online access to all issues from 2019. Subscription will auto renew annually.
US$ 199
This is the net price. Taxes to be calculated in checkout.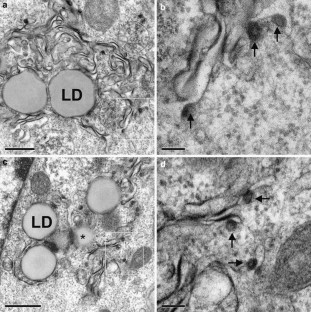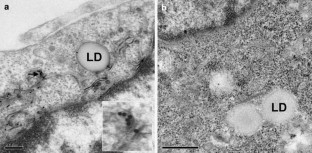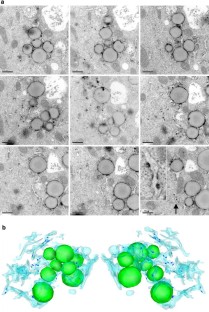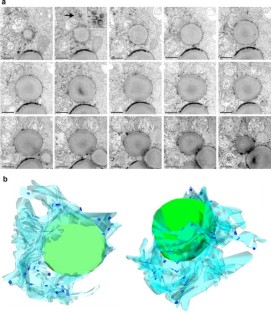 References
Ait-Goughoulte M, Hourioux C, Patient R, Trassard S, Brand D, Roingeard P (2006) Core protein cleavage by signal peptide peptidase is required for hepatitis C virus-like particle assembly. J Gen Virol 87:855–860

Blanchard E, Hourioux C, Brand D, Ait-Goughoulte M, Moreau A, Trassard S, Sizaret PY, Dubois F, Roingeard P (2003) Hepatitis C virus-like particle budding: role of the core protein and importance of its Asp111. J Virol 77:10131–10138

Boulant S, Targett-Adams P, McLauchlan J (2007) Disrupting the association of hepatitis C virus core protein with lipid droplets correlates with a loss in production of infectious virus. J Gen Virol 88:2204–2213

Hourioux C, Ait-Goughoulte M, Patient R, Fouquenet D, Arcanger-Doudet F, Brand D, Martin A, Roingeard P (2007a) Core protein domains involved in hepatitis C virus-like particle assembly and budding at the endoplasmic reticulum membrane. Cell Microbiol 4:1014–1027

Hourioux C, Patient R, Morin A, Blanchard E, Moreau A, Trassard S, Giraudeau B, Roingeard P (2007b) The genotype 3-specific hepatitis C virus core protein residue phenylalanine 164 increases steatosis in an in vitro cellular model. Gut 56:1302–1308

Huang H, Sun F, Owen DM, Li W, Chen Y, Gale M Jr, Ye J (2007) Hepatitis C virus production by human hepatocytes dependent on assembly and secretion of very low-density lipoproteins. Proc Natl Acad Sci USA 104:5848–5453

Kremer JR, Mastronarde DN, McIntosh JR (1996) Computer visualization of three-dimensional image data using IMOD. J Struct Biol 116:71–76

Lindenbach BD, Evans MJ, Syder AJ, Wolk B, Tellinghuisen TL, Liu CC, Maruyama T, Hynes RO, Burton DR, McKeating JA, Rice CM (2005) Complete replication of hepatitis C virus in cell culture. Science 309:623–626

Miyanari Y, Atsuzawa K, Usuda N, Watashi K, Hishiki T, Zayas M, Bartenshlager R, Wakita T, Hijikata M, Shimotohno K (2007) The lipid droplet is an important organelle for hepatitis C virus production. Nat Cell Biol 9:1089–1097

Roingeard P, Hourioux C, Blanchard E, Brand D, Ait-Goughoulte M (2004) Hepatitis C virus ultrastructure and morphogenesis. Biol Cell 96:103–108

Rouillé Y, Helle F, Delgrange D, Roingeard P, Voisset C, Blanchard E, Belouzard S, McKeating JA, Patel AH, Maertens G, Wakita T, Wychowski C, Dubuisson J (2006) Subcellular localization of hepatitis C virus structural proteins in a cell culture system that efficiently replicates the virus. J Virol 80:2832–2841

Shavinskaya A, Boulant S, Penin F, McLauchlan J, Bartenschlager R (2007) The lipid droplet binding domain of hepatitis C virus core protein is a major determinant for efficient virus assembly. J Biol Chem 282:37158–37169

Targett-Adams P, Boulant S, McLauchlan J (2008) Visualization of double-stranded RNA in cells supporting hepatitis C virus RNA replication. J Virol 82:2182–2195

Wakita T, Pietschmann T, Kato T, Date T, Miyamoto M, Zhao Z, Murthy K, Habermann A, Krausslich HG, Mizokami M, Bartenschlager R, Liang TJ (2005) Production of infectious hepatitis C virus in tissue culture from a cloned viral genome. Nat Med 11:791–796

Zhong J, Gastaminza P, Cheng G, Kapadia S, Kato T, Burton DR, Wieland SF, Uprichard SL, Wakita T, Chisari FV (2005) Robust hepatitis C virus infection in vitro. Proc Natl Acad Sci USA 102:9294–9299
Acknowledgments
Our work is supported by a grant from ANRS (Agence Nationale de la Recherche sur le SIDA et les hépatites virales) and the Région Centre (Equipe ESPRI). We thank Brigitte Arbeille for her help in setting up our EM studies and Sylvie Trassard for technical assistance with immuno-EM. Our data were obtained with the assistance of the RIO-Ibisa Electron Microscopy Facility of François Rabelais University.
Electronic supplementary material
Below is the link to the electronic supplementary material.
Supplemental file 1 (MOV 3465 kb)
Supplemental file 2 (MOV 4058 kb)
About this article
Cite this article
Roingeard, P., Hourioux, C., Blanchard, E. et al. Hepatitis C virus budding at lipid droplet-associated ER membrane visualized by 3D electron microscopy. Histochem Cell Biol 130, 561–566 (2008). https://doi.org/10.1007/s00418-008-0447-2
Accepted:

Published:

Issue Date:
Keywords
HCV

Lipid droplet

Virus morphogenesis

Electron microscopy (EM)

3D