Abstract
Purpose
This study evaluates the 6-month safety and efficacy of micropulse transscleral cyclophotocoagulation (MP-TSCPC) in cases of uncontrolled glaucoma/ocular hypertension using a reduced energy protocol.
Methods
Retrospective analysis of patients undergoing MP-TSCPC from January–April 2018 was carried out. Patients received up to 90 s of laser with settings of 2000 mW/Cm2 and a duty cycle of 31.3%.
Results
A total of 29 patients were included, with a mean age of 64.7 ± 15.1 years. The most common diagnosis was primary open angle glaucoma (41.4%) with a mean Logmar visual acuity of 1.5 ± 1.2. All subjects had either undergone intraocular surgery (58.6% filtration surgery) or continuous wave diode laser prior to micropulse treatment. Mean pre-laser IOP was 26.2 ± 11.1 mmHg. There was a significant reduction (p < 0.05) in IOP at 1 month to 15.8 ± 5.4 mmHg (39.7% reduction), at 3 months to 15.04 ± 5.25 mmHg (42.6% reduction) and at 6 months to 18.19 ± 7.47 mmHg (30.6% reduction). There was also a corresponding reduction (p < 0.05) in the number of topical agents required to control pressure from a baseline of 3.31 ± 0.97, to 2.72 ± 0.88 at 1 month, 2.76 ± 0.91 at 3 months and 2.90 ± 1.08 at 6 months. Requirements for oral acetazolamide reduced from 41.3% (1/29) at baseline to 3.4% (1/29) at 6 months. Success rates were 75.9% at 1 month, 79.3% at 3 months and 58.6% at 6 months. There was no drop in the visual acuity, no change in central retinal thickness and no cases of intraocular inflammation.
Conclusions
MP-TSCPC at a decreased duration is effective at reducing intraocular pressure in ethnically diverse glaucoma patients refractory to previous glaucoma laser or surgeries at 6 months follow-up, with no significant complications. Further work is needed to confirm efficacy in the long term and to determine optimal settings.
This is a preview of subscription content, log in to check access.
Access options
Buy single article
Instant access to the full article PDF.
US$ 39.95
Price includes VAT for USA
Subscribe to journal
Immediate online access to all issues from 2019. Subscription will auto renew annually.
US$ 199
This is the net price. Taxes to be calculated in checkout.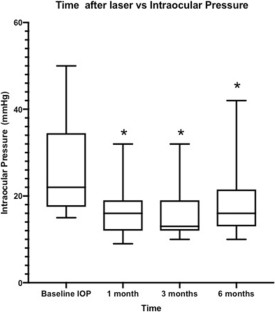 References
1.

Flaxman SR, Bourne RRA, Resnikoff S et al (2017) Global causes of blindness and distance vision impairment 1990-2020: a systematic review and meta-analysis. Lancet Glob Health 5(12):e1221–e1234

2.

Boland MV, Ervin A-M, Friedman DS et al. (2013) Comparative effectiveness of treatments for open-angle glaucoma: a systematic review for the U.S. Preventive Services Task Force. Ann Intern Med Feb 19;158(4):271–9

3.

Clement CI, Kampougeris G, Ahmed F et al. (2013) Combining phacoemulsification with endoscopic cyclophotocoagulation to manage cataract and glaucoma. Clin xperiment Ophthalmol. Aug;41(6):546–51

4.

Bloom PA, Dharmaraj S (2006) Endoscopic and transscleral cyclophotocoagulation. Br J Ophthalmol Jun 90(6):666–668

5.

Feldman RM, el-Harazi SM, LoRusso FJ et al. (1997) Histopathologic findings following contact transscleral semiconductor diode laser cyclophotocoagulation in a human eye. J Glaucoma Apr;6(2):139–140

6.

Pantcheva MB, Kahook MY, Schuman JS et al.(2007) Comparison of acute structural and histopathological changes of the porcine ciliary processes after endoscopic cyclophotocoagulation and transscleral cyclophotocoagulation. Clin Experiment Ophthalmol. Apr;35(3):270–4

7.

Kosoko O, Gaasterland DE, Pollack IP et al. (1996) Long-term outcome of initial ciliary ablation with contact diode laser transscleral cyclophotocoagulation for severe glaucoma. The Diode Laser Ciliary Ablation Study Group. Ophthalmology. Aug;103(8):1294–302

8.

Pastor SA, Singh K, Lee DA, et al.(2001) Cyclophotocoagulation: a report by the American Academy of Ophthalmology. Ophthalmology. Nov;108(11):2130–8

9.

Aquino MC, Lim D, Chew PT. (2018) Micropulse P3™ (MP3) laser for Glaucoma: an innovative therapy. J Curr Glaucoma Pract. Aug;12(2):51–2

10.

Tan AM, Chockalingam M, Aquino MC et al. (2010) Micropulse transscleral diode laser cyclophotocoagulation in the treatment of refractory glaucoma. Clin Experiment Ophthalmol. Apr;38(3):266–72

11.

Emanuel ME, Grover DS, Fellman RL et al (2017) Micropulse cyclophotocoagulation: initial results in refractory glaucoma. J Glaucoma Aug 26(8):726–729

12.

Zaarour K, Abdelmassih Y, Arej N et al (2019) Outcomes of micropulse transscleral cyclophotocoagulation in uncontrolled glaucoma patients. J Glaucoma Mar 28(3):270–275

13.

Gupta B, Elagouz M, McHugh D et al. (2009) Micropulse diode laser photocoagulation for central serous chorio-retinopathy. Clin Experiment Ophthalmol. Nov;37(8):801–5

14.

Amoozgar B, Phan EN, Lin SC et al. (2017) Update on ciliary body laser procedures. Curr Opin Ophthalmol. Mar;28(2):181–6

15.

Williams AL, Moster MR, Rahmatnejad K et al (2018) Clinical efficacy and safety profile of micropulse transscleral cyclophotocoagulation in refractory glaucoma. J Glaucoma May 27(5):445–449

16.

Kuchar S, Moster MR, Reamer CB et al. (2016) Treatment outcomes of micropulse transscleral cyclophotocoagulation in advanced glaucoma. Lasers Med Sci. Feb;31(2):393–6

17.

Jabs DA, Nussenblatt RB, Rosenbaum JT. (2005) Standardization of uveitis nomenclature (SUN) working group. Standardization of uveitis nomenclature for reporting clinical data. Results of the First International Workshop. Am J Ophthalmol. Sep;140(3):509–16

18.

Varikuti VNV, Shah P, Rai O et al (2019) Outcomes of micropulse transscleral cyclophotocoagulation in eyes with good central vision. J Glaucoma Oct 28(10):901–905
Ethics declarations
Conflict of interest
The authors declare that they have no conflict of interest.
Ethical approval
The study was approved by the Western Eye Hospital and carried out in accordance with the 1964 Helsinki declaration and its later amendments or comparable ethical standards. Informed consent is not required for this study.
Additional information
Publisher's note
Springer Nature remains neutral with regard to jurisdictional claims in published maps and institutional affiliations.
About this article
Cite this article
Vig, N., Ameen, S., Bloom, P. et al. Micropulse transscleral cyclophotocoagulation: initial results using a reduced energy protocol in refractory glaucoma. Graefes Arch Clin Exp Ophthalmol (2020). https://doi.org/10.1007/s00417-020-04611-0
Received:

Revised:

Accepted:

Published:
Keywords
Glaucoma

Micropulse laser

Cyclophotocoagulation

Intraocular pressure