Abstract
Purpose
Our purpose was to explore pupil light response (PLR) with respect to the change in sensitivity of photoreceptors during various dark adaptation phases and to determine the optimal duration of dark adaptation time before the PLR.
Methods
The PLR was recorded in 15 healthy subjects and three patients with neural or retinal vision loss after 1-sec blue and red light stimuli of 1, 10, and 100 cd/m2. The PLR was repeated nine times at different checkpoints during the 40-minute dark adaptation. The transient contraction amplitude, sustained contraction amplitude, and relative sustained contraction ratio of the PLR were analyzed.
Results
The increase in the transient contraction amplitude during the entire dark adaptation process was significant (changing up to 45.1 %) in the initial phase of dark adaptation under different stimulus conditions. The changes in the sustained contraction amplitude and the relative sustained contraction ratio were substantial (changing up to 71.0 % and 37.2 % from 1 to 20 minutes of dark adaptation, respectively) under high-intensity blue illumination. The inflection point of the contraction curves in the dark adaptation was 15 or 20 minutes. The patients' PLR results changed in a similar manner.
Conclusions
The changes in the sensitivity of different photoreceptors occurred at different rates, and the contraction amplitude of the PLR was significantly affected by the dark adaptation duration. So 20 minutes of dark adaptation before PLR testing was suggested to achieve a consistent and stable pupil response. The dark adaptation effect should be put into consideration when comparing the results from different phases of the PLR test.
This is a preview of subscription content, log in to check access.
Access options
Buy single article
Instant unlimited access to the full article PDF.
US$ 39.95
Price includes VAT for USA
Subscribe to journal
Immediate online access to all issues from 2019. Subscription will auto renew annually.
US$ 199
This is the net price. Taxes to be calculated in checkout.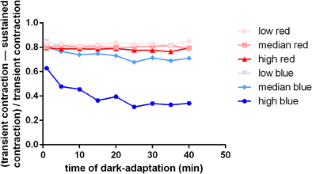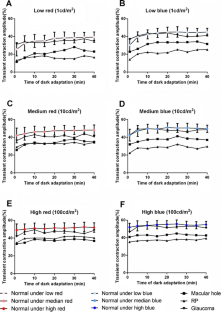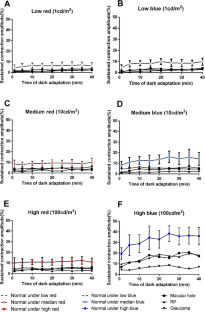 References
1.

Lei SB, Goltz HC, Chandrakumar M, Wong AMF (2014) Full-field Chromatic Pupillometry for the Assessment of the Postillumination Pupil Response Driven by Melanopsin-Containing Retinal Ganglion Cells. Invest Ophthalmol Vis Sci 55:4496–4503. doi:10.1167/iovs.14-14103

2.

McDougal DH, Gamlin PD (2010) The influence of intrinsically-photosensitive retinal ganglion cells on the spectral sensitivity and response dynamics of the human pupillary light reflex. Vision Res 50:72–87. doi:10.1016/j.visres.2009.10.012

3.

Tsujimura S, Ukai K, Ohama D, Nuruki A, Yunokuchi K (2010) Contribution of human melanopsin retinal ganglion cells to steady-state pupil responses. Proc Royal Soc B-Biol Sci 277:2485–2492. doi:10.1098/rspb.2010.0330

4.

Guler AD, Ecker JL, Lall GS, Haq S, Altimus CM, Liao HW, Barnard AR, Cahill H, Badea TC, Zhao H, Hankins MW, Berson DM, Lucas RJ, Yau KW, Hattar S (2008) Melanopsin cells are the principal conduits for rod-cone input to non-image-forming vision. Nature 453:102–105. doi:10.1038/nature06829

5.

Lorenz B, Strohmayr E, Zahn S, Friedburg C, Kramer M, Preising M, Stieger K (2012) Chromatic pupillometry dissects function of the three different light-sensitive retinal cell populations in RPE65 deficiency. Invest Ophthalmol Vis Sci 53:5641–5652. doi:10.1167/iovs.12-9974

6.

Kardon R, Anderson SC, Damarjian TG, Grace EM, Stone E, Kawasaki A (2009) Chromatic pupil responses: preferential activation of the melanopsin-mediated versus outer photoreceptor-mediated pupil light reflex. Ophthalmology 116:1564–1573. doi:10.1016/j.ophtha.2009.02.007

7.

Park JC, Moura AL, Raza AS, Rhee DW, Kardon RH, Hood DC (2011) Toward a clinical protocol for assessing rod, cone, and melanopsin contributions to the human pupil response. Invest Ophthalmol Vis Sci 52:6624–6635. doi:10.1167/iovs.11-7586

8.

Bremner FD (2012) Pupillometric evaluation of the dynamics of the pupillary response to a brief light stimulus in healthy subjects. Invest Ophthalmol Vis Sci 4:7343–7347. doi:10.1167/iovs.12-10881

9.

Girkin CA (2003) Evaluation of the pupillary light response as an objective measure of visual function. Ophthalmol Clin N Am 16:143–153

10.

Wilhelm H, Wilhelm B (2003) Clinical Applications of Pupillography. J Neuroophthalmol 23:42–49. doi:10.1097/00041327-200303000-00010

11.

Kjesbu SS, Moksnes K, Klepstad P, Knobel H, Kaasa S, Dale O (2005) Application of pupillometry and pupillary reactions in medical research. Tidsskrift for den Norske laegeforening: tidsskrift for praktisk medicin, ny raekke 125:29–32

12.

Kardon R, Anderson SC, Damarjian TG, Grace EM, Stone E, Kawasaki A (2011) Chromatic pupillometry in patients with retinitis pigmentosa. Ophthalmology 118:376–381. doi:10.1016/j.ophtha.2010.06.033

13.

Karachaliou F, Karavanaki K, Greenwood R, Baum JD (1997) Consistency of pupillary abnormality in children and adolescents with diabetes. Diabet Med 14:849–853. doi:10.1002/(sici)1096-9136(199710)14:10<849::aid-dia470>3.0.co;2-w

14.

Thamotharampillai K, Chan AK, Bennetts B, Craig ME, Cusumano J, Silink M, Oates PJ, Donaghue KC (2006) Decline in neurophysiological function after 7 years in an adolescent diabetic cohort and the role of aldose reductase gene polymorphisms. Diabetes Care 29:2053–2057. doi:10.2337/dc06-0678

15.

Maguire AM, Craig ME, Craighead A, Chan AKF, Cusumano JM, Hing SJ, Silink M, Howard NJ, Donaghue KC (2007) Autonomic nerve testing predicts the development of complications - A 12-year follow-up study. Diabetes Care 30:77–82. doi:10.2337/dc06-0793

16.

Hachol A, Szczepanowska-Nowak W, Kasprzak H, Zawojska I, Dudzinski A, Kinasz R, Wygledowska-Promienska D (2007) Measurement of pupil reactivity using fast pupillometry. Physiol Meas 28:61–72. doi:10.1088/0967-3334/28/1/006

17.

Yu M, Kautz MA, Thomas ML, Johnson D, Hotchkiss ER, Russo MB (2007) Operational implications of varying ambient light levels and time-of-day effects on saccadic velocity and pupillary light reflex. Ophthal Physiol Opt: J Br Coll Ophthalmic Opticians 27:130–141. doi:10.1111/j.1475-1313.2006.00450.x

18.

Bradley JC, Bentley KC, Mughal AI, Bodhireddy H, Young RS, Brown SM (2010) The effect of gender and iris color on the dark-adapted pupil diameter. J Ocul Pharmacol Ther 26:335–340. doi:10.1089/jop.2010.0061

19.

Schnitzler E-M, Baumeister M, Kohnen T (2000) Scotopic measurement of normal pupils: Colvard versus Video Vision Analyzer infrared pupillometer. J Cataract Refract Surg 26:859–866. doi:10.1016/S0886-3350(00)00486-7

20.

Nissen C, Sander B, Lund-Andersen H (2011) The effect of pupil size on stimulation of the melanopsin containing retinal ganglion cells, as evaluated by monochromatic pupillometry. Front Neurol 2:92–96. doi:10.3389/fneur.2011.00092

21.

Fotiou F, Fountoulakis KN, Goulas A, Alexopoulos L, Palikaras A (2000) Automated standardized pupillometry with optical method for purposes of clinical practice and research. Clin Physiol 20:336–347. doi:10.1046/j.1365-2281.2000.00259.x

22.

Wang JS, Kefalov VJ (2011) The Cone-specific visual cycle. Prog Retin Eye Res 30:115–128. doi:10.1016/j.preteyeres.2010.11.001

23.

Nordby K, Stabell B, Stabell U (1984) Dark-adaptation of the human rod system. Vis Res 24:841–849. doi:10.1016/0042-6989(84)90156-1

24.

Lamb TD, Pugh EN Jr (2004) Dark adaptation and the retinoid cycle of vision. Prog Retin Eye Res 23:307–380. doi:10.1016/j.preteyeres.2004.03.001

25.

Wong KY, Dunn FA, Berson DM (2005) Photoreceptor adaptation in intrinsically photosensitive retinal ganglion cells. Neuron 48:1001–1010. doi:10.1016/j.neuron.2005.11.016

26.

Park JC, McAnany JJ (2013) Spatial summation characteristics of the pupillary light reflex differ under rod-, cone- and melanopsin-mediated conditions. J Vis 13:P3. doi:10.1167/13.15.38

27.

Marmor MF, Fulton AB, Holder GE, Miyake Y, Brigell M, Bach M (2009) ISCEV Standard for full-field clinical electroretinography (2008 update). Doc Ophthalmol 118:69–77. doi:10.1007/s10633-008-9155-4

28.

Lall GS, Revell VL, Momiji H, Al Enezi J, Altimus CM, Güler AD, Aguilar C, Cameron MA, Allender S, Hankins MW, Lucas RJ (2010) Distinct Contributions of Rod, Cone, and Melanopsin Photoreceptors to Encoding Irradiance. Neuron 66:417–428. doi:10.1016/j.neuron.2010.04.037

29.

Feigl B, Zele AJ, Fader SM, Howes AN, Hughes CE, Jones KA, Jones R (2012) The post-illumination pupil response of melanopsin-expressing intrinsically photosensitive retinal ganglion cells in diabetes. Acta Ophthalmol (Copenh) 90:e230–e234. doi:10.1111/j.1755-3768.2011.02226.x

30.

Roecklein K, Wong P, Ernecoff N, Miller M, Donofry S, Kamarck M, Wood-Vasey WM, Franzen P (2013) The post illumination pupil response is reduced in seasonal affective disorder. Psychiatry Res 210:150–158. doi:10.1016/j.psychres.2013.05.023

31.

Dacey DM, Liao HW, Peterson BB, Robinson FR, Smith VC, Pokorny J, Yau KW, Gamlin PD (2005) Melanopsin-expressing ganglion cells in primate retina signal colour and irradiance and project to the LGN. Nature 433:749–754. doi:10.1038/nature03387

32.

Dowling JE (1987) The retina: an approachable part of the brain. Harvard University Press

33.

Rodieck RW, Rodieck RW (1998) The first steps in seeing. Sinauer Associates Sunderland, MA

34.

Gaffney AJ, Binns AM, Margrain TH (2012) Aging and cone dark adaptation. Optom Vision Sci: Off Publ Am Acad Optom 89:1219–1224. doi:10.1097/OPX.0b013e318263c6b1

35.

Thomas MM, Lamb TD (1999) Light adaptation and dark adaptation of human rod photoreceptors measured from the a-wave of the electroretinogram. J Physiol 518(Pt 2):479–496. doi:10.1111/j.1469-7793.1999.0479p.x
Conflict of interest statement
We declare that we have no financial and personal relationships with other people or organizations that can inappropriately influence our work; there is no professional or other personal interest of any nature or kind in any product, service, and/or company that could be construed as influencing the position presented in, or the review of, the manuscript .
Electronic supplementary material
Below is the link to the electronic supplementary material.
About this article
Cite this article
Wang, B., Shen, C., Zhang, L. et al. Dark adaptation-induced changes in rod, cone and intrinsically photosensitive retinal ganglion cell (ipRGC) sensitivity differentially affect the pupil light response (PLR). Graefes Arch Clin Exp Ophthalmol 253, 1997–2005 (2015). https://doi.org/10.1007/s00417-015-3137-5
Received:

Revised:

Accepted:

Published:

Issue Date:
Keywords
Pupil light response (PLR)

Pupil contraction

Pupillometry

Dark adaptation

Monochromatic light

Melanopsin

Photoreceptors

Intrinsically photosensitive retinal ganglion cell (ipRGC)