Abstract
Background
To evaluate the incidence of cystoid macular edema (CME) after 23-gauge pars plana vitrectomy (PPV) with or without combined cataract surgery for the treatment of idiopathic epiretinal membrane (ERM).
Methods
Retrospective, non-comparative, interventional case series. Data included patient age, indication for surgery, and intra- and post-operative complications. The follow-up lasted 1 year. Best-corrected visual acuity (BCVA logMAR), central foveal thickness (CFT micron-μ) and the incidence of intra-retinal cysts were evaluated.
CME was defined as post-operative observation of intra-retinal cysts at optical coherence tomography, preventing improvement or causing reduction of BCVA when compared to the pre-operative value. Statistical analysis was performed to identify the risk factors of CME.
Results
Two hundred and forty two eyes of 242 patients underwent PPV for the treatment of idiopathic ERM. Statistical analysis showed that the presence of preoperative intra-retinal cysts were associated with persistent CME following surgery (odds ratio 3.89; 95%CI: 1.63–9.28, P = 0.0004). However, postoperative CME occurred in 10 % of eyes that did not show preoperative CME. In addition, there was a significant correlation between the baseline value of CFT and the values of CFT at each time point during the follow up (p < 0.0001), with greater values of the pre-operative thickness correlating to greater values of post-operative thickness.
Conclusions
Persistent or new CME following surgery for idiopathic ERM are frequently identified after PPV for ERM. The statistical results of the current study suggest that intraretinal cysts and increased preoperative CFT are associated with reduced visual acuity after surgery.
This is a preview of subscription content, log in to check access.
We're sorry, something doesn't seem to be working properly.
Please try refreshing the page. If that doesn't work, please contact support so we can address the problem.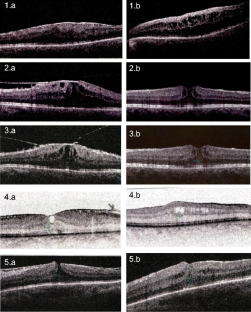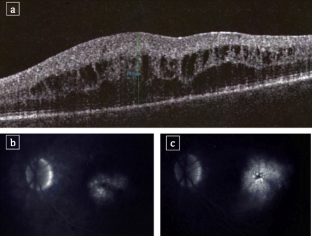 References
1.

Bonnet M (1972) Irvine–Gass syndrome. IV. Etiology. V. Pathogenesis. VI. Treatment. Arch Ophthalmol Rev Gen Ophthalmol 32(12):801–814

2.

Bonnet M (1972) The Irvine–Gass syndrome. I. Clinical semiology. II. Differential diagnosis. 3. Pathological anatomy. Arch Ophthalmol Rev Gen Ophthalmol 32(11):705–720

3.

Calugaru M, Margescu F, Orosz R (1982) The Irvine–Gass syndrome. Rev Chir Oncol Radiol O R L Oftalmol Stomatol Ser Oftalmol 26(3):221–226

4.

Egger EG (1973) The Irvine–Gass syndrome. Ophthalmologica 167(5):443–445

5.

Francois J, Verbraeken H (1980) Complications in 1000 consecutive intracapsular cataract extractions. Ophthalmologica 180(3):121–128

6.

Gotzowa R, Boduch-Cieslinska K (1975) Macular edema in Irvine–Gass syndrome. Klin Oczna 45(10–11):1149–1153

7.

Choplin NT, Bene CH (1983) Cystoid macular edema following lase iridotomy. Am Ophthalmol 15(2):172–173

8.

Lobes LA Jr, Grand MG (1980) Incidence of cystoid macular edema following scleral buckling procedure. Arch Ophthalmol 98:1230

9.

Parolini B, Romanelli F, Prigione G, Pertile G (2009) Incidence of endophthalmitis in a large series of 23-gauge and 20-gauge transconjunctival pars plana vitrectomy. Graefes Arch Clin Exp Ophthalmol 247(7):895–898. doi:10.1007/s00417-009-1063-0

10.

Tso MO (1982) Pathology of cystoid macula edema. Ophthalmology 89:902

11.

Kim SJ, Martin DF, Hubbard GB 3rd, Srivastava SK, Yan J, Bergstrom CS, Aaberg TM Sr (2009) Incidence of postvitrectomy macular edema using optical coherence tomography. Ophthalmology 116(8):1531–1537

12.

Shiono A, Kogo J, Klose G, Takeda H, Ueno H, Tokuda N, Inoue J, Matsuzawa A, Kayama N, Ueno S, Takagi H (2013) Photoreceptor outer segment length: a prognostic factor for idiopathic epiretinal membrane surgery. Ophthalmology 120(4):788–794. doi:10.1016/j. ophtha. 2012.09.044

13.

Michalewski J, Michalewska Z, Cisiecki S, Nawrocki J (2007) Morphologically functional correlations of macular pathology connected with epiretinal membrane formation in spectral optical coherence tomography (SOCT). Graefes Arch ClinExp Ophthalmol 245(11):1623–1631

14.

Brar M, Yuson R, Kozak I et al (2010) Correlation between morphological features on spectral-domain optical coherence tomography and angiographic leakage patterns in macular edema. Retina 30:383–389

15.

Inoue M, Morita S, Watanabe Y, Kaneko T, Yamane S, Kobayashi S, Arakawa A, Kadanosono K (2011) Preoperative inner segment/outer segment junction in spectral-domain optical coherence tomography as a prognostic factor in epiretinal membrane surgery. Retina 31(7):1366–1372

16.

Inoue M, Morita S, Watanabe Y, Kaneko T, Yamane S, Kobayashi S, Arakawa A, Kadanosono K (2010) Inner segment/outer segment junction assessed by spectral-domain optical coherence tomography in patients with idiopathic epiretinal membrane. AJO 150(6):834–839

17.

Trese MT, Chandler DB, Machemer R (1983) Macular pucker. I. Prognostic criteria. Graefes Arch Clin Exp Ophthalmol 221:12–15

18.

Hassan T, Williams G (2002) Counterpoint: to peel or not to peel, is this the question? Ophthalmology 109:11–12

19.

Reichenbach A, Bringmann A (2010) Müller cells in the healthy and diseased retina. Springer, New York Dordrecht Heidelberg London

20.

Sigler EJ, Randolph JC, Charles S (2013) Delayed onset inner nuclear layer cystic changes following internal limiting membrane removal for epimacular membrane. Graefes Arch Clin Exp Ophthalmol 251:1679–1685

21.

Kim CS, Kim KN, Wj K, Kim JY (2011) Intraoperative endolaser retinopexy around the sclerotomy site for prevention of retinal detachment after par plana vitrectomy. Retina 31(9):1772–1776

22.

Nirankari VS, Karesh JW (1986) Cystoid macular edema following penetrating keratoplasty: incidence and prognosis. Ophthalmic Surg 17:404
Conflict of interest
No conflicting relationship exists for any author.
About this article
Cite this article
Frisina, R., Pinackatt, S.J., Sartore, M. et al. Cystoid macular edema after pars plana vitrectomy for idiopathic epiretinal membrane. Graefes Arch Clin Exp Ophthalmol 253, 47–56 (2015). https://doi.org/10.1007/s00417-014-2655-x
Received:

Revised:

Accepted:

Published:

Issue Date:
Keywords
Pars plana vitrectomy

Internal limiting membrane

Central foveal thickness

Cystoid macular edema

Epiretinal membrane

Intraretinal cyst