This is a preview of subscription content, log in to check access.
Access options
Buy single article
Instant unlimited access to the full article PDF.
US$ 39.95
Price includes VAT for USA
Subscribe to journal
Immediate online access to all issues from 2019. Subscription will auto renew annually.
US$ 199
This is the net price. Taxes to be calculated in checkout.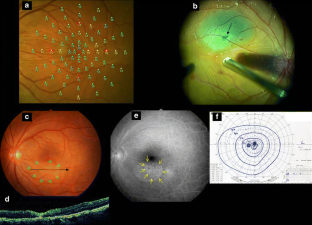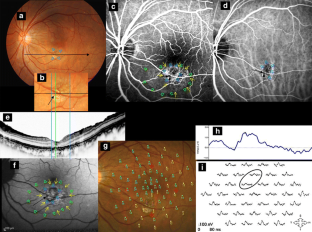 References
1.

Ueno A, Hisatomi T, Enaida H, Kagimoto T, Mochizuki Y, Goto Y, Kubota T, Hata Y, Ishibashi T (2007) Biocompatibility of brilliant blue G in a rat model of subretinal injection. Retina 27:499–504

2.

Korte GE, Reppucci V, Henkind P (1984) RPE destruction causes choriocapillary atrophy. Invest Ophthalmol Vis Sci 25:1135–1145

3.

Leonard DS, Zhang XG, Panozzo G, Sugino IK, Zarbin MA (1997) Clinicopathologic correlation of localized retinal pigment epithelium debridement. Invest Ophthalmol Vis Sci 38:1094–1109

4.

Ivert L, Kong J, Gouras P (2003) Changes in the choroidal circulation of rabbit following RPE removal. Graefes Arch Clin Exp Ophthalmol 241:656–666

5.

Uemoto R, Yamamoto S, Takeuchi S (2005) Changes in retinal pigment epithelium after indocyanine green-assisted internal limiting lamina peeling during macular hole surgery. Am J Ophthalmol 140:752–755
Commercial and proprietary interest
None of the authors or their family members has any proprietary or financial interest in the instruments used in this study.
Competing Interest
None to declare.
Funding/support and role of sponsor
None to declare.
Additional information
All authors have full control of all primary data, and they agree to allow for Graefe's Archives for Clinical and Experimental Ophthalmology to review their data upon request.
Electronic supplementary material
Below is the link to the electronic supplementary material.
About this article
Cite this article
Uemoto, R., Nakasato-Sonn, H., Meguro, A. et al. Anatomical and functional changes of retina following subretinal injection of high-speed fluid. Graefes Arch Clin Exp Ophthalmol 250, 447–450 (2012). https://doi.org/10.1007/s00417-011-1800-z
Received:

Revised:

Accepted:

Published:

Issue Date:
Keywords
Retina

Optical Coherence Tomography

Retinal Detachment

Internal Limit Membrane

Temporal Side