Abstract
Background
Ocular trauma is one of the important causes of preventable blindness and visual impairment among children worldwide. Prevalence of pediatric ocular trauma associated with toy guns appear to be on the rise, although they are fully preventable. The purpose of this study is to report ocular trauma secondary to toy-gun pellets in Kuwait.
Methods
We conducted a non-comparative case series based on review of the medical records of children who suffered ocular injury from toy-gun pellets and were admitted to a tertiary eye center during a 7-day Eid el-Fitr holiday season in Kuwait.
Results
A total of 19 children were identified. Mean age was 7.8 years. Mean days of admission per patient was 3.6 days, with a total of 68 days of hospitalization. Variable anterior segment findings were identified, including lid edema, sub-conjunctival hemorrhage, corneal abrasion, and abnormal intraocular pressure. Most notably, different grades of hyphaema were seen in all patients, and traumatic cataract was identified in a 30-month-old child. The final visual acuity was 6/18 or better in nine patients and worse than 6/18 in eight patients.
Conclusions
Eye trauma with toy guns resulted in significant injuries that required medical intervention and hospitalization for variable lengths of time, with a potential of causing long-term ocular complications. Our findings should assist public health workers in formulating specific prevention strategies, including a health educational program to make parents and health care professionals aware of the potential harm of these toys.
This is a preview of subscription content, log in to check access.
Access options
Buy single article
Instant access to the full article PDF.
US$ 39.95
Price includes VAT for USA
Subscribe to journal
Immediate online access to all issues from 2019. Subscription will auto renew annually.
US$ 199
This is the net price. Taxes to be calculated in checkout.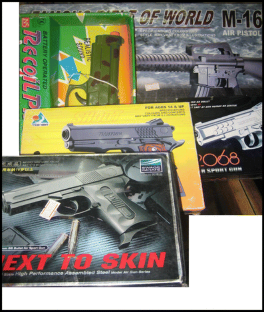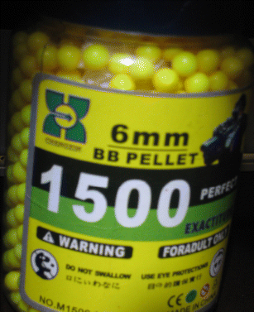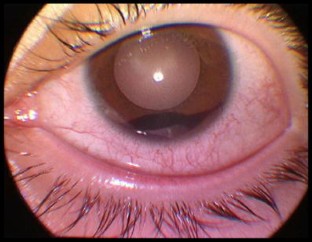 References
1.

Jandeck C, Kellner U, Bornfeld N, Foerster MH (2000) Open globe injuries in children. Graefes Arch Clin Exp Ophthalmol 238:420–426, doi:10.1007/s004170050373

2.

Montanes C, Cueva M, Fernandez E, Garcia S, Diez Sanchez A, Safa M (1998) Eye injuries in childhood. An Esp Pediatr 48:625–630

3.

Brophy M, Sinclair S, Hostetler S, Xiang H (2006) Pediatric eye injury-related hospitalizations in the United States. Pediatrics 117(6):1263–1271, doi:10.1542/peds.2005–1950

4.

Saunte J, Saunte M (2006) 33 cases of airsoft gun pellet ocular injuries in Copenhagen, Denmark, 1998–2002. Acta Ophthalmol Scand 84(6):755–758, doi:10.1111/j.1600–0420.2006.00734.x

5.

Pieramici D, Sternberg P, Aaberg T, Bridges W, Capone A, Cardillo J et al (1998) A system for classifying mechanical injuries of the eye (globe). Am J Ophthalmol 125(4):565–566

6.

Kneubûhl B (1998) Ballistische Kolumne: Bogen, Armbrust und andere Federwaffen. Int Waffenmagazin 3:160–162

7.

Al-Bdour M, Azab M (1998) Childhood eye injuries in North Jordan. Int Ophthalmol 22:269–273, doi:10.1023/A:1006335522435

8.

Niranen M, Raivio I (1981) Eye injuries in children. Br J Ophthalmol 65:436–438, doi:10.1136/bjo.65.6.436

9.

Strahlman E, Elman M, Daub E, Baker S (1990) Causes of paediatric eye injuries: A population-based study. Arch Ophthalmol 108:603–606

10.

Fleischhauer J, Goldblum D, Frueh B, Koerner F, Switzerland B (1999) Ocular injuries caused by airsoft guns. Arch Ophthalmol 117(10):1437–1439

11.

Kennedy EA, Ng TP, Duma SM (2006) Evaluating eye injury risk of Airsoft pellet guns by parametric risk functions. Biomed Sci Instrum 42:7–12

12.

Listman DA (2004) Paintball injuries in children: more than meets the eye. Pediatrics 113(1 Pt 1):e15–e18, doi:10.1542/peds.113.1.e15

13.

Morris DS (2006) Ocular blunt trauma: loss of sight from an ice hockey injury. Br J Sports Med 40(3):e5, doi:10.1136/bjsm.2005.017889

14.

Read JE, Goldberg MF (1974) Traumatic hyphema: Comparison of medical treatment. Trans Am Acad Ophthalmol Otolaryngol 78:799

15.

Recchia FM, Saluja RK, Hammel K, Jeffers JB (2002) Outpatient management of traumatic microhyphema. Ophthalmology 109(8):1465–1471, doi:10.1016/S0161–6420(02)01091–6

16.

Read J (1975) Traumatic hyphema: surgical vs medical management. Ann Ophthalmol 7(5):659–662

17.

Consumer Affairs Victoria http://www.consumer.vic.gov.au. Accessed 6/6/2008
Acknowledgements
We acknowledge Dr. Suhail Doi and Dr. Lukman Thalib from the Faculty of Medicine for their critical comments. We also acknowledge Dr. Mumtaz Shukur for preparing the illustrations.
Additional information
The authors have full control of all primary data, and they agree to allow Graefe's Archive for Clinical and Experimental Ophthalmology to review their data upon request. There is no financial interest in the subject of this work, as it was not sponsored by any organization.
About this article
Cite this article
Bouhaimed, M., Alwohaib, M., Alabdulrazzaq, S. et al. Toy gun ocular injuries associated with festive holidays in Kuwait. Graefes Arch Clin Exp Ophthalmol 247, 463–467 (2009). https://doi.org/10.1007/s00417-008-0956-7
Received:

Revised:

Accepted:

Published:

Issue Date:
Keywords
Toy guns

Ocular

Injury

Hyphema

Pellets

Festive season

Traumatic cataract

Pediatric age group