Abstract
Background
To report the occurrence of a full thickness macular hole in association with idiopathic parafoveal telangiectasia.
Methods
Observational case report.
Results
A 60-year-old female with a history of bilateral idiopathic parafoveal telangiectasia presented with acute complaints of decreased vision and metamorphopsia in her right eye. The patient's retinal examination was significant for idiopathic parafoveal telangiectasia bilaterally, and a new, full-thickness macular hole in the right eye which was confirmed by optical coherence tomography.
Conclusions
Full-thickness macular hole formation may occur in conjunction with idiopathic parafoveal telangiectasia, which has not been reported to date.
This is a preview of subscription content, log in to check access.
Access options
Buy single article
Instant access to the full article PDF.
US$ 39.95
Price includes VAT for USA
Subscribe to journal
Immediate online access to all issues from 2019. Subscription will auto renew annually.
US$ 199
This is the net price. Taxes to be calculated in checkout.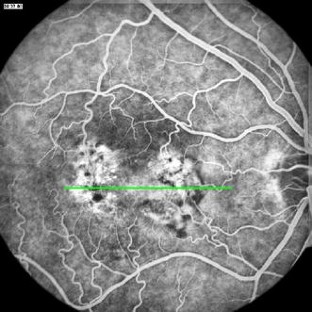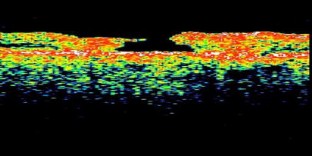 References
1.

Chen C, Wen F, Jiang L, Wu L (2003) A macular hole in a female adult with bilateral coats disease. Yan Ke Xue Bao 19:168–170

2.

de Bustros S (1994) Vitrectomy for prevention of macular holes. Results of a randomized multicenter clinical trial. Vitrectomy for Prevention of Macular Hole Study Group. Ophthalmology 101:1055–1059

3.

Gass JD (1976) Lamellar macular hole: a complication of cystoid macular edema after cataract extraction. Arch Ophthalmol 94:793–800

4.

Gass JDM (1976) Stereoscopic atlas of macular diseases, 2nd edn. Mosby, St Louis

5.

Gass JDM, Oyakawa RT (1982) Idiopathic juxtafoveolar retinal telangiectasis. Arch Ophthalmol 100:769–780

6.

Jaycock PD, Thomas D, Zakir R, Laidlaw DA (2004) Retinal telangiectasia in association with macular hole formation. Eye 18:342–343

7.

Munoz FJ, Rebolleda G, Cores FJ, Bertrand J (1991) Congenital retinal arteriovenous communication associated with a full-thickness macular hole. Acta Ophthalmol 69:117–120

8.

Patel B, Duvall J, Tullo AB (1988) Lamellar macular hole associated with idiopathic juxtafoveolar telangiectasia. Br J Ophthalmol 72:550–551

9.

Tashimo A, Mitamura Y, Ohtsuka K, Okushiba U, Imaizumi H, Takeda M (2003) Macular hole formation following ruptured retinal arterial macroaneurysm. Am J Ophthalmol 135:487–492
About this article
Cite this article
Olson, J.L., Mandava, N. Macular hole formation associated with idiopathic parafoveal telangiectasia. Graefe's Arch Clin Exp Ophthalmo 244, 411–412 (2006). https://doi.org/10.1007/s00417-005-0057-9
Received:

Revised:

Accepted:

Published:

Issue Date:
Keywords
Optical Coherence Tomography

Macular Hole

Posterior Vitreous Detachment

Vitreomacular Traction

Idiopathic Macular Hole