This is a preview of subscription content, log in to check access.
Access options
Buy single article
Instant access to the full article PDF.
US$ 39.95
Price includes VAT for USA
Subscribe to journal
Immediate online access to all issues from 2019. Subscription will auto renew annually.
US$ 199
This is the net price. Taxes to be calculated in checkout.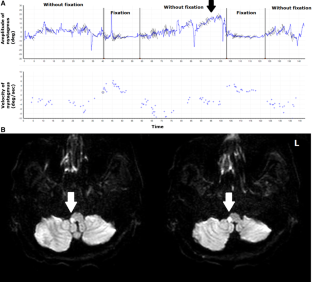 References
1.

Choi KD, Lee H, Kim JS (2016) Ischemic syndromes causing dizziness and vertigo. Handb Clin Neurol 137:317–340

2.

Lee SU, Park SH, Park JJ et al (2015) Dorsal medullary infarction: distinct syndrome of isolated central vestibulopathy. Stroke 46:3081–3087

3.

Leigh RJ, Zee DS (2015) The neurology of eye movements. Oxford University Press, Oxford

4.

Cox TA, Corbett JJ, Thompson HS, Lennarson L (1981) Upbeat nystagmus changing to downbeat nystagmus with convergence. Neurology 31:891–892

5.

Huh YE, Kim JS (2011) Patterns of spontaneous and head-shaking nystagmus in cerebellar infarction: imaging correlations. Brain 134:3662–3671

6.

Kim JS, Moon SY, Park SH, Yoon BW, Roh JK (2004) Ocular lateropulsion in Wallenberg syndrome. Neurology 62:2287

7.

Seidman SH, Leigh RJ, Tomsak RL, Grant MP, Dell'Osso LF (1995) Dynamic properties of the human vestibulo-ocular reflex during head rotations in roll. Vision Res 35:679–689

8.

Waespe W, Wichmann W (1990) Oculomotor disturbances during visual-vestibular interaction in Wallenberg's lateral medullary syndrome. Brain 113(Pt 3):821–846
Funding
This work was supported by the National Research Foundation of Korea (NRF) Grant funded by the Korea Government (MSIP) (No. 2014R1A5A2010008).
Ethics declarations
Conflicts of interest
On behalf of all authors, the corresponding author states that there is no conflict of interest. Dr. Lee serves on the editorial boards of the Research in Vestibular Science, Frontiers in Neuro-otology, and Current Medical Imaging Review.
Ethical statement
This study followed the tenets of the Declaration of Helsinki, and was performed according to the guidelines of Institutional Review Board of Keimyung University Dongsan Hospital.
Electronic supplementary material
Below is the link to the electronic supplementary material.
About this article
Cite this article
Lee, H., Kim, H.A. Reversal of spontaneous nystagmus during visual fixation in dorsal medullary infarction. J Neurol (2020). https://doi.org/10.1007/s00415-020-09754-y
Received:

Revised:

Accepted:

Published: