Abstract
The applause sign, i.e., the inability to execute the same amount of claps as performed by the examiner, was originally reported as a sign specific for progressive supranuclear palsy (PSP). Recent research, however, has provided evidence for the occurrence of the applause sign in various conditions. The aim of this study was to determine the prevalence of the applause sign and correlate its presence with neuropsychological and MRI volumetry findings in frontotemporal lobar degeneration and related conditions. The applause sign was elicited with the three clap test (TCT), with a higher score indicating poorer performance. Data were recorded from 272 patients from the cohort of the German consortium for frontotemporal lobar degeneration (FTLDc): 111 with behavioral variant frontotemporal dementia (bvFTD), 98 with primary progressive aphasia (PPA), 30 with progressive supranuclear palsy Richardson's syndrome, 17 with corticobasal syndrome (CBS) and 16 with amyotrophic lateral sclerosis with frontotemporal dementia (ALS/FTD). For comparison, 29 healthy elderly control subjects (HC) were enrolled in the study. All subjects underwent detailed language and neuropsychological assessment. In a subset of 156 subjects, atlas-based volumetry was performed. The applause sign occurred in all patient groups (40% in PSP, 29.5% in CBS, 25% in ALS/FTD, 13.3% in PPA and 9.0% in bvFTD) but not in healthy controls. The prevalence was highest in PSP patients. It was significantly more common in PSP as compared to bvFTD, PPA and HC. The comparison between the other groups failed to show a significant difference regarding the occurrence of the applause sign. The applause sign was highly correlated to a number of neuropsychological findings, especially to measures of executive, visuospatial, and language function as well as measures of disease severity. TCT scores showed an inverse correlation with the volume of the ventral diencephalon and the pallidum. Furthermore the volume of the ventral diencephalon and pallidum were significantly smaller in patients displaying the applause sign. Our study confirms the occurrence of the applause sign in bvFTD, PSP and CBS and adds PPA and ALS/FTD to these conditions. Although still suggestive of PSP, clinically it must be interpreted with caution. From the correlation with various cognitive measures we suggest the applause sign to be indicative of disease severity. Furthermore we suggest that the applause sign represents dysfunction of the pallidum and the subthalamic nucleus, structures which are known to play important roles in response inhibition.
This is a preview of subscription content, log in to check access.
Access options
Buy single article
Instant unlimited access to the full article PDF.
US$ 39.95
Price includes VAT for USA
Subscribe to journal
Immediate online access to all issues from 2019. Subscription will auto renew annually.
US$ 199
This is the net price. Taxes to be calculated in checkout.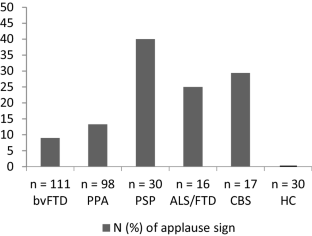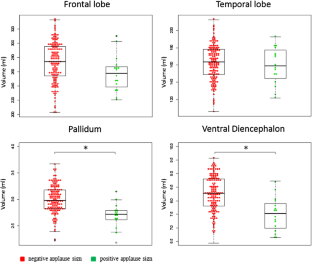 Abbreviations
ALS/FTD:

Amyotrophic lateral sclerosis with frontotemporal dementia

bvFTD:

Behavioral variant frontotemporal dementia

CDR-SOB:

Clinical Dementia Rating Scale Sum of Boxes

CBS:

Corticobasal syndrome

FTLD:

Frontotemporal lobar degeneration

HC:

Healthy control

LI:

Laterality index

PPA:

Primary progressive aphasia

PSP:

Progressive supranuclear palsy

SPM12:

Statistical parametric mapping 12

STN:

Subthalamic nucleus

TCT:

Three clap test
References
1.

Abdo WF, van Norden AG, de Laat KF, de Leeuw FE, Borm GF, Verbeek MM, Kremer PHP, Bloem BR (2007) Diagnostic accuracy of the clapping test in Parkinsonian disorders. J Neurol 254:1366–1369

2.

Alegre M, Lopez-Azcarate J, Obeso I, Wilkinson L, Rodriguez-Oroz MC, Valencia M, Garcia-Garcia D, Guridi J, Artieda J, Jahanshahi M, Obeso JA (2013) The subthalamic nucleus is involved in successful inhibition in the stop-signal task: a local field potential study in Parkinson's disease. Exp Neurol 239:1–12

3.

Anneser JM, Krzovska M, Borasio GD, Danek A (2015) Occurrence of the "applause sign" in patients with amyotrophic lateral sclerosis. Clin Neurol Neurosurg 137:8–10

4.

Armstrong MJ, Litvan I, Lang AE, Bak TH, Bhatia KP, Borroni B, Boxer AL, Dickson DW, Grossman M, Hallett M, Josephs KA, Kertesz A, Lee SE, Miller BL, Reich SG, Riley DE, Tolosa E, Tröster AI, Vidailhet M, Weiner WJ (2013) Criteria for the diagnosis of corticobasal degeneration. Neurology 80:496–503

5.

Aron AR, Durston S, Eagle DM, Logan GD, Stinear CM, Stuphorn V (2007) Converging evidence for a fronto-basal-ganglia network for inhibitory control of action and cognition. J Neurosci 27:11860–11864

6.

Aron AR, Poldrack RA (2006) Cortical and subcortical contributions to Stop signal response inhibition: role of the subthalamic nucleus. J Neurosci 26:2424–2433

7.

Aron AR, Robbins TW, Poldrack RA (2014) Inhibition and the right inferior frontal cortex: one decade on. Trends Cogn Sci 18:177–185

8.

Ashburner J (2007) A fast diffeomorphic image registration algorithm. NeuroImage 38:95–113

9.

Baunez C, Humby T, Eagle DM, Ryan LJ, Dunnett SB, Robbins TW (2001) Effects of STN lesions on simple vs choice reaction time tasks in the rat: preserved motor readiness, but impaired response selection. Eur J Neurosci 13:1609–1616

10.

Baunez C, Nieoullon A, Amalric M (1995) In a rat model of parkinsonism, lesions of the subthalamic nucleus reverse increases of reaction time but induce a dramatic premature responding deficit. J Neurosci 15:6531–6541

11.

Bede P, Elamin M, Byrne S, McLaughlin RL, Kenna K, Vajda A, Pender N, Bradley DG, Hardiman O (2013) Basal ganglia involvement in amyotrophic lateral sclerosis. Neurology 81:2107–2115

12.

Blennow K, Dubois B, Fagan AM, Lewczuk P, de Leon MJ, Hampel H (2015) Clinical utility of cerebrospinal fluid biomarkers in the diagnosis of early Alzheimer's disease. Alzheimers Dement 11:58–69

13.

Dubois B, Defontaines B, Deweer B, Malapani C, Pillon B (1995) Cognitive and behavioral changes in patients with focal lesions of the basal ganglia. Adv Neurol 65:29–41

14.

Dubois B, Slachevsky A, Pillon B, Beato R, Villalponda JM, Litvan I (2005) "Applause sign" helps to discriminate PSP from FTD and PD. Neurology 64:2132–2133

15.

Eagle DM, Baunez C, Hutcheson DM, Lehmann O, Shah AP, Robbins TW (2008) Stop-signal reaction-time task performance: role of prefrontal cortex and subthalamic nucleus. Cereb Cortex 18:178–188

16.

Frings L, Mader I, Landwehrmeyer BG, Weiller C, Hüll M, Huppertz HJ (2012) Quantifying change in individual subjects affected by frontotemporal lobar degeneration using automated longitudinal MRI volumetry. Hum Brain Mapp 33:1526–1535

17.

Frings L, Yew B, Flanagan E, Lam BY, Hüll M, Huppertz HJ, Hodges JR, Hornberger M (2014) Longitudinal grey and white matter changes in frontotemporal dementia and Alzheimer's disease. PLoS One 9:e90814

18.

Gallagher DA, Schott JM, Childerhouse A, Wilhelm T, Gale AN, Schrag A (2008) Reversible "Applause sign" secondary to diffuse large B cell lymphoma. Mov Disord 23:2426–2428

19.

Gorno-Tempini ML, Hillis AE, Weintraub S, Kertesz A, Mendez M, Cappa SF, Ogar JM, Rohrer JD, Black S, Boeve BF, Manes F, Dronkers NF, Vandenberghe R, Rascovsky K, Patterson K, Miller BL, Knopman DS, Hodges JR, Mesulam MM, Grossman M (2011) Classification of primary progressive aphasia and its variants. Neurology 76:1006–1014

20.

Höglinger GU, Huppertz HJ, Wagenpfeil S, Andrés MV, Belloch V, León T, Del Ser T, TAUROS MRI Investigators (2014) Tideglusib reduces progression of brain atrophy in progressive supranuclear palsy in a randomized trial. Mov Disord 29:479–487

21.

Huppertz HJ, Kröll-Seger J, Klöppel S, Ganz RE, Kassubek J (2010) Intra- and interscanner variability of automated voxel-based volumetry based on a 3D probabilistic atlas of human cerebral structures. NeuroImage 49:2216–2224

22.

Huppertz HJ, Möller L, Südmeyer M, Hilker R, Hattingen E, Egger K, Amtage F, Respondek G, Stamelou M, Schnitzler A, Pinkhardt EH, Oertel WH, Knake S, Kassubek J, Höglinger GU (2016) Differentiation of neurodegenerative parkinsonian syndromes by volumetric magnetic resonance imaging analysis and support vector machine classification. Mov Disord 31:1506–1517

23.

Isella V, Rucci F, Traficante D, Mapelli C, Ferri F, Appollonio IM (2013) The applause sign in cortical and cortical-subcortical dementia. J Neurol 260:1099–1103

24.

Kassubek J, Pinkhardt EH, Dietmaier A, Ludolph AC, Landwehrmeyer GB, Huppertz HJ (2011) Fully automated atlas-based MR imaging volumetry in Huntington disease, compared with manual volumetry. Am J Neuroradiol 32:1328–1332

25.

Kuniyoshi S, Riley DE, Zee DS, Reich SG, Whitney C, Leigh RJ (2002) Distinguishing progressive supranuclear palsy from other forms of Parkinson's disease: evaluation of new signs. Ann N Y Acad Sci 956:484–486

26.

Li CS, Yan P, Sinha R, Lee TW (2008) Subcortical processes of motor response inhibition during a stop signal task. NeuroImage 41:1352–1363

27.

Litvan I, Bhatia KP, Burn DJ, Goetz CG, Lang AE, McKeith I, Quinn N, Sethi KD, Shults C, Wenning GK, Movement Disorders Society Scientific Issues Committee (2003) Movement Disorders Society Scientific Issues Committee report: SIC Task Force appraisal of clinical diagnostic criteria for Parkinsonian disorders. Mov Disord 18:467–486

28.

Luzzi S, Fabi K, Pesallaccia M, Cafazzo V, Silvestrini M, Provinciali L (2014) To clap or not to clap? Applause sign in apathetic and disinhibited/stereotypical behavioural variants of FTD. J Neurol Neurosurg Psychiatry 85:823–824

29.

Luzzi S, Fabi K, Pesallaccia M, Silvestrini M, Provinciali L (2013) Applause sign in Alzheimer's disease: relationships to cognitive profile and severity of illness. J Neurol 260:172–175

30.

Luzzi S, Fabi K, Pesallaccia M, Silvestrini M, Provinciali L (2011) Applause sign: is it really specific for Parkinsonian disorders? Evidence from cortical dementias. J Neurol Neurosurg Psychiatry 82:830–833

31.

Mochizuki A, Ueda Y, Komatsuzaki Y, Tsuchiya K, Arai T, Shoji S (2003) Progressive supranuclear palsy presenting with primary progressive aphasia—Clinicopathological report of an autopsy case. Acta Neuropathol 105:610–614

32.

Opfer R, Suppa P, Kepp T, Spies L, Schippling S, Huppertz HJ, Alzheimer's Disease Neuroimaging Initiative (2016) Atlas based brain volumetry: How to distinguish regional volume changes due to biological or physiological effects from inherent noise of the methodology. Magn Reson Imaging 34:455–461

33.

Otto M, Ludolph A, Landwehrmeyer B, Förstl H, Diehl-Schmid J, Neumann M, Kretzschmar H, Schroeter M, Kornhuber J, Danek A (2011) Konsortium zur Erforschung der frontotemporalen Lobärdegeneration. Nervenarzt 82:1002–1005

34.

Rascovsky K, Hodges JR, Knopman D, Mendez MF, Kramer JH, Neuhaus J, van Swieten JC, Seelaar H, Dopper EG, Onyike CU, Hillis AE, Josephs KA, Boeve BF, Kertesz A, Seeley WW, Rankin KP, Johnson JK, Gorno-Tempini ML, Rosen H, Prioleau-Latham CE, Lee A, Kipps CM, Lillo P, Piquet O, Rohrer JD, Rossor MN, Warren JD, Fox NC, Galasko D, Salmon DP, Black SE, Mesulam M, Weintraub S, Dickerson BC, Diehl-Schmid J, Pasquier F, Deramecourt V, Lebert F, Pijnenburg Y, Chow TW, Manes F, Grafman J, Cappa SF, Freedman M, Grossman M, Miller BL (2011) Sensitivity of revised diagnostic criteria for the behavioural variant of frontotemporal dementia. Brain 134:2456–2477

35.

Ray NJ, Brittain JS, Holland P, Joundi RA, Stein JF, Aziz TZ, Jenkinson N (2012) The role of the subthalamic nucleus in response inhibition: Evidence from local field potential recordings in the human subthalamic nucleus. NeuroImage 60:271–278

36.

Schönecker S, Brendel M, Huber M, Vollmar C, Huppertz HJ, Teipel S, Okamura N, Levin J, Rominger A, Danek A (2016) Applied multimodal diagnostics in a case of presenile dementia. BMC Neurol 16:131

37.

Seghier ML (2008) Laterality index in functional MRI: methodological issues. Magn Reson Imaging 26:594–601

38.

Shattuck DW, Mirza M, Adisetiyo V, Hojatkashani C, Salamon G, Narr KL, Poldrack RA, Bilder RM, Toga AW (2008) Construction of a 3D probabilistic atlas of human cortical structures. NeuroImage 39:1064–1080

39.

Somme J, Gómez-Esteban JC, Tijero B, Berganzo K, Lezcano E, Zarranz JJ (2013) The applause sign and neuropsychological profile in progressive supranuclear palsy and Parkinson's disease. Clin Neurol Neurosurg 115:1230–1233

40.

Strong MJ, Grace GM, Freedman M, Lomen-Hoerth C, Woolley S, Goldstein LH, Murphy J, Shoesmith C, Rosenfeld J, Leigh PN, Bruijn L, Ince P, Figlewicz D (2009) Consensus criteria for the diagnosis of frontotemporal cognitive and behavioural syndromes in amyotrophic lateral sclerosis. Amyotroph Lateral Scler 10:131–146

41.

Swann NC, Cai W, Conner CR, Pieters TA, Claffey MP, George JS, Aron AR, Tandon N (2012) Roles for the pre-supplementary motor area and the right inferior frontal gyrus in stopping action: Electrophysiological responses and functional and structural connectivity. NeuroImage 59:2860–2870

42.

Tomic S, Vladetic M, Solic K, Misevic S, Soldo SB (2013) The applause sign in Parkinson's disease patients is related to dysexecutive syndrome. J Clin Neurosci 20:1734–1736

43.

Walsh RA, Duggan J, Lynch T (2011) Localisation of the applause sign in a patient with acute bilateral lenticular infarction. J Neurol 258:1180–1182

44.

Witt K, Pulkowski U, Herzog J, Lorenz D, Hamel W, Deuschl G, Krack P (2004) Deep brain stimulation of the subthalamic nucleus improves cognitive flexibility but impairs response inhibition in Parkinson disease. Arch Neurol 61:697–700

45.

Wu LJC, Sitburana O, Davidson A, Jankovic J (2008) Applause sign in Parkinsonian disorders and Huntington's disease. Mov Disord 23:2307–2311
Ethics declarations
Conflicts of interest
The authors declare that they have no conflict of interest.
About this article
Cite this article
Schönecker, S., Hell, F., Bötzel, K. et al. The applause sign in frontotemporal lobar degeneration and related conditions. J Neurol 266, 330–338 (2019) doi:10.1007/s00415-018-9134-y
Received:

Revised:

Accepted:

Published:

Issue Date:
Keywords
Applause sign

Frontotemporal lobar degeneration

Progressive supranuclear palsy

Atlas-based MRI volumetry

Subthalamic nucleus

Pallidum