Abstract
Objective
Caregiver burden is a recognised consequence of caring for a patient with neurodegeneration. Amyotrophic lateral sclerosis (ALS) differs from other neurodegenerations by its rapid progression and impairment of motor, cognitive, and behavioural function, which contribute to caregiver burden. However, longitudinal factors that determine the extent of caregiver burden, and in particular the impact of psychological distress among caregivers, have not been fully established.
Methods
Patients with ALS (n = 85) and their primary caregivers (n = 85) completed three serial evaluations. Caregiver burden was measured using the Zarit Burden Interview (ZBI). Anxiety and depression were evaluated using the Hospital Anxiety and Depression Scale (HADS). The Edinburgh Cognitive-Behavioural ALS Screen (ECAS) was used to determine cognitive function in patients. The ALS Functional Rating Scale (ALSFRS-R) measured disease progression.
Results
Using the ZBI, caregivers were categorised as high or low burden. In the low burden group, anxiety scores from the HADS predicted caregiver burden (r = 0.410, F = 3.73, p = 0.033), whereas the depression sub-score from the HADS was predictive of caregiver burden in the high burden group (r = 0.501, F = 5.87, p = 0.006) for cross-sectional analyses. Longitudinally, an elevated score on the HADS at Time 1 was the largest predictor of caregiver burden across serial assessments.
Conclusion
In a patient cohort with relatively preserved cognitive function (65%), anxiety and depression at Time 1, as measured by the HADS, were the best predictors of caregiver burden at Time 3. This observation provides a mechanism by which caregiver burden can be identified by health-care professionals and a stepped care programme of intervention initiated.
This is a preview of subscription content, log in to check access.
Access options
Buy single article
Instant unlimited access to the full article PDF.
US$ 39.95
Price includes VAT for USA
Subscribe to journal
Immediate online access to all issues from 2019. Subscription will auto renew annually.
US$ 199
This is the net price. Taxes to be calculated in checkout.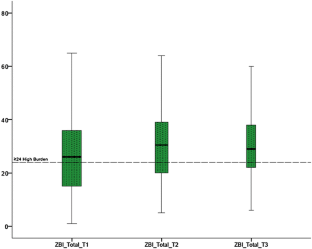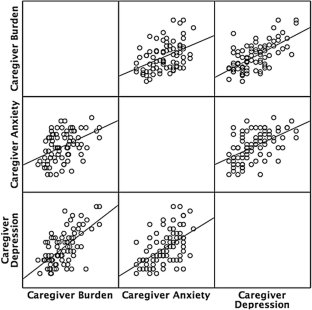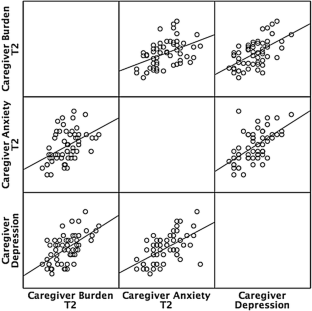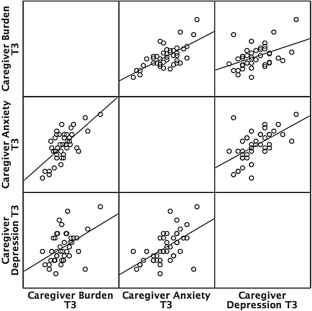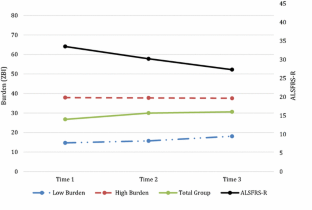 References
1.

Phukan J, Elamin M, Bede P et al (2012) The syndrome of cognitive impairment in amyotrophic lateral sclerosis: a population-based study. J Neurol Neurosurg Psychiatry 83:102–108

2.

Elamin M, Bede P, Byrne S, Jordan N, Gallagher L, Wynne B, O'Brien C, Phukan J, Lynch C, Pender N, Hardiman O (2013) Cognitive changes predict functional decline in ALS: a population-based longitudinal study. Neurology 80:1–8

3.

Byrne S, Elamin M, Bede P et al (2012) Cognitive and clinical characteristics of patients with amyotrophic lateral sclerosis carrying a C9orf72 repeat expansion: a population-based cohort study. Lancet Neurol 11(3):232–240

4.

Lillo P, Mioshi E, Zoing MC, Kiernan MC, Hodges JR (2011) How common are behavioural changes in amyotrophic lateral sclerosis? Amyotroph Lateral Scler 12:45–51

5.

Elamin M, Phukan J, Bede P et al (2011) Executive dysfunction is a negative prognostic indicator in patients with ALS without dementia. Neurology 76:1263–1269

6.

Marconi A, Gragnano G, Lunetta C, Gatto R, Fabiani V, Tagliaferri A, Rossi G, Sansone V, Pagnini F (2016) The experience of meditation for people with amyotrophic lateral sclerosis and their caregivers–a qualitative analysis. Psychol Health Med 21(6):762–768

7.

Pagnini F, Phillips D, Bosma CM, Reece A, Langer E (2016) Mindfulness as a protective factor for the burden of caregivers of amyotrophic lateral sclerosis patients. J Clin Psychol 72(1):101–111

8.

Burke T, Elamin M, Galvin M, Hardiman O, Pender N (2015) Caregiver burden in amyotrophic lateral sclerosis: a cross-sectional investigation of predictors. J Neurol 262(6):1526–1532

9.

Mioshi E, McKinnon C, Savage S, O'Connor CM, Hodges JR (2013) Improving burden and coping skills in frontotemporal dementia caregivers: a pilot study. Alzheimer Dis Assoc Disord 27:84–86

10.

Mioshi E, Caga J, Lillo P, Hsieh S, Ramsey E, Devenney E, Hornberger M, Hodges JR, Kiernan MC (2014) Neuropsychiatric changes precede classic motor symptoms in ALS and do not affect survival. Neurology 82:149–155

11.

Caga J, Turner MR, Hsieh S, Ahmed RM, Devenney E, Ramsey E, Zoing MC, Mioshi E, Kiernan MC (2016) Apathy is associated with poor prognosis in amyotrophic lateral sclerosis. Eur J Neurol 23:891–897

12.

Chio A, Gauthier A, Calvo A, Ghiglione P, Mutani R (2005) Caregiver burden and patients' perception of being a burden in ALS. Neurology 64:1780–1782

13.

Rabkin JG, Wagner GJ, Del Bene M (2000) Resilience and distress among amyotrophic lateral sclerosis patients and caregivers. Psychosom Med 62:271–279

14.

Thommessen B, Aarsland D, Braekhus A, Oksengaard AR, Engedal K, Laake K (2002) The psychological burden on spouses of the elderly with stroke, dementia and Parkinson's disease. Int J Geriatr Psychiatry 17:78–84

15.

Gauthier A, Vignola A, Calvo A, Cavallo E, Moglia C, Sellitti L, Mutani R, Chio A (2007) A longitudinal study on quality of life and depression in ALS patient–caregiver couples. Neurology 68(12):923–926

16.

Chio A, Gauthier A, Montuschi A et al (2004) A cross sectional study on determinants of quality of life in ALS. J Neurol Neurosurg Psychiatry 75:1597–1601

17.

Lerum SV, Solbrække KN, Frich JC (2016) Family caregivers' accounts of caring for a family member with motor neurone disease in Norway: a qualitative study. BMC Palliat Care 15(1):1

18.

Foley G, Timonen V, Hardiman O (2016) "I hate being a burden": the patient perspective on carer burden in amyotrophic lateral sclerosis. Amyotroph Lateral Scler Frontotemporal Degener 8:1–7

19.

Brooks BR, Miller RG, Swash M, Munsat TL (2000) El Escorial revisited: revised criteria for the diagnosis of amyotrophic lateral sclerosis. Amyotroph Lateral Scler Other Motor Neuron Disord 1:293–299

20.

Chiò A, Hammond ER, Mora G, Bonito V, Filippini G (2015) Development and evaluation of a clinical staging system for amyotrophic lateral sclerosis. J Neurol Neurosurg Psychiatry 86(1):38–44

21.

Zarit SH, Reever KE, Bach-Peterson J (1980) Relatives of the impaired elderly, correlates of feelings of burden. Gerontologist 20:649–655

22.

Schreiner AS, Morimoto R, Arai Y, Zarit S (2006) Assessing family caregiver's mental health using a statistically derived cut-off score for the Zarit Burden Interview. Aging Ment Health 10(2):107–111

23.

Ankri J, Andrieu S, Beaufils B, Grand A, Henrard JC (2005) Beyond the global score of the Zarit Burden Interview: useful dimensions for clinicians. Int J Geriatr Psychiatry 20:254–260

24.

Abrahams S, Newton J, Niven E, Foley J, Bak TH (2014) Screening for cognition and behaviour changes in ALS. Amyotroph Lateral Scler Frontotemporal Degener 15(1–2):9–14

25.

Strong MJ, Grace GM, Freedman M et al (2009) Consensus criteria for the diagnosis of frontotemporal cognitive and behavioural syndromes in amyotrophic lateral sclerosis. Amyotroph Lateral Scler 10:131–146

26.

Pinto-Grau M, Burke T, Lonergan K, McHugh C, Mays I, Madden C, Vajda A, Heverin M, Elamin M, Hardiman O, Pender N (2017) Screening for cognitive dysfunction in ALS: validation of the Edinburgh Cognitive and Behavioural ALS Screen (ECAS) using age and education adjusted normative data. Amyotroph Lateral Scler Frontotemporal Degener 18(1–2):99–106

27.

Moorey S, Greer S, Watson M et al (1991) The factor structure and factor stability of the hospital anxiety and depression scale in patients with cancer. Br J Psychiatry 158:255–259

28.

Norton S, Cosco T, Doyle F, Done J, Sacker A (2013) The Hospital Anxiety and Depression Scale: a meta confirmatory factor analysis. J Psychosom Res 74(1):74–81

29.

Cedarbaum JM, Stambler N, Malta E, Fuller C, Hilt D, Thurmond B, Nakanishi A (1999) BDNF ALS Study Group, 1A complete listing of the BDNF Study Group. The ALSFRS-R: a revised ALS functional rating scale that incorporates assessments of respiratory function. J Neurol Sci 169(1):13–21

30.

IBM Corp. Released 2012. IBM SPSS Statistics for Windows, Version 24.0. IBM Corp, Armonk

31.

Pearlin LI, Menaghan EG, Lieberman MA, Mullan JT (1981) The stress process. J Health Soc Behav 1:337–356
Acknowledgements
The research leading to these results has received funding from the European Community's Seventh Framework Programme (FP7/2007-2013) under Grant agreement no (259867); the JPND SOPHIA project; Irish Health Research Board (CSA2012/11); the ALS Association (17-CM-324), and the Irish Institute of Clinical Neuroscience (12549. 201616).
Ethics declarations
Conflicts of interest
All authors declare that they have no conflict of interest.
Ethical standard
All procedures performed were in accordance with the ethical standards stated in the Declaration of Helsinki.
Additional information
Miriam Galvin and Niall Pender are joint senior authors.
Electronic supplementary material
Below is the link to the electronic supplementary material.
About this article
Cite this article
Burke, T., Hardiman, O., Pinto-Grau, M. et al. Longitudinal predictors of caregiver burden in amyotrophic lateral sclerosis: a population-based cohort of patient–caregiver dyads. J Neurol 265, 793–808 (2018) doi:10.1007/s00415-018-8770-6
Received:

Revised:

Accepted:

Published:

Issue Date:
Keywords
Amyotrophic lateral sclerosis

Clinical neuropsychology

Caregiver burden

Psychological distress

Health services research