This is a preview of subscription content, log in to check access.
Access options
Buy single article
Instant unlimited access to the full article PDF.
US$ 39.95
Price includes VAT for USA
Subscribe to journal
Immediate online access to all issues from 2019. Subscription will auto renew annually.
US$ 199
This is the net price. Taxes to be calculated in checkout.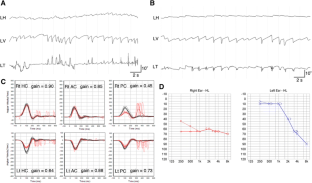 References
1.

Leigh RJ, Zee DS (2015) The neurology of eye movements. Oxford University Press, Oxford

2.

Bertholon P, Bronstein A, Davies R, Rudge P, Thilo K (2002) Positional down beating nystagmus in 50 patients: cerebellar disorders and possible anterior semicircular canalithiasis. J Neurol Neurosurg Psychiatry 72(3):366–372

3.

Pedersen RA, Troost BT, Abel LA, Zorub D (1980) Intermittent downbeat nystagmus and oscillopsia reversed by suboccipital craniectomy. Neurology 30(11):1239

4.

Du Pasquier R, Vingerhoets F, Safran AB, Landis T (1998) Periodic downbeat nystagmus. Neurology 51(5):1478–1480

5.

Goto F, Meng H, Bai R, Sato H, Imagawa M, Sasaki M, Uchino Y (2004) Eye movements evoked by selective saccular nerve stimulation in cats. Auris Nasus Larynx 31(3):220–225

6.

Goto F, Meng H, Bai R, Sato H, Imagawa M, Sasaki M, Uchino Y (2003) Eye movements evoked by the selective stimulation of the utricular nerve in cats. Auris Nasus Larynx 30(4):341–348

7.

Lee SU, Kim HJ, Koo JW, Kim JS (2017) Comparison of caloric and head-impulse tests during the attacks of Meniere's disease. Laryngoscope 127(3):702–708

8.

Lee SU, Kee HJ, Sheen SS, Choi BY, Koo JW, Kim JS (2015) Head-shaking and vibration-induced nystagmus during and between the attacks of unilateral Ménière's disease. Otol Neurotol 36(5):865–872

9.

Mizuta K, Furuta M, Ito Y, Sawai S, Fujigaki M, Horibe M, Miyata H (2000) A case of Meniere's disease with vertical nystagmus after administration of glycerol. Auris Nasus Larynx 27(3):271–274
Ethics declarations
Financial disclosures
This study was supported by Basic Science Research Program through the National Research Foundation of Korea (NRF) funded by the Ministry of Education, Science and Technology (no. NRF-2016R1D1A1B04935568).
Conflicts of interest
Drs. S. U. Lee, I. S. Lee, H. J. Kim and Choi report no disclosures. Dr. J. S. Kim serves as an associate editor of Frontiers in Neuro-otology and on the editorial boards of the Journal of Korean Society of Clinical Neurophysiology, Journal of Clinical Neurology, Frontiers in Neuro-ophthalmology, Journal of Neuro-ophthalmology, Journal of Vestibular Research, Journal of Neurology, and Medicine.
Ethical standard
This study followed the tenets of the Declaration of Helsinki, and was performed according to the guidelines of Institutional Review Board of Seoul National University Bundang Hospital (B-1109/135-106).
Electronic supplementary material
Below is the link to the electronic supplementary material.
Video. During an attack of Meniere's disease, the patient shows spontaneous nystagmus beating downward, leftward, and counter-clockwise (from the patient's perspective) without fixation. Then the spontaneous nystagmus reverses its horizontal and torsional directions into rightward and clockwise while the downbeat component remained unchanged. (WMV 18075 kb)
About this article
Cite this article
Lee, S., Kim, H., Lee, E. et al. Ictal downbeat nystagmus in bilateral Meniere's disease. J Neurol 264, 2024–2026 (2017) doi:10.1007/s00415-017-8589-6
Received:

Revised:

Accepted:

Published:

Issue Date: