Abstract
Windmill nystagmus is characterized by a clock-like rotation of the beating direction of a jerk nystagmus suggesting separate horizontal and vertical oscillators, usually 90° out of phase. We report oculographic characteristics in three patients with variants of windmill nystagmus in whom the common denominator was profound visual loss due to retinal diseases. Two patients showed a clock-like pattern, while in the third, the nystagmus was largely diagonal (in phase or 180° out of phase) but also periodically changed direction by 180°. We hypothesize that windmill nystagmus is a unique manifestation of "eye movements of the blind." It emerges when the central structures, including the cerebellum, that normally keep eye movements calibrated and gaze steady can no longer perform their task, because they are deprived of the retinal image motion that signals a need for adaptive recalibration.
This is a preview of subscription content, log in to check access.
We're sorry, something doesn't seem to be working properly.
Please try refreshing the page. If that doesn't work, please contact support so we can address the problem.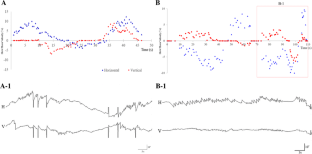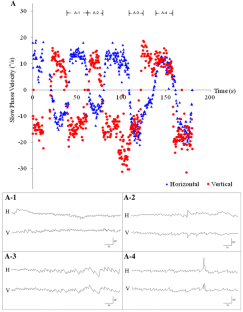 References
1.

Alam NM, Altimus CM, Douglas RM, Hattar S, Prusky GT (2014) Photoreceptor regulation of spatial visual behavior. Invest Ophthalmol Vis Sci 56:1842–1849

2.

Averbuch-Heller L, Zivotofsky AZ, Das VE, DiScenna AO, Leigh RJ (1995) Investigations of the pathogenesis of acquired pendular nystagmus. Brain J Neurol 118(Pt 2):369–378

3.

Bertolini G, Bockisch CJ, Straumann D, Zee DS, Ramat S (2008) Do humans show velocity-storage in the vertical rVOR? Prog Brain Res 171:207–210

4.

Chung SJ, Park SH, Kim JS, Oh SW, Kim HJ, Park JH, Huh YE (2014) Positional suppression of periodic alternating nystagmus. J Neuroophthalmol Off J N Am Neuroophthalmol Soc 34:162–164

5.

Cross SA, Smith JL, Norton EW (1982) Periodic alternating nystagmus clearing after vitrectomy. J Clin Neuroophthalmol 2:5–11

6.

Furman JM, Wall C 3rd, Pang DL (1990) Vestibular function in periodic alternating nystagmus. Brain J Neurol 113(Pt 5):1425–1439

7.

Hashimoto T, Sasaki O, Yoshida K, Takei Y, Ikeda S (2003) Periodic alternating nystagmus and rebound nystagmus in spinocerebellar ataxia type 6. Mov Disord Off J Mov Disord Soc 18:1201–1204

8.

Jay WM, Williams BB, De Chicchis A (1985) Periodic alternating nystagmus clearing after cataract surgery. J Clin Neuroophthalmol 5:149–152

9.

Korres S, Balatsouras DG, Zournas C, Economou C, Gatsonis SD, Adamopoulos G (2001) Periodic alternating nystagmus associated with Arnold-Chiari malformation. J Laryngol Otol 115:1001–1004

10.

Leigh RJ, Robinson DA, Zee DS (1981) A hypothetical explanation for periodic alternating nystagmus: instability in the optokinetic-vestibular system. Ann N Y Acad Sci 374:619–635

11.

Leigh RJ, Zee DS (1980) Eye movements of the blind. Invest Ophthalmol Vis Sci 19:328–331

12.

Leigh RJ, Zee DS (2015) The neurology of eye movements, 5th edn. Oxford University Press, New York

13.

Meienberg O, Hoyt WF (1980) Ocular motor control disorder during the neutral phase of periodic alternating nystagmus. J Neurol 223:309–312

14.

Oh YM, Choi KD, Oh SY, Kim JS (2006) Periodic alternating nystagmus with circumscribed nodular lesion. Neurology 67:399

15.

Razmara A, Mackay D, Galetta SL, Prasad S (2013) Teaching Video NeuroImages: periodic alternating nystagmus evident only in darkness. Neurology 80:e32

16.

Schneider RM, Thurtell MJ, Eisele S, Lincoff N, Bala E, Leigh RJ (2013) Neurological basis for eye movements of the blind. PLoS One 8:e56556

17.

Sanders MD, Glaser JS (1973) Alternating windmill nystagmus. In: Smith JL (ed) Neuro-ophthalmology. Mosby, St. Louis

18.

Traccis S, Rosati G, Monaco MF, Aiello I, Agnetti V (1990) Successful treatment of acquired pendular elliptical nystagmus in multiple sclerosis with isoniazid and base-out prisms. Neurology 40:492–494

19.

Zee DS, Tusa RJ, Herdman SJ, Butler PH, Gucer G (1987) Effects of occipital lobectomy upon eye movements in primate. J Neurophysiol 58:883–907
Ethics declarations
Conflicts of interest
We have no disclosure of any competing interest.
Ethical standards
The authors declare that they have complied with ethical standards.
Electronic supplementary material
Below is the link to the electronic supplementary material.
Video 1. A cycle of windmill nystagmus in patient 1. The nystagmus initially beats downward, and then completes a clockwise cycle (from the patient's perspective) of beating directions over about 40 s (WMV 6541 kb)
Video 2. A cycle of windmill nystagmus in patient 2. The nystagmus initially beats right downward, and then completes a counterclockwise cycle (from the patient's perspective) of beating directions over about 35 s. Intermittent small counterclockwise torsional nystagmus (the upper poles of the eyes beating to the left ear) is also observed (WMV 35696 kb)
About this article
Cite this article
Choi, K., Shin, H.K., Kim, J. et al. Variants of windmill nystagmus. J Neurol 263, 1375–1381 (2016). https://doi.org/10.1007/s00415-016-8152-x
Received:

Revised:

Accepted:

Published:

Issue Date:
Keywords
Windmill nystagmus

Periodic alternating nystagmus

Blindness

Velocity-storage mechanism

Gaze stabilizing mechanism