This is a preview of subscription content, log in to check access.
Access options
Buy single article
Instant unlimited access to the full article PDF.
US$ 39.95
Price includes VAT for USA
Subscribe to journal
Immediate online access to all issues from 2019. Subscription will auto renew annually.
US$ 199
This is the net price. Taxes to be calculated in checkout.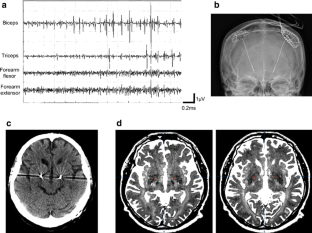 References
1.

Birthi P, Walters C, Ortiz Vargas O, Karandikar N (2011) The use of intrathecal baclofen therapy for myoclonus in a patient with Lance Adams syndrome. PM R 3:671–673

2.

Cho AR, Kwon JY, Kim JY, Kim ES, Kim HY (2013) Acute onset Lance-Adams syndrome following brief exposure to severe hypoxia without cardiac arrest -a case report. Korean J Anesthesiol 65:341–344

3.

Deuschl G, Schade-Brittinger C, Krack P et al (2006) A randomized trial of deep-brain stimulation for Parkinson's disease. N Engl J Med 355:896–908

4.

Ferlazzo E, Gasparini S, Cianci V, Cherubini A, Aguglia U (2013) Serial MRI findings in brain anoxia leading to Lance-Adams syndrome: a case report. Neurol Sci 34:2047–2050

5.

Lagrand T, Winogrodzka A (2013) Late relapse myoclonus in a case of Lance-Adams syndrome. BMJ Case Rep. doi:10.1136/bcr-2013-201543

6.

Lance JW, Adams RD (1963) The syndrome of intention or action myoclonus as a sequel to hypoxic encephalopathy. Brain 86:111–136

7.

Lee HL, Lee JK (2011) Lance-adams syndrome. Ann Rehabil Med 35:939–943

8.

Rollinson RD, Gilligan BS (1979) Postanoxic action myoclonus (Lance-Adams syndrome) responding to valproate. Arch Neurol 36:44–45

9.

Rughani AI, Lozano AM (2013) Surgical treatment of myoclonus dystonia syndrome. Mov Disord 28:282–287

10.

Shin JH, Park JM, Kim AR, Shin HS, Lee ES, Oh MK, Yoon CH (2012) Lance-adams syndrome. Ann Rehabil Med 36:561–564

11.

Starr PA (2013) Deep brain stimulation for other tremors, myoclonus, and chorea. Handb Clin Neurol 116:209–215

12.

Volkmann J, Wolters A, Kupsch A et al (2012) Pallidal deep brain stimulation in patients with primary generalised or segmental dystonia: 5-year follow-up of a randomised trial. Lancet Neurol 11:1029–1038

13.

Wicklein EM, Schwendemann G (1993) Use of clonazepam and valproate in patients with Lance Adams syndrome. J R Soc Med 86:618

14.

Yamada K, Sakurama T, Soyama N, Kuratsu J (2011) Gpi pallidal stimulation for Lance-Adams syndrome. Neurology 76:1270–1272

15.

Yamaoka H, Tomemori N, Hayama K (1994) The Lance-Adams syndrome following cardiopulmonary resuscitation: a report of two cases. J Anesth 8:349–351
Acknowledgments
The patient is acknowledged.
Conflicts of interest
None.
Ethical standard
On behalf of all the authors, the corresponding author states that we acted in accordance with the ethical standards of the 1964 Declaration of Helsinki.
Informed consent
The patient gave informed consent prior to his inclusion in the study.
Electronic supplementary material
Below is the link to the electronic supplementary material.
Video Segment 1. First part (~35 seconds). Myoclonus in the extremities was observed before operation. It was hard for him to drink and walk without assistance. Video Segment 2. Latter part (35 seconds ~). Myoclonus was remarkably improved and he could walk and drink easily after the operation. (MP4 28545 kb)
About this article
Cite this article
Asahi, T., Kashiwazaki, D., Dougu, N. et al. Alleviation of myoclonus after bilateral pallidal deep brain stimulation for Lance–Adams syndrome. J Neurol 262, 1581–1583 (2015). https://doi.org/10.1007/s00415-015-7748-x
Received:

Revised:

Accepted:

Published:

Issue Date:
Keywords
Deep Brain Stimulation

Intrathecal Baclofen

Implant Pulse Generator

Cortical Myoclonus

Pallidal Deep Brain Stimulation