This is a preview of subscription content, log in to check access.
Access options
Buy single article
Instant unlimited access to the full article PDF.
US$ 39.95
Price includes VAT for USA
Subscribe to journal
Immediate online access to all issues from 2019. Subscription will auto renew annually.
US$ 199
This is the net price. Taxes to be calculated in checkout.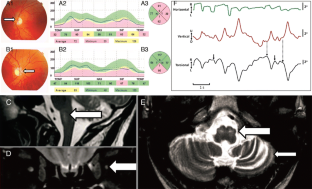 References
1.

Lopez LI, Bronstein AM, Gresty MA et al (1996) Clinical and MRI correlates in 27 patients with acquired pendular nystagmus. Brain 119:465–472

2.

Howard KL, Hall DA, Moon M et al (2008) Adult-onset Alexander disease with progressive ataxia and palatal tremor. Mov Disord 23:118–122

3.

Storey E, Knight MA, Forrest SM et al (2005) Spinocerebellar ataxia type 20. Cerebellum 4:55–57

4.

Stricker S, Oberwahrenbrock T, Zimmermann H et al (2011) Temporal retinal nerve fibre loss in patients with spinocerebellar ataxia type 1. PLoS ONE 6:e23024

5.

Morgia C, Achilli A, Iommarini L et al (2008) Rare mtDNA variants in Leber hereditary optic neuropathy families with recurrence of myoclonus. Neurology 70:762–770

6.

Amati-Bonneau P, Valentino ML, Reynier P et al (2008) OPA1 mutations induce mitochondrial DNA instability and optic atrophy 'plus' phenotypes. Brain 131:338–351

7.

Naviaux RK, Nguyen KV (2005) POLG mutations associated with Alper's syndrome and mitochondrial DNA depletion. Ann Neurol 58:491

8.

Johansen KK, Bindoff LA, Rydland J et al (2008) Palatal tremor and facial dyskinesia in a patient with POLG1 mutation. Mov Disord 23:1624–1626

9.

Samuel M, Torun N, Tuite PJ et al (2004) Progressive ataxia and palatal tremor (PAPT): clinical and MRI assessment with review of palatal tremors. Brain 127:1252–1268

10.

Deuschl G, Toro C, Valls-Sole J et al (1994) Symptomatic and essential palatal tremor: clinical, physiological and MRI analysis. Brain 117:775–788
Conflicts of interest
All authors declare no conflicts of interest.
Ethical standard statement
The authors declare they acted in accordance with the ethical standards laid down in the 1964 Declaration of Helsinki.
Informed consent
Informed consent was obtained.
Electronic supplementary material
Below is the link to the electronic supplementary material.
Video 1 3D video oculography of the right eye during fixation to a LED target, initially in primary gaze and then during fixation 15° to the right, left and back to centre. Note the large, asymmetric, torsional, 'rotatory' nystagmus, which is larger and faster to the left (clockwise from the observer's point of view). (M4 V 15114 kb)
Video 2 Non-periodic palatal tremor (~2 Hz) with synchronous oscillations of the posterior pharyngeal wall muscles. (M4 V 5399 kb)
About this article
Cite this article
Papachatzaki, M.M., Ali, N., Arshad, Q. et al. Progressive ataxia with oculo-palatal tremor and optic atrophy. J Neurol 260, 2903–2905 (2013) doi:10.1007/s00415-013-7136-3
Received:

Revised:

Accepted:

Published:

Issue Date:
Keywords
Multiple System Atrophy

Retinal Nerve Fibre Layer

Optic Atrophy

Spinocerebellar Ataxia

Peripapillary Retinal Nerve Fibre Layer