This is a preview of subscription content, log in to check access.
Access options
Buy single article
Instant unlimited access to the full article PDF.
US$ 39.95
Price includes VAT for USA
Subscribe to journal
Immediate online access to all issues from 2019. Subscription will auto renew annually.
US$ 199
This is the net price. Taxes to be calculated in checkout.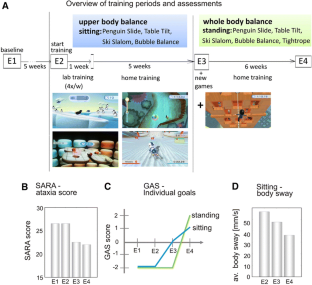 References
1.

Zannolli R, Buoni S, Betti G et al (2012) A randomized trial of oral betamethasone to reduce ataxia symptoms in ataxia telangiectasia. Mov Disord 27(10):1312–1316

2.

Lynch DR, Perlman SL, Meier T (2010) A phase 3, double-blind, placebo-controlled trial of idebenone in friedreich ataxia. Arch Neurol 67(8):941–947

3.

Schmitz-Hubsch T, du Montcel ST, Baliko L et al (2006) Scale for the assessment and rating of ataxia: development of a new clinical scale. Neurology 66(11):1717–1720

4.

Ilg W, Synofzik M, Brotz D, Burkard S, Giese MA, Schols L (2009) Intensive coordinative training improves motor performance in degenerative cerebellar disease. Neurology 73(22):1823–1830

5.

Ilg W, Schatton C, Schicks J, Giese MA, Schols L, Synofzik M (2012) Video game-based coordinative training improves ataxia in children with degenerative ataxia. Neurology 79(20):2056–2060

6.

Kiresuk TJ, Smith A, Cardillo JEE (1994) Goal attainment scaling: applications, theory and measurement. Lawrence Erlbaum Associates, Inc., Hillsdale

7.

Marelli C, Figoni J, Charles P et al (2012) Annual change in Friedreich's ataxia evaluated by the Scale for the Assessment and Rating of Ataxia (SARA) is independent of disease severity. Mov Disord 27(1):135–138
Acknowledgments
We are particularly thankful to the index patient and his family for participating in this study, to Dr. Dirk Heinicke (Klinik Bavaria, Kreischa, Germany) for referring this patient to us, and to Dr. Anne Söhn (Institute for Medical Genetics, Tübingen) for clarifying the terminology of the reported mutations. This study was supported by Ataxia UK, Ataxia Ireland, the German Hereditary Ataxia Foundation (DHAG), and the Katarina Witt-Stiftung.
Conflicts of interest
On behalf of all authors, the corresponding author states that there is no conflict of interest. The following authors report financial disclosures: Dr. Synofzik received a research grant by the Robert-Bosch Stiftung and AtaxiaUK/Ataxia Ireland, and consulting fees from Actelion Pharmaceuticals Ltd.; Dr. Giese is supported by EC FP7-ICT-248311 AMARSi, Fp7-PEOPLE-2011-ITN ABC, The Human Brain Project, and Deutsche Forschungsgemeinschaft: DFG GI 305/4-1, DFG GZ: KA 1258/15-1, and the German Federal Ministry of Education and Research: BMBF, FKZ: 01GQ1002A.
Electronic supplementary material
Below is the link to the electronic supplementary material.
Supplementary material 2 (MP4 15314 kb)
About this article
Cite this article
Synofzik, M., Schatton, C., Giese, M. et al. Videogame-based coordinative training can improve advanced, multisystemic early-onset ataxia. J Neurol 260, 2656–2658 (2013). https://doi.org/10.1007/s00415-013-7087-8
Received:

Accepted:

Published:

Issue Date:
Keywords
Advanced Disease Stage

Ataxia Telangiectasia

Spinocerebellar Pathway

Residual Standing

Subjective Achievement