Abstract
Isolated floccular infarction is extremely rare, and impairments of the vestibulo-ocular reflex (VOR) have not been explored in humans with isolated floccular lesions. The purpose of this study was to examine and report selective impairment of VOR in response to high acceleration using head impulse in a patient with isolated floccular infarction. The patient underwent bedside and laboratory evaluation of vestibular function, which included video-oculography, ocular torsion and the subjective visual vertical, cervical and ocular vestibular-evoked myogenic potentials, bithermal caloric irrigation, rotatory chair test, and the head impulse test (HIT) using search coils. A 70-year-old woman with a unilateral floccular infarction presented with an acute vestibular syndrome with spontaneous nystagmus beating to the lesion side, impaired ipsilesional pursuit, contraversive ocular torsion and tilt of the subjective visual vertical. With rotatory chair testing at low frequencies, horizontal VOR gains were increased. However, VOR gains were decreased with the higher-frequency, higher-speed HIT. While HIT is often normal in patients with central vestibular disorders, decreased HIT responses do not exclude an isolated cerebellar lesion as a cause of the acute vestibular syndrome.
This is a preview of subscription content, log in to check access.
Access options
Buy single article
Instant unlimited access to the full article PDF.
US$ 39.95
Price includes VAT for USA
Subscribe to journal
Immediate online access to all issues from 2019. Subscription will auto renew annually.
US$ 199
This is the net price. Taxes to be calculated in checkout.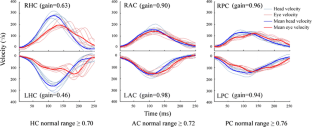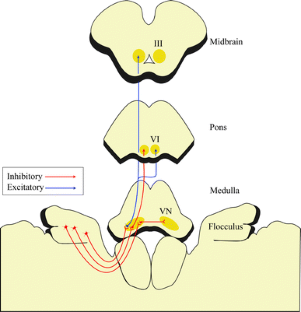 References
1.

Zee DS, Yamazaki A, Butler PH, Gucer G (1981) Effects of ablation of flocculus and paraflocculus of eye movements in primate. J Neurophysiol 46(4):878–899

2.

Ito M, Nisimaru N, Yamamoto M (1977) Specific patterns of neuronal connexions involved in the control of the rabbit's vestibulo-ocular reflexes by the cerebellar flocculus. J Physiol 265(3):833–854

3.

Straube A, Scheuerer W, Eggert T (1997) Unilateral cerebellar lesions affect initiation of ipsilateral smooth pursuit eye movements in humans. Ann Neurol 42(6):891–898. doi:10.1002/ana.410420611

4.

Tabata H, Yamamoto K, Kawato M (2002) Computational study on monkey VOR adaptation and smooth pursuit based on the parallel control-pathway theory. J Neurophysiol 87(4):2176–2189. doi:10.1152/jn.00168.2001

5.

Yamazaki A, Zee DS (1979) Rebound nystagmus: EOG analysis of a case with a floccular tumour. B J Ophthalmol 63(11):782–786

6.

Halmagyi GM, Curthoys IS (1988) A clinical sign of canal paresis. Arch Neurol 45(7):737–739

7.

Choi KD, Oh SY, Park SH, Kim JH, Koo JW, Kim JS (2007) Head-shaking nystagmus in lateral medullary infarction: patterns and possible mechanisms. Neurology 68(17):1337–1344. doi:10.1212/01.wnl.0000260224.60943.c2

8.

Choi KD, Oh SY, Kim HJ, Koo JW, Cho BM, Kim JS (2007) Recovery of vestibular imbalances after vestibular neuritis. Laryngoscope 117(7):1307–1312. doi:10.1097/MLG.0b013e31805c08ac

9.

Han BI, Oh HJ, Kim JS (2006) Nystagmus while recumbent in horizontal canal benign paroxysmal positional vertigo. Neurology 66(5):706–710. doi:10.1212/01.wnl.0000201184.69134.23

10.

Lee SH, Choi KD, Jeong SH, Oh YM, Koo JW, Kim JS (2007) Nystagmus during neck flexion in the pitch plane in benign paroxysmal positional vertigo involving the horizontal canal. J Neurol Sci 256(1–2):75–80. doi:10.1016/j.jns.2007.02.026

11.

Lee SH, Kim JS (2010) Benign paroxysmal positional vertigo. J Clin Neurol 6(2):51–63. doi:10.3988/jcn.2010.6.2.51

12.

Yang Y, Kim JS, Kim S, Kim YK, Kwak YT, Han IW (2009) Cerebellar hypoperfusion during transient global amnesia: an mri and oculographic study. J Clin Neurol 5(2):74–80. doi:10.3988/jcn.2009.5.2.74

13.

Moon IS, Kim JS, Choi KD, Kim MJ, Oh SY, Lee H, Lee HS, Park SH (2009) Isolated nodular infarction. Stroke 40(2):487–491. doi:10.1161/STROKEAHA.108.527762

14.

Jeong SH, Oh SY, Kim HJ, Koo JW, Kim JS (2010) Vestibular dysfunction in migraine: effects of associated vertigo and motion sickness. J Neurol 257(6):905–912. doi:10.1007/s00415-009-5435-5

15.

Choi KD, Oh SY, Kim HJ, Kim JS (2007) The vestibulo-ocular reflexes during head impulse in Wernicke's encephalopathy. J Neurol Neurosurg Psychiatry 78(10):1161–1162. doi:10.1136/jnnp.2007.121061

16.

Kim JS, Kim HJ (2012) Inferior vestibular neuritis. J Neurol 259(8):1553–1560. doi:10.1007/s00415-011-6375-4

17.

Halmagyi GM, Aw ST, Cremer PD, Curthoys IS, Todd MJ (2001) Impulsive testing of individual semicircular canal function. Ann N Y Acad Sci 942:192–200

18.

Kim S, Lee HS, Kim JS (2010) Medial vestibulospinal tract lesions impair sacculo-collic reflexes. J Neurol 257(5):825–832. doi:10.1007/s00415-009-5427-5

19.

Kim S, Kim HJ, Kim JS (2011) Impaired sacculocollic reflex in lateral medullary infarction. Front Neurol 2:8. doi:10.3389/fneur.2011.00008

20.

Shin JY, Song HS, Koo JW, Lee HS, Kim JS (2009) Abnormal vestibular evoked myogenic potentials in medial medullary infarction. J Clin Neurol 5(2):101–103. doi:10.3988/jcn.2009.5.2.101

21.

Lisberger SG, Miles FA, Zee DS (1984) Signals used to compute errors in monkey vestibuloocular reflex: possible role of flocculus. J Neurophysiol 52(6):1140–1153

22.

Kattah JC, Talkad AV, Wang DZ, Hsieh YH, Newman-Toker DE (2009) HINTS to diagnose stroke in the acute vestibular syndrome: three-step bedside oculomotor examination more sensitive than early MRI diffusion-weighted imaging. Stroke 40(11):3504–3510. doi:10.1161/STROKEAHA.109.551234

23.

Lee H, Sohn SI, Cho YW, Lee SR, Ahn BH, Park BR, Baloh RW (2006) Cerebellar infarction presenting isolated vertigo: frequency and vascular topographical patterns. Neurology 67(7):1178–1183. doi:10.1212/01.wnl.0000238500.02302.b4

24.

Cnyrim CD, Newman-Toker D, Karch C, Brandt T, Strupp M (2008) Bedside differentiation of vestibular neuritis from central "vestibular pseudoneuritis". J Neurol Neurosurg Psychiatry 79(4):458–460. doi:10.1136/jnnp.2007.123596

25.

Tarnutzer AA, Berkowitz AL, Robinson KA, Hsieh YH, Newman-Toker DE (2011) Does my dizzy patient have a stroke? A systematic review of bedside diagnosis in acute vestibular syndrome. CMAJ: journal de l'Association medicale canadienne 183 (9):E571–E592. doi:10.1503/cmaj.100174

26.

Newman-Toker DE, Kattah JC, Alvernia JE, Wang DZ (2008) Normal head impulse test differentiates acute cerebellar strokes from vestibular neuritis. Neurology 70(24 Pt 2):2378–2385. doi:10.1212/01.wnl.0000314685.01433.0d

27.

Crane BT, Tian JR, Demer JL (2000) Initial vestibulo-ocular reflex during transient angular and linear acceleration in human cerebellar dysfunction. Exp Brain Res 130(4):486–496

28.

Walker MF, Zee DS (1999) Directional abnormalities of vestibular and optokinetic responses in cerebellar disease. Ann N Y Acad Sci 871:205–220

29.

Baloh RW, Honrubia V, Konrad HR (1977) Ewald's second law re-evaluated. Acta Otolaryngol 83(5–6):475–479

30.

Buttner-Ennever JA (1992) Patterns of connectivity in the vestibular nuclei. Ann N Y Acad Sci 656:363–378

31.

Galiana HL, Outerbridge JS (1984) A bilateral model for central neural pathways in vestibuloocular reflex. J Neurophysiol 51(2):210–241

32.

Shin M, Moghadam SH, Sekirnjak C, Bagnall MW, Kolkman KE, Jacobs R, Faulstich M, du Lac S (2011) Multiple types of cerebellar target neurons and their circuitry in the vestibulo-ocular reflex. J Neurosci 31(30):10776–10786. doi:10.1523/JNEUROSCI.0768-11.2011

33.

Jorns-Haderli M, Straumann D, Palla A (2007) Accuracy of the bedside head impulse test in detecting vestibular hypofunction. J Neurol Neurosurg Psychiatry 78(10):1113–1118. doi:10.1136/jnnp.2006.109512

34.

Weber KP, Aw ST, Todd MJ, McGarvie LA, Curthoys IS, Halmagyi GM (2008) Head impulse test in unilateral vestibular loss: vestibulo-ocular reflex and catch-up saccades. Neurology 70(6):454–463. doi:10.1212/01.wnl.0000299117.48935.2e

35.

Takemori S, Cohen B (1974) Loss of visual suppression of vestibular nystagmus after flocculus lesions. Brain Res 72(2):213–224

36.

Flandrin JM, Courjon JH, Jeannerod M, Schmid R (1983) Effects of unilateral flocculus lesions on vestibulo-ocular responses in the cat. Neuroscience 8(4):809–817

37.

Ito M, Highstein SM, Fukuda J (1970) Cerebellar inhibition of the vestibulo-ocular reflex in rabbit and cat and its blockage by picrotoxin. Brain Res 17(3):524–526

38.

Baker R, Precht W, Llinas R (1972) Cerebellar modulatory action on the vestibulo-trochlear pathway in the cat. Exp Brain Res 15(4):364–385

39.

Lee H, Yi HA, Lee SR, Lee SY, Park BR (2008) Ocular torsion associated with infarction in the territory of the anterior inferior cerebellar artery: frequency, pattern, and a major determinant. J Neurol Sci 269(1–2):18–23. doi:10.1016/j.jns.2007.12.009

40.

Baier B, Bense S, Dieterich M (2008) Are signs of ocular tilt reaction in patients with cerebellar lesions mediated by the dentate nucleus? Brain 131(Pt 6):1445–1454. doi:10.1093/brain/awn086
Acknowledgments
This study was supported by a grant of Korea Medical Device Industrial Cooperative Association. Dr. Park reports no disclosures. Dr. Kim serves as an Associate Editor of Frontiers in Neuro-otology and on the Editorial Boards of the Journal of Korean Society of Clinical Neurophysiology, Research in Vestibular Science, Journal of Clinical Neurology, Frontiers in Neuro-ophthalmology, Journal of Neuro-ophthalmology, and Case Reports in Ophthalmological Medicine; and received research support from SK Chemicals, Co. Ltd., Dr. Strupp is Joint Editor-in-Chief of the Journal of Neurology and Editor-in-Chief of Frontiers of Neurology. He received research support from the German Ministry of Education and Research (BMBF) and the Deutsche Forschungsgemeinschaft (DFG) as well as from Abbott, Biogen Idec, and Pfizer. He received speaker's honoraria from Abbott, GSK, Biogen Idec, Merck Serono, TEVA, and UCB. Dr. Zee receives research support from the National Institutes of Health and is an Associate Editor of Frontiers in Neurootology and a member of the Editorial Board of The Cerebellum. He received speaker's honoraria from Abbott, Sun pharmaceuticals and from the American Academy of Neurology.
Conflicts of interest
The authors declare that they have no conflict of interest.
Electronic supplementary material
Below is the link to the electronic supplementary material.
The patient shows right-beating horizontal-torsional nystagmus that increases without fixation, normal saccades, and impaired leftward smooth pursuit (MPG 7370 kb)
Bedside horizontal head impulse tests reveal small corrective catch-up saccades during stimulation of the left horizontal semicircular canal (MPG 2894 kb)
About this article
Cite this article
Park, H., Kim, J., Strupp, M. et al. Isolated floccular infarction: impaired vestibular responses to horizontal head impulse. J Neurol 260, 1576–1582 (2013) doi:10.1007/s00415-013-6837-y
Received:

Revised:

Accepted:

Published:

Issue Date:
Keywords
Vertigo

Flocculus

Cerebellum

Infarction

Vestibulo-ocular reflex

Head impulse test