This is a preview of subscription content, log in to check access.
Access options
Buy single article
Instant unlimited access to the full article PDF.
US$ 39.95
Price includes VAT for USA
Subscribe to journal
Immediate online access to all issues from 2019. Subscription will auto renew annually.
US$ 199
This is the net price. Taxes to be calculated in checkout.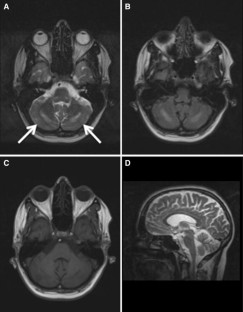 References
1.

Van Goethem G, Dermaut B, Lofgren A et al (2001) Mutation of POLG is associated with progressive external ophthalmoplegia characterized by mtDNA deletions. Nat Genet 28:211–212

2.

Wong LJC, Naviaux RK, Brunetti-Pierri N et al (2008) Molecular and clinical genetics of mitochondrial diseases due to POLG mutations. Hum Mutat 29:E150–E172

3.

Synofzik M, Schule R, Schulte C et al (2010) Complex hyperkinetic movement disorders associated with POLG mutations. Mov Disord 25:2472–2475

4.

Winterthun S, Ferrari G, Taylor RW et al (2005) Autosomal recessive mitochondrial ataxic syndrome due to mitochondrial polymerase γ mutations. Neurology 64:1204–1208

5.

Tzoulis C, Neckelmann G, Mørk SJ et al (2010) Localized cerebral energy failure in DNA polymerase gamma-associated encephalopathy syndromes. Brain 133:1428–1437

6.

Tzoulis C, Engelsen BA, Telstad W et al (2006) The spectrum of clinical disease caused by the A467T and W748S POLG mutations: a study of 26 cases. Brain 129:1685–1692

7.

Van der Knaap MS, Arts WFM, Garbern JY et al (2008) Cerebellar leukoencephalopathy: most likely histiocytosis-related. Neurology 71:1361–1367
Acknowledgments
BvdW receives research support from the Prinses Beatrix Fonds, Netherlands Brain Foundation, the Royal Dutch Society for Physical Therapy, and the Gossweiler Foundation.
Conflicts of interest
AMT and FM have nothing to disclose.
Ethical standard
Informed consent was obtained from the patient prior to her inclusion in the study.
Electronic supplementary material
Below is the link to the electronic supplementary material.
Mild torticollis to the left with a side-to-side, jerky head tremor. (WMV 3904 kb)
About this article
Cite this article
Tuladhar, A.M., Meijer, F.J.A. & van de Warrenburg, B.P. POLG mutation presenting with late-onset jerky torticollis. J Neurol 260, 903–905 (2013) doi:10.1007/s00415-012-6776-z
Received:

Revised:

Accepted:

Published:

Issue Date:
Keywords
Spinocerebellar Ataxia

Cervical Dystonia

Myoclonic Jerk

Cerebellar White Matter

Alexander Disease