Abstract
Anti-NMDA-R encephalitis has been described as a cause of acute psychosis in young females. It is rare during pregnancy. We describe a primigravida 32-year-old woman with acute onset psychosis during the first trimester. Eight weeks after becoming pregnant, the patient became psychotic with associated catatonia and autonomic disturbance. Serum anti-NMDA-R antibodies were found. She responded to plasma exchange. At caesarean section, a healthy baby boy was born and a benign mature cystic teratoma was removed from the left ovary. Catatonia associated with psychosis may occur in pregnancy secondary to anti-NMDA-R encephalitis. Prompt and aggressive treatment can lead to a good outcome for both baby and mother.
This is a preview of subscription content, log in to check access.
Access options
Buy single article
Instant unlimited access to the full article PDF.
US$ 39.95
Price includes VAT for USA
Subscribe to journal
Immediate online access to all issues from 2019. Subscription will auto renew annually.
US$ 199
This is the net price. Taxes to be calculated in checkout.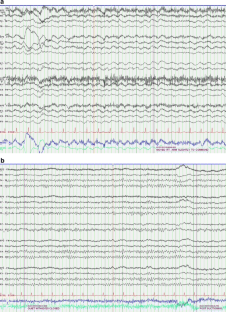 References
1.

Dalmau J, Gleichman AJ, Hughes EG et al (2008) Anti-NMDA-receptor encephalitis: case series and analysis of the effects of antibodies. Lancet Neurol 7(12):1091–1098

2.

Dalmau J, Lancaster E, Martinez-Hernandez E et al (2011) Clinical experience and laboratory investigations in patients with anti-NMDAR encephalitis. Lancet Neurol 10(1):63–74

3.

Kumar M A, Jain A, Dechant VE, et al. Anti-N-methyl-D-aspartate receptor encephalitis during pregnancy. Arch. Neurol 2010 Jul;67 (7):884–887

4.

Ito Y, Abe T, Tomioka R et al (2010) Anti-NMDA receptor encephalitis during pregnancy. (Article in Japanese, abstract available in English). Rinsho Shinkeigaku 50(2):103–107

5.

Yu AY, Moore FG (2011) Paraneoplastic encephalitis presenting as postpartum psychosis. Psychosomatics. 52(6):568–570

6.

Barry H, Hardiman O, Healy DG et al (2011) Anti-NMDA receptor encephalitis: an important differential diagnosis in psychosis. Br J Psychiatry 199(6):508–509

7.

Szczepiorkowski ZM, Winters JL, Bandarenko N (2010) Guidelines on the use of therapeutic aphersis in clinical practice–evidence based approach from the Apheresis Applications Committee of the American Society for Apheresis. J Clin Apher. 25(3):83–177

8.

Palmeira P, Quinello C, Silveira-Lessa AL et al (2012) IgG placental transfer in healthy and pathological pregnancies. Clin Dev Immunol 2012:985646

9.

Henson MA, Roberts AC, Salimi K et al (2008) Developmental regulation of the NMDA receptor subunits, NR3A and NR1, in human prefrontal cortex. Cereb Cortex 18(11):2560–2573

10.

Finke C, Kopp UA, Pruss H et al (2012) Cognitive deficits following anti-NMDA receptor encephalitis. J Neurol Neurosurg Psychiatry 83(2):195–198
Conflicts of interest
The authors declare that they have no conflicts of interest.
Ethical standards
The patient described has given written consent for the use of patient identifiable video material.
Electronic supplementary material
Below is the link to the electronic supplementary material.
Clinical course during the patients' hospital stay. Segment 1: 6 days post admission, during EEG recording on the psychiatry ward, on anti-psychotic medication only. Segment 2: 9 days post admission, commenced on IV methylprednisolone on this day. Catatonia is evident, as well as stereotyped movements of the right hand. Segment 3: 12 days post admission, has received 4 days of IV steroids and commences plasma exchange on this day. Forced eye closure and neck rigidity is evident. Segment 4: 3 weeks post admission, remains on plasma exchange. The patient is less rigid with spontaneous eye opening and disappearance of the catatonia. Persistent tachycardia is evident on the monitor. Segment 5: 8 weeks post admission, walking with minimal assistance, normal neurological exam, and cognitive assessment (MPG 61786 kb)
About this article
Cite this article
McCarthy, A., Dineen, J., McKenna, P. et al. Anti-NMDA receptor encephalitis with associated catatonia during pregnancy. J Neurol 259, 2632–2635 (2012). https://doi.org/10.1007/s00415-012-6561-z
Received:

Revised:

Accepted:

Published:

Issue Date:
Keywords
Autoimmune encephalitis

NMDA receptor

Catatonia

Pregnancy