This is a preview of subscription content, log in to check access.
Access options
Buy single article
Instant unlimited access to the full article PDF.
US$ 39.95
Price includes VAT for USA
Subscribe to journal
Immediate online access to all issues from 2019. Subscription will auto renew annually.
US$ 199
This is the net price. Taxes to be calculated in checkout.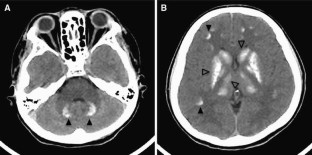 References
1.

Stolze H, Klebe S, Zechlin C, Baecker C, Friege L, Deuschl G (2004) Falls in frequent neurological diseases—prevalence, risk factors and aetiology. J Neurol 251(1):79–84. doi:10.1007/s00415-004-0276-8

2.

Rubenstein LZ, Josephson KR (2002) The epidemiology of falls and syncope. Clin Geriatr Med 18(2):141–158. doi:10.1016/S0749-0690(02)00002-2

3.

Thijs RD, Bloem BR, van Dijk JG (2009) Falls, faints, fits and funny turns. J Neurol 256(2):155–167. doi:10.1007/s00415-009-0108-y

4.

Weiss-Guillet EM, Takala J, Jakob SM (2003) Diagnosis and management of electrolyte emergencies. Best Pract Res Clin Endocrinol Metab 17(4):623–651. doi:10.1016/S1521-690X(03)00056-3

5.

Morgante L, Trimarchi F, Benvenga S (2002) Fahr's disease. Lancet 359(9308):759. doi:10.1016/S0140-6736(02)07878-9

6.

Bastepe M (2008) The GNAS locus and pseudohypoparathyroidism. Adv Exp Med Biol 626:27–40. doi:10.1159/000083895

7.

Mantovani G, Spada A (2006) Mutations in the Gs alpha gene causing hormone resistance. Best Pract Res Clin Endocrinol Metab 20(4):501–513. doi:10.1016/j.beem.2006.09.001

8.

Mantovani G, de Sanctis L, Barbieri AM, Elli FM, Bollati V, Vaira V, Labarile P, Bondioni S, Peverelli E, Lania AG, Beck-Peccoz P, Spada A (2010) Pseudohypoparathyroidism and GNAS epigenetic defects: clinical evaluation of albright hereditary osteodystrophy and molecular analysis in 40 patients. J Clin Endocrinol Metab 95(2):651–658. doi:10.1210/jc.2009-0176

9.

Manyam BV, Walters AS, Narla KR (2001) Bilateral striopallidodentate calcinosis: clinical characteristics of patients seen in a registry. Mov Disord 16(2):258–264. doi:10.1002/mds.1049

10.

Preusser M, Kitzwoegerer M, Budka H, Brugger S (2007) Bilateral striopallidodentate calcification (Fahr's syndrome) and multiple system atrophy in a patient with longstanding hypoparathyroidism. Neuropathology 27(5):453–456. doi:10.1111/j.1440-1789.2007.00790.x

11.

Forstl H, Krumm B, Eden S, Kohlmeyer K (1992) Neurological disorders in 166 patients with basal ganglia calcification: a statistical evaluation. J Neurol 239(1):36–38. doi:10.1007/BF00839209

12.

Benke T, Karner E, Seppi K, Delazer M, Marksteiner J, Donnemiller E (2004) Subacute dementia and imaging correlates in a case of Fahr's disease. J Neurol Neurosurg Psychiatry 75(8):1163–1165

13.

McKeon A, Vaughan C, Delanty N (2006) Seizure versus syncope. Lancet Neurol 5(2):171–180. doi:10.1016/S1474-4422(06)70350-7

14.

Williams A, Liddle D, Abraham V (2011) Tetany: a diagnostic dilemma. J Anaesthesiol Clin Pharmacol 27(3):393–394. doi:10.4103/0970-9185.83691
Conflicts of interest
The authors declare that they have no conflicts of interest.
Additional information
A. Merlini, L. Peruzzotti-Jametti, and M. Bacigaluppi contributed equally to this work.
Electronic supplementary material
Below is the link to the electronic supplementary material.
Supplementary material 1 Online Resource 1 Signs of latent tetany: a positive Chvostek's sign (twitching of facial musculature) is elicited by tapping the cheek over the path of the facial nerve, 2 cm anterior the earlobe before the zygomatic process. A positive Trousseau's sign, more specific for latent tetany, is observed with the occurrence of a painful carpal spasm after inflating a sphygmomanometer above the systolic pressure for 3 min. (MPG 15445 kb)
About this article
Cite this article
Merlini, A., Peruzzotti-Jametti, L., Bacigaluppi, M. et al. Falling too Fahr. J Neurol 259, 1483–1484 (2012). https://doi.org/10.1007/s00415-012-6411-z
Received:

Revised:

Accepted:

Published:

Issue Date:
Keywords
Calcium Gluconate

Guanine Nucleotide Binding Protein

Pseudohypoparathyroidism

STX16 Gene

Cardiac Syncope