Abstract
Glycine receptor (GlyR) antibodies were recently identified in a few patients with progressive encephalomyelitis with rigidity and myoclonus (PERM); none of these patients had antibodies against glutamic acid decarboxylase (GAD). An inhibitory glycinergic transmission defect has also been implicated in the mechanism underlying saccadic oscillations, including ocular flutter or opsoclonus; GlyR antibodies have not been reported in these patients. The purpose was to determine whether GlyR antibodies are found in patients with PERM, ocular flutter syndrome (OFS), and opsoclonus-myoclonus syndrome (OMS). GlyR antibodies were first measured in archived sera and CSF from five patients, including one patient with GAD antibody-positive PERM, two patients with OFS, and two patients with OMS. GlyR antibodies were also measured in archived sera from nine other adult patients with OMS. GlyR antibodies and GAD antibodies were both found at high titers in the serum and CSF of the patient with PERM, and their levels paralleled disease activity over time. GlyR antibodies were not found at significant levels in 13 patients with saccadic oscillations. GlyR and GAD antibodies can co-exist in PERM and follow the clinical course. Although saccadic oscillations are a feature of this condition, GlyR antibodies are not commonly found in patients with isolated saccadic oscillations.
This is a preview of subscription content, log in to check access.
Access options
Buy single article
Instant unlimited access to the full article PDF.
US$ 39.95
Price includes VAT for USA
Subscribe to journal
Immediate online access to all issues from 2019. Subscription will auto renew annually.
US$ 199
This is the net price. Taxes to be calculated in checkout.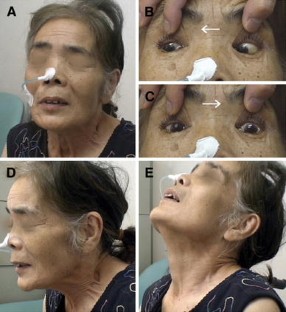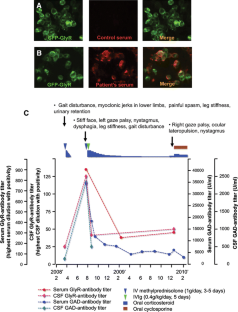 References
1.

Whiteley AM, Swash M, Urich H (1976) Progressive encephalomyelitis with rigidity. Brain 99:27–42

2.

Meinck HM, Thompson PD (2002) Stiff man syndrome and related conditions. Mov Disord 17:853–866

3.

Economides JR, Horton JC (2005) Eye movement abnormalities in stiff person syndrome. Neurology 65:1462–1464

4.

Oskarsson B, Pelak V, Quan D, Hall D, Foster C, Galetta S (2008) Stiff eyes in stiff-person syndrome. Neurology 71:378–380

5.

Vincent A (2008) Stiff, twitchy or wobbly: are GAD antibodies pathogenic? Brain 131:2536–2537

6.

Alexopoulos H, Dalakas MC (2010) A critical update on the immunopathogenesis of stiff person syndrome. Eur J Clin Invest 40:1018–1025

7.

Hutchinson M, Waters P, McHugh J, Gorman G, O'Riordan S, Connolly S, Hager H, Yu P, Becker CM, Vincent A (2008) Progressive encephalomyelitis, rigidity, and myoclonus: a novel glycine receptor antibody. Neurology 71:1291–1292

8.

Mas N, Saiz A, Leite MI, Waters P, Baron M, Castaño D, Sabater L, Vincent A, Graus F (2011) Antiglycine-receptor encephalomyelitis with rigidity. J Neurol Neurosurg Psychiatry 82:1399–1401

9.

Clerinx K, Breban T, Schrooten M, Leite MI, Vincent A, Verschakelen J, Tousseyn T, Vandenberghe W (2011) Progressive encephalomyelitis with rigidity and myoclonus (PERM): resolution after thymectomy. Neurology 76:303–304

10.

Piotrowicz A, Thümen A, Leite MI, Vincent A, Moser A (2011) A case of glycine-receptor antibody-associated encephalomyelitis with rigidity and myoclonus (PERM): clinical course, treatment and CSF findings. J Neurol 258:2268–2270

11.

Zee DS, Robinson DA (1979) A hypothetical explanation of saccadic oscillations. Ann Neurol 5:405–414

12.

Averbuch-Heller L, Remler B (1996) Opsoclonus. Semin Neurol 16:21–26

13.

Leigh RJ, Zee DS (2006) The neurology of eye movements, 4th edn. Contemporary neurology series, Oxford University Press, New York

14.

Lynch JW (2009) Native glycine receptor subtypes and their physiological roles. Neuropharmacology 56:303–309

15.

Lai M, Hughes EG, Peng X, Zhou L, Gleichman AJ, Shu H, Matà S, Kremens D, Vitaliani R, Geschwind MD, Bataller L, Kalb RG, Davis R, Graus F, Lynch DR, Balice-Gordon R, Dalmau J (2009) AMPA receptor antibodies in limbic encephalitis alter synaptic receptor location. Ann Neurol 65:424–434

16.

Dalmau J, Gleichman AJ, Hughes EG, Rossi JE, Peng X, Lai M, Dessain SK, Rosenfeld MR, Balice-Gordon R, Lynch DR (2008) Anti-NMDA-receptor encephalitis: case series and analysis of the effects of antibodies. Lancet Neurol 7:1091–1098

17.

Hughes EG, Peng X, Gleichman AJ, Lai M, Zhou L, Tsou R, Parsons TD, Lynch DR, Dalmau J, Balice-Gordon RJ (2010) Cellular and synaptic mechanisms of anti-NMDA receptor encephalitis. J Neurosci 30:5866–5875

18.

Brook I (2008) Current concepts in the management of Clostridium tetani infection. Expert Rev Anti Infect Ther 6:327–336

19.

Turner MR, Irani SR, Leite MI, Nithi K, Vincent A, Ansorge O (2011) Progressive encephalomyelitis with rigidity and myoclonus: Glycine and NMDA receptor antibodies. Neurology 77:439–443

20.

Horn AK, Büttner-Ennever JA, Wahle P, Reichenberger I (1994) Neurotransmitter profile of saccadic omnipause neurons in nucleus raphe interpositus. J Neurosci 14:2032–2046

21.

Helmchen C, Rambold H, Erdmann C, Mohr C, Sprenger A, Binkofski F (2003) The role of the fastigial nucleus in saccadic eye oscillations. Ann N Y Acad Sci 1004:229–240

22.

Shaikh AG, Ramat S, Optican LM, Miura K, Leigh RJ, Zee DS (2008) Saccadic burst cell membrane dysfunction is responsible for saccadic oscillations. J Neuroophthalmol 28:329–336

23.

Blaes F, Pike MG, Lang B (2008) Autoantibodies in childhood opsoclonus–myoclonus syndrome. J Neuroimmunol 201–202:221–226

24.

Geis C, Weishaupt A, Hallermann S et al (2010) Stiff person syndrome-associated autoantibodies to amphiphysin mediate reduced GABAergic inhibition. Brain 133:3166–3180

25.

Burton AR, Baquet Z, Eisenbarth GS, Tisch R, Smeyne R, Workman CJ, Vignali DA (2010) Central nervous system destruction mediated by glutamic acid decarboxylase-specific CD4 + T cells. J Immunol 184:4863–4870
Acknowledgments
We are extremely grateful to all participants and staff for their contributions to this study and for clinical data collection, and to Dr. Alexander Carvajal for some of the GlyR antibody assays. AV, BL, and Oxford University hold patents and receive royalties and payments for the antibody assays. AV is a consultant for Athena Diagnostics and receives occasional honoraria for lectures; AV and MIL receive support from the National Institutes of Health Research (NIHR) Oxford Biomedical Research Centre. The other authors have nothing to disclose regarding conflicts of interest or commercial relationships including grants, honoraria, speaker's lists, significant ownership, or financial support from pharmaceutical or other companies.
Conflicts of interest
None.
Electronic supplementary material
Below is the link to the electronic supplementary material.
Video 1a: Video 1a and b was recorded on admission before treatment (July 2008) when the patient was re-admitted to our hospital with relapse of symptoms. Video 1 shows the stiff face, stiffness in the lower facial and cervical muscles, left gaze palsy, slow saccade to the left, and right gaze-evoked counterclockwise rotatory nystagmus (MP4 14,131 kb)
Video 1b: (MP4 14,383 kb)
Video 2 was recorded on discharge after treatment (September 2008). Video 2 shows resolution of the symptoms (MP4 8,018 kb)
Supplementary figure: Schematic representation of neuronal machinery for horizontal conjugate eye movements [13]. Horizontal eye movements are controlled by the horizontal gaze-holding network (neural integrator), including the NPH and MVN. The abducens nucleus (horizontal gaze center) contains abducens motoneurons and abducens internuclear neurons. The abducens nucleus receives excitatory cholinergic signals from the ipsilateral NPH and excitatory glutamatergic signals from the contralateral MVN as well as excitatory saccadic commands from the ipsilateral EBNs. The abducens nucleus also receives inhibitory glycinergic signals from the contralateral NPH and ipsilateral MVN as well as inhibitory saccadic commands from the contralateral IBNs. The OPNs send inhibitory glycinergic signals to the EBSs and IBNs. Excitatory projections are shown in red, and inhibitory projections in blue. Ach; acetylcholine, ATD; ascending tract of Deiters, asp; aspartate, CN III; oculomotor nucleus, CN IV; trochlear nucleus, EBNs; excitatory burst neurons, glu; glutamate, gly; glycine, HC; horizontal semicircular canal, IBNs; inhibitory burst neurons, LR; lateral rectus, MLF; medial longitudinal fasciculus, MR; medial rectus, MVN; medial vestibular nucleus, NPH; nucleus prepositus hypoglossi, OPNs; omnipause neurons, PPRF; paramedian pontine reticular formation (EPS 2,472 kb)
About this article
Cite this article
Iizuka, T., Leite, M.I., Lang, B. et al. Glycine receptor antibodies are detected in progressive encephalomyelitis with rigidity and myoclonus (PERM) but not in saccadic oscillations. J Neurol 259, 1566–1573 (2012) doi:10.1007/s00415-011-6377-2
Received:

Accepted:

Published:

Issue Date:
Keywords
Glycine receptor

Autoantibodies

Opsoclonus–myoclonus syndrome

Stiff-person syndrome