Recurrent hypothermia with hyperhidrosis in two siblings: familial Shapiro syndrome variant
Dear Sir,
A 21-year-old woman was referred for recurrent (up to 2 times per month) episodes of generalized hyperhidrosis and hypothermia with a core temperature fluctuating between 32 and 35°C, lasting from 2–3 h. During these attacks, the woman sweated profusely and felt faint; her skin was pale and cool and sinus bradycardia (<50 bpm) was observed. At admission, blood chemistry and cell count were unremarkable. Ictal EEGs, ECG Holter, and echocardiography were unremarkable. Brain MRI revealed the total absence of the corpus callosum (Fig.
1
b). The patient had normal mental status and did not display facial dysmorphisms. No neurologic or physical abnormalities were noted. Endocrine evaluation of hypothalamic-pituitary axis, thyroid, adrenals, and gonads was unremarkable. Electroencephalograms and lack of response to anticonvulsants (levetiracetam 1,000 mg twice/day) excluded the epileptic origin of the attacks.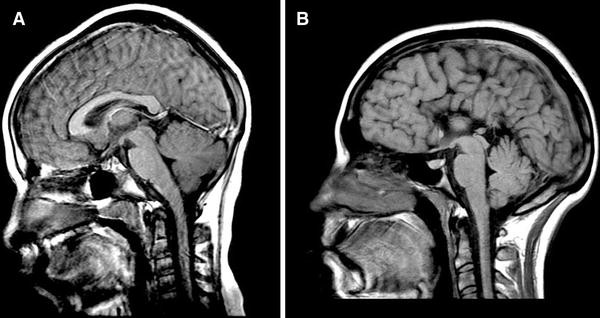 Keywords
Clonidine 
Corpus Callosum 
Levetiracetam 
Facial Dysmorphisms 
Physical Abnormality 
These keywords were added by machine and not by the authors. This process is experimental and the keywords may be updated as the learning algorithm improves.
Notes
Conflict of interest
None.