Abstract
Rotational vertebral artery syndrome (RVAS) is characterized by recurrent attacks of paroxysmal vertigo, nystagmus, and ataxia induced by head rotation. We report on a patient who developed atypical RVAS due to compression of the vertebral artery (VA) terminating in the posterior inferior cerebellar artery (PICA). A 59-year-old man suffered from vertigo and nystagmus induced by leftward head rotation and oculography showed right beating horizontal-torsional and downbeat nystagmus. Cerebral angiography showed hypoplastic right VA terminating in PICA without connection to the basilar artery. The basilar artery received its flow from the left VA only and branched out both anterior inferior cerebellar arteries. Cerebral angiography revealed a complete occlusion of the right distal VA at the level of the C1–2 junction when the head was rotated to a leftward position. In contrast, the blood flow through the left vertebral and basilar arteries remained intact while turning the head to either side. The hemodynamic compromise observed in our patient with RVAS indicates that isolated vertigo and nystagmus may occur due to transient ischemia of the inferior cerebellum or lateral medulla.
This is a preview of subscription content, log in to check access.
Access options
Buy single article
Instant unlimited access to the full article PDF.
US$ 39.95
Price includes VAT for USA
Subscribe to journal
Immediate online access to all issues from 2019. Subscription will auto renew annually.
US$ 199
This is the net price. Taxes to be calculated in checkout.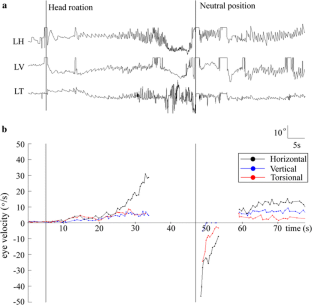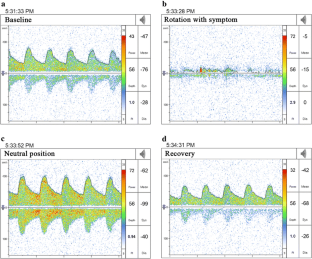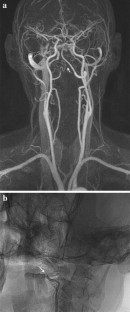 References
1.

Brandt T, Baloh RW (2005) Rotational vertebral artery occlusion; a clinical entity or various syndrome? Neurology 65:1156–1157

2.

Choi KD, Shin HY, Kim JS, Kim SH, Kwon OK, Koo JW, Park SH, Yoon BW, Roh JK (2005) Rotational vertebral artery syndrome: oculographic analysis of nystagmus. Neurology 65:1287–1290

3.

Choi KD, Oh SY, Park SH, Kim JH, Koo JW, Kim JS (2007) Head-shaking nystagmus in lateral medullary infarction: patterns and possible mechanisms. Neurology 68:1337–1344

4.

Furman JM, Wall C IIIrd, Pang DL (1990) Vestibular function in periodic alternating nystagmus. Brain 113:1425–1439

5.

Inui H, Murai T, Yane K, Matsunaga T (1996) Brainstem ischemic damage following occlusion of the blood vessels in the rat's posterior cerebral circulation. Eur Arch Otorhinolanyngol 253:176–181

6.

Jeong HS, Oh JY, Kim JS, Kim J, Lee AY, Oh SY (2007) Periodic alternating nystagmus in isolated nodular infarction. Neurology 68:956–957

7.

Kim JS, Lopez I, DiPatre PL, Liu F, Ishiyama A, Baloh RW (1999) Internal auditory artery infarction: clinicopathologic correlation. Neurology 52:40–44

8.

Kuether TA, Nesbit GM, Clark WM, Barnwell SL (1997) Rotational vertebral artery occlusion: a mechanism of vertebrobasilar insufficiency. Neurosurgery 41:427–432

9.

Lee H (2009) Neuro-otological aspects of cerebellar stroke syndrome. J Clin Neurol 5:65–73

10.

Lee H, Sohn SI, Cho YW, Lee SR, Ahn BH, Park BR, Baloh RW (2006) Cerebellar infarction presenting isolated vertigo: frequency and vascular topographical patterns. Neurology 67:1178–1183

11.

Lee SH, Kim JS (2010) Benign paroxysmal positional vertigo. J Clin Neurol 6:51–63

12.

Marti S, Hegemann S, von Büdingen H-C, Baumgartner RW, Straumann D (2008) Rotational vertebral artery syndrome: 3D kinematics of nystagmus suggest bilateral labyrinthine dysfunction. J Neurol 255:663–667

13.

Matsuyama T, Morimoto T, Skaki T (1997) Bow Hunter's stroke caused by a nondominant vertebral artery occlusion: case report. Neurosurgery 41:1391–1395

14.

Moon IS, Kim JS, Choi KD, Kim MJ, Oh SY, Lee H, Lee HS, Park SH (2009) Isolated nodular infarction. Stroke 40:487–491

15.

Oh YM, Choi KD, Oh SY, Kim JS (2006) Periodic alternating nystagmus with circumscribed nodular lesion. Neurology 67:399

16.

Rambold H, Helmchen C (2005) Spontaneous nystagmus in dorsolateral medullary infarction indicates vestibular semicircular canal imbalance. J Neurol Neurosurg Psychiatry 7:88–94

17.

Strupp M, Planck JH, Arbusow V, Steiger HJ, Brückmann H, Brandt T (2000) Rotational vertebral artery occlusion syndrome with vertigo due to "labyrinthine excitation". Neurology 54:1376–1379

18.

Tatlow W, Bammer H (1957) Syndromes of vertebral artery compression. Neurology 7:331–340

19.

Tatu L, Moulin T, Bogousslavsky J, Duvernoy H (1996) Arterial territories of human brain: brainstem and cerebellum. Neurology 47:1125–1135
Acknowledgments
This study was supported by grant of the Korea Health 21 R&D Project, Ministry of Health & Welfare, Republic of Korea (A080750).
Conflict of interest
Drs. Noh and Kwon, and MSc. Kim report no disclosure. Dr. Kim, corresponding author, serves as an Associate Editor of Frontiers in Neuro-otology and on the editorial boards of the Journal of Korean Society of Clinical Neurophysiology, Research in Vestibular Science, Journal of Clinical Neurology, Frontiers in Neuro-ophthalmology, and Journal of Neuro-ophthalmology; and received research support from SK Chemicals, Co. Ltd.
Electronic supplementary material
Below is the link to the electronic supplementary material.
Supplementary video. Rightward head-turning induces no vertigo or nystagmus. On turning the head leftward, with a latency of several seconds, the patient develops vertigo and right beating horizontal-torsional nystagmus with a downbeat component. On resuming neutral head position, the nystagmus reverses its directions and undergoes another reversal about 10 s later. (MPG 14,190 kb)
About this article
Cite this article
Noh, Y., Kwon, O., Kim, H. et al. Rotational vertebral artery syndrome due to compression of nondominant vertebral artery terminating in posterior inferior cerebellar artery. J Neurol 258, 1775–1780 (2011). https://doi.org/10.1007/s00415-011-6005-1
Received:

Revised:

Accepted:

Published:

Issue Date:
Keywords
Vertigo

Nystagmus

Cerebellum

Vertebral artery

Ischemia