This is a preview of subscription content, log in to check access.
Access options
Buy single article
Instant unlimited access to the full article PDF.
US$ 39.95
Price includes VAT for USA
Subscribe to journal
Immediate online access to all issues from 2019. Subscription will auto renew annually.
US$ 199
This is the net price. Taxes to be calculated in checkout.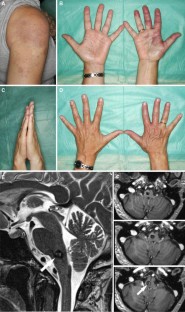 References
1.

Oduber CEU, van der Horst CMAM, Hennekam RC (2008) Klippel–Trénaunay syndrome. Diagnostic criteria and hypothesis on etiology. Ann Plast Surg 60:217–223

2.

Timur AA, Driscoll DJ, Wang Q (2005) Biomedicine and diseases: the Klippel–Trénaunay syndrome, vascular anomalies and vascular morphogenesis. Cell Mol Life Sci 65:1434–1447

3.

Pichierri A, Piccirilli M, Passacantilli E, Frati A, Santoro A (2006) Klippel–Trénaunay–Weber syndrome and intramedullary cervical cavernoma: a very rare association. Case report. Surg Neurol 66:203–206

4.

Tooregrosa A, Marti-Bonmati L, Higueras V, Poyatos C, Sanchis A (2000) Klippel–Trénaunay syndrome: frequency of cerebral and cerebellar hemihypertrophy on MRI. Neuroradiology 42:420–423

5.

Schnitzler A, Münks C, Butz M, Timmermann L, Gross J (2009) Synchronized brain network associated with essential tremor as revealed by magnetoencephalography. Mov Disord 24:1629–1635

6.

Deuschl G, Elble RJ (2000) The pathophysiology of essential tremor. Neurology 54:14–20

7.

Hauck EF, Barnett SL, White JA, Samson D (2009) Symptomatic brainstem cavernoma. Neurosurgery 64:61–71
Electronic supplementary material
Below is the link to the electronic supplementary material.
Left-dominant action tremor during a standard resting, posture and intention mode. (AVI 10.3 mb)
About this article
Cite this article
Südmeyer, M., Maroof, P., Saleh, A. et al. Action tremor caused by olivary cavernoma in Klippel–Trénaunay syndrome mimicking asymmetric essential tremor. J Neurol 258, 140–142 (2011) doi:10.1007/s00415-010-5675-4
Received:

Revised:

Accepted:

Published:

Issue Date:
Keywords
Essential Tremor

Primidone

Inferior Olive

Venous Malformation

Lymphatic Malformation