High frequency of exon 10 mutations in the NOTCH3 gene in Italian CADASIL families: phenotypic peculiarities
Sirs,
Cerebral autosomal dominant arteriopathy with subcortical infarcts and leukoencephalopathy (CADASIL) is a cerebral small vessel disease due to mutations in the NOTCH3 gene, characterized by recurrent stroke, cognitive deterioration, and MRI signal abnormalities of subcortical white matter (WM) [4, 8].
CADASIL-causing mutations involve the EGF-repeats coding region of the NOTCH3 gene. The majority of pathogenic mutations have been reported within exon 4, 3, and 11 even in Italian pedigrees [6, 8]. Exon 10 mutations have been reported in a few pedigrees, all but one of Italian origin [1, 2, 5, 10, 11].
Here we report clinical and molecular data of 18 patients from 10 unrelated families with exon 10 mutations (Fig.
1
). The phenotypic spectrum included a high frequency of psychiatric symptoms (12/18) and peripheral vascular involvement (6/18).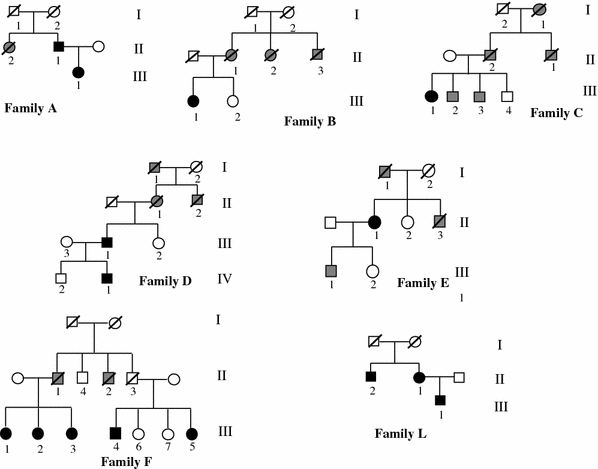 Keywords
Varicose Vein 
Venous Insufficiency 
NOTCH3 Gene 
Psychiatric Manifestation 
Cerebral Small Vessel Disease 
These keywords were added by machine and not by the authors. This process is experimental and the keywords may be updated as the learning algorithm improves.
Notes
Acknowledgments
Research in part supported by a grant from Regione Toscana to AF (Grant number: AOUS 191704-18/12/2007) and Fondazione MPS and PRIN to MT.