Abstract
Holmes' tremor, which is known to occur as a result of different lesions centered in the brain stem, cerebellum and thalamus, is a tremor of low frequency, mostly below 4.5 Hz (Deuschl and Bergman in Mov Disord 17(suppl 3):S41–S48, 2002). We present a patient who developed a tremor, mostly involving her lower extremities, secondary to an ischemic infarct affecting the cerebellum, thalamus and midbrain. Attempts at medical treatment with levodopa, quetiapine and levetirecetam all failed. However, pribedil, a dopaminergic receptor-stimulating agent, successfully improved the tremor. Our case is interesting as published reports generally focus on tremors limited to the upper extremities except for one reported case of Holmes' tremor involving the lower extremities more severely (Walker et al. in Mov Disord 22(2):272–274, 2007). It also demonstrates that dopaminergic receptor stimulating agents should be tested before considering invasive therapies.
This is a preview of subscription content, log in to check access.
Access options
Buy single article
Instant unlimited access to the full article PDF.
US$ 39.95
Price includes VAT for USA
Subscribe to journal
Immediate online access to all issues from 2019. Subscription will auto renew annually.
US$ 199
This is the net price. Taxes to be calculated in checkout.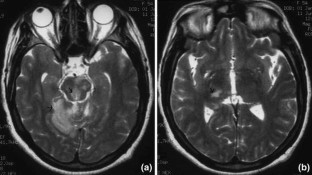 References
1.

Deuschl G, Bergman H (2002) Pathophysiology of nonparkinsonian tremors. Mov Disord 17(Suppl 3):S41–S48

2.

Walker M, Kim H, Samii A (2007) Holmes-like tremor of the lower extremity following brain stem hemorrhage. Mov Disord 22(2):272–274

3.

Deuschl G, Bain P, Brin M (1998) Consensus statement of the Movement Disorder Society on Tremor. Ad Hoc.Scientific Committee. Mov Disord 13(Suppl 3):2–23

4.

Seidel S, Kasprian G, Leutmezer F, Prayer D, Auff E (2009) Disruption of nigrostriatal and cerebellothalamic pathways in dopamine-responsive Holmes' tremor. J Neurol Neurosurg Psychiatry 80:921–923

5.

Velez M, Cosentino C, Torres L (2002) Levodopa responsive rubral (Holmes') tremor. Mov Disord 17(4):741–742

6.

Raina GB, Velez M, Pardal MF, Micheli F (2007) Holmes' tremor secondary to brainstem hemorrage responsive to levodopa: report of two cases. Clin Neuropharmacol 30(2):95–100

7.

Evyapan D, Diramali B (2006) postischemic delayed Holmes' tremor responding to low dose cabergoline. Mov Disord 21(5):733–734

8.

Strecker K, Scheneider JP, Sabri O, Wegner F (2007) Responsiveness to a dopamine agent in Holmes tremor case report. Eur J Neurol 14:e9–e10

9.

(2002) DA-agonists-non-ergot derivatives: pribedil management of Parkinson's disease. Mov Disord 17 (Suppl 4):S90–S92

10.

Kim MC, Son BC, Miyagi Y, Vim (2002) Thalamatomy for Holmes tremor caused by unilateral brainstem lesion. J Neurol Neurosurg Psychiatry 73:453–455

11.

Nikkah G, Prokop T, Hellwig B (2004) Deep brain stimulation of nucleus ventralis intermedius for Holmes (rubral) tremor and associated dystonia caused by upper brain stem lesions. Report of two cases. J Neurosurg 100(6):1079–1083
Electronic supplementary material
Below is the link to the electronic supplementary material.
Segment 1: Resting and action tremor, more prominent in the left lower extremity. (WMV 12,131 kb)
Segment 2: After treatment with pribedil a prominent improvement in tremor was observed. (MPG 8,161 kb)
About this article
Cite this article
Baysal, L., Acarer, A. & Celebisoy, N. Post-ischemic Holmes' tremor of the lower extremities. J Neurol 256, 2079 (2009). https://doi.org/10.1007/s00415-009-5273-5
Received:

Revised:

Accepted:

Published:
Keywords
Stroke

Tremor

Dopaminergic agents

Brain stem