Leber's Hereditary Optic Neuropathy associated with cocaine, ecstasy and telithromycin consumption
Sirs: Leber's hereditary optic neuropathy (LHON) is a matrilinear disorder characterised by acute to subacute bilateral optic neuropathy, mostly affecting young males at variable age of onset. More than 90% of patients harbour one of the three pathogenic mitochondrial DNA (mtDNA) mutations: 3,460, 11,778, and 14,484, all in genes encoding subunits of respiratory chain complex I. In most patients visual loss is severe and permanent, though spontaneous recovery of central vision may occur, particularly in patients with the 14,484 mutation.
Expressivity is 100% and penetrance variable, suggesting that secondary etiological factors are involved [1].
We recently examined a 17-year-old boy (Figure
1
: V-2), who experienced acute, bilateral, asymmetrical, painless visual loss after two consecutive treatments with telithromycin (800 mg/die for five days, each time) and simultaneous abuse of cocaine and ecstasy.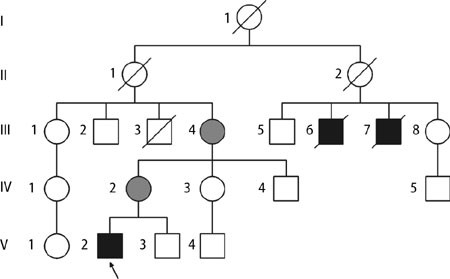 Keywords
Cocaine 
Ecstasy 
Telithromycin 
Increase Reactive Oxygen Species Production 
Retinal Ganglion Cell 
These keywords were added by machine and not by the authors. This process is experimental and the keywords may be updated as the learning algorithm improves.
Notes
Acknowledgements
Research was partly supported by a grant from University of Siena and Regione Toscana to AF.
Copyright information
© Steinkopff Verlag Darmstadt 2007