Abstract
The successful identification of the deceased is vital to the progress of any forensic investigation. One of the principal biological traits to be established from skeletal remains is the sex of the individual. This becomes more difficult if only parts of a skeleton are found or if the bones are compromised by physical insults such as fire, explosions or violence. The basal region of the occipital bone is covered by a large volume of soft tissue and is therefore in a relatively well-protected anatomical position, and as such, classification of sex using the occipital bone may prove useful in cases of significantly disrupted remains. The aim of this paper is to evaluate manually recorded morphometric variables of the region of the foramen magnum using both discriminant function analysis and linear regression. The skulls utilised in this study were selected from the eighteenth to nineteenth century documented skeletal collection of St. Bride's Church, Fleet Street, London. Adult human skulls n = 158 (♂82/♀76) were measured to derive statistical functions. The results demonstrated that significant sexual dimorphism is present in the cranial base of the St. Bride's material. The correctly classified crania within this population ranged from 65.8% for univariate functions to 70.3% for multivariate functions within the cranial sample. Males were correctly classified at 70.7% and females at 69.7% using multivariate functions. The linear regression equations predicted sex in the cranial sample correctly for 76% of the males and 70% for the females using different variables; however, overall highest correct prediction percentage was only 68%. Cross-validation brought the percentage down in some cases, but it was concluded that, overall, the expression of sexual dimorphism in the foramen magnum region within the St. Bride's population is significantly demonstrable, and therefore, this area of the skull should be considered useful in the identification of sex.
This is a preview of subscription content, log in to check access.
Access options
Buy single article
Instant access to the full article PDF.
US$ 39.95
Price includes VAT for USA
Subscribe to journal
Immediate online access to all issues from 2019. Subscription will auto renew annually.
US$ 199
This is the net price. Taxes to be calculated in checkout.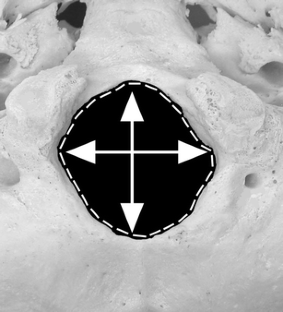 References
1.

Brinkmann B (2007) Forensic anthropology. Int J Legal Med 121:431–432

2.

Catalina-Herrera CJ (1987) Study of the anatomic metric values of the foramen magnum and its relation to sex. Acta Anat 130:344–347

3.

Fisher RA (1936) The use of multiple measurements in taxonomic problems. Ann Eugen 7:179–188

4.

Franklin D, Freedman L, Milne N (2005) Sexual dimorphism and discriminant function sexing in indigenous South African crania. Homo 55:213–228

5.

Gapert R, Last J (2005) The adult human occipital bone: measurement variance and observer error. In: Zakrzewski SR, Clegg M (eds) Proceedings of the Fifth Annual Conference of the British Association for Biological Anthropology and Osteoarchaeology. BAR International Series. Archaeopress, Oxford, pp 119–122

6.

Giles E (1964) Sex determination by discriminant function analysis of the mandible. Am J Phys Anthropol 22:129–136

7.

Giles E, Elliot O (1963) Sex determination by discriminant function analysis of crania. Am J Phys Anthropol 21:53–68

8.

Graw M (2001) Morphometrische und morphognostische Geschlechtsdiagnostik an der menschlichen Schädelbasis. In: Oehmichen M, Geserick G (eds) Osteologische Identifikation und Altersschätzung. Schmidt-Römhild, Lübeck, pp 103–121

9.

Günay Y, Altinkök M (2000) The value of the size of foramen magnum in sex determination. J Clin Forensic Med 7:147–149

10.

Hamilton ME (1982) Sexual dimorphism in skeletal samples. In: Hall RL (ed) Sexual dimorphism in homo sapiens—a question of size. Praeger Publishers, New York, pp 107–163

11.

Henke W (1972) Zur Methode der diskriminanzanalytischen Geschlechtsbestimmung am Schädel. Homo 24:99–117

12.

Henke W (1977) On the method of discriminant function analysis for sex determination of the skull. J Hum Evol 6:95–100

13.

Hermann B, Grupe G, Hummel S, Piepenbrink H, Schutkowski H (1990) Prähistorische Anthropologie—Leitfaden der Feld- und Labormethoden. Springer, Berlin

14.

Holland TD (1986) Sex determination of fragmentary crania by analysis of the cranial base. Am J Phys Anthropol 70:203–208

15.

Kajanoja P (1969) Sex determination of Finnish crania by discriminant function analysis. Am J Phys Anthropol 24:29–34

16.

Keen JA (1950) A Study of the differences between male and female skulls. Am J Phys Anthropol 8:65–78

17.

Knussmann R (1996) Vergleichende Biologie des Menschen—Lehrbuch der Anthropologie und Humangenetik, 2. Auflage. Gustav Fischer Verlag, Stuttgart

18.

Krogman WM (1978) The human skeleton in forensic medicine, 3rd Printing. Charles C. Thomas, Springfield, IL

19.

Marino EA (1995) Sex estimation using the first cervical vertebra. Am J Phys Anthropol 97:127–133

20.

Mays S, Cox M (2002) Sex determination in skeletal remains. In: Cox M, Mays S (eds) Human osteology in archaeology and forensic science. Greenwich Medical Media, London, pp 117–130

21.

Murshed KA, Cicekcibasi AE, Tuncer I (2003) Morphometric evaluation of the foramen magnum and variations in its shape: a study on computerized tomographic images of normal adults. Turk J Med Sci 33:301–306

22.

Pötsch-Schneider L, Endris R, Schmidt H (1985) Diskriminanzanalyse zur Geschlechtsbestimmung an Unterkieferknochen. Z Rechtsmed 94:21–30

23.

Ramsthaler F, Kreutz K, Verhoff MA (2007) Accuracy of metric sex analysis of skeletal remains using Fordisc® based on a recent skull collection. Int J Legal Med 121:477–482

24.

Rösing FW, Graw M, Marré B, Ritz-Timme S, Rothschild MA, Rötzscher K, Schmeling A, Schröder I, Geserick G (2007) Recommendations for the forensic diagnosis of sex and age from skeletons. Homo 58:75–89

25.

Rösing FW, Paul G, Schnutenhaus S (1995) Sexing skeletons by tooth size. In: Radlanski RJ, Renz RJ (eds) Proceedings of the 10th International Symposium on Dental Morphology, Berlin. M-Marketing Services, Berlin, pp 373–376

26.

Routal RR, Pal GP, Bhagwat SS, Tamankar BP (1984) Metrical studies with sexual dimorphism in foramen magnum of human crania. J Anat Soc India 2(33):85–89

27.

Saunders SR, Yang D (1999) Sex determination: XX or XY from the human skeleton. In: Fairgrieve SI (ed) Forensic osteological analysis. Charles C. Thomas, Springfield, IL, pp 36–59

28.

Scheuer L, Black S (2000) Developmental juvenile osteology. Academic, London

29.

Scheuer L, Black S (2004) The juvenile skeleton. Elsevier, London

30.

Stewart TD (1979) Essentials of forensic anthropology—especially as developed in the United States. Charles C. Thomas, Springfield, IL

31.

Teixeira WRG (1982) Sex identification utilizing the size of the foramen magnum. Am J Forensic Med Pathol 3(3):203–206

32.

Ubelaker DH, Ross AH, Graver SM (2002) Application of forensic discriminant functions to a spanish cranial sample. Forensic Sci Commun 4. http://www.fbi.gov/hq/lab/fsc/backissu/july2002/ubelaker1.htm. Cited 28 January 2008

33.

Uysal SRM, Gokharman D, Kacar M, Tuncbilek I, Kosar U (2005) Estimation of sex by 3D CT measurements of the foramen magnum. J Forensic Sci 50:1310–1314

34.

Wahl J, Graw M (2001) Metric sex differentiation of the pars petrosa ossis temporalis. Int J Legal Med 114:215–223

35.

Westcott DJ (2000) Sex variation in the second cervical vertebra. J Forensic Sci 45:462–466

36.

Westcott D, Moore-Jansen P (2001) Metric variation in the human occipital bone: forensic anthropological applications. J Forensic Sci 5(46):1159–1163

37.

Williams MM (1987) Sex determination of fragmentary crania by analysis of the cranial base: applications for the study of an Arikara skeletal sample. Thesis, University of Tennessee
Acknowledgement
We would like to thank the staff at St. Bride's Church for their gracious hospitality and immense help in obtaining the results presented in this paper—Canon David Meara, James Irving, Matthew Busby, Claire Seaton, David Smith and Bob Drakes. Thanks are also expressed to Professor John Bannigan, University College Dublin, Ireland, for encouraging this research; Professor Louise Scheuer, University of Dundee, UK, for her very helpful comments and a catalogue of the St. Bride's skeletal remains; and Professor Friedrich W. Rösing, University of Ulm, Germany, for his comments on the occipital bone. Many thanks also to the staff at University College Dublin, Ireland, for their help and patience. Special thanks to the two anonymous reviewers for their helpful comments.
About this article
Cite this article
Gapert, R., Black, S. & Last, J. Sex determination from the foramen magnum: discriminant function analysis in an eighteenth and nineteenth century British sample. Int J Legal Med 123, 25–33 (2009). https://doi.org/10.1007/s00414-008-0256-0
Received:

Accepted:

Published:

Issue Date:
Keywords
Foramen magnum

Crania

Discriminant functions

Regression equations

Sex identification