Abstract
Introduction
Spirometry is required to accurately diagnose chronic obstructive pulmonary disease (COPD). Following an acute exacerbation, it is recommended that spirometry be performed after a delay of 4–6 weeks to allow stability and a measure of 'baseline' lung function. However, poor attendance at these appointments can occur, leading to an inability to confirm the diagnosis of COPD or assess the severity of airflow obstruction. Portable spirometry (PS) is a proven surrogate device that may provide a convenient method to address these issues. The purpose of this study was to compare PS values, obtained prior to hospital discharge to laboratory-based spirometry (LS) results undertaken 4 weeks later.
Methods
Thirty-three eligible inpatients with a clinically determined exacerbation of COPD were recruited. Patients underwent PS prior to discharge and LS 4 weeks later.
Results
Reliability of PS values at discharge compared with outpatient LS 4 weeks later was excellent (intraclass correlation coefficient > 0.9). The PS confirmed a new diagnosis of COPD at the bedside in 29% of patients and excluded COPD in 6% at both time points. Patients were found to have a similar severity of airflow obstruction on both PS and LS, with clinical stability maintained between visits. The PS and LS may be used interchangeably for earlier diagnosis of COPD. PS at the point of discharge from hospital offers a unique opportunity to diagnose and facilitate COPD management from hospital to primary care.
This is a preview of subscription content, log in to check access.
Access options
Buy single article
Instant access to the full article PDF.
US$ 39.95
Price includes VAT for USA
Subscribe to journal
Immediate online access to all issues from 2019. Subscription will auto renew annually.
US$ 99
This is the net price. Taxes to be calculated in checkout.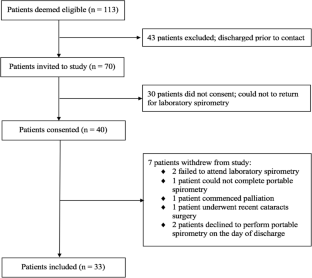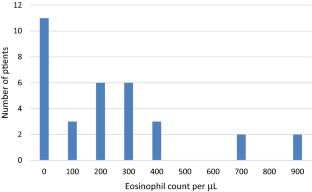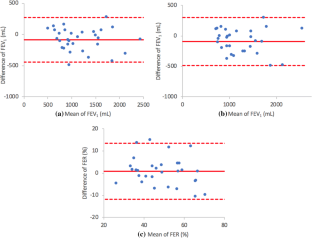 References
1.

From the Global Strategy for the Diagnosis, Management and Prevention of COPD, Global Initiative for Chronic Obstructive Lung Disease (GOLD) 2019. Available from: https://goldcopd.org. Accessed 19 Dec 2018

2.

Bozarth AL, Covey A, Gohar A, Salzman G (2014) Chronic obstructive pulmonary disease: clinical review and update on consensus guidelines. Hosp Pract 42(1):79–91

3.

Lozano R, Naghavi M, Foreman K, Lim S, Shibuya K, Aboyans V (2012) Global and regional mortality from 235 causes of death for 20 age groups in 1990 and 2010: a systematic analysis for the Global Burden of Disease Study 2010. Lancet 380:2095–2128

4.

Australian Institute of Health and Welfare, Poulos LM, Cooper SJ, Ampon R, Reddel HK, Marks GB (2014) Mortality from asthma and COPD in Australia. Cat. no. ACM 30. AIHW, Canberra

5.

Yang IA, Brown JL, George J, Jenkins S, McDonald CF, McDonald V, Smith B, Zwar N, Dabscheck E (2018) The COPD-X plan: Australian and New Zealand Guidelines for the management of Chronic Obstructive Pulmonary Disease 2018. Version 2.55, August 2018

6.

Zaas D, Wise R, Wiener C (2004) Airway obstruction is common but unsuspected in patients admitted to a general medicine service. Chest 125(1):106–111

7.

Fu SN, Yu WC, Wong CK, Lam MC (2016) Prevalence of undiagnosed airflow obstruction among people with a history of smoking in a primary care setting. Int J Chronic Obstr Pulm Dis 11:2391–2399

8.

Nishi SP, Wang Y, Kuo YF, Goodwin JS, Sharma G (2013) Spirometry use among older adults with chronic obstructive pulmonary disease: 1999–2008. Ann Am Thorac Soc 10(6):565–573

9.

Wasgewatta S, Southcott AM, Jayaram L (2017) Guideline based use of spirometry in the diagnosis and management of hospital in patients with chronic obstructive pulmonary disease in 2015. Respirology 22(Suppl 2):101–193

10.

Damarla M, Celli BR, Mullerova HX, Pinto-Plata VM (2006) Discrepancy in the use of confirmatory tests in patients hospitalized with the diagnosis of chronic obstructive pulmonary disease or congestive heart failure. Respir Care 51(10):1120–1124

11.

Bambra G, Jalota L, Kapoor C, Mills PK, Vempilly JJ, Jain VV (2017) Office spirometry correlates with laboratory spirometry in patients with symptomatic asthma and COPD. Clin Respir J. 11(6):805–811

12.

Liistro G, Vanwelde C, Vincken W, Vandevoorde J, Verleden G, Buffels J et al (2006) Technical and functional assessment of 10 office spirometers: a multicenter comparative study. Chest 130(3):657–665

13.

Puri V, Zoole JB, Musick J, Krupnick AS, Kreisel D, Crabtree TD et al (2011) Handheld office-based spirometry versus laboratory spirometry in low-risk patients undergoing lung resection. Innovations (Phila) 6(4):257–261

14.

Hudson JL, Bell JM, Crabtree TD, Kreisel D, Patterson GA, Meyers BF et al (2018) Office-based spirometry: a new model of care in preoperative assessment for low-risk lung resections. Ann Thorac Surg 105(1):279–286

15.

Schoh RJ, Fero LJ, Shapiro H, Aslor JP, Kaelin OJ, Rollins DR et al (2002) Performance of a new screening spirometer at a community health fair. Respir Care 47(10):1150–1157

16.

Rea H, Kenealy T, Adair J, Robinson E, Sheridan N (2011) Spirometry for patients in hospital and one month after admission with an acute exacerbation of COPD. Int J Chronic Obstr Pulm Dis 6:527–532

17.

Fernandez-Villar A, Represas-Represas C, Mouronte-Roibas C, Ramos-Hernandez C, Priegue-Carrera A, Fernandez-Garcia S et al (2018) Reliability and usefulness of spirometry performed during admission for COPD exacerbation. PLoS ONE 13(3):e0194983

18.

Fletcher CM (1960) Standardised questionnaire on respiratory symptoms: a statement prepared and approved by the MRC Committee on the Aetiology of Chronic Bronchitis (MRC breathlessness score). Br Med J 2:1662

19.

Jones PW, Harding G, Berry P, Wiklund I, Chen WH, Kline LN (2009) Development and first validation of the COPD Assessment Test. Eur Respir J 34(3):648–654

20.

Miller MR, Hankinson J, Brusasco V, Burgos F, Casaburi R, Coates A et al (2005) Standardisation of spirometry. Eur Respir J 26(2):319–338

21.

Quanjer PH, Stanojevic S, Cole TJ, Baur X, Hall GL, Culver BH et al (2012) Multi-ethnic reference values for spirometry for the 3–95-yr age range: the global lung function 2012 equations. Eur Respir J 40(6):1324–1343

22.

Herpel LB, Kanner RE, Lee SM, Fessler HE, Sciurba FC, Connett JE et al (2006) Variability of spirometry in chronic obstructive pulmonary disease: results from two clinical trials. Am J Respir Crit Care Med 173(10):1106–1113

23.

Donohue JF (2009) Minimal clinically important differences in COPD lung function. COPD J Chronic Obstr Pulm Dis 2(1):111–124

24.

Parker CM, Voduc N, Aaron SD, Webb KA, O'Donnell DE (2005) Physiological changes during symptom recovery from moderate exacerbations of COPD. Eur Respir J. 26(3):420–428

25.

Schermer TR, Robberts B, Crockett AJ, Thoonen BP, Lucas A, Grootens J et al (2016) Should the diagnosis of COPD be based on a single spirometry test? NPJ Prim Care Respir Med 26:16059

26.

Aaron SD, Tan WC, Bourbeau J, Sin DD, Loves RH, MacNeil J et al (2017) Diagnostic instability and reversals of chronic obstructive pulmonary disease diagnosis in individuals with mild to moderate airflow obstruction. Am J Respir Crit Care Med 196(3):306–314

27.

Cushen B, McCormack N, Hennigan K, Sulaiman I, Costello RW, Deering B (2016) A pilot study to monitor changes in spirometry and lung volume, following an exacerbation of Chronic Obstructive Pulmonary Disease (COPD), as part of a supported discharge program. Respir Med 119:55–62

28.

Stone CA, Palmer JH, Saxby PJ, Devaraj VS (1999) Reducing non-attendance at outpatient clinics. J R Soc Med 92(3):114–118

29.

Roberts N, Meade K, Partridge M (2007) The effect of telephone reminders on attendance in respiratory outpatient clinics. J Health Serv Res Policy 12(2):69–72

30.

Joo MJ, Au DH, Fitzgibbon ML, McKell J, Lee TA (2011) Determinants of spirometry use and accuracy of COPD diagnosis in primary care. J Gen Intern Med 26(11):1272–1277

31.

Ohar JA, Sadeghnejad A, Meyers DA, Donohue JF, Bleecker ER (2010) Do Symptoms Predict COPD in Smokers? Chest 137(6):1345–1353

32.

Agusti A, Fabbri LM, Singh D, Vestbo J, Celli B, Franssen FME et al (2018) Inhaled corticosteroids in COPD: friend or foe? Eur Respir J. https://doi.org/10.1183/13993003.01219-2018

33.

Leung JM, Sin DD (2018) Inhaled corticosteroids in COPD: the final verdict is. Eur Respir J. https://doi.org/10.1183/13993003.01940-2018

34.

Postma DS, Calverley P (2009) Inhaled corticosteroids in COPD: a case in favour. Eur Respir J 34(1):10–12

35.

Suissa S, Barnes PJ (2009) Inhaled corticosteroids in COPD: the case against. Eur Respir J 34(1):13–16

36.

Yang IA, Clarke MS, Sim EH, Fong KM (2012) Inhaled corticosteroids for stable chronic obstructive pulmonary disease. Cochrane Database Syst Rev. https://doi.org/10.1002/14651858.CD002991.pub3

37.

Suissa S, Patenaude V, Lapi F, Ernst P (2013) Inhaled corticosteroids in COPD and the risk of serious pneumonia. Thorax 68(11):1029–1036

38.

Crim C, Calverley PM, Anderson JA, Celli B, Ferguson GT, Jenkins C et al (2009) Pneumonia risk in COPD patients receiving inhaled corticosteroids alone or in combination: TORCH study results. Eur Respir J 34(3):641–647

39.

Suissa S, Coulombe J, Ernst P (2015) Discontinuation of inhaled corticosteroids in COPD and the risk reduction of pneumonia. Chest 148(5):1177–1183

40.

Casanova C, Celli BR, Torres JP, Martinez-Gonzalez C, Cosio BG, Pinto-Plata V et al (2017) Prevalence of persistent blood eosinophilia: relation to outcomes in patients with COPD. Eur Respir J. https://doi.org/10.1183/13993003.01162-2017
Funding
This research received no external funding.
Ethics declarations
Conflict of interest
The authors declare that they have no conflict of interest.
Additional information
Publisher's Note
Springer Nature remains neutral with regard to jurisdictional claims in published maps and institutional affiliations.
About this article
Cite this article
Tran, D., Lim, M., Vogrin, S. et al. Point of Care Portable Spirometry in the Diagnosis and Treatment of Inpatients with Chronic Obstructive Pulmonary Disease. Lung 198, 143–150 (2020). https://doi.org/10.1007/s00408-019-00314-4
Received:

Accepted:

Published:

Issue Date:
Keywords
COPD

Portable spirometry

Inhaled corticosteroids