Abstract
Purpose
The intravenous or subcutaneous delivery of prostanoid drugs for moderate to severe pulmonary arterial hypertension has been fraught with complications and patient dissatisfaction. Combination therapy including inhaled treprostinil is an attractive alternative in clinically stable patients. Uncertainties exist about the patient characteristics and the optimal setting (inpatient versus office/home) for transition.
Methods
Sixteen stable patients with pulmonary arterial hypertension and favorable risk profile were transitioned from parenteral prostanoid to combination therapy including inhaled treprostinil in the home setting. Nine patients were using intravenous treprostinil, two patients were using subcutaneous treprostinil, and five patients were using intravenous epoprostenol at a median dose of 80 (interquartile range, IQR 72–90), 76.5 (68 and 85), and 28 (IQR 26–30) ng/kg/min respectively. Patients were followed up for a median of 732.5 days after transition (IQR 506.5–1294 days).
Results
Patients tolerated the transition to inhaled treprostinil well without significant change in functional class (81.25% FC I/II before transition vs. 87.5% after), 6-min walk distance [349 m (IQR 226–461 m) to 364 m (IQR 238–565 m), p = 0.09] or NT-proBNP [149 pg/ml (IQR 71.5–383 pg/ml) to 186.5 pg/ml (IQR 83.5–444 pg/ml), p = 0.38]. Hemodynamic data, where available, showed significant improvements in mean pulmonary artery pressure and pulmonary vascular resistance from 36 mmHg (IQR 27–46.5 mmHg) and 5.2 Wood Units (WU) (IQR 3.1–5.6 WU) to 28.5 mmHg (IQR 22–35.5 mmHg) and 3.2 WU (IQR 2.4–4.2 WU) (p-values 0.022 and 0.003). More patients were on triple therapy after transition, and side effects reported were less severe.
Conclusion
For select patients, transition from a parenteral prostanoid-based therapy to a combination regimen including inhaled treprostinil in the home setting appears safe and well tolerated.
This is a preview of subscription content, log in to check access.
Access options
Buy single article
Instant access to the full article PDF.
US$ 39.95
Price includes VAT for USA
Subscribe to journal
Immediate online access to all issues from 2019. Subscription will auto renew annually.
US$ 99
This is the net price. Taxes to be calculated in checkout.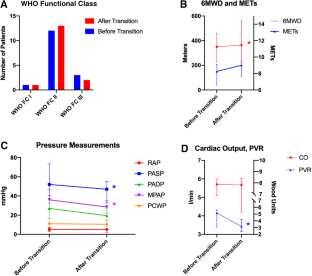 References
1.

Galie N, Humbert M, Vachiery JL, Gibbs S, Lang I, Torbicki A, Simonneau G, Peacock A, Vonk Noordegraaf A, Beghetti M et al (2016) 2015 ESC/ERS Guidelines for the diagnosis and treatment of pulmonary hypertension: The Joint Task Force for the Diagnosis and Treatment of Pulmonary Hypertension of the European Society of Cardiology (ESC) and the European Respiratory Society (ERS): Endorsed by: Association for European Paediatric and Congenital Cardiology (AEPC), International Society for Heart and Lung Transplantation (ISHLT). Eur Heart J 37(1):67–119

2.

Taichman DB, Ornelas J, Chung L, Klinger JR, Lewis S, Mandel J, Palevsky HI, Rich S, Sood N, Rosenzweig EB et al (2014) Pharmacologic therapy for pulmonary arterial hypertension in adults: CHEST guideline and expert panel report. Chest 146(2):449–475

3.

LeVarge BL (2015) Prostanoid therapies in the management of pulmonary arterial hypertension. Ther Clin Risk Manag 11:535–547

4.

Sitbon O, Humbert M, Nunes H, Parent F, Garcia G, Hervé P, Rainisio M, Simonneau G (2002) Long-term intravenous epoprostenol infusion in primary pulmonary hypertension. J Am Coll Cardiol 40(4):780–788

5.

Kallen AJ, Lederman E, Balaji A, Trevino I, Petersen EE, Shoulson R, Saiman L, Horn EM, Gomberg-Maitland M, Barst RJ et al (2008) Bloodstream infections in patients given treatment with intravenous prostanoids. Infect Control Hosp Epidemiol 29(4):342–349

6.

Roman A, Barbera JA, Escribano P, Sala ML, Febrer L, Oyaguez I, Sabater E, Casado MA (2012) Cost effectiveness of prostacyclins in pulmonary arterial hypertension. Appl Health Econ Health Policy 10(3):175–188

7.

Hall H, Cote J, McBean A, Purden M (2012) The experiences of patients with pulmonary arterial hypertension receiving continuous intravenous infusion of epoprostenol (Flolan) and their support persons. Heart Lung 41(1):35–43

8.

Galiè N, Channick RN, Frantz RP et al (2019) Risk stratification and medical therapy of pulmonary arterial hypertension. Eur Respir J 53:1801889

9.

Ataya A, Somoracki A, Cope J, Alnuaimat H (2016) Transitioning from parenteral to inhaled prostacyclin therapy in pulmonary arterial hypertension. Pulm Pharmacol Ther 40:39–43

10.

de Jesus Perez VA, Rosenzweig E, Rubin LJ, Poch D, Bajwa A, Park M, Jain M, Bourge RC, Kudelko K, Spiekerkoetter E et al (2012) Safety and efficacy of transition from systemic prostanoids to inhaled treprostinil in pulmonary arterial hypertension. Am J Cardiol 110(10):1546–1550

11.

Enderby CY, Soukup M, Al Omari M, Zeiger T, Burger C (2014) Transition from intravenous or subcutaneous prostacyclin therapy to inhaled treprostinil in patients with pulmonary arterial hypertension: a retrospective case series. J Clin Pharm Ther 39(5):496–500

12.

Raina A, Coons JC, Kanwar M, Murali S, Sokos G, Benza RL (2013) Transitioning from parenteral treprostinil to inhaled treprostinil in patients with pulmonary arterial hypertension. Pulm Circ 3(1):116–120

13.

Oudiz R, Agarwal M, Rischard F, De Marco T (2016) An advanced protocol-driven transition from parenteral prostanoids to inhaled trepostinil in pulmonary arterial hypertension. Pulm Circ 6(4):532–538

14.

Chakinala MM, Feldman JP, Rischard F, Mathier M, Broderick M, Leedom N, Laliberte K, White RJ (2017) Transition from parenteral to oral treprostinil in pulmonary arterial hypertension. J Heart Lung Transplant 36(2):193–201

15.

Parikh KS, Rajagopal S, Fortin T, Tapson VF, Poms AD (2016) Safety and tolerability of high-dose inhaled treprostinil in pulmonary hypertension. J Cardiovasc Pharmacol 67(4):322–325
Ethics declarations
Conflict of interest
Lucas Kimmig has no relevant conflicts of interest to disclose. Lucas Kimmig received support from the NIH T32 Training Grant in Respiratory Biology (5T32HL007605). Chuanhong Liao has no relevant conflict of interest to disclose. Remzi Bag has served as consultant/speaker for Actelion Pharmaceuticals, Cipla, Gilead Sciences, and Bayer; and has received research grants from Gilead Sciences, Reata Pharma, Actelion, Medtronics, Liquidia Technologies, PhaseBio, Arena Pharma, Lung Biotechnology and United Therapeutics Corp. This work was supported by a grant from United Therapeutics Corporation. The funding source was not involved in the data collection, analysis, or interpretation, and did not have the right to approve or disapprove publication.
Additional information
Publisher's Note
Springer Nature remains neutral with regard to jurisdictional claims in published maps and institutional affiliations.
Electronic supplementary material
Below is the link to the electronic supplementary material.
About this article
Cite this article
Kimmig, L.M., Liao, C. & Bag, R. Ambulatory Transition from Parenteral Prostanoid to Inhaled Treprostinil in Patients with Pulmonary Arterial Hypertension. Lung 198, 53–58 (2020). https://doi.org/10.1007/s00408-019-00306-4
Received:

Accepted:

Published:

Issue Date:
Keywords
Pulmonary arterial hypertension

Prostacyclins

Prostanoids

Inhaled prostanoids

Transition