Abstract
Objectives
We aimed to detect obstructive sleep apnea (OSA) among school-age children presented with nocturnal enuresis (NE) and to identify the possible risk factors for OSA in them.
Methods
Sixty-six children aged > 5–16 years presented with NE were enrolled in the study. Children with urinary tract anatomical abnormalities or infection, intellectual disabilities, genetic syndromes, psychological issues, and diabetes mellitus were excluded. They were clinically examined, scored using sleep clinical record score (SCR), and subjected for full-night polysomnogram (PSG). Children with obstructive apnea/hypopnea index (AHI) ≥ 2 episodes/hour (h) were considered as OSA.
Results
Fifty-four children (81.8% of the recruited children) aged 8.3 ± 2.8 years agreed to undergo PSG as 68.5% had OSA with median obstructive AHI of 6.1 (3.7–13.2) episodes/h, median oxygen saturation of 97% and nadir of 88%. Thirty-three percent were obese with significantly higher AHI [7.0 (3.7–12.4) vs. 2.4 (1.3–6.1) episodes/h; p = 0.023]. SCR score correlated significantly with AHI (r2 = 0.462, p = 0.001) with 91% sensitivity in detecting OSA ≥ 5 episodes/h. Nasal obstruction, adenoid/adult facial phenotype, and arched palate were associated with OSA (p < 0.05).
Conclusion
NE is commonly associated with OSA especially in obese children. Nasal obstruction, abnormal facial phenotype, and high-arched palate were common risk factors.
This is a preview of subscription content, log in to check access.
Access options
Buy single article
Instant access to the full article PDF.
US$ 39.95
Price includes VAT for USA
Subscribe to journal
Immediate online access to all issues from 2019. Subscription will auto renew annually.
US$ 99
This is the net price. Taxes to be calculated in checkout.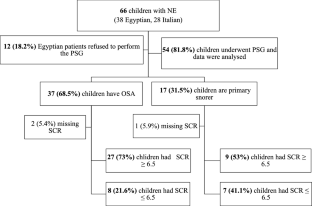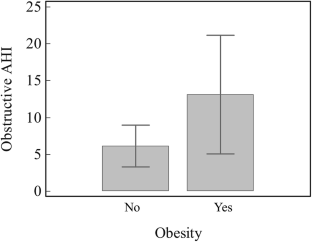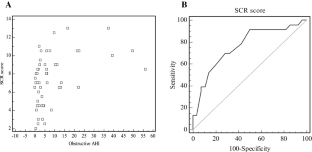 Abbreviations
ADHD:

Attention deficit hyperactivity disorder

AHI:

Apnea / hypopnea index

AT:

Adenotonsillectomy

AUC:

Area under the curve

BA:

Bronchial asthma

BMI:

Body mass index

ENT:

Ear, nose and throat examination

IQR:

Interquartile range

NE:

Nocturnal enuresis

ODI:

Oxygen desaturation index

OSA:

Obstructive sleep apnea

pBMI:

Body mass index percentile

PSG:

Polysomnography study

ROC:

Receiver operator characteristic curve

SaO2 :

Arterial oxygen saturation

SBD:

Sleep breathing disorders

SCR:

Sleep clinical record

SD:

Standard deviation
References
1.

Marcus CL, Brooks LJ, Draper KA et al (2012) Diagnosis and management of childhood obstructive sleep apnea syndrome. Pediatrics 130(3):576–584

2.

Halbower AC, Degaonkar M, Barker PB et al (2006) Childhood obstructive sleep apnea associates with neuropsychological deficits and neuronal brain injury. PLoS Med 3(8):e301

3.

Goodwin JL, Kaemingk KL, Mulvaney SA, Morgan WJ, Quan SF (2005) Clinical screening of school children for polysomnography to detect sleep-disordered breathing–the Tucson Children's Assessment of Sleep Apnea study (TuCASA). J Clin Sleep Med 1(3):247–254

4.

Desta M, Hagglof B, Kebede D, Alem A (2007) Socio-demographic and psychopathologic correlates of enuresis in urban Ethiopian children. Acta Paediatr 96(4):556–560

5.

Shreeram S, He JP, Kalaydjian A, Brothers S, Merikangas KR (2009) Prevalence of enuresis and its association with attention-deficit/hyperactivity disorder among US children: results from a nationally representative study. J Am Acad Child Adolesc Psychiatry 48(1):35–41

6.

Alexopoulos EI, Malakasioti G, Varlami V, Miligkos M, Gourgoulianis K, Kaditis AG (2014) Nocturnal enuresis is associated with moderate-to-severe obstructive sleep apnea in children with snoring. Pediatr Res 76(6):555–559

7.

Basha S, Bialowas C, Ende K, Szeremeta W (2005) Effectiveness of adenotonsillectomy in the resolution of nocturnal enuresis secondary to obstructive sleep apnea. Laryngoscope 115(6):1101–1103

8.

Kaditis AG, Alonso Alvarez ML, Boudewyns A et al (2016) Obstructive sleep disordered breathing in 2- to 18-year-old children: diagnosis and management. Eur Respir J 47(1):69–94

9.

Villa MP, Paolino MC, Castaldo R et al (2013) Sleep clinical record: an aid to rapid and accurate diagnosis of paediatric sleep disordered breathing. Eur Respir J 41(6):1355–1361

10.

Brouilette R, Hanson D, David R, Klemka L, Szatkowski A, Fernbach S, Hunt C (1984) A diagnostic approach to suspected obstructive sleep apnea in children. J Pediatr 105(1):10–14

11.

Marzocchi GM, Cornoldi C (2000) Una scala di facile uso per la rilevazione dei comportamenti problematici dei bambini con Deficit di Attenzione e Iperattivita. [A scale to identify behavioural problems in ADHD children.]. Psicologia Clinica dello Sviluppo 43–64.

12.

Hassan AM, Al-Haidar F, Al-Alim F, Al-Hag O (2009) A screening tool for attention deficit hyperactivity disorder in children in Saudi Arabia. Ann Saudi Med 29(4):294–298

13.

Berry RB, Budhiraja R, Gottlieb DJ et al (2012) Rules for scoring respiratory events in sleep: update of the 2007 AASM Manual for the Scoring of Sleep and Associated Events; Deliberations of the Sleep Apnea Definitions Task Force of the American Academy of Sleep Medicine. J Clin Sleep Med 8(5):597–619

14.

El-Mitwalli A, Bediwy AS, Zaher AA, Belal T, Saleh AB (2014) Sleep apnea in children with refractory monosymptomatic nocturnal enuresis. Nat Sci Sleep 6:37–42

15.

Su MS, Li AM, So HK, Au CT, Ho C, Wing YK (2011) Nocturnal enuresis in children: prevalence, correlates, and relationship with obstructive sleep apnea. J Pediatr 159(2):238–421

16.

Jeyakumar A, Rahman SI, Armbrecht ES, Mitchell R (2012) The association between sleep-disordered breathing and enuresis in children. Laryngoscope 122(8):1873–1877

17.

Kaditis AG, Alexopoulos EI, Hatzi F, Kostadima E, Kiaffas M, Zakynthinos E, Gourgoulianis K (2006) Overnight change in brain natriuretic peptide levels in children with sleep-disordered breathing. Chest 130(5):1377–1384

18.

Sans Capdevila O, Crabtree VM, Kheirandish-Gozal L, Gozal D (2008) Increased morning brain natriuretic peptide levels in children with nocturnal enuresis and sleep-disordered breathing: a community-based study. Pediatrics 121(5):e1208–e1214

19.

Dhondt K, Raes A, Hoebeke P, Van Laecke E, Van Herzeele C, Vande Walle J (2009) Abnormal sleep architecture and refractory nocturnal enuresis. J Urol 182(4 Suppl):1961–1965

20.

Neveus T (2003) The role of sleep and arousal in nocturnal enuresis. Acta Paediatr 92(10):1118–1123

21.

Villa MP, Shafiek H, Evangelisti M, Rabasco J, Cecili M, Montesano M, Barreto M (2016) Sleep clinical record: what differences in school and preschool children? ERJ Open Res 2(1):00049

22.

Barone JG, Hanson C, DaJusta DG, Gioia K, England SJ, Schneider D (2009) Nocturnal enuresis and overweight are associated with obstructive sleep apnea. Pediatrics 124(1):e53–e59

23.

Weintraub Y, Singer S, Alexander D et al (2013) Enuresis–an unattended comorbidity of childhood obesity. Int J Obes (Lond) 37(1):75–78

24.

Verhulst SL, Schrauwen N, Haentjens D et al (2007) Sleep-disordered breathing in overweight and obese children and adolescents: prevalence, characteristics and the role of fat distribution. Arch Dis Child 92(3):205–208

25.

Guven A, Giramonti K, Kogan BA (2007) The effect of obesity on treatment efficacy in children with nocturnal enuresis and voiding dysfunction. J Urol 178(4 Pt 1):1458–1462

26.

Miller AJ, Vargervik K, Chierici G (1984) Experimentally induced neuromuscular changes during and after nasal airway obstruction. Am J Orthod 85(5):385–392

27.

Park S, Lee JM, Sim CS et al (2016) Impact of adenotonsillectomy on nocturnal enuresis in children with sleep-disordered breathing: A prospective study. Laryngoscope 126(5):1241–1245

28.

Waleed FE, Samia AF, Samar MF (2011) Impact of sleep-disordered breathing and its treatment on children with primary nocturnal enuresis. Swiss Med Wkly 141:w13216

29.

Villa MP, Brasili L, Ferretti A et al (2015) Oropharyngeal exercises to reduce symptoms of OSA after adenotonsillectomy. Sleep Breath 19(1):281–289

30.

Guilleminault C, Huang YS, Monteyrol PJ, Sato R, Quo S, Lin CH (2013) Critical role of myofascial reeducation in pediatric sleep-disordered breathing. Sleep Med 14(6):518–525

31.

Chervin RD, Weatherly RA, Garetz SL et al (2007) Pediatric sleep questionnaire: prediction of sleep apnea and outcomes. Arch Otolaryngol Head Neck Surg 133(3):216–222
Ethics declarations
Conflict of interest
All authors declare that they have no conflict of interest.
Additional information
Publisher's Note
Springer Nature remains neutral with regard to jurisdictional claims in published maps and institutional affiliations.
Electronic supplementary material
Below is the link to the electronic supplementary material.
About this article
Cite this article
Shafiek, H., Evangelisti, M., Abd-elwahab, N.H. et al. Obstructive Sleep Apnea in School-Aged Children Presented with Nocturnal Enuresis. Lung 198, 187–194 (2020). https://doi.org/10.1007/s00408-019-00304-6
Received:

Accepted:

Published:

Issue Date:
Keywords
Sleep clinical record

Obesity

Obstructive apnea/hypopnea index

Facial phenotype