Abstract
Purpose
To determine the effects of providing a wheeled walker (WW) for use in the home and community, on daily physical activity (PA) and sedentary time (ST) in people with chronic obstructive pulmonary disease (COPD).
Methods
A randomised cross-over study in which participants with COPD characterised by a 6-min walk distance ≤ 450 m, who had recently finished pulmonary rehabilitation, completed two 5-week phases. During one phase, participants were provided a WW to use, whereas during the other phase, the WW was not available. The order of the phases was randomised. For the final week of each phase, measures of PA and ST were collected using wearable devices and health-related quality of life was measured using the Chronic Respiratory Disease Questionnaire (CRDQ). Wheeled walker use was also measured using an odometer attached to the device.
Results
17 participants [FEV1 = median (interquartile range) 33 (25) % pred; ten males] aged mean (SD) 73 (9) years completed the study. Comparing the data collected when the WW was not available for use, the daily step count was greater (mean difference [MD] 707 steps/day (95% confidence interval [CI] 75 to 1340) and participants tended to report less dyspnoea during daily life (MD 0.5 points per item, 95% CI − 0.1 to 1.0) when WW was available. No differences were observed for ST, upright time or stepping time. The WW was used over 4504 m/week (95% CI 2746 to 6262).
Conclusion
These data demonstrated that, when provided to selected patients with COPD, WWs increased daily step count.
Clinical trial registration number: ACTRN12609000332224.
This is a preview of subscription content, log in to check access.
Access options
Buy single article
Instant access to the full article PDF.
US$ 39.95
Price includes VAT for USA
Subscribe to journal
Immediate online access to all issues from 2019. Subscription will auto renew annually.
US$ 99
This is the net price. Taxes to be calculated in checkout.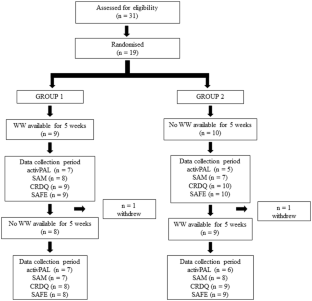 References
1.

Vorrink SN, Kort HS, Troosters T, Lammers JW (2011) Level of daily physical activity in individuals with COPD compared with healthy controls. Respir Res 12:33

2.

Garcia-Aymerich J, Farrero E, Felez MA, Izquierdo J, Marrades RM, Anto JM, Estudi del Factors de Risc d'Aguditzacio de la MPOC investigators (2003) Risk factors of readmission to hospital for a COPD exacerbation: a prospective study. Thorax 58:100–105

3.

Garcia-Aymerich J, Lange P, Benet M, Schnohr P, Antó JM (2006) Regular physical activity reduces hospital admission and mortality in chronic obstructive pulmonary disease: a population based cohort study. Thorax 61:772–778

4.

Waschki B, Kirsten A, Holz O, Muller KC, Meyer T, Watz H, Magnussen H (2011) Physical activity is the strongest predictor of all-cause mortality in patients with COPD: a prospective cohort study. Chest 140:331–342

5.

Park SK, Larson JL (2014) The relationship between physical activity and metabolic syndrome in people with chronic obstructive pulmonary disease. J Cardiovasc Nurs 29:499–507

6.

Furlanetto KC, Donaria L, Schneider LP, Lopes JR, Ribeiro M, Fernandes KB, Pitta F (2017) Sedentary behavior is an independent predictor of mortality in subjects with COPD. Respir Care 62:579–587

7.

Hurst JR, Sin DD (2018) Chronic obstructive pulmonary disease as a risk factor for cardiovascular disease. A View from the SUMMIT. Am J Respir Crit Care Med 198:2–4

8.

Mantoani LC, Rubio N, McKinstry B, MacNee W, Rabinovich RA (2016) Interventions to modify physical activity in patients with COPD: a systematic review. Eur Respir J 48:69–81

9.

Solway S, Brooks D, Lau L, Goldstein R (2002) The short-term effect of a rollator on functional exercise capacity among individuals with severe COPD. Chest 122:56–65

10.

Probst VS, Troosters T, Coosemans I, Spruit MA, Pitta Fde O, Decramer M, Gosselink R (2004) Mechanisms of improvement in exercise capacity using a rollator in patients with COPD. Chest 126:1102–1107

11.

O'Neill S, McCarthy DS (1983) Postural relief of dyspnoea in severe chronic airflow limitation: relationship to respiratory muscle strength. Thorax 38:595–600

12.

Hill K, Goldstein R, Gartner EJ, Brooks D (2008) Daily utility and satisfaction with rollators among persons with chronic obstructive pulmonary disease. Arch Phys Med Rehabil 89:1108–1113

13.

Ng LWC, Jenkins S, Hill K (2012) Accuracy and responsiveness of the stepwatch activity monitor and activPAL in patients with COPD when walking with and without a rollator. Disabil Rehabil 34:1317–1322

14.

Grant PM, Ryan CG, Tigbe WW, Granat MH (2006) The validation of a novel activity monitor in the measurement of posture and motion during everyday activities. Br J Sports Med 40:992–997

15.

Guyatt GH, Berman LB, Townsend M, Pugsley SO, Chambers LW (1987) A measure of quality of life for clinical trials in chronic lung disease. Thorax 42:773–778

16.

Williams JEA, Singh SJ, Sewell L, Guyatt GH, Morgan MDL (2001) Development of a self-reported chronic respiratory questionnaire (CRQ-SR). Thorax 56:954–959

17.

Jaeschke R, Singer J, Guyatt GH (1989) Measurement of health status. Ascertaining the minimal clinically important difference. Control Clin Trials 10:407–415

18.

Lachman ME, Howland J, Tennstedt S, Jette A, Assmann S, Peterson EW (1998) Fear of falling and activity restriction: the survey of activities and fear of falling in the elderly (SAFE). J Gerontol 53B:43–50

19.

Scheffer AC, Schuurmans MJ, van Dijk N, van der Hooft T, de Rooij SE (2008) Fear of falling: measurement strategy, prevalence, risk factors and consequences among older persons. Age Ageing 37:19–24

20.

Talley KMC, Wyman JF, Gross CR (2008) Psychometric properties of the activitiesspecific balance confidence scale and the survey of activities and fear of falling in older women. J Am Geriatr Soc 56:328–333

21.

Watz H, Waschki B, Meyer T, Magnussen H (2009) Physical activity in patients with COPD. Eur Respir J 33:262–272

22.

Steele BG, Holt L, Belza B, Ferris S, Lakshminaryan S, Buchner DM (2000) Quantitating physical activity in COPD using a triaxial accelerometer. Chest 117:1359–1367

23.

Bellettiere J, Winkler EAH, Chastin SFM, Kerr J, Owen N, Dunstan DW, Healy GN (2017) Associations of sitting accumulation patterns with cardio-metabolic risk biomarkers in Australian adults. PLoS ONE 12:e0180119

24.

Chastin SFM, Winkler EAH, Eakin E, Gardiner PA, Dunstan DW, Owen N, Healy GN (2015) Sensitivity to change of objectively-derived measures of sedentary behavior. Meas Phys Educ Exerc Sci 19:138–147

25.

Demeyer H, Burtin C, Hornikx M, Camillo CA, Van Remoortel H, Langer D, Janssens W, Troosters T (2016) The minimal important difference in physical activity in patients with COPD. PLoS ONE 11:e0154587

26.

Hill K, Dolmage TE, Woon LJ, Brooks D, Goldstein RS (2012) Rollator use does not consistently change the metabolic cost of walking in people with chronic obstructive pulmonary disease. Arch Phys Med Rehabil 93:1077–1080

27.

Gupta RB, Brooks D, Lacasse Y, Goldstein RS (2006) Effect of rollator use on health-related quality of life in individuals with COPD. Chest 130:1089–1095

28.

Pitta F, Troosters T, Probst VS, Spruit MA, Decramer M, Gosselink R (2006) Physical activity and hospitalization for exacerbation of COPD. Chest 129:536–544
Funding
Sir Charles Gairdner Hospital Research Fund.
Ethics declarations
Conflict of interest
The authors declare that they have no conflict of interest.
Additional information
Publisher's Note
Springer Nature remains neutral with regard to jurisdictional claims in published maps and institutional affiliations.
About this article
Cite this article
Hill, K., Ng, L.W.C., Cecins, N. et al. Effect of Using a Wheeled Walker on Physical Activity and Sedentary Time in People with Chronic Obstructive Pulmonary Disease: A Randomised Cross-Over Trial. Lung 198, 213–219 (2020). https://doi.org/10.1007/s00408-019-00297-2
Received:

Accepted:

Published:

Issue Date:
Keywords
Chronic obstructive pulmonary disease

Physical activity

Rollator

Sedentary time

Wheeled walker