Abstract
Background
Pleural fluid is typically drawn directly from the pleural space for diagnostic studies, but occasionally analyses are desired when a chest tube is already in place and a traditional approach is not feasible. The diagnostic value of analyzing fluid samples obtained from the pleural fluid collection system after chest tube insertion is unknown.
Methods
We performed a prospective observational study of patients in whom chest tube placement was planned for clinical indications. Diagnostic studies were performed on fluid obtained from the pleural space at the time of tube insertion and then repeated 2, 6, and 24 h later on samples obtained from the fluid collection system.
Results
Fifty-five percent of the 23 effusions studied met light's criteria for exudate at baseline. Lactate dehydrogenase (LDH) varied considerably over time from baseline measures with only 25 % of measures at 24 h falling within 25 % of baseline levels. The sensitivity for exudate by LDH remained 100 % with poor specificity ranging 50–69 % with repeat measures. Total protein exhibited less variability with 85 % of measures at 24 h falling within 25 % of baseline measure. Sensitivity and specificity at 24 h were 88 and 82 %, respectively. Repeat measures of cholesterol, albumin, and triglycerides generally correlated well (Spearman's rho > 0.90) with baseline values. Measures of glucose and cell counts varied considerably from baseline.
Conclusions
Analysis of pleural fluid from a chest tube collection system is feasible and can provide useful diagnostic information. Practitioners should consider the test characteristics of each measure when interpreting samples obtained.
This is a preview of subscription content, log in to check access.
Access options
Buy single article
Instant unlimited access to the full article PDF.
US$ 39.95
Price includes VAT for USA
Subscribe to journal
Immediate online access to all issues from 2019. Subscription will auto renew annually.
US$ 99
This is the net price. Taxes to be calculated in checkout.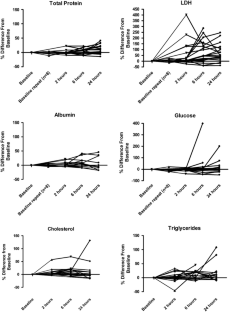 Abbreviations
LDH:

Lactate dehydrogenase

RBC:

Red blood cell

WBC:

White blood cell
References
1.

Sahn SA (2008) The value of pleural fluid analysis. Am J Med Sci 335:7–15

2.

Devanand A, Koh MS, Ong TH et al (2004) Simple aspiration versus chest-tube insertion in the management of primary spontaneous pneumothorax: a systematic review. Respir Med 98:579–590

3.

Ayed AK, Chandrasekaran C, Sukumar M (2006) Aspiration versus tube drainage in primary spontaneous pneumothorax: a randomised study. Eur Respir J 27:477–482

4.

Parlak M, Uil SM, van den Berg JW (2012) A prospective, randomised trial of pneumothorax therapy: manual aspiration versus conventional chest tube drainage. Respir Med 106:1600–1605

5.

Storm HK, Krasnik M, Bang K et al (1992) Treatment of pleural empyema secondary to pneumonia: thoracocentesis regimen versus tube drainage. Thorax 47:821–824

6.

Shinto RA, Light RW (1990) Effects of diuresis on the characteristics of pleural fluid in patients with congestive heart failure. Am J Med 88:230–234

7.

Romero-Candeira S, Fernandez C, Martin C et al (2001) Influence of diuretics on the concentration of proteins and other components of pleural transudates in patients with heart failure. Am J Med 110:681–686

8.

Chakko SC, Caldwell SH, Sforza PP (1989) Treatment of congestive heart failure. Its effect on pleural fluid chemistry. Chest 95:798–802

9.

Broaddus V, Light R (2014) Disorders of the pleura. In: Nadel J, Murray J (eds) Textbook of respiratory medicine, 4th edn. Elsevier, Philadelphia, pp 1913–1960
Acknowledgments
Dr. Reed is supported in part by the Flight Attendants Medical Research Institute. Dr. Netzer is supported in part by the Clinical Research Career Development Award from the National Institutes of Health (NIH), Bethesda, MD (5K12RR023250-03).
Conflict of interest
No author involved in this work reports any conflict of interest, either real or perceived.
Electronic supplementary material
Below is the link to the electronic supplementary material.
Supplementary material 1 (MP4 10141 kb)
About this article
Cite this article
Reed, R.M., Eberlein, M., Netzer, G. et al. Diagnostic Value of Pleural Fluid Obtained from a Chest Tube Collection System. Lung 193, 141–146 (2015). https://doi.org/10.1007/s00408-014-9666-6
Received:

Accepted:

Published:

Issue Date:
Keywords
Diagnostic techniques

Respiratory system

Routine

Diagnostic techniques and procedures

Pleural disease

Pleural effusion