Abstract
The use of opioids has been associated with development of sleep-disordered breathing, including central apneas, nocturnal oxygen desaturations, and abnormal breathing patterns. We describe sleep-disordered breathing and its subsequent treatment in a group of obstructive sleep apneic patients on chronic opioid therapy. Clinical evaluation followed by diagnostic overnight polysomnogram was performed in subjects on chronic opioid therapy who met the study criteria. All subjects had an initial CPAP titration followed by a repeat clinical evaluation. Subjects with an apnea-hypopnea index (AHI) ≥ 5 continued to report symptoms and had follow-up titration with bilevel positive therapy; then bilevel positive-pressure therapy with a back-up rate was then performed. Age-, sex-, and disease-severity-matched obstructive sleep apnea patients served as controls. Forty-four study participants, including a large group of women (50%), and 44 controls were enrolled in the study. Opioid subjects had AHI = 43.86 ± 1.19, with a central apnea index of 0.64 ± 1.36. Two abnormal breathing patterns were seen, including decreased inspiratory effort during an obstructive event and longer than expected pauses in breathing. Despite adequate titration with CPAP and bilevel positive-pressure therapy, nocturnal awakenings and central apnea awakenings persisted (AHI and central apnea indices of 13.81 ± 2.77 and 11.52 ± 2.12, respectively). Treatment with bilevel positive-pressure therapy with a back-up rate controlled the problem. Nonobese OSA patients with opioid intake have obstructive breathing with a different pattern. In this study, bilevel positive-pressure therapy with a back-up rate was the most effective treatment.
This is a preview of subscription content, log in to check access.
We're sorry, something doesn't seem to be working properly.
Please try refreshing the page. If that doesn't work, please contact support so we can address the problem.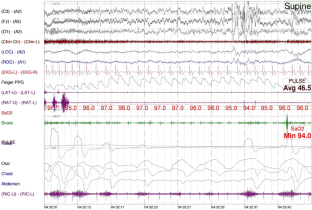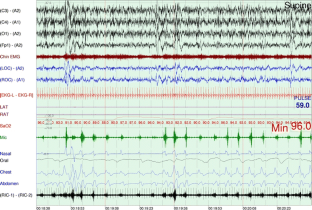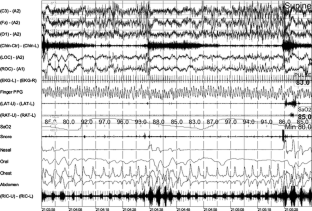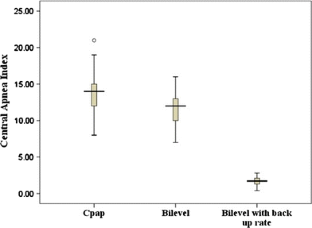 References
1.

Walker JM, Farney RJ, Rhondeau SM, Boyle KM, Valentine K, Cloward TV, Shilling KC (2007) Chronic opioid use is a risk factor for the development of central sleep apnea and ataxic breathing. J Clin Sleep Med 3(5):455–462

2.

Wang D, Teichtahl H, Drummer O, Goodman C, Cherry G, Cunnington D, Kronborg I (2005) Central sleep apnea in stable methadone maintenance treatment patients. Chest 128:1348–1356

3.

Farney RJ, Walker JM, Cloward TV, Rhondeau S (2003) Sleep-disordered breathing associated with long-term opioid therapy. Chest 123:632–639

4.

Teichtahl H, Prodromidis A, Miller B, Cherry G, Kronborg I (2001) Sleep-disordered breathing in stable methadone program patients: a pilot study. Addiction 96:395–403

5.

Farney RJ, Walker JM, Boyle KM, Cloward TV, Shilling KC (2008) Adaptive servoventilation in patients with sleep disordered breathing associated with chronic opioids medications for nonmalignant pain. J Clin Sleep Med 4:311–319

6.

Javaheri S, Malik A, Smith J, Chung E (2008) Adaptive support servoventilation: a novel treatment for sleep apnea associated with use of opioids. J Clin Sleep Med 4:305–310

7.

Douglass AB, Bornstein R, Nino-Murcia G, Keenan S, Miles L, Zarcone VP Jr, Guilleminault C, Dement WC (1994) The sleep disorders questionnaire I: creation and multivariate structure of SDQ. Sleep 17:160–167

8.

Johns MW (1991) A new method for measuring daytime sleepiness: the Epworth Sleepiness Scale. Sleep 14:540–545

9.

Friedman M, Tanyeri H, La Rosa M, Landsberg R, Vaidyanathan K, Pieri S, Caldarelli D (1999) Clinical predictors of obstructive sleep apnea. Laryngoscope 109:1901–1907

10.

Mallampati SR, Gatt SP, Gugino LD, Desai SP, Waraksa B, Freiberger D, Liu PL (1985) A clinical sign to predict difficult tracheal intubation: a prospective study. Can Anesth Soc J 32:429–434

11.

Stoohs RA, Blum HC, Knaak L, Guilleminault C (2004) Non-invasive estimation of esophageal pressure based on intercostal EMG monitoring. IEEE IMG 3867-3869

12.

Stoohs RA, Blum HC, Knaak L, Butsch-von-der-Heydt B, Guilleminault C (2005) Comparison of esophageal pressure and transcutaneous diaphragmatic electromyogram in obstructive sleep apnea syndrome. Sleep 28:321–324

13.

Rechtshaffen A, Kales A (1968) A manual of standardized terminology, techniques, and scoring system for sleep stages of human subjects. US Government Printing Office, Washington, DC

14.

American Sleep Disorders Association Atlas Task Force (1992) EEG arousals: scoring rules and examples: a preliminary report from the Sleep Disorders Atlas Task Force of the American Sleep Disorders Association. Sleep 15:173–184

15.

Teichtahl H, Wang D, Cunnington D, Kronborg I, Goodman C, Prodromidis A, Drummer O (2004) Cardiorespiratory function in stable methadone maintenance treatment (MMT) patients. Addict Biol 9:247–253

16.

Santiago T, Pugliese A, Edelman N (1977) Control of breathing during methadone addiction. Am J Med 62:347–354

17.

Morgenthaler TI (2008) Commentary: the quest for instability in an unstable world: adaptive servoventilation in opioids induced complex sleep apnea syndrome. J Clin Sleep Med 4:321–323

18.

Gilmartin GS, Daly R, Thomas RJ (2005) Recognition and management of complex sleep-disordered breathing. Curr Opin Pulm Med 11:485–493

19.

Brookoff D (2000) Chronic pain: a new disease? Hosp Pract (Minneap) 35:45–52

20.

Tetrault JM, Desai RA, Becker WC, Fiellin DA, Concato J, Sullivan LE (2007) Gender and non-medical use of prescription opioids: results from a national US survey. Addiction 103:258–268

21.

Fleming MF, Balousek SL, Klessig CL, Mundt MP, Brown DD (2007) Substance use disorders in a primary care sample receiving daily opioid therapy. J Pain 8(7):573–582

22.

NIH Consensus Conference (1998) Effective medical treatment of opiate addiction; National Consensus Development Panel on Effective Medical Treatment of Opiate Addiction. JAMA 280(22):1936–1943

23.

US Department of Justice, Drug Enforcement Administration. Automation of Reports and Consolidated Orders System (ARCOS) 2 report 7. Available at http://www.deadiversion.usdoj.gov/arcos/retail_drug_summary. Last Accessed 2005

24.

National Institute on Drug Abuse (2001) Research report series (revised 2005). Prescription drugs: abuse and addiction. National Institute on Drug Abuse, National Institutes of Health, Rockville

25.

Compton WM, Volkow ND (2006) Major increases in opioid analgesic abuse in the United States: concerns and strategies. Drug Alcohol Depend 81:103–107

26.

NIDA InfoFacts (2005) Prescription pain and other medications. National Institute on Drug Abuse, National Institutes of Health, Rockville

27.

American Academy of Pain Medicine, American Pain Society (1997) The use of opioids for chronic pain. Clin J Pain 13:6–8

28.

Gordon D, Dahl J, Miaskowski C, McCarberg B, Todd KH, Paice JA, Lipman AG, Bookbinder M, Sanders SH, Turk DC, Carr DB (2005) American Pain Society recommendations for improving the quality of acute and cancer pain management: American Pain Society Quality of Care Task Force. Arch Intern Med 165:1574–1580

29.

Biot MC (1876) Contribution a l'etude de phenomene respiratiore de Cheyne-Stokes. Lyon Med 23:517–528

30.

Guilleminault C, Cummiskey J (1982) Progressive improvement of apnea index and ventilatory response to CO2 after tracheostomy in obstructive sleep apnea syndrome. Am Rev Respir Dis 126(1):14–20

31.

Janczewski WA, Feldman JL (2006) Distinct rhythm generators for inspiration and expiration in the juvenile rat. J Physiol 570(2):407–420

32.

Feldman JL, Del Negro CA (2006) Looking for inspiration: new perspectives on respiratory rhythm. Nat Rev Neurosci 7(3):232–242

33.

Rybak IA, Shevtsova NA, Paton JFR, Dick TE, St. John WM, Morschel M, Dutschmann M (2004) Modeling the ponto-medullary respiratory network. Respir Physiol Neurobiol 143:307–319

34.

Smith JC, Ellenberger HH, Ballanyi K, Richter DW, Feldman JL (1991) Pre-Bötzinger complex: a brainstem region that may generate respiratory rhythm in mammals. Science 254:726–729

35.

McKay LC, Janczewski WA, Feldman JL (2005) Sleep-disordered breathing after targeted ablation of pre-Botzinger complex neurons. Nat Neurosci 8(9):1142–1144

36.

McKay LC, Feldman JL (2008) Unilateral ablation of pre-Botzinger complex disrupts breathing during sleep but not wakefulness. Am J Respir Crit Care Med 178:89–95
Acknowledgments
We thank Mr. Guy Casler (Respironics) for the loan of the positive-airway-pressure equipment to many of our patients when we frequently needed to change equipment prescriptions and had difficulties with insurance companies.
About this article
Cite this article
Guilleminault, C., Cao, M., Yue, H.J. et al. Obstructive Sleep Apnea and Chronic Opioid Use. Lung 188, 459–468 (2010). https://doi.org/10.1007/s00408-010-9254-3
Received:

Accepted:

Published:

Issue Date:
Keywords
Opioids

Positive-pressure therapy

Obstructive sleep apnea

Central sleep apnea

Pain